Game of the week
Baltimore at Washington, 1 p.m. ET (CBS) |

Preview
The line: Redskins by 2½
The story: The betting line for this game moved up this week, and it's easy to see why. The Redskins are hot. They're back in the playoff picture. They're home. They just knocked off the defending Super Bowl champions. And they have a sensational rookie in Robert Griffin III, who is not just perking up Washington's fans but seems to be energizing the entire team.
So Washington's gain is Baltimore's pain, right? Not so fast, and I can tell you why: Baltimore lost last weekend. So what? So tell me the last time the Ravens dropped two straight. It was October 2009, when they struggled to a 9-7 finish. Those Ravens weren't as good as this team, and this team is close to clinching its second straight AFC North championship.
Of course, it's also coming off a last-second defeat against Pittsburgh and Charlie Batch, who turned 38 this week.
Robert Griffin III is no Charlie Batch, and that's a good thing. No disrespect to Batch because his 6-3 record as a backup speaks for itself. The guy can still play, and he can still win. But RG3 has sprinter's speed, a spring-loaded arm, poise, accuracy and confidence. He's also on a three-game tear where he has nine touchdown passes, no interceptions and defeats of Philadelphia, Dallas and the Giants -- the first time Washington has knocked off three consecutive division opponents since 2005.
In short, Griffin is a load, and if that's not enough to occupy the league's 25th-ranked defense, Washington has more: There's another rookie sensation in the backfield. I'm talking about Alfred Morris, who last week set the franchise record for rookie rushing yards and is tied with Tampa Bay's Doug Martin for third in the league in rushing.
Morris is Mr. Inside; Griffin is Mr. Outside. The problem is that defensive linemen have to choose which to tackle, and, sometimes, as the Giants demonstrated Monday, they don't make the right decisions. And sometimes neither Griffin nor Morris runs at all. Sometimes, Griffin pulls the ball from his teammate's belly, steps back and hits an open receiver over the middle.
Basically, RG3 is every bit the "nightmare" the Giants' Justin Tuck described. So the question is: How do you stop the guy? Well, I suggest you pull out videotapes of the Pittsburgh and Carolina games because both opponents bottled him up, and both opponents won. I also suggest you have Ray Rice touch the ball more than 13 times. That was the figure in last week's loss, and it must change -- and it will. Trust me, what the Giants were able to do vs. Washington's run defense won't be lost on Ravens offensive coordinator Cam Cameron.
For me, this game is not so much about RG3 as it is Joe Flacco. One minute he's Joe the Pro; the next, Joe the Schmo. He wasn't very good last week, especially on deep passes, but he better bring his A game Sunday because the Redskins' secondary is porous and vulnerable to big plays. Flacco has 49 completions of 20 or more yards, and if he can pad that total ... and if Rice is featured more than he was a week ago ... the Ravens could, maybe should, avoid that two-game losing streak.
Peek at the Week XIV
Column

Related links
Pro Football 360
Fantasy Football
NFL coverage on the go
The back story: Since John Harbaugh took over as head coach in 2008 the Ravens are 31-11 in games from November through January. Only New England (31-9) has a better winning percentage.
Three games I'd like to see
Dallas at Cincinnati, 1 ET |

Preview
The line: Bengals by 3½
The story: Dallas is in the playoff picture, and so is Cincinnati -- but by Sunday night the postseason hopes for one of these two will be on life support.
The Cowboys are in better shape, only because they're just trying to win a division that no one seems to want. The Giants are in control of the NFC East, but after losing three of their past four have had their lead shrink to one, with Dallas and Washington tied for second. Sure, the Cowboys could wind up 10-6, but I want a show of hands by anyone who believes that happens.
The Bengals, meanwhile, are playing for a wild-card spot, which makes their situation more tenuous. Yes, they're tied with Pittsburgh for the last position, but the Steelers beat them earlier this year -- as they seem to beat them every year -- and Cincinnati still has games left with Baltimore and the Steelers. That makes this contest a must-win for the Bengals, and look for them to hammer away at a pass defense that can't seem to stop anyone.
It's one thing to get gashed by Robert Griffin III, but Nick Foles? The Cowboys are ripe for the loss, especially with Andy Dalton playing the best football of his career the past month. Not only hasn't he lost in four games, he has been remarkably accurate -- 10 touchdown passes and two interceptions. Look for him to exploit holes in the Cowboys' secondary early, especially with outside threats A.J. Green and Andrew Hawkins.
But it's not Dalton who's the biggest threat to the Cowboys; it's the Cowboys themselves. We're in the month of December, which means we're in the Twilight Zone for Dallas and quarterback Tony Romo. Simply put, where Romo and his teammates are successful in November, they're not one month later. In fact, the guy's 9-13 in December, and that's a problem. Because December is when playoff teams emerge ... or, in Dallas' case, fade into black.
So now along comes December, and -- wouldn't you know it? -- Cincinnati is playing its best defense of the year. None of its past four opponents scored more than 13 in any game, with all outscored 113-42. A lot of that has to do with the pressure applied by defensive coordinator Mike Zimmer's schemes, and consider that a warning, Tony Romo. Nobody in the NFL has more sacks than the Bengals, with 39. If the Cowboys are going to survive the season, their quarterback must survive this contest.
The back story: In his past two games at home, Dalton has seven touchdown passes, no interceptions and a passer rating of 120.8. He's also 5-1 vs. the NFC.
Chicago at Minnesota, 1 p.m. ET |

Preview
The line: Bears by 3½
The story: The once impregnable Bears defense has sprung leaks, with linebacker Brian Urlacher out, cornerback Tim Jennings still bothered by a shoulder injury and the entire unit underachieving. Now along comes Adrian Peterson and his gaudy statistics, and I think you can see what's necessary.
Uh-huh, another big game by Jay Cutler.
The Bears quarterback always seems to play well against these guys, winning his past five while throwing 13 touchdown passes and five interceptions ... and that was without Brandon Marshall. I have no doubt Peterson is going to find holes in the Chicago defense, but I also have no doubt that now, more than ever, the Bears are going to rely on Cutler to pull them out of their funk.
He nearly did it a week ago with some last-minute heroics against Seattle to send the game into overtime. But he never touched the ball again, one reason the Bears are now tied with Green Bay at the top of the NFC North. Another, of course, was that their defense flat-out collapsed down the stretch, unable to put away Seattle's Russell Wilson when it mattered most.
If that happens again, it could be curtains. I know, Christian Ponder is no Russell Wilson. But he is 4-1 in his past five games at home, and that counts for something -- especially with the Bears no longer getting the touchdowns from their defense that they were the first half of the season.
The back story: Peterson has more yards rushing than 22 teams and has six consecutive 100-yard games for the first time in his career.
New Orleans at N.Y. Giants, 4:25 p.m. ET |

Preview
The line: Giants by 5½
The story: I look at this line, and a couple of things puzzle me: 1) Do oddsmakers know that Drew Brees hasn't lost to these guys; 2) Do they know that the past three times they met the scores haven't been close?
Trust me, I like the Giants when there's a sense of urgency, too. There's certainly one now, with coach Tom Coughlin telling his players they must win their final four. But I also trust Brees not to screw up as he did the past two weeks against San Francisco and Atlanta, when he produced three touchdowns and seven interceptions -- with no TDs vs. the Falcons last week.
The key to beating New Orleans, of course, is getting Brees off his game, and the key there is hitting the guy. Again. And again. And again. Almost nobody is better at getting to the quarterback than the Giants, only that hasn't been the case lately. The team has no sacks in two of its past three, both them losses, and if the Giants don't hammer Brees here, the Saints hammer them.
Simple as that.
The other factor, of course, is Eli Manning. He looked good against Green Bay two weeks ago, and he looked good against Washington last Monday ... for one half. Manning must take charge and assert himself as the elite quarterback he says he is, shredding the league's worst defense for yards, first downs and touchdowns. Manning has more than one touchdown pass in only one of his past five starts, and that won't cut it vs. New Orleans.
When you play the Saints you must outduel Brees, and Manning is at a disadvantage. New Orleans defensive coordinator Steve Spagnuolo ran the Giants' unit when Manning won his first Super Bowl. Look for him to disguise coverages and blitzes as he tries to confuse a quarterback who plays best when it's needed most.
The back story: In his past eight games at home, including the playoffs, Manning has completed 63.1 percent of his passes, with 17 touchdowns, seven interceptions and a 99.1 passer rating.
Monday night lights
Houston at New England, 8:30 p.m. ET |

Preview
The line: Patriots by 3½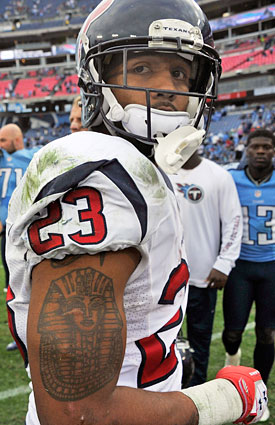 The story:
OK, so this should be the game of the week if for no other reason than it's the only contest featuring opponents with winning records. Yet these aren't just opponents with winning records. These are two of the best teams in the league, and this could be a preview of the AFC Championship Game.
And that's where it becomes interesting.
That game will be played in Houston if the Texans gain home-field advantage, and they're firmly in control right now. But New England isn't out of the picture, and a victory here would shrink Houston's lead to one with three games left. That doesn't make it a must-win for the Patriots, but it does lend it more meaning.
Good thing, too, because the numbers all tilt in their direction. They've won 12 straight games in December. They're 42-5 in December dating back to 2001. They rarely lose at home (71-14 since Gillette Stadium opened in 2002) and Tom Brady rarely loses to anyone. I could go on and on, but I think you get the idea: New England is not a team you want to meet this time of year.
For Houston, this may be a measuring stick. The Texans haven't lost on the road, and that road includes Denver, where they beat Peyton Manning. But that was September. This is when opponents toughen up, and nobody is tougher to beat in December than Tom Brady and the New England Patriots.
Yes, Matt Schaub has won 15 of his past 16 starts, and I know Arian Foster is just the guy to puncture New England's run defense and extend the chains. But it's Matt Schaub vs. Tom Brady, and, sorry, I'll take Brady. If Houston is going to win it must ... absolutely must ... frazzle Brady as it frazzled opposing quarterbacks the first half of the season.
One problem: The Texans lately seem to have hit the wall, with their defense hemorrhaging yards and points, and that won't cut it here. If they're forced into a shootout with Tom Terrific, they're going to lose.
The back story: Brady is 4-1 at home on Monday night, with 14 touchdown passes and one interception.
Crummy game of the week
N.Y. Jets at Jacksonville, 1 p.m. ET (CBS) |

Preview
The line: Jets by 2½
The back story: So coach Rex Ryan chooses Mark Sanchez to start this game, and Tim Tebow fans wonder why. Well, a couple of reasons: 1) The Jets have a long-term investment in Sanchez, not Tebow; 2) They look at the rest of the schedule and see exactly what you and I do -- four mediocre opponents. So they figure if Sanchez is going to get a jolt of self-confidence this is precisely the place to begin.
And they may be right. Jacksonville is one of the league's bottom feeders and is down to its fourth-string running back and may be without leading receiver Cecil Shorts. But these are the Jets, and they have problems galore that extend beyond the quarterback position.
Look, Tebow never was a factor in Ryan's decision on a starter. It was Sanchez or Greg McElroy. As it turned out, it wasn't McElroy -- with Ryan taking the safe choice and gambling that Sanchez wins three or four of the final games to take the heat off himself and his head coach entering the offseason.
The problem is that Sanchez won't get a lot of help from his supporting cast, and that points to bigger issues. If there's a shortcoming with these Jets it's talent, with the team's best player (Darrelle Revis) and most dangerous offensive threat (Santonio Holmes) bowing out earlier this season. So the Jets turned to what was left, and what was left wasn't much ... which is what Jacksonville will discover.
Yes, this is a winnable game for New York, but it's also a winnable game for the woebegone Jags.
The back story: Chad Henne is 3-1 in his career vs. the Jets, with six touchdown passes and one interception.
Upset of the week
Baltimore (+2½) over Washington
The story: The Redskins are hot, winning three in a row, with RG3 producing a passer rating of 140.0 in that time. Now, they're expected to make it four by beating a Ravens team that looked positively ordinary last weekend ... which is why I like Baltimore here.
The Ravens seldom stink two consecutive weeks, and the Ravens understand how important this game is to their playoff hopes. They have Denver next weekend. They have the Giants after that. And then it's off to Cincinnati.
That's a grind, and Baltimore is one of the best at making late-season pushes. Washington? Not so much. The Redskins haven't been in a playoff chase for years, but then they haven't seen anything like RG3 in years, either. I just think Baltimore will exploit a vulnerable secondary, particularly with Torrey Smith -- who is averaging 17.4 yards per catch.
Look, this isn't exactly the league's No. 1 defense they're facing. Pittsburgh was. I know, the Redskins have been better there lately, but Baltimore should find enough holes to make plays.
That means Flacco better improve from last weekend, and he will because he doesn't often pull two stinkers in a row either. The last time he had a passer rating as low as last weekend's 61.9 he responded with a solid game vs. Cleveland. And the time before that he produced another sharp outing vs. Dallas.
If Flacco is on, and if Rice gets the ball ... a lot ... the Ravens win.
Five guys I'd like to be
1. Atlanta QB Matt Ryan: He has won seven of nine starts vs. Carolina, including the past five. In his past four vs. the Panthers, he has 10 touchdown passes, one interception and a passer rating of 100 or better in each of those contests.
2. Pittsburgh LB James Harrison: In four career games against San Diego, he has three sacks, two interceptions and two forced fumbles.
3. New Orleans QB Drew Brees: He's 4-0 vs. the Giants, with 11 TDs, no interceptions and a 122.1 passer rating. What's more, he's aiming for his third straight game against them with at least 360 yards passing and four touchdowns.
4. Seattle QB Russell Wilson: He's 5-0 at home, with 11 touchdowns and no interceptions ... and he's facing Arizona. Wilson aims for his fifth straight game with a passer rating of at least 100.
5. Green Bay QB Aaron Rodgers: He's 7-0 vs. Detroit in games where he has at least 15 pass attempts, with ratings in excess of 100 in all seven. In those starts he has 18 touchdowns, four interceptions and a passer rating of 118.6.
Five best matchups
1. Kansas City RB Peyton Hillis vs. Cleveland T Joe Thomas: I would like to hear the conversation between these two when they see each Sunday ... if, that is, there is a conversation. Thomas this week trashed the former Browns running back, claiming Hillis put his contract above the team last year, making him persona non grata within the locker room. "He decided his contract was more important than coming out and playing and helping this team win," said Thomas. Hillis insisted that wasn't the case, that he was legitimately hurt. I guess this is what you would call a second opinion.



What is Week 14's best game?
Ravens at Redskins
Cowboys at Bengals
Bears at Vikings
Saints at Giants
Texans at Patriots
Total Votes: 36,524
2. Baltimore S Bernard Pollard vs. Washington QB Robert Griffin III: Pollard laid out the Ravens' game plan for beating Washington which, as he put it, is pretty simple: To go after RG3 and to "hit him every chance we get." I don't doubt that they get plenty of chances; what I do wonder is who hits him. Good luck, Bernard.
3. New York Giants DE Jason Pierre-Paul vs. New Orleans QB Drew Brees: Yep, it was JPP who said defending Brees should be "much easier" than defending Washington's Griffin, and while I understand where he's coming from I also understand what Brees has done to these guys ... and virtually everyone else ... over the years. I feel a closed-door session with Coughlin about to happen.
4. Carolina DE Greg Hardy vs. Atlanta: So the Panthers are better than 11-1 Atlanta, huh? That's not what my newspaper standings say, but Hardy apparently isn't a subscriber. He's the guy who this week said the 3-9 Panthers were the better team, adding that he wanted to "mess up their whole playoff experience" with a victory. Hardy and teammates weren't too enthralled with Falcons quarterback Matt Ryan who, after Atlanta scored a last-second defeat of Carolina earlier this season, was caught on camera telling Panthers players to "get the [expletive] off our field." Memo to Ryan: Bring protection for this contest.
5. Minnesota LB Chad Greenway vs. Alcoholics Anonymous: Greenway urged Vikings fans to show up "super-duper drunk" for Sunday's game with Chicago, urging them to "drink liquor, not beer." I like Greenway, but you gotta be kidding me. Show some common sense.
Five things that may only interest me
1. Green Bay has 21 straight victories over Detroit in the state of Wisconsin (including a 1994 playoff game). The streak started with a Dec. 6, 1992, victory at Milwaukee's County Stadium. The Packers' 20-game home regular-season streak is the longest in NFL history, ahead of Washington's 18-game home winning streak over the Lions.
2. Since 2007, Bill Belichick has a 19-1 record over the final four games of the regular season, the best in the NFL. San Diego's Norv Turner is second at 18-2.
3. Entering the final month of the season NFL clubs are averaging 4.25 yards per carry, which would be the second-highest total since the 1970 NFL-AFL merger. It's bettered only by the 4.29 average of last season.
4. Since Nov. 1, San Diego's Danario Alexander has more catches (26) than teammate Robert Meachem has plays (24). According to spotrac.com, Meachem has a $3.375 million cap figure; Alexander, a midseason pickup off the streets, has a cap number of $303,750.
5. Any guess who the highest-rated fourth-quarter quarterback in NFL history is? Try Dallas' Tony Romo. He has a passer rating of 102.2 in the last period, ahead of Aaron Rodgers (99.4) and Steve Young (97.9). Romo has led the Cowboys to 16 come-from-behind victories in the fourth quarter or overtime.
Numbers to remember
4: Consecutive Calvin Johnson games with at least 140 yards receiving
5: Mario Williams sacks in past three games
10: Consecutive wins within the NFC North for Green Bay
12: Straight winning seasons for New England
15: J.J. Watt deflections
15½: J.J. Watt sacks
12-6: John Harbaugh vs. the NFC
38-5: Tom Brady's record in December
52: Interception returns for touchdowns this season
• Buffalo: Showers, high of 40
• Charlotte, N.C.: Partly cloudy, high of 72
• Cincinnati Showers, high of 60
• Cleveland: Showers, high of 51
• Indianapolis: Showers, high of 56 (retractable roof)
• Jacksonville, Fla.: Partly cloudy, high of 81
• Minneapolis: Dome
• Pittsburgh: Showers, high of 57
• Tampa, Fla.: Partly cloudy, high of 79
• Landover, Md.: Cloudy, high of 62
• San Francisco: Partly cloudy, high of 67
• East Rutherford, N.J.: Showers, high of 48
• Seattle: Showers, high of 46
• Green Bay, Wis.: Snow showers, high of 35
Where we will be
• I'll be at MetLife Stadium to make sure JPP and the Giants don't play too rough with Drew Brees.
• Mike Freeman will be in Foxborough to play racquetball with Tom Brady.
• Pete Prisco will be in Cincinnati to play Pac-Man with Adam Jones.