CINCINNATI -- On a beige piece of tape, above a locker in the back of the Dallas Cowboys' locker room here at Paul Brown Stadium, his name was penciled in above the locker.
It read: Jerry Brown, 53.
Brown wasn't a traveling member of the Dallas Cowboys, a practice-squad player who didn't make road trips. But that didn't mean he wasn't a part of Sunday's game, which is why he had an NFL locker on the road for the first time.
Sadly, it will be the last time.
Brown, who was on the team's practice squad for six weeks, died tragically early Saturday morning when he was a passenger in a car that rolled nine times, a car driven by Cowboys nose tackle Josh Brent, who was charged with intoxication manslaughter.
More on Cowboys-Bengals
Related links
2012 NFL Week 14
NFL Today
More NFL coverage
The Cowboys, with their heavy hearts, went out and won a game for their fallen teammate, somehow rallying to win a game they didn't seem to have any business winning. The Cowboys scored 10 fourth-quarter points to beat the Cincinnati Bengals 20-19, the final points coming on the final play of the game on a 40-yard field goal by Dan Bailey.
With each rotation of the football, as it cut through the misty Ohio air, the Cowboys waited to celebrate a victory that was like no other.
"There is no playbook for this," Cowboys tight end Jason Witten said.
The game was big for the Cowboys, keeping them in the playoff race at 7-6, a tonic of sorts for the 36 hours of hell they endured, since hearing the sad news of Brown's death.
Not only did they lose the life of one of their own but another teammate, a player who was scheduled to start Sunday, was back in the Dallas area in a jail cell wondering what his life might be like going forward.
All the coaching manuals in the world can't prepare a player or a team for the loss of life, especially one cut short in its prime.
"I told our team this is unchartered territory," Cowboys coach Jason Garrett said. "It has been very emotional for everybody."
Jerry Brown was 25 years old, had taken a long, winding road to get a shot in the NFL and seemed to have his entire career in front of him. He worked hard, so hard he was named the scout player of the week in his first week with the Cowboys six weeks ago.
"Always upbeat, great guy," Cowboys defensive end Marcus Spears said. "His mentality was he had a second chance to do something good. He approached practice like that every day. He was lively in the locker room. It doesn't take us long to realize how a guy is. We're around each other so much. He was just one of those guys who just fell right in. He wanted to the opportunity to play, and he worked like that every day. I hate to say it, the guy is gone, and you realize how much of an inspiration he was."
Cowboys linebacker Anthony Spencer sat in front of Brown in the defensive meeting room. The vacant chair they left open for him Saturday night was a cruel reminder of a fallen teammate.
"Just looking back and not seeing him there was a reminder," Spencer said. "You can't put the emotion into words."
The Cowboys also had Brown's jersey and Brent's jersey hanging in their locker room before the game. Some might think it strange to have Brent's hanging, considering he was the driver. But he was also a teammate, a friend -- and the players know he had to be hurting.
"Josh was one of his best friends," Spencer said. "You can only imagine how he's feeling right now. It could have been any of us. It really could of. We've all been in that situation where we had a few drinks and drove home. Whatever the situation was, it could have been any of us. It's hard not feel for him."
Football is always about the next man up. With Brent out, the Cowboys activated Rob Callaway from the practice squad. He saw his first action of the year against the Bengals, but it was truly bittersweet for him.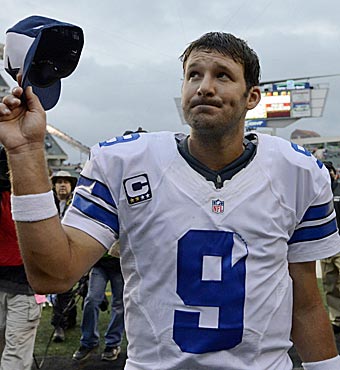 Callaway spent more time with Brown than most. When the Cowboys would travel to away games, Callaway and Brown would get together and play Madden football.
And watch the Cowboys, right?
"Of course," Callaway said.
So what was Brown like?
"He was one of the best guys on the planet," Callaway said. "It was a pleasure just knowing him."
Cowboys quarterback Tony Romo said Brown's play stood out on the practice field. Just recently, he told him that if he kept working he'd be on the field.
Now that will never happen. For three hours, the Cowboys put aside their emotions and went out and won an important football game.
There were times where it appeared the Bengals would put them away, but something kept happening to keep the Cowboys in it. There was a big interception by Brandon Carr when it appeared the Bengals might be ready to blow it open early. Then there were the two dropped passes by A.J. Green and a bad block in the back to hurt a long run. Something, it seemed, kept happening.
In the end, the Cowboys hung around -- and when Bailey's kick sailed through they won a game for their fallen teammate.
As they slowly made their way into the locker room, you could tell the three-hour numbness of being between the white lines was wearing off. Kind of like sleeping for a few hours after hearing horrible news, then waking up and hoping like hell it wasn't real.
Only this was real. And it hurt. And it will hurt for a long time.
They will bury a teammate Tuesday. Another one is facing a long, winding road through the legal system and his NFL career could be in doubt.
Spears might have summed up the team's feelings best when asked about the jerseys they hung for their two teammates.
"Sometimes you need a perspective," Spears said. "The perspective we got from those gestures is that we're here and have the opportunity to do what we love doing. And those guys don't have that chance. It stirred up inside that we need to be grateful for what we are able to do. Not just football, but to wake up in the morning and be free."
Brown's name stayed atop that locker as players filed out of the locker room early Sunday evening. As I walked out, I looked at his name once more and shook my head and thought the obvious.
Jerry Brown finally made it -- and his teammates weren't about to let him forget it.