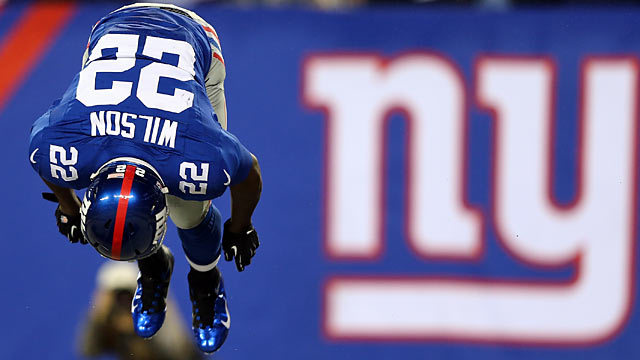 EAST RUTHERFORD, N.J. -- So the New York Giants begin their annual playoff push by winning a critical game, and what's new? Well, David Wilson, that's what. The rookie running back who promised so much finally delivered, and hallelujah.
"We needed a spark," said coach Tom Coughlin, "and we certainly got it. The timing was right."
And timing is what Sunday's 52-27 demolition of New Orleans was all about.
More on Saints-Giants
Related links
More NFL coverage
While most of the postgame talk was about Wilson's franchise-record 327 yards and three touchdowns, there is a bigger picture here -- and that picture is all about what happens to the New York Giants when they start feeling the heat.
In short, they win.
For some reason, when pressure is its most intense the Giants respond with their best offense, defense, special teams, rookie running backs, backflips, you name it ... to move forward. A year ago they had to win their last two regular-season games to reach the playoffs, and they did it. Then they ran the table the next four games to lock down their second Super Bowl in five years.
Now, the squeeze is on again, with Washington and Dallas -- both in pursuit of the Giants in the NFC East -- winning on last-second plays Sunday. That meant New York couldn't falter as it did last Monday in Washington, and it didn't -- not only producing a huge victory, but scoring more points in any game since 1986.
A lot of that had to do with Wilson, the first-round draft pick who began his pro career by fumbling in the season opener and banished to Coughlin's doghouse. Eventually, he worked his way back in the rotation, but part of that was out of necessity. With the loss of backup Andre Brown two weeks ago vs. Green Bay and the injuries that continue to bother starter Ahmad Bradshaw, Wilson was going to get his chance.
And he finally did something about it.
He ran for 100 yards rushing, including two touchdown runs. He had another 227 in returns, including a 97-yard score. And he punctuated the evening with a back flip in the end zone.
"It's just one game," Wilson said. "I've got a long way to go. I definitely don't want to be the reason we don't get to the playoffs or the Super Bowl."
Trust me, he won't be. But he could be just what the Giants need to survive a treacherous last month of the schedule that began with Sunday's game. From here, they go to Atlanta. Then it's on to Baltimore before finishing with a Philadelphia club that has owned Big Blue in recent years. With Dallas and Washington closing in, the Giants have been told over and over again that it's "a four-game season," a mantra they repeated after their latest victory.
But adding a weapon like Wilson at a time when teams often subtract key players could make a big difference. Remember, when the Giants made their move a year ago it's when their running game perked up. Wilson wasn't here then, but Bradshaw was, and, with injuries that continue to handicap him, he needs relief.
Wilson may be just the ticket.
"I think this was his coming-out party," said fullback Henry Hynoski. "David has waited a long time, and it's starting to pay off."
It's not just that Wilson has blinding speed, with teammate Victor Cruz saying "if you blink once or twice you might miss him." No, it's that he's beginning to adjust to the pro game. He doesn't fumble anymore. He makes few mental mistakes. And he's improved as a pass blocker, with quarterback Eli Manning insisting that Wilson's best performance Sunday was a blitz pickup of a Saints' safety.
"I don't know what took him so long," said defensive end Justin Tuck, in jest. "He's probably the best athlete on this team. Whenever you put out a threat like that back there, it's only a matter of time. You saw flashes of it earlier in the year, but tonight he was the main reason we were able to win. He gave us a huge shot not only on offense but on defense because he energized the crowd and energized us on the sideline. Now that it's on tape we're going to expect that from him every game."
I don't know about that, but I do know his timing was right. The Giants have been reeling the past month and a half -- good one week, not so good the next, as they dropped three of four prior to Sunday to shrink their division lead to one. That's when Coughlin called on to the team to win its last four and players like safety Antrel Rolle and defensive end Jason Pierre-Paul reminded teammates to get "nasty" and behave with a "dog mentality."
Essentially, they were calling on them to win as they did a year ago, and win they did.
But the Giants still have issues, mostly on defense where they hemorrhage too many big plays -- with New Orleans striking for five of 20 or more yards -- and don't produce enough sacks or pressure on opposing quarterbacks. That's a concern that won't go away, and while the Giants should enjoy their latest victory, the road to the playoffs is about to take a steep turn up.
Which is just how they like it.
"It's just about winning," said Coughlin. "You're better off feeling if you have to win every one of these games. What I try to do is make people absolutely aware of the circumstances. The way you solve your own issues and your own problems is to take care of your own business. And how do you take care of your own business? Win."
So the Giants keep reminding us.