It would be simple to blame the Baltimore Ravens' offensive problems on fired offensive coordinator Cam Cameron.
Cameron's lack of imagination didn't allow the team to be creative, which put a stamp of predictability on the Baltimore offense, but the problems are far more than just Cameron's dull offense.
Jim Caldwell, who takes over for Cameron, will find this out as he tries to liven up an offense that might not be fixable.
The Ravens have identity issues on that side of the ball. Do they run it with Ray Rice? Do they throw it around in a no-huddle offense with Joe Flacco? In the past, the Ravens played great defense and just asked the offense not to mess it up. That has changed since the defense isn't that good anymore. Now the offense has to be better -- maybe even great -- for them to win a Super Bowl.
Right now, that seems unlikely. Here's why:
• Flacco doesn't have enough in terms of weapons down the field. Torrey Smith has speed, but he gets doubled a ton. Anquan Boldin, who shockingly had two long touchdown catches thanks to poor corner play by DeAngelo Hall last week, doesn't run by anybody. He sure has a lot of catches for a player who doesn't get separation, but Boldin has great hands, and he's strong, but he doesn't win with his feet. That's a problem. The tight ends are just OK, and Jacoby Jones can run as the third receiver, but he's inconsistent, which is why a Texans team that needs help opposite Andre Johnson let him leave.
• The offensive line is average at best. Right guard Marshal Yanda is a Pro Bowl player, but the rest of the group has issues. Yanda suffered an ankle injury last week. Center Matt Birk is starting to show his years. He is smart, but he has problems with power people on his nose in terms of getting push. Rice runs wide a lot on stretch plays. Left tackle Michael Oher, who looked so promising as a rookie three years ago, has regressed. He was beat for a sack-fumble last week against the Redskins. On that play, Flacco held the ball in large part because his receivers weren't open.
• Flacco also isn't great at moving players with his eyes. The great quarterbacks all move safeties with their eyes, creating throwing lanes behind them. On the sack-fumble, Flacco needed to move Redskins safety Reed Doughty with his eyes to the middle of the field to create a big-play chance for Smith. But he never did and Smith was doubled on the play. That's the difference between a TD down the left sideline and a sack-fumble by a linebacker coming around the edge.
Here's a look at that play: It's a first-and-10 play from the Ravens 46-yard line. Smith (red circle) is lined up wide left in man-under coverage with corner Josh Wilson. Smith runs a go route, and beats Wilson off the line. With Doughty (blue circle) over the top, Flacco has to hold him in the middle to make the play down the sideline. But he doesn't. As you can see from the next two shots, Doughty continues to widen and Flacco misses a chance for a big play when Rob Jackson comes around the edge and forces the fumble on a three-man rush.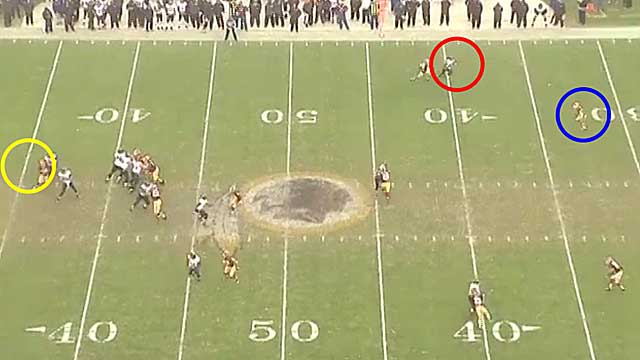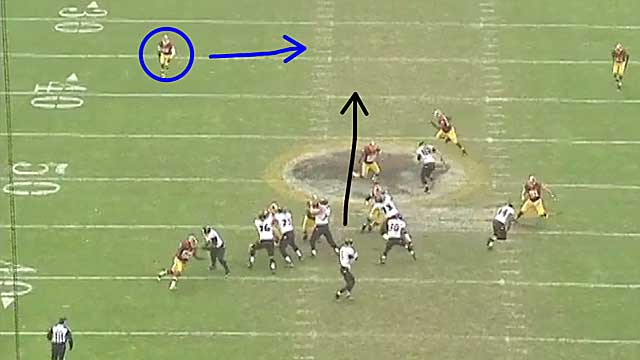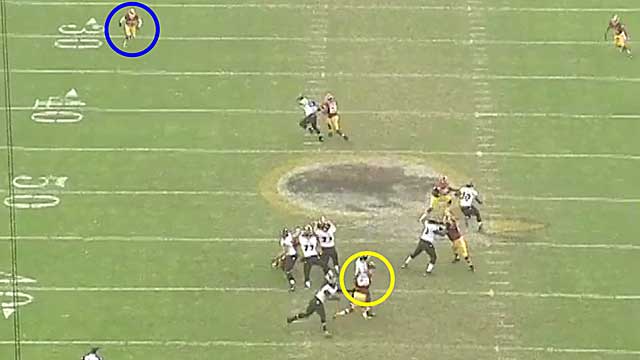 • As for the creativity factor, there isn't much. At a time when we're seeing so many new wrinkles in the NFL passing games, the Ravens receivers are often asked to simply line up and win. The crossing and rub routes and things like that are rare in this offense. Memo to the Ravens: You can't just line up and win. Teams double Smith and Boldin is a possession receiver at best, despite what he did last week. Too many times on third-and-long, the Ravens run routes short of the marker and hope like heck they can break a tackle.
Here's a look at a third-and-12 play in the first quarter of last week's game. You can see the Redskins rush three and drop eight (red X's). Flacco has time as he stepped up to survey the field. None of his receivers are open when he checks it down to tight end Dennis Pitta (blue circle), but there is no reason to do that. This is the type of play when really good quarterbacks step up and wait for a receiver to clear into an open area, and then hit him for a first down. Flacco takes the checkdown to Pitta, who has two Redskins between him and the first down. Pitta picks up 9 yards and the Ravens punt.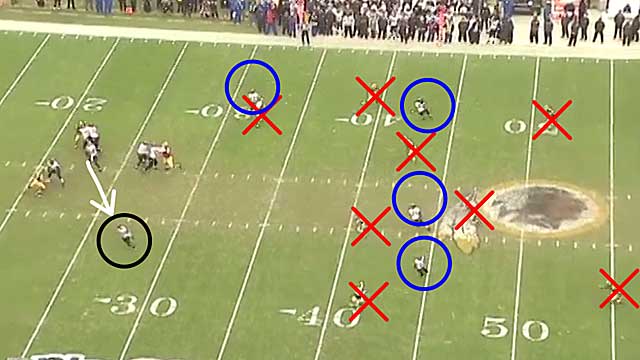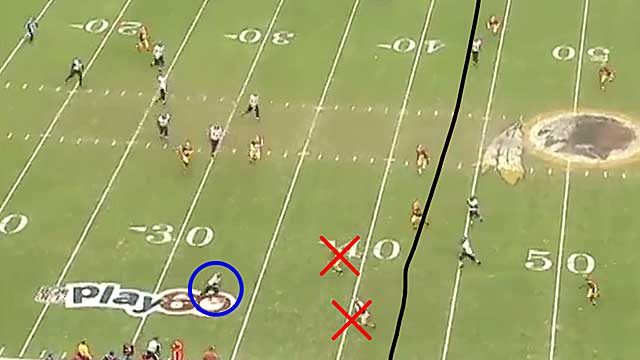 Then there are the questions about Flacco himself. He considers himself elite, but he isn't. He's good. But how good? He is ranked 15th in the league in passer rating (87.1) with 18 touchdowns and nine interceptions. But his 7.2 yards per pass attempt is the third lowest of any passer in the top 15. Flacco is completing only 60 percent of his passes, which is 21st in the league. In the tape I watched, I see a passer who sometimes settles for easy throws. Here's one:
On this play, a third-and-6 from the Ravens' 43 in the fourth quarter, the Ravens cross the underneath receivers -- one of the rare times they did that -- and create a pick play. Boldin (red circle) helps free Pitta (black circle) and Flacco connects with him, but linebacker Lorenzo Alexander comes up and drops him for only a 3-yard gain. Take a look behind the pick action. You will see Tandon Doss (blue circle) wide open for what should be a big play and a first down. The Ravens are forced to punt instead.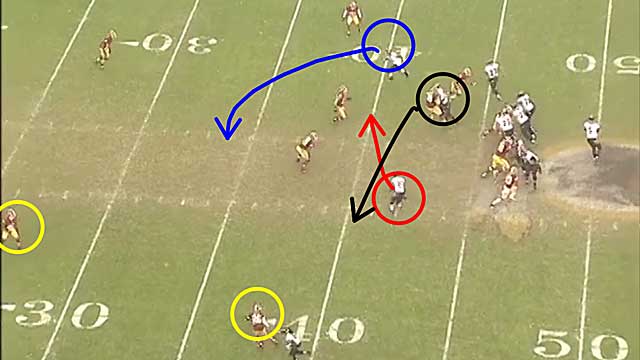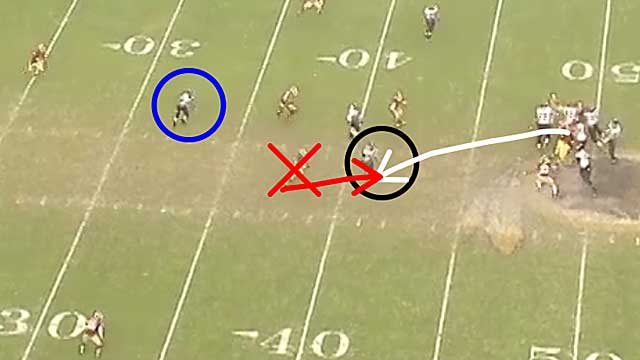 So as you can see, there are a lot of reasons why the Ravens are ranked 18th in total offense and 19th in converting third downs. Can Caldwell change that? You can expect more no-huddle, which Flacco is said to want, which might help. But it's on the players to make it happen. Flacco needs to take the big shots. The receivers need to win. The line needs to do a better job, and Rice needs to get the ball even more.
Cameron is gone. It's on those left behind to change it.
Film study
1. One of the things I love to see from a young quarterback is scrambling to throw, rather than to run. It means he is keeping his head up to scan down the field looking for potential big plays. That's what I saw from Eagles rookie quarterback Nick Foles last week against Tampa Bay. Even when the Bucs blitzed him, and forced him outside the pocket, he was able to make plays down the field because he kept his head up. A lot of young quarterbacks would simply have run in some of those same situations. Foles did not. In the fourth start of his young career, Foles threw for 381 yards and four touchdowns, including the winner on the final play of the game. Even when he was getting blitzed and sacked, Foles remained calm for much of the day. But it was his ability to move away from pressure and keep his head up that was most impressive. Sometimes it didn't even mean leaving the pocket, but rather stepping up or sidestepping the rush inside the pocket to make a throw. That's veteran-like. Here are a few examples.
On the first play below, Foles is pressured from several Bucs players. You can see in the first shot that he's moving to avoid a diving player. As he moves to his left, he keeps his head up. In the second shot, you can see he sees Riley Cooper crossing the field and fires a pass to him for 14 yards and a first down. It would have been easy for Foles to run to his left, but he makes the wise decision. Foles running isn't the same as Mike Vick running, which might be a good thing for the Eagles moving forward.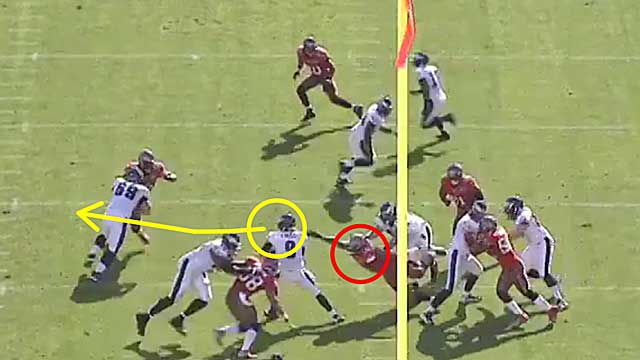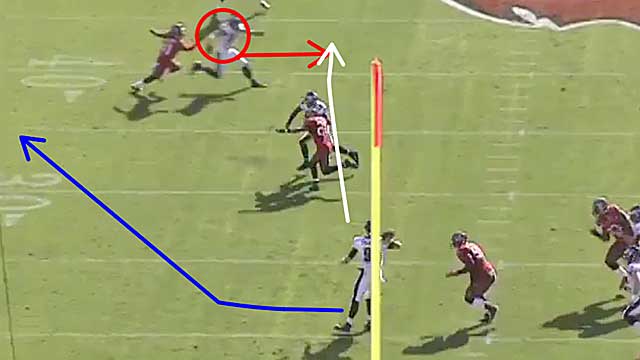 The second set of pictures shows one of Foles' touchdown passes, an 11-yard throw to tight end Clay Harbor. On the play, the Eagles send four receivers into the route. All four are covered initially. With outside pressure, Foles steps up and runs to his right. As he does, he keeps his head up. When he gets outside the pocket, Harbor makes a move to get away from safety Mark Barron. Foles fires a bullet into his arms for the score. He might have had an easier throw to Jeremy Maclin, who also got open, but he makes the tougher throw to Harbor.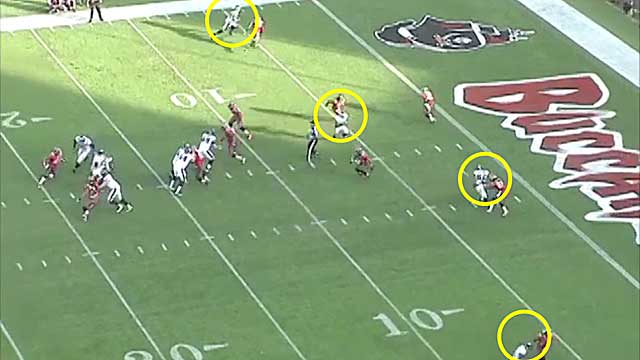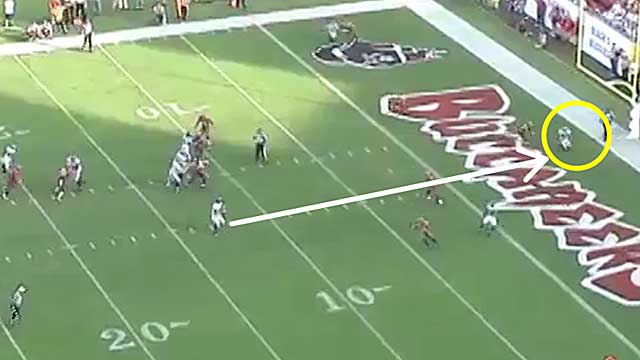 2. As I studied Foles, my eyes kept going to No. 93 on the Tampa Bay defense, tackle Gerald McCoy. The kid is playing at the level many expected when he was the third pick of the 2010 draft. McCoy has become a force, even better than Detroit's Ndamukong Suh, who was picked one spot ahead of him at No. 2 that year. McCoy made several impact plays against the Eagles that showed off his speed and power.
Here's a look at a couple of them. The first play is McCoy chasing down Eagles running back Bryce Brown. McCoy lines up outside the right guard, and the play is run to the left. He beats the tackle inside with a quick move and explodes down the line to tackle Brown for a 1-yard gain.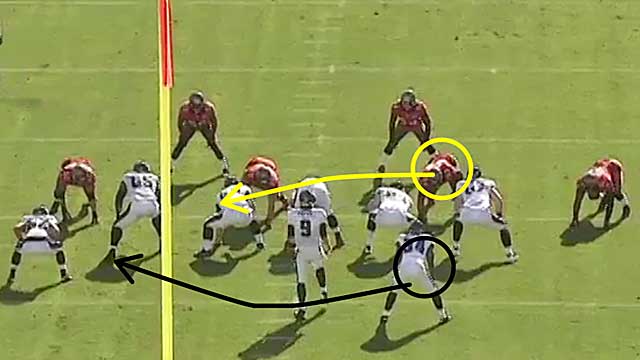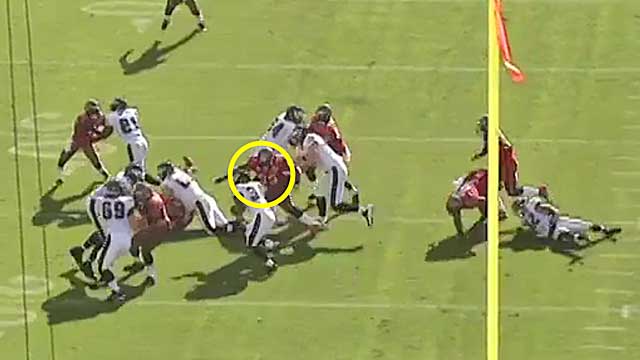 The second McCoy play is a sack. On this play, he just whips right guard Jake Scott with a quick move and then sheds him by throwing him aside on his way to drop Foles for an 8-yard loss. McCoy deserves strong consideration for the Pro Bowl.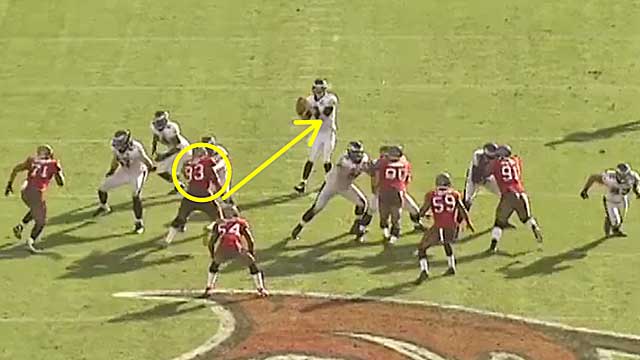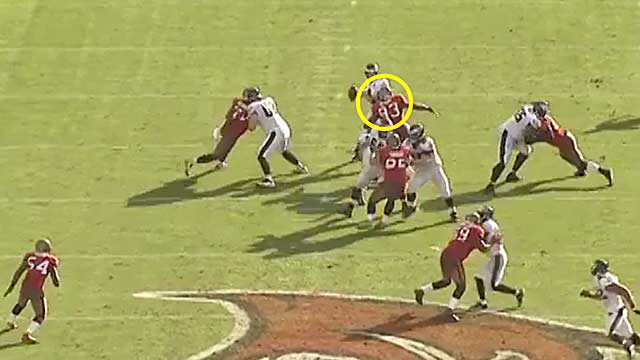 3. You have to give it to Carolina quarterback Cam Newton. He is playing his ass off the past month. The thing that impressed me most is how improved he is from a mechanical standpoint. He is throwing the ball better from inside the pocket, which he has to do. His 25-yard touchdown throw to Greg Olsen to open the Panthers' victory against the Falcons last week was a perfect read and throw. He was in the shotgun, and made the right read in man coverage as Olsen beat Falcons safety Thomas DeCoud. Newton threw a perfect pass over DeCoud's head for the score. Newton made several other nice throws from the pocket, which is something he has to do. But he also showed off his ability to run. His 72-yard touchdown run off the read-option was designed well, but he made it happen with his speed. As Newton matures, we will see less of the read-option stuff, which is a must. He is more than capable of being a quality pocket passer. Message to Panthers coaches: Let him do it.
4. Chargers safety Eric Weddle remains one of the best in the league. His game against the Steelers last week allowed him to show off his ability to tackle, but also his ability to cover. On the second play of the game, Weddle was in the hole one-on-one with running back Jonathan Dwyer and tackled him for no gain. Later, he made a great tackle on receiver Mike Wallace on a reverse for no gain. And then he covered No. 84 across the field and knocked down a deep ball to prevent a big play. Weddle can run, cover and tackle. He is perfect for the way the game is played now. It's too bad Corey Lynch on the other side isn't close to being as good.
5. The Steelers really struggled on offense for most of the San Diego game. It was Ben Roethlisberger's first game back after dislocating his ribs, and he didn't play all that well early, but it was more than just him. The biggest problem was the offensive line. It wasn't very good. When left guard Willie Colon left early, it forced center Maurkice Pouncey to move to left guard and Doug Legursky to go in at center. Pouncey had some problems at guard and gave up a sack. The right side of the line, guard Ramon Foster and tackle Kelvin Beachum, had a really rough go of it. Beachum was starting for the injured Mike Adams. You could tell Roethlisberger didn't feel comfortable behind the shuffled-around line. He seemed to want to get out of the pocket faster than normal early in the game. He did settle down late. The Steelers also lacked any sort of running game.
6. San Francisco defensive end Aldon Smith might be the NFL sack leader, but he was the second-best pass rusher on the field last week. Miami's Cameron Wake had three sacks against the 49ers and showed why he is on his way to another Pro Bowl. Wake worked over 49ers right tackle Anthony Davis for two of his sacks and the 49ers simply failed to block him on another, which was a missed assignment by Davis. Wake, who is a full-time down end now, can beat a tackle with speed and power. He used both to beat Davis for his sacks.
7. The Dolphins did a good thing on offense by spreading the 49ers out. The problem was their receivers don't win enough and Ryan Tannehill missed some chances down the field. Tom Brady doesn't miss those throws. So look for the Patriots to spread the 49ers out next Sunday night. Brady is too smart and too accurate not to do that. The other thing to look for is getting the New England backs into the flat. There is a chance for big plays that way. I've said this all season long: The 49ers defense is vulnerable in the short outside areas.
8. Bengals receiver A.J. Green has had an impressive season. But his drop against the Cowboys on a sure touchdown essentially cost the Bengals the game. Leading 13-10 early in the fourth quarter, the Bengals faced a third-and-goal from the 7. They called the perfect play, a delay underneath to Green, who was wide open and would have easily scored. But Green dropped the pass and the Bengals settled for a field goal. The tape showed Green taking a look inside just as he was going to catch the football. He catches that pass, and the Bengals probably win. As it was, they blew a 9-point lead in the fourth quarter.
9. Seattle rookie linebacker Bobby Wagner, a guy I highlighted earlier this year in this space, had two interceptions last week in the Seahawks' rout of the Cardinals. One of the picks showed off his athletic ability. The other showed off his smarts. On the first one, he was away from the play, yet never quit on it. It was a slant to Larry Fitzgerald away from him, but when the ball popped up into the air, Wagner was there to pick it off and return it 45 yards to set up the Seahawks' first points. His second pick came in zone coverage when he read the eyes of John Skelton as he tried to get the ball to slot receiver Andre Roberts. Wagner beat him to the spot inside and got an easy interception. Wagner also played the run well and is certainly a top candidate to be the NFL Defensive Rookie of the Year.
10. You can put him in this spot every week, but Geno Atkins was once again dominant against the Cowboys. How do you block him? He beats doubles. He whips singles. He has the quickness and strength needed to play the position. If it weren't for Aldon Smith and J.J. Watt and Von Miller, Atkins might be the NFL Defensive Player of the Year.
Hot tub
1. Seahawks CB Richard Sherman: He is the NFL's best corner this season. He had two picks last week.
2. Jets CB Antonio Cromartie: He has had an impressive season as the team's top corner with Darrelle Revis out.
3. Giants RB David Wilson: He showed off his speed on kickoffs and also ran for 100 yards. He needs the ball more.
4. Vikings RB Adrian Peterson: Eight men in the box? So what? All he does is pile up yards.
5. Giants DE Jason Pierre-Paul: We've been waiting for him to be a force. He was against the Saints.
Cold tub
1. Texans QB Matt Schaub: The Patriots blitzed him, and he didn't respond. That's not a good sign.
2. Ravens S Ed Reed: He misses way too many tackles to be considered elite anymore.
3. Cardinals QB John Skelton: How bad can it get? That bad. He seemed to be throwing passes right into the defender's stomachs.
4. 49ers T Anthony Davis: He is better than what he showed against the Dolphins.
5. Texans RG Ben Jones: Vince Wilfork did a number on him. He needs to get stronger.
Three and outs
Three Bounty-gate questions:
1. Why did Sean Payton and Gregg Williams take season-long suspensions if nothing happened?
2. Who gave Roger Goodell all the power?
3. Did anything that happened to the players have an impact on the Saints' season?
Three reasons why Ray Guy should not be in the Pro Football Hall of Fame:
1. He is tied for 81st on the all-time average list.
2. He's not even the best Raiders punter ever -- Shane Lechler is.
3. Chris Kluwe says he should be.