Game of the week
San Francisco at New England, 8:20 p.m. ET |

Preview
The line: Patriots by 5½
The story: A week ago the Texans played here and got a reality check. Now it's the 49ers' turn. If they lose, they risk losing the NFC West to Seattle ... where, as a matter of fact, they play next weekend. If they win, they know they can do what Houston could not -- namely, play with the big boys.
Look, we all know what and who the Patriots are. When Tom Brady is playing, they're one of the toughest outs in the business -- a club that wins its division, goes deep into the playoffs and maybe makes it to another Super Bowl. We also know what they're like this time of year, especially at home. They don't lose, and if you don't believe me check out their December winning streak. It's up to 13 straight games.
What we don't know is who or what the San Francisco 49ers are, especially with Colin Kaepernick at quarterback. The guy has a four-game résumé of starts, and now he goes to New England and Seattle -- places where the home teams are 11-1 -- to try to pull off the improbable, and that's a tall task for a quarterback with a short history.
The key for San Francisco is staying within reach of New England -- something Houston could not -- and catching the Patriots at the wire. To do that, you must have a defense that attacks the pocket, and the 49ers do. Heck, in Aldon Smith they have a pass rusher with more sacks than either the Raiders or the Jaguars.
I was on a San Francisco radio station the other day when someone suggested that the 49ers must make Brady wait to get rid of the ball. As a matter of fact, they must do exactly opposite. You want to hurry him with his passes.
The Giants were able to do that in two Super Bowls with their front four, and look what happened: Brady was flummoxed, and the New England offense sputtered. That's not exactly a revelation to anyone, so you have to figure that the Patriots do something with a back, a tight end, someone, to help left tackle Nate Solder hold off the irrepressible Smith.
I have no doubt that happens. But it's not the left tackle that's critical for New England; it's the interior of the Patriots' line. The key to the passing game is to keep Brady on a spot -- no matter whether it's a three-, five- or seven-step drop -- and not allow anyone to move him. That makes New England's guards and center critical to his protection, and it's there I look for the first hint of trouble. If Brady feels no heat up the middle, the 49ers could be in trouble.
I think they're in trouble, anyway. I don't like the odds of any quarterback with four starts visiting New England ... in December ... against Brady ... and especially when the Patriots are in the running for the first or second seed of the playoffs. New England might be the best team in the NFL, but, like everyone else, the Pats have holes. It's up to Kaepernick to find them, and if he struggled to put up points vs. St. Louis and Miami -- and he did -- I don't like his chances here.
Peek at the Week XV
Column

Related links
Pro Football 360
Fantasy Football
NFL coverage on the go
The back story: New England has 20 straight victories at home in December.
Three games I'd like to see
Giants at Atlanta, 1 p.m. ET |

Preview
The line: Falcons by 1½
The story: The last time these two met was in the 2011 playoffs, and it wasn't pretty. The Giants didn't just beat Atlanta; they embarrassed the Falcons, with Atlanta failing to score an offensive point. Those were the days when the Giants were unpredictable, when they felt a sense of urgency and when they started to get on a roll.
But isn't that who the Giants are? They never seem to produce their "A" game until they must -- and they must now because Washington and Dallas are waiting for them to crumble the next three games, and this could be the time and place.
It's not just that Atlanta has the best record of anyone in the NFC and is a slam dunk to gain home-field advantage; it's that the Falcons are home, where they seldom lose. I know, they've had close calls there this season ... like Carolina ... Oakland ... Arizona ... but they haven't lost, and they're 32-4 at the Georgia Dome with Matt Ryan as their quarterback, winning their past 10 there. Plus, they probably feel they have a score to settle with the defending Super Bowl champions.
But if the Giants are on, as they were against New Orleans last weekend and Green Bay two Sundays before that, it's over. There is no one out there -- not Atlanta, not New England, not Denver, no one -- that beats these guys when they have it going on both sides of the ball, and ask New Orleans. The Saints were destroyed last weekend in a game that was every bit as lopsided as the score (52-27).
Like everyone else in the NFL, though, the Giants have issues. Running back Ahmad Bradshaw has a recurring knee injury that kept him out of this week's practice. The pass rush that was so dominant in last year's playoffs isn't dominant now. The secondary isn't so sharp, either. And Eli Manning looks good now, not so good later. Anyway, they better have most of those parts working to near perfection Sunday, otherwise it could be a long afternoon.
The back story: Under Smith, the Falcons are 19-3 after a loss. Their last two-game losing streak occurred in 2009 when they lost back-to-back games to Philadelphia and New Orleans.
Denver at Baltimore, 1 p.m. ET (CBS) |

Preview
The line: Broncos by 2½
The line: Denver is hot, winning eight straight games and a second consecutive AFC West championship. Baltimore is not, dropping its past two and losing its offensive coordinator. They're two clubs headed in opposite directions, with Baltimore looking like a team hurtling back to earth ... except ... except the Ravens may have Denver just where they want them.
Which is home.
Yeah, Baltimore lost to 37-year-old third-stringer Charlie Batch (now 38) at M&T Bank Stadium two weeks ago, but that was its first home loss in 16 games, including the playoffs. Even with that defeat, the Ravens are 23-2 in their past 25 regular-season starts in Baltimore. That's good, and so is this: They are 5-0 at home vs. Denver, including four wins in the regular season.
But there's more. Linebacker Ray Lewis is back at practice and could return from a torn triceps he suffered in Week 6. I know, Lewis isn't the player he once was, but he's a team leader, and his presence in the huddle and the locker room could be the strength Baltimore desperately needs. The same goes for Terrell Suggs, who may also be close to returning. All I know is the Ravens are looking for something on defense, where they rank 25th overall, blew fourth-quarter leads in two weeks to Batch and Kirk Cousins and dropped their past two games on the final play.
Nevertheless, it's not defense as much as it is offense that will be dissected here, with Jim Caldwell taking over for Cam Cameron as the team's coordinator. The timing is curious, but the Ravens need points to stay ahead of Peyton Manning and Denver. The Broncos are white hot, averaging more points per game (28.8) than everyone but New England, thanks to some of the best football of Manning's career. The last time I saw him in Baltimore he beat the Ravens in the 2006 playoffs, and while he didn't produce a touchdown he made all the right moves to push Indianapolis through.
That could happen again if Baltimore doesn't pressure him into hurried throws. Manning is marvelous at getting rid of the ball, taking only 19 sacks this season, and if he has the time he'll exploit a secondary that is little more than adequate. The key for Baltimore is hurrying Manning, controlling the clock with Ray Rice and not making the critical mistakes that sabotaged them last weekend in the third quarter vs. Washington.
Oh, yeah, and taking advantage of that home-field advantage.
The back story: Dating back to 2009, Rice has 1,767 yards rushing in December and January, tops in the NFL. That includes 40 runs of 10 or more yards, also best in the league.
Indianapolis at Houston, 1 p.m. ET (CBS) |

Preview
The line: Texans by 9½
The story: What am I missing here: Houston by 9½? I guess oddsmakers are counting on an enormous Texans rebound after the mess we witnessed Monday. I mean, here they are coming off a short week and an embarrassing loss on national TV to play a club that has won seven of its past eight starts ... yet they're a 9½-point favorite.
Sorry, but I don't get it.
It's not that I believe the Colts are an elite team. But I do believe they're one of the most improved teams. Plus, there's something about these guys that makes you wonder if they're just not destined to accomplish the extraordinary.
Look, they weren't supposed to be much more than a step above an expansion team, yet Bruce Arians is 8-2 as an interim head coach and the Colts not only look like sure things for the playoffs but aren't out of the AFC South picture. With a sweep of Houston (they play them Week 17, too), they could win the division.
No, I don't believe that happens, either, but I do believe the Colts make this game competitive. Houston must prove it's worthy of the AFC's top seed, and maybe that's what is pushing up the point spread. Of course, it could be the Indianapolis defense, too, but how do you count out Andrew Luck? He came from behind to beat a Green Bay team that shredded Houston -- in Houston, no less -- and he's beginning to make second-half comebacks routine.
The Texans' pass rush couldn't get to Tom Brady and suffered the consequences. I have no doubt the same thing happens here if J.J. Watt and Co. can't reach Luck, basically because I don't trust the Houston secondary. Let's not forget that it's not just Brady who dissected these guys; Chad Henne threw four touchdown passes and put up 37 points on them last month, too.
Houston, you may have a problem.
The back story: The Texans are an NFL-best 5-0 in one-score games, with four of the victories on the road.
Monday night lights
N.Y. Jets at Tennessee, 8:30 p.m. ET |

Preview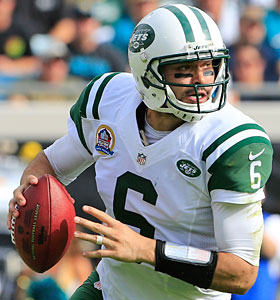 The line:
Titans by 1½
The story: Yes, Rex, there is a Santa Claus. Your Jets are not out of the playoff picture. Repeat: Your Jets are NOT out of the playoff picture. All they must do is run the table the final three weeks and hope someone -- Cincinnati, Pittsburgh, someone -- falters as the sixth seed. That's not improbable. Neither is the Jets winning out, not with a schedule of the Titans, San Diego and Buffalo, opponents with a combined record of 14-25.
I know, the Jets shouldn't be in the playoffs, but they're not out. Not yet. They could finish 9-7, and let's hear it for Ryan. He's not mentioning the "P word" because he knows what you and I do: That the Jets' chances are slim. Still, he has them in the hunt, and that can happen when the back end of your schedule is stocked with stiffs.
But that's OK. The Jets don't need to apologize for the schedule; they just need to take advantage of it.
For all the talk about Mark Sanchez and the Jets' travails at quarterback, I don't think it's Sanchez who determines the outcome of this game. I think it's Jake Locker. If he avoids the fatal mistakes that sabotaged him and his team last week the Titans win; if not, it's another episode of Ryan's Hope.
The back story: The Titans have won four of their past five on Monday night.
Crummy game of the week
Kansas City at Oakland, 4:25 p.m. ET (CBS) |

Preview
The line: Raiders by 2½
The story: The Chiefs stink. The Raiders stink. And it's supposed to rain.
Forget the score. I want to see the crowd count. With less than two weeks left to Christmas I have to believe holiday shoppers have something better to do than spend Sunday sitting in the rain to watch two of the league's worst clubs sort out their draft positions.
Because that's what this is all about.
If the draft were held today, Kansas City would have the first pick and Oakland the third. But the draft won't be held today, and there are three weeks for these two to jockey for position. Oakland has lost its past six games, its longest skid since 2007, but the Chiefs have won just one of their past 10 -- and that was in the aftermath of the Javon Belcher tragedy.
Kansas City is as bad on the road as it is at home, and, yeah, I know the Chiefs have won eight of their past nine in Oakland. I also know Oakland is just 2-5 at home. Nevertheless, given the choice of Carson Palmer vs. Brady Quinn, it's easy to pick a winner. Chiefs fans, relax: Your draft position shouldn't change.
The back story: With the release of cornerback Ron Bartell, the Raiders will start their seventh combination of defensive backs.
Upset of the week
The story: I know the Broncos are rolling. I know Peyton Manning is having an MVP season. I know Denver is playing for one of the two top seeds. But I also know Baltimore rarely loses three in a row and rarely loses twice at home. The Ravens lost there to Pittsburgh two weeks ago in a game where they did virtually nothing right; I can't see them losing there now.
But it's more than an extraordinary home-field advantage that Baltimore has working for it. Ray Lewis could be back. So could linebacker Terrell Suggs. There's a new offensive coordinator. And there's a sense of urgency that was missing when the Ravens were cruising at 9-2.
Baltimore should be accelerating to the playoffs, and it's not ... and I don't see John Harbaugh allowing that to happen this time around. Plus, Denver has been on cruise control for weeks, beating up less-than-sensational opponents. That's not a knock on the Broncos. They may be the AFC's most complete team. It's just an acknowledgement that they're beating teams they should beat, with only one of their past eight opponents having a winning record (Cincinnati).
Baltimore is decent, it's home and it's desperate. All those make the Ravens a logical choice to pull the upset.
Five guys I'd like to be
1. N.Y. Giants QB Eli Manning: He has won his past four vs. Atlanta (including playoffs), with six touchdowns, one interception and a passer rating of 119.5.
2. Atlanta DE John Abraham: In four games against the Giants he has three sacks and two forced fumbles.
3. Green Bay QB Aaron Rodgers: He aims for his sixth straight defeat of Chicago. In his past three starts vs. the Bears, Rodgers has nine touchdowns, two interceptions and a 117.4 passer rating. When Rodgers has a rating of 115 or better the Packers are 25-0.
4. Tampa Bay QB Josh Freeman: In his past four starts against New Orleans, he has eight touchdown passes, no interceptions and a passer rating of 110.5.
5. Minnesota QB Christian Ponder: He has won seven of his past eight games he played indoors.
Five best matchups
1. Green Bay TE Jermichael Finley vs. Chicago LB Lance Briggs: Briggs called Finley "an idiot" for suggesting the Bears might be better off without injured linebacker Brian Urlacher. I would say that should make the conversation interesting when these two meet Sunday -- especially after Urlacher fired back, saying Green Bay was better in its Super Bowl season without Finley. To his credit, Finley later called Urlacher "a Hall of Fame player and person" and said he meant "no disrespect," but too late. The damage was done.



What is Week 15's best game?
49ers at Patriots
Giants at Falcons
Broncos at Ravens
Colts at Texans
Total Votes: 45,119
2. Arizona CB Patrick Peterson vs. Detroit WR Calvin Johnson: Peterson believes he's the best cornerback in the game ... at least that's what he told Detroit reporters this week ... so he's not intimidated by anyone -- and that includes Megatron. "Me and Calvin, we're the same caliber players," he said. I think that's what you call a challenge, and good luck with that, Patrick.
3. Chicago WR Brandon Marshall vs. Green Bay: It was Marshall who launched into a rant this week about his next opponent, saying, "I don't like the Green Bay Packers. I'm not going to use the word 'hate,' but I really dislike the Green Bay Packers and their players." Marshall singled out defensive backs Tramon Williams and Charles Woodson for comments they allegedly made after the Packers beat Chicago earlier this season, saying they make this game "personal for me." Let's see how that plays out, Brandon.
4. Pittsburgh QB Ben Roethlisberger vs. Dallas QB Tony Romo: If the Cowboys are America's team, what does that make Pittsburgh? "The World's Team," Roethlisberger said this week. He was kidding, of course, and fortunately, Romo got the joke -- refusing to take the bait when he met with reporters. "I think Ben knows how to have fun with you guys," he told them. He's right. So now the question is: Does he know how to win in Dallas? Stay tuned.
5. Seattle RB Marshawn Lynch vs. Buffalo: It was the Bills who made him a first-round draft pick, and it was the Bills who traded him away to Seattle for fourth- and fifth-round picks. Now, Lynch is the league's second-leading rusher and playing Buffalo for the first time since the trade. If you expected him to say something about it you don't know Lynch. He hasn't talked about Buffalo since leaving.
Five things that may only interest me
1. There are 24 teams still alive for a playoff spot, the fifth-highest number of teams at this point in the season since the NFL-AFL merger.
2. If and when Indianapolis wins 10 games the Colts become only the fourth team in league history to produce double-digit victories immediately following a season where they had two or fewer. The others were the 2008 Miami Dolphins, the 1975 Baltimore Colts and the 1963 Oakland Raiders.
3. New England has 13 straight victories in December. With a win Sunday the Patriots surpass Dallas for the second-most consecutive wins in one month. Only the 2006-09 San Diego Chargers (18 in December) had more.
4. Baltimore is 10-1 vs. the AFC West under John Harbaugh and, dating back to 2004, has won 11 consecutive home games vs. West teams (AFC and NFC).
5. The last time Baltimore offensive coordinator Jim Caldwell called plays was 1999 when he was head coach at Wake Forest.
Numbers to remember
3: Sacks for Aldon Smith to tie Michael Strahan's single-season record (22½)
4-1: Cleveland's record in its past five home games
11: Consecutive division wins for Green Bay
17.2: Average margin of victory in Baltimore's five home defeats of Denver
29-2: Tom Brady's regular-season home record since 2008
32-6: Joe Flacco's regular-season record at home
34: Baltimore's average number of points at home, second-best in the NFL
40-10: Atlanta's record under Mike Smith when scoring first
40: Sebastian Janikowski career field goals of 50 or more yards, tying him with Morten Andersen
• Atlanta: Dome
• Baltimore: Showers, high of 53
• Chicago: Cloudy, high of 43
• Cleveland: Showers, high of 49
• Houston: Thundershowers, high of 73 (retractable roof)
• Miami: Partly cloudy, high of 80
• New Orleans: Dome
• St. Louis: Dome
• Glendale, Ariz.: Partly cloudy, high of 61 (retractable roof)
• Toronto: Light rain, high of 47 (retractable roof)
• San Diego: Few showers, high of 60
• Arlington, Texas: Mostly cloudy, high of 70 (retractable roof)
• Oakland, Calif.: Showers, high of 55
• Foxborough, Mass.: Few showers, high of 42

Where we will be
• I'll be in Baltimore to take your orders at Café Hon.
• Mike Freeeman will be in Foxborough to cast his MVP vote for Tom Brady.
• Pete Prisco will be in Atlanta to cast his MVP vote for Matt Ryan.
• Gregg Doyel will be in Chicago to ref the Jermichael Finley-Lance Briggs smackdown.