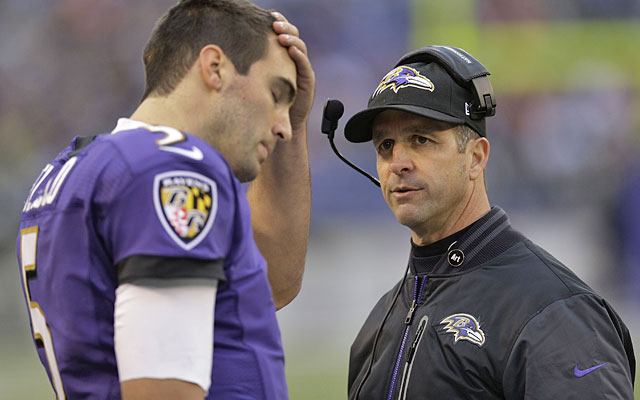 Shortly after Baltimore lost its third straight on Sunday, I heard from two of the city's talk-radio shows -- both of which wanted to know what I thought the Ravens should do next with struggling quarterback Joe Flacco. My answer: What they must do.
Namely, extend his contract and sign him to a long-term deal.
"Pay him whatever he asks for," coach John Harbaugh said after the Ravens' season-opening defeat of Cincinnati.
That was over three months ago, and it seemed a slam-dunk then. But now it's an issue in Charm City, where disgruntled fans are on Flacco's case because of the Ravens' recent hardships. Flacco can become an unrestricted free agent after the season if the Ravens don't extend his current contract, but there's a better chance of Mark Sanchez getting named league MVP. The Ravens will keep Flacco for one reason and one reason only.
The guy wins.
More on Baltimore Ravens
Related links
NFL coverage on the go
He led the Ravens to the AFC Championship Game in his rookie year. He led them to the AFC title game last season. He has them in the playoffs again this year, and, OK, so they backed in. Big deal. They're in, which is more than I can say for guys like Sanchez and Cam Newton and Jay Cutler and Philip Rivers and Eli Manning.
But that's my point: The Ravens are in the playoffs every season with Flacco, and that's no exaggeration. Flacco has been in the NFL five years, and in those five years the Ravens reached the playoffs -- winning at least one game in each of his first four tries, with all but one of those starts on the road. Nobody else can say that. Not Aaron Rodgers. Not Peyton Manning. Not even Tom Brady.
Yet the natives are restless, and I didn't understand until I was grilled by Baltimore radio. Essentially, their question was this: Why should the Ravens re-sign him to a multiyear deal, especially when it could cost them huge money and when he's as erratic as he has been this season? Hmmmm, well, let's try this: Because he gives you stability, durability and success you haven't had at the position. Oh, yeah, and because you need him.
Will that do?
So Flacco isn't Joe Montana. He doesn't have to be. He has be the caretaker of an offense that revolves around Ray Rice, but that's the problem: The Ravens' offense doesn't ... at least not lately. Baltimore tried to make Flacco into a quarterback he's not and its offense into something it's not, and it not only cost former coordinator Cam Cameron his job but is having consequences for Flacco, with Sunday's loss to Denver as Exhibit A.
In that game, Flacco threw 40 times, and not very accurately, while Rice touched the ball 15 times, including 12 rushes. I'm sorry, but that's not how Baltimore wins, people. Running Rice and playing defense is.
Yet when the Ravens needed Rice most ... when they absolutely, positively had to trust him with the ball ... they turned instead to Flacco and paid for it. He threw that disastrous interception at the end of the first half that, basically, ended the contest. The Ravens had three timeouts. There were 34 seconds left. They were at the Denver 4. They had three snaps. Time was no factor, yet they rushed to the line of scrimmage, panicked and had Flacco throw a sideline pass that was intercepted and returned for a game-clinching TD.
Stupid, stupid, stupid.
"Flacco isn't the problem," said an AFC coordinator. "That offense is built on a lot of inflexibility."
Nevertheless, people want to fault Flacco for the mistake. Me? I fault the play-calling. Both add up to the same thing: Another Ravens loss, and that has nothing to do with Flacco's future. The next three games will, however, and I'm not talking about extending him because that's a no-brainer. Nope, I'm talking about what he commands.
"The next three weeks are going to determine a lot," said one GM. "It's all about negotiations. I'm sure the Ravens are hoping for the better because they don't mind paying him. The biggest difference in Joe this year from years before is that the Ravens are not a top defense, and when that happens Joe struggles. He can't carry the team because he's not consistent enough. But they're going to sign him. They have to."
Exactly.
Still, that won't stop angry Ravens fans from venting. They're not happy, and they wouldn't mind a change ... but my question is: A change to what? To who? Most teams would take Joe Flacco in a heartbeat, and for good reason: He's a solid, experienced quarterback who wins a lot of games. No, he's not "elite," and, please, let's not get started again on that subject. But he is someone I trust to win playoff games. Plus, in what I believed then to be his defining moment, he led the Ravens on a game-winning TD drive in the final minutes of the 2011 AFC Championship Game ... and he made the game-winning TD throw.
Only one problem: Lee Evans dropped it. Then Billy Cundiff blew the game-tying field goal, and, presto, just like that, New England, not Baltimore, goes to Super Bowl XLVI. But that wasn't Flacco's fault. He did what he had to do to push the Ravens to the next level.
"This subject comes up on the radio a ton," said former GM Vinny Cerrato, now a talk-show co-host on Baltimore's 105.7 The Fan. "You know why? Because he played so well early, and expectations got so high and now ... well, now he's been inconsistent."
I guess Baltimore fans are mesmerized by the success that rookies like Robert Griffin III, Andrew Luck and Russell Wilson have had this season or that Newton and Andy Dalton had in 2011, but this just in: Flacco had it, too. And he still does, with Baltimore one win from clinching its second straight division championship with Flacco at quarterback. Trent Dilfer didn't do that. Elvis Grbac didn't, either. Or Steve McNair, Jeff Blake, Kyle Boller, Vinny Testaverde, Tony Banks or Jim Harbaugh. The Ravens ran a lot of guys through the door at quarterback, and only one stuck.
You're looking at him, people, and you should be looking at him for a long, long time.