In three games at the Georgia Dome, the Atlanta Falcons have picked off Peyton Manning, Drew Brees and Eli Manning a combined 10 times in three victories.
The secret?
"Third down," veteran Falcons linebacker Mike Peterson said. "We do a great job of confusing with all the looks we use."
Falcons' first-year coordinator Mike Nolan brought with him a more exotic-looking defense. The past couple of years, the Falcons would line up in a four-man front and usually rush four. Now they bring seven and eight guys into the box before the snap, which makes it hard to identify who is coming and who is dropping.
That makes it especially tough on third down for opposing quarterbacks, even the brightest in the league. How do they make the quick decisions on who is coming and who is dropping? It helps that the Falcons have a fast defense, which allows a lot of movement just before the snap and yet they can still get into position.
Their pre-snap looks often evolve into something else just before the snap as players move quickly to new spots, changing what might look like zero coverage into something else.
The Falcons have received a ton of praise for their offense this season, but the defense is fourth in points allowed. They have given up some yards, but they have done a great job of taking away the football.
Atlanta has 18 interceptions, third best in the NFL. It also has 27 total takeaways, which is ranked eighth in the league.
In the three victories over the two Manning brothers and Brees at the Georgia Dome, the Broncos, Saints and Giants were a combined 15 of 36 on third down, which is 41.6 percent. For the season, the Falcons are getting teams off the field at 40.6 percent. So even against three top-level quarterbacks, the Falcons did a nice job against them at home on third down.
With one more victory, it would mean Atlanta will be playing any playoff games at home, which is a big advantage for its speed defense. You can't let playoff veterans like Eli Manning or Aaron Rodgers just sit back and pick you apart. And if the Falcons face young passers like Colin Kaepernick or Russell Wilson or Robert Griffin III, they can throw a ton of looks at them to get their heads spinning.
In studying some of the things the Falcons have done against those three elite passers at home, it's impressive to watch their pre-snap movements to create different looks, almost making three of the best QBs look confused at times. If you can do that to Peyton Manning and Brees, arguably the two best pre-snap quarterbacks in the game, you are doing something.
Here is a look at some of the things they've done, starting with the Denver game in Week 2.
This is Manning's first of three interceptions in that game. It comes on the Broncos' first series. Denver has a third-and-12 at its own 12-yard line. Manning has two receivers to his right, the strong side of the formation, and clearly wants to go that way. The Falcons show eight men in the box, but safety William Moore (yellow circle), is lined up with the linebackers just off the line. Before the snap, he starts to backpedal. Manning thinks he has Jacob Tamme (red circle) open in the middle. But Moore comes underneath the route and picks Manning off for a big play that sets up the game's first touchdown. Manning never sees him.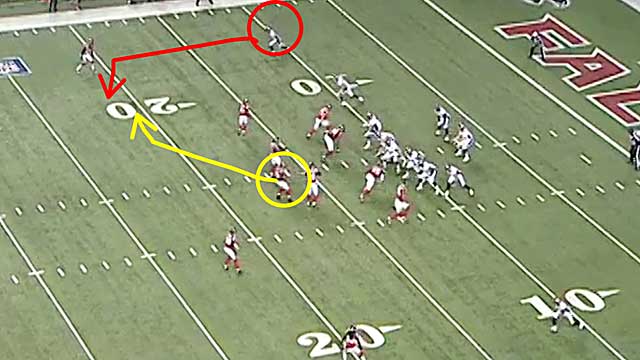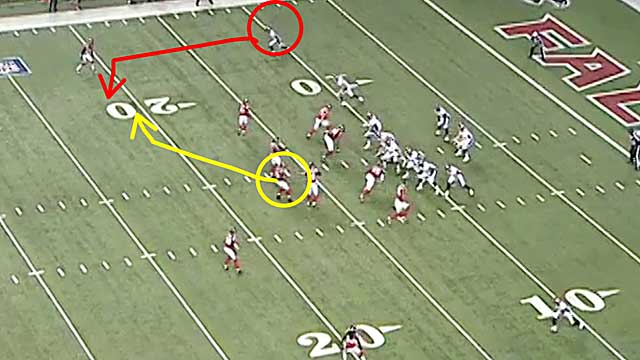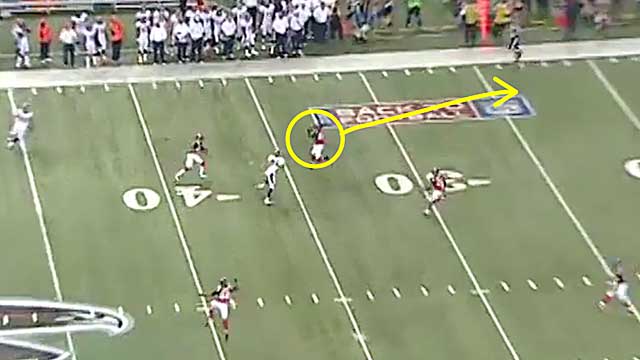 Here is one of the interceptions the Falcons got against Brees. Again, it is Moore making the play. The Saints have a second-and-5 at their own 48. They show two receivers to the right and one to the left. The Falcons look to be in a two-deep zone at the snap, but Moore (yellow circles) instead plays "robber" coverage. The corners and safety Thomas DeCoud (red circles) rotate to a three-deep coverage, which allows Moore to slip underneath and pick off Brees' pass intended for Devery Henderson (black circle) on a cross from the left side of the formation. Brees throws across his body and never sees Moore, who steps in front of Henderson.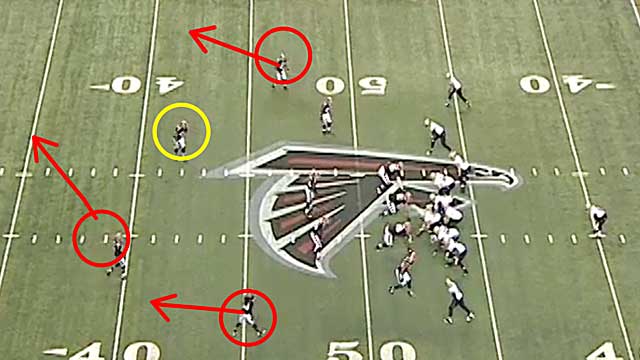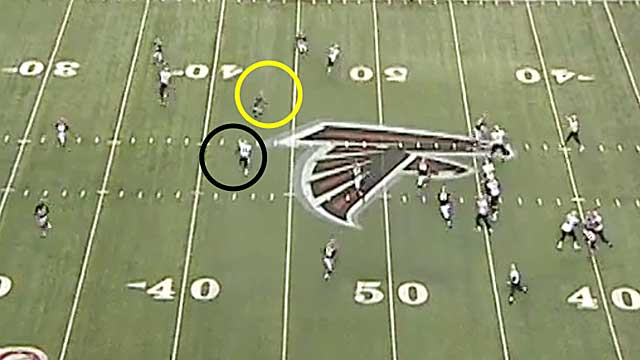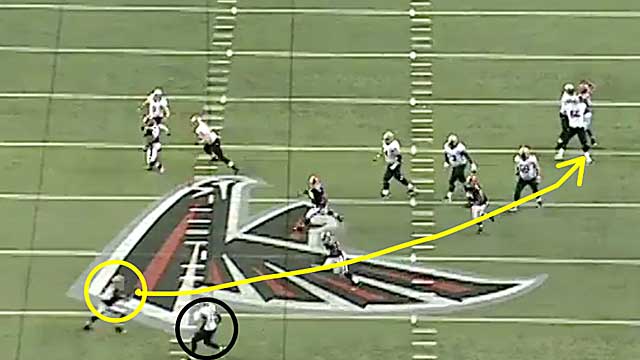 Here's a look at a third-and-10 play for the Giants against the Atlanta defense. The Falcons have eight guys up near the line of scrimmage. But at the snap, two of them drop, while six rushed the quarterback. The two drop out on the weak side into zone coverage, leaving three defenders on two to Manning's left. He goes to his right with pressure in his face and hits Victor Cruz. But the Falcons react to the football and made a tackle short of the first down. Manning has the middle of the field wide open at the snap, but the dropping out of the two defenders helps take that away. It's a great design, aimed at forcing the ball out fast and running to tackle the receiver short of the first down.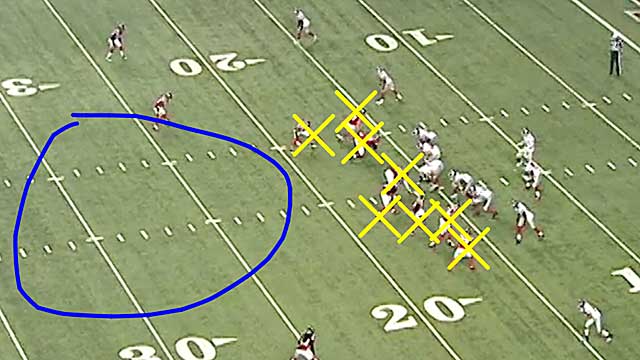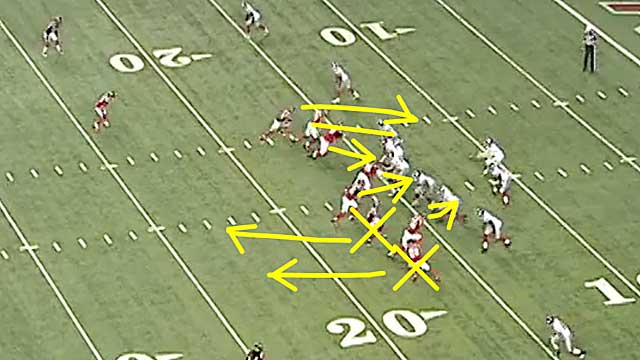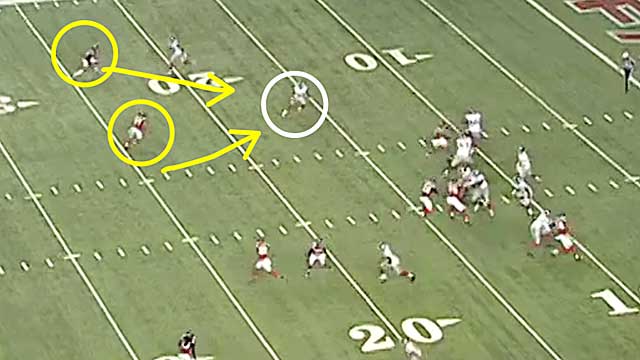 The Falcons aren't a big defense, which is why these looks are so important. They are not the type of defense that can just line up and overpower teams. It helps when they have the lead, too.
Outside pass rusher John Abraham is still an effective outside rusher. They stand him up at times and he will rush from both sides. Outside linebacker Sean Weatherspoon, who I will highlight down lower in the film study, is a special player. He has speed and he can play the run or blitz. He is the defensive joker. It also helps that DeCoud and Moore are having career seasons.
So don't get all caught up in the idea the Falcons are just an offensive team. The defensive numbers aren't great, but their three games against elite quarterbacks inside the Georgia Dome serves notice for the playoffs.
Film study
1. One of the most-improved players the past couple of weeks has to be Eagles defensive end Brandon Graham. I loved the kid coming out of college three years ago, but he battled injuries early in his career and some started to think he might be a bust. But the Eagles released Jason Babin a few weeks ago in large part because they wanted to get Graham on the field more. He showed why against the Bengals, getting two sacks against Andre Smith, a tackle who was playing at a high level before last week's game. Graham beat him with an effort sack, lunging to trip up Andy Dalton, and then whipped him with a speed move to force a fumble by Dalton and a turnover. But his best play wasn't even a sack. It came when he chased down Dalton for a 2-yard gain on the other side of the field, showing off his speed. What made the play so impressive was that Graham was lined up at left end over tackle Dennis Roland, who was in as an extra tight end. Roland chipped him, then went out in the pattern and Smith then blocked him, and Graham came off that and running back BenJarvus Green-Ellis took a shot. He stayed with the play and ran Dalton down. That play showed me this kid wants it.
Here's a look at that play. You can see Graham (yellow circle) across from Roland. All three of the red blocks get a piece of Graham. But he stayed with the play as Dalton ran to his left and then chased him down near the sideline. That is relentless play.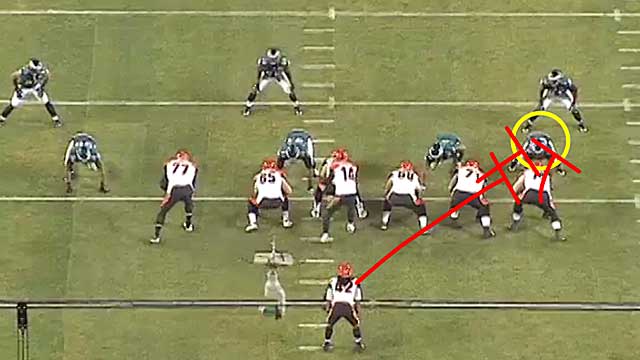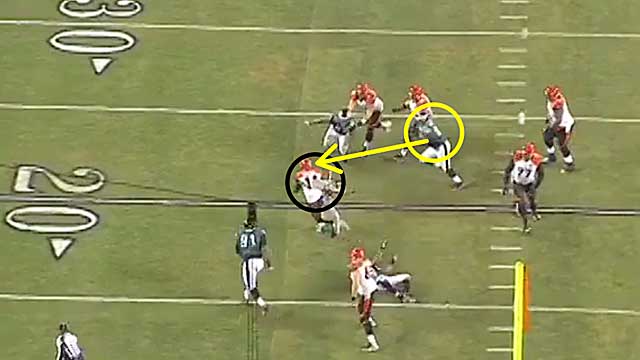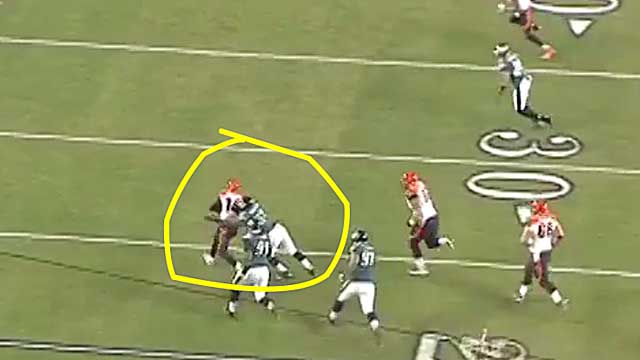 2. I mentioned Falcons linebacker Sean Weatherspoon above. He has the speed and size to be one of the special linebackers in the league. He showed that off against the Giants. On a two-play sequence, Weatherspoon, who runs as well as any linebacker in the league, showed off his ability to play the run with force too. The Giants faced a third-and-2 and a fourth-and-1, and both times Weatherspoon came up with big plays.
The first pictures below show his third-down stop. The Giants are in a one-back, shotgun look so the Falcons are spread out. New York tries to run inside to Kregg Lumpkin. Giants center David Bass, usually a reliable run blocker, tries to get out on Weatherspoon, but Weatherspoon sheds him to make the tackle for no gain. As you can see from the pictures below, Lumpkin would have had a big gain if Weatherspoon doesn't make the play.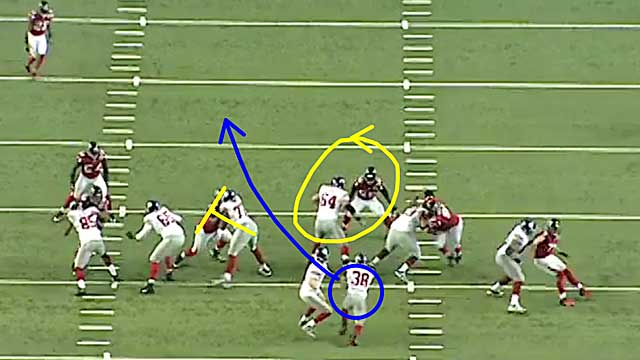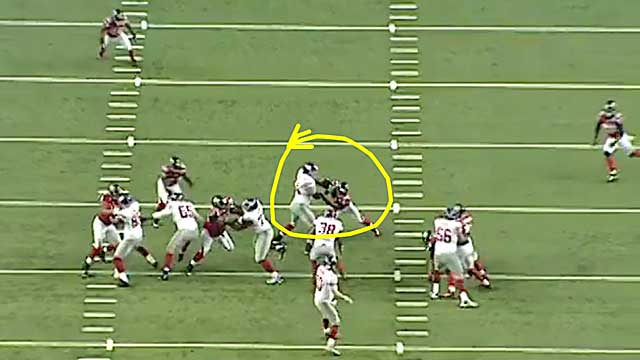 Here's the fourth-down play. With the Giants in a more traditional run set, with an offset fullback to the left, the Falcons have three linebackers. Weatherspoon is in the yellow circle. It's up to Giants fullback Henry Hynoski to take on Weatherspoon. Normally, Hynoski is one of the best blocking fullbacks, but Weatherspoon blows him up to make the stop and give Atlanta the ball.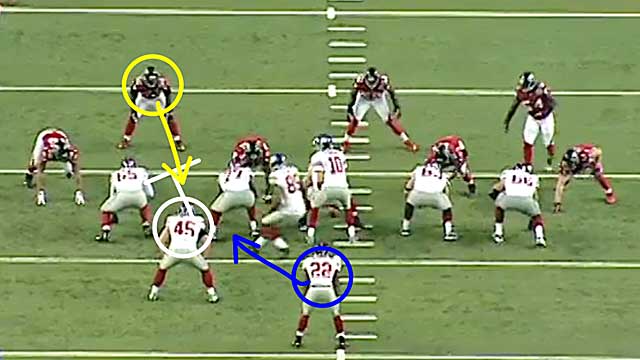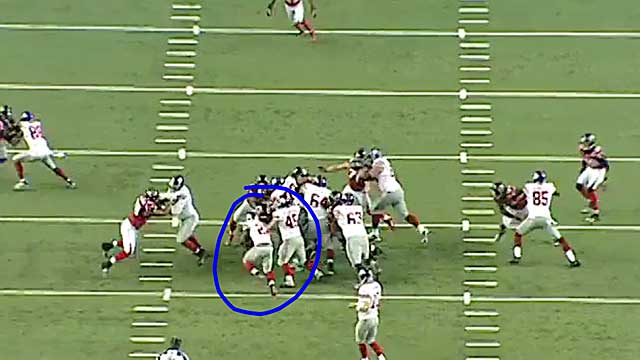 3. I studied the Browns-Redskins game, and came away impressed with Kirk Cousins. It's only one start, but he did some really nice things. What I liked about him is that he wasn't afraid to make the tougher throw, rather than taking the easier check down. That was the case on his first touchdown pass, a 54-yard chuck to Leonard Hankerson. On that play, Cousins faked a handoff and bootlegged to his right. As he did, tight end Logan Paulsen was open for an easy throw that would have gained about 10-12 yards. But Cousins took the chance at the big throw to Hankerson, who came from the left side deep into the middle. There were three Browns in the area, but Cousins dropped the ball perfectly into Hankerson's hands for the score. Cousins did throw a bad interception early in the game to safety T.J. Ward when he tried to force a ball into a covered receiver. Later in the game, Cousins passed on what should have been a big play down the field and instead threw short and incomplete to Pierre Garcon. That's being a bit nitpicky. The Redskins did a great job using play-action to help get the receivers open. On those plays, Cousins did a great job of extending the ball to make it look like run, then pulled it back to set up the pass. He also turned his back to the defense on some of those plays, which can make it tough on a quarterback, but he did a nice job of getting his head snapped back around to make a play. It was a heck of a first start for the rookie.
4. It's time people started giving Cowboys quarterback Tony Romo some love. He is playing some of the best football of his career. The Cowboys have won five of six games and Romo has thrown 12 touchdown passes and three interceptions in those games. He is coming off a 341-yard, two-touchdown game against the Steelers last week. Romo is playing with a lot of confidence. His touchdown pass to Dez Bryant was a confident throw. He threw to a spot, knowing Bryant would get there. Romo released the ball as Bryant was step-for-step with corner Kendrick Lewis, but Romo threw to the pylon and Bryant made the touchdown look easy. Romo has completed at least 70 percent of his passes in four of the past six games. That's impressive. And he hasn't had a ton of help, especially up front on the line.
5. Steelers safety Troy Polamalu, who missed much of the season with a groin injury, looks heavy and heavy-legged. He just doesn't seem to be the same player he once was. Polamalu has never been great in coverage -- always a gambler -- but you could count on his tackling. Not anymore. He whiffed on a long run by DeMarco Murray and also missed on a tackle on receiver Dwayne Harris. Polamalu isn't taking the right angles because he looks heavy-legged and it's showing up. On one blitz, he got put on his butt by tight end John Phillip last week against the Cowboys. Another Steelers player who isn't the same is outside linebacker James Harrison. He just doesn't put fear in opposing offenses anymore. He was handled for most of last week's game. He also dropped into coverage more than usual.
6. I love the anatomy of a big play. Adrian Peterson's 82-yard touchdown run last week against the Rams was a combination of a great effort by him, but also the perfect play call against the Rams' blitz. St. Louis lined up with a single-high safety with the corners in man coverage. That meant safety Quintin Mikell was in the box as the extra defender. He was lined on the right side of the defense, and both Mikell and linebacker Rocky McIntosh blitzed from that side. But the Vikings had a delay handoff to Peterson called to the right side. He got a great kick-out block from right tackle Phil Loadholt, and guard Geoff Schwartz blocked down on Kendall Langford who was actually dropping off as a zone blitzer, creating a natural cavity in the middle. Fullback Jerome Felton had the lead block on linebacker James Laurinaitis and Peterson made a jump to his left off that block, and he was gone. Safety Craig Dahl got sucked too far inside and couldn't make the play. It was the perfect call against that defense, but Peterson made it special with that jump cut.
7. I keep hearing people asking what's wrong with San Diego quarterback Philip Rivers. Put the tape in from last week's San Diego-Carolina game and you will see. His line is horrible. And his receivers don't win outside. Carolina had a good pass rush from the outside. But they are not known for their secondary play. Yet almost every time Rivers went back to throw, he had few options available down the field. I also noticed this: Several times in the second half some of those receivers seemed to be jogging their routes. That's what you call quitting. Rivers is fine. He just needs more help -- a lot more.
8. One of the players who stood out in that San Diego-Carolina tape was Panthers defensive end Greg Hardy. He had three sacks in the game. He is a big, physical defensive end who lines up on the right side. When Hardy was a sophomore at Mississippi, there was some talk he would be a high first-round pick. But he had some injury issues and he reportedly clashed with the coaching staff. That led to his dropping to the sixth round. In his first season with the Panthers in 2010, he had three sacks. Then he had a motorcycle accident before the 2011 season that limited him in the preseason. He has four sacks. This season, he has 11. He is a strong end who can overpower tackles, which he did to San Diego's Mike Harris on one of his sacks last week. On another, he was coming around the edge and knocked the ball free from Rivers. With Charles Johnson on the other side with 10½ sacks, the Panthers have a nice pass-rush combo. With Cam Newton improving on the other side as a passer, the Panthers have the ingredients needed to win in this league now: A quality passer and the guys to knock the other team's passer down. Now they need to get a premier corner and some help inside on defense.
9. When you look at the Seattle receivers, it's natural to want to play man coverage against them. They don't have a real burner to fear down the field. But that is dumb considering the way they play offense. Quarterback Russell Wilson is good running with the football when teams play man coverage. That's because the defensive backs have their backs turned to him. Wilson's 25-yard touchdown run last week against the Bills, one of three scoring runs for him, is a perfect example. On the third-and-10 play, Seattle sent five receivers into the route, all against man coverage. When Wilson felt pressure and moved out of the pocket to his left, he had a wide-open field. What should have been a shorter gain turned into a touchdown because all of the defensive backs had their backs to him and safety Jarius Bryd hesitated in the middle of the field. You could see the frustration of Bills defensive tackle Marcell Dareus after the score on the tape when he angrily stomps up and down. It might be wise to play more zone against Wilson on third-and-long. He is dangerous when defensive backs have their backs turned.
10. The Bills have to draft a quarterback. Ryan Fitzpatrick is not the answer. Some of the throws he made against the Seahawks were horrible. His two interceptions were horrible decisions. The first came when he was trying to throw inside to tight end Scott Chandler. He stared him down as Chandler ran across the field, but he never saw Seattle linebacker K.J. Wright waiting for him to throw it. Wright picked off the pass and set up a Seattle touchdown. That's an elementary read. Later, Fitzpatrick tried to hit Brad Smith deep on the left sideline. Chandler was well covered by corner Jeremy Lane but Fitzpatrick threw it anyway with pressure in his face. Safety Earl Thomas came over and picked off the pass and returned it 53 yards for a touchdown. Now we know why Buddy Nix wants a new quarterback.
Hot tub
1. Texans DE J.J. Watt: He had three sacks and owned the line of scrimmage against the Colts.
2. Browns S T.J. Ward: Not only did he have an interception but he also did a nice job tackling in the run game.
3. Raiders DT Tommy Kelly: He was impressive against the Chiefs. Why doesn't he do it more often?
4. Cardinals CB Greg Toler: He was good in coverage, but the big play was his 102-yard interception return for a touchdown.
5. Titans S Michael Griffin: After being torched a bunch this year, he had two picks against the Jets and actually showed off some range.
Cold tub
1. Jets QB Mark Sanchez: You hate to pile on, but he was horrible against the Titans. Horrible.
2. Bills LT Cordy Glenn: He had a rough time with Seattle defensive end Chris Clemons.
3. Bucs QB Josh Freeman: He was way off last week in getting picked four times by the Saints.
4. Rams S Craig Dahl: He was a whiffing machine against the Vikings.
5. Lions QB Matt Stafford: He looked lost at times, throwing to picks for scores.
Three reasons why Adrian Peterson won't be the MVP
1. Quarterbacks are 70-percent of the game now.
2. Peyton Manning.
3. Tom Brady.
Three guys I would hire to be my GM
1. Arizona Cardinals director of player personnel Steve Keim. This former football player has a presence about him, kind of like Colts GM Ryan Grigson.
2. Baltimore Ravens assistant general manager Eric DeCosta -- teams have tried to lure him away, but he's stayed loyal to the Ravens. The right job just might do the trick.
3. Giants director of college scouting Marc Ross -- I have the utmost respect for Giants general manager Jerry Reese and this guy has worked under him for five years. I hear good things about this former Princeton receiver.