Game of the week
San Francisco at Seattle, 8:20 p.m. ET |

Preview
The line: 49ers by 1½
The story: Good thing San Francisco won last weekend. Otherwise, this might be a game to decide first place in the NFC West, and one thing about Seattle at home: The Seahawks don't lose. Not only is their record there this season unblemished, but their defeats include New England, Dallas and Green Bay.
Yes, the 49ers are the best team in the division. Yes, they might be the best team in the NFC. Yes, they just pulled off a huge upset of New England in Foxborough where Tom Brady and the Patriots rarely lose. But, no, there are no guarantees here, not with a Seahawks club that just pounded its past two opponents by a combined score of 108-17.
Seattle's strength is the league's third-ranked defense and running back Marshawn Lynch, who has more yards rushing than everyone but Adrian Peterson. But the addition of rookie quarterback Russell Wilson brought a pulse to an offense that needed one, with Wilson this season throwing more touchdown passes (21) than either Robert Griffin III or Andrew Luck. The key with Wilson, as it is with RG3, are the turnovers; he rarely makes them.
So it's defense vs. defense, which is what happened earlier this year when the 49ers outlasted Seattle 13-7 in San Francisco. Alex Smith was the quarterback then. Colin Kaepernick is the quarterback now. While he makes more plays than Smith he makes more mistakes, too -- with last weekend's defeat of New England an example. He had a career-best four touchdown passes, but also fumbled four snaps.
Coach Jim Harbaugh believes Kaepernick can take him to a Super Bowl ... and maybe he can ... but he must prove he can get past Seattle first. Beating New England at home demonstrated that Kaepernick and the 49ers are legitimate Ready for Prime Time Players, but the Patriots' defense leaks a lot more than what they'll see Sunday. With the 49ers on the verge of winning their second straight division championship, this game is more about Seattle than it is its opponent.
We know the 49ers can win tough games on the road with Kaepernick. They demonstrated it by beating the defending AFC champions. What we don't know is what to make of Seattle and its rookie quarterback. The Seahawks have beaten quality opponents, but only one of their past five (Chicago) had a winning record.
The Seahawks are good and good enough to be a playoff threat. We just don't know how good. This is where we find out.
Peek at the Week XVI
Column

Related links
Pro Football 360
Fantasy Football
NFL coverage on the go
The back story: Wilson not only hasn't lost at home; he has 12 touchdown passes, one interception and a passer rating of 118.4. He is the first rookie quarterback since the merger to start and win his first six games at home.
Three games I'd like to see
Bengals-Steelers, 1 ET (CBS) |

Preview
The line: Steelers by 3½
The story: I'll make this simple: Pittsburgh needs this game a lot more than Cincinnati. With a victory here, the Bengals automatically qualify for the playoffs ... which isn't the case for Pittsburgh. For the Steelers to qualify, they must also close out Cleveland next weekend, and, yeah, I know it's the Browns. It's also an opponent that knocked off Pittsburgh earlier this year.
So this is about survival for the home team, and that makes Pittsburgh dangerous.
Granted, the Bengals are hot, winning five of their past six, but that doesn't mean they're playing their best football now ... because they're not. Anyone who watched last week's defeat of Philadelphia understands, and if there's concern it's with quarterback Andy Dalton. He's not the quarterback he was earlier this season, waiting too long to make throws, wildly erratic when he does. If Dalton plays as well ... or as poorly ... as he did vs. Philadelphia, the Bengals better hope for a rash of Pittsburgh turnovers.
That's how they overcame Philadelphia, and it can be their ticket to the top here, too. Of course, so can picking on Pittsburgh's secondary, with cornerback Ike Taylor out and Cortez Allen recovering from injuries.
But Pittsburgh's problems start with its offense, not defense. Quarterback Ben Roethlisberger hasn't been all that great since returning two weeks ago, and now he's complaining about the play-calling. OK, so he apologized. There's still trouble within that huddle, with the Steelers in an atypical late-season funk, losing four of their past five -- with the lone victory by third-string quarterback Charlie Batch.
The Steelers committed 15 giveaways in those losses, including eight in that defeat by Cleveland, and, guaranteed, there will be more if the Steelers don't plug leaks in their pass protection -- especially against these guys. Not only is Cincinnati playing better defensively; the Bengals lead the league in sacks with 43, which is one reason Pittsburgh's players are calling for a return to running the ball -- and that just might happen here.
The back story: The Steelers have won their past three at home in December vs. Cincinnati.
New Orleans at Dallas, 1 p.m. ET |

Preview
The line: Cowboys by 3½
The story: New Orleans isn't going to the playoffs, but Dallas might. The Cowboys are red hot, winning five of their past six and are so confident that quarterback Tony Romo this week announced if they're within 10-14 points entering the fourth quarter here they're going to find a way to win.
Now, there are two ways of looking at that: 1) That's a quarterback supremely confident in his ability to command the offense; 2) That's a quarterback prepared for the worst, believing the Cowboys probably will enter the fourth quarter behind. Either way, it's up to Dallas to make the most of this opportunity -- taking the NFC East down to the final weekend.
Romo has been the most important reason the Cowboys are in the playoff hunt, avoiding costly mistakes where he and the Cowboys typically fail. I'm talking about December, where Romo was 9-13 entering this season. But he's 3-0 now, with 12 touchdown passes and only three interceptions in his past six starts.
Nice, huh? There're more. Romo led Dallas to a come-from-behind defeat of Philadelphia on Dec. 2. He led Dallas to a come-from-behind defeat of Cincinnati two weeks ago. And he led Dallas to a come-from-behind defeat of Pittsburgh last week. Until this month, the Cowboys hadn't won a game this season where they trailed entering the fourth quarter.
Now this.
"We've gotten to the point where we're a mentally tough football team," said Romo.
And New Orleans? I don't know what to make of the Saints. They get drilled by the Giants, then follow with a 41-point demolition of Tampa Bay. The Saints aren't going anywhere, but they can be a playoff factor -- depending, of course, which Drew Brees shows up. He stunk vs. the Giants; he was incendiary vs. the Bucs. The Dallas secondary is vulnerable if Brees gets the time, and consider his pass protection critical to the Saints' chances of being a factor in who does reach the playoffs.
The back story: When DeMarco Murray has 18 or more carries, the Cowboys are 9-0.
N.Y. Giants at Baltimore, 4:25 p.m. ET |

Preview
The line: Giants by 2½
The story: Someone asked me the other day which of these two teams I trust less, and the answer is Baltimore. After watching the Ravens drop their third straight game and second in a row at home last weekend, I no longer know what to expect. Of course, the same goes for the now-you-see-them, now-you-don't Giants, but one thing I do know about this year's team: When it's bad one week, it's usually OK the next.
You can look it up: The Giants have lost two consecutive games only once this year, and following the four times they did follow a defeat with victory it responded big -- never scoring fewer than 38 points and averaging 43 per start.
The Ravens are going to the playoffs, and the Giants might -- with all the guess work removed if they win their final two games. That means there's an urgency here for one team, and, typically, the Giants seem to respond when the window is closing. I say "typically" because there was nothing typical about what happened during Sunday's shutout in Atlanta.
That's not like the Giants, but this year's version isn't following any prescribed pattern -- with the pass rush MIA and Eli Manning failing to throw a touchdown pass in four of his past seven starts.
Not only that, but Ahmad Bradshaw has had trouble getting on the field -- with the running back missing practice Wednesday and Thursday -- and defensive end Justin Tuck may not be able to make it because of a shoulder injury. Offensive linemen David Baas and Chris Snee are hurt, too, with both missing practice this week, but offensive coordinator Kevin Gilbride is hopeful they suit up because of their "toughness" and "desire to play."
I'll take that as a yes.
Don't talk to the Ravens about injuries. They played last weekend without their top three tacklers and guard Marshal Yanda, then lost wide receiver Torrey Smith to a concussion. The Ravens historically are tough at home, but not lately -- and they were positively horrendous on offense in coordinator Jim Caldwell's NFL debut as a play caller. Just a hunch, but they have running back Ray Rice touch the ball more than 15 times and let him, not quarterback Joe Flacco, determine what happens to their offense.
"We've got to make a freaking run," safety Bernard Pollard said this week. "For us, we dug a hole. We can't complain. We did it. We [expletive] this thing away. Everybody is talking about, 'What happened?' Well, what happened is us."
Precisely.
The back story: Flacco is 9-0 at home vs. the NFC, with 14 touchdowns and three interceptions.
Saturday night lights
Atlanta at Detroit, 8:30 p.m. ET |

Preview
The line: Falcons by 3½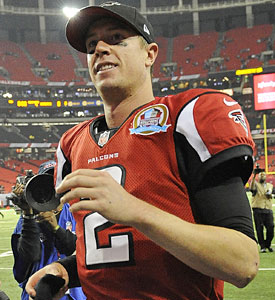 The story:
Atlanta needs one more victory to gain home-field advantage through the playoffs, and it should find it here. The Lions stink, losing 17 of their past 26 since starting last season 5-0 and in the midst of a six-game swoon. Aside from
Calvin Johnson
, not much has gone right with this club, and I would start with a defense that hasn't allowed an opponent to score less than 24 points since a Nov. 4 defeat of Jacksonville, their last victory.
You would think being home might count for something, but you would be wrong. The Lions are 2-4 there, losing their past three, but at least every game at Ford Field has been close. In fact, none of the six games has been decided by more than seven points, with the Lions losing their four by a total of 18.
That won't satisfy the locals, who are angry and calling for offseason moves. In the meantime, the Lions must figure out how to stop the bleeding, and good luck. Atlanta just torched the Giants and absolutely, positively knows the value of home-field advantage. The last dome team to graduate to the Super Bowl by playing a conference championship game outside? There hasn't been one.
Then again, the Falcons did nothing with the advantage two years ago when they were 13-3. They had one playoff game at home and lost.
The back story: In his past seven home games, Matthew Stafford has averaged 345.6 yards passing per start. When he has a rating of 105 or better the Lions are 10-0.
Crummy game of the week
San Diego at N.Y. Jets, 1 p.m. ET (CBS) |

Preview
The line: Jets by 2½
The story: The Jets stink. The Chargers stink. Neither is going to the playoffs. Both will make major offseason moves. The Chargers will fire their head coach and, in all likelihood, their GM. The Jets will fire assistants and may have a new GM, too. Moreover, there's talk of a new quarterback in New York, where the Jets have been looking for the next Joe Namath since Broadway Joe retired.
Enough already. Once, this was the Sunday night matchup, but it was moved because stands will be half empty and ratings negligible. Few people are interested in clubs that can't get out of their own way, and these are two of the worst. The Jets have 33 turnovers; the Chargers have 26. Enough said.
If there's a reason to watch it's only to see what Jets quarterback Greg McElroy brings to the table. Rex Ryan refused to start him until now, and you have to wonder why he waited so long -- especially in light of Mark Sanchez's travails. But here's a clue: If McElroy wasn't good enough to beat out Sanchez ... and he wasn't ... the bar may have just been lowered.
The back story: The Jets are 6-0 when Shonn Greene rushes for 100 or more yards.
Upset of the week
Seattle (+1½) over San Francisco
I know the 49ers outlasted Seattle earlier this season, and I know they just demonstrated how tough they can be by going across country to beat Brady and the Patriots.
That's why I don't like them here.
First, there could be an emotional letdown. The 49ers know last weekend's victory all but wrapped up another division title, so let's just say they're not as "pumped," as Pete Carroll would put it, as they were vs. New England.
Second, while the Seahawks lost in San Francisco, it was only by six points.
Third, the Seahawks don't lose at home. They're 6-0 there, and they believe they have something to prove -- just as San Francisco did a week ago.
Fourth, the 49ers may be without star defensive lineman Justin Smith, who hasn't practiced this week.
Fifth, and most important, Seattle's Carroll would love nothing better than to take down Harbaugh. These two don't like each other, and Carroll hasn't won since they squared off in college -- and, yeah, I would call that motivation.
Five guys I'd like to be
1. Denver QB Peyton Manning: At home this season he has 16 touchdown passes, two interceptions and a passer rating of 109.0.
2. New Orleans DE Will Smith: He has six sacks in four games against Dallas, with a sack, forced fumble and interception in his previous start against the Cowboys.
3. Green Bay QB Aaron Rodgers: He has 25 touchdown passes, three interceptions and a passer rating of 115.7 in his past eight starts vs. the AFC, including the Super Bowl. The Packers are 26-0 when he has a rating of 115 or better, and Rodgers has won 24 of his past 26 starts at home.
4. New England QB Tom Brady: In three career starts vs. Jacksonville he has seven touchdown passes, no interceptions and a passer rating of 118.4.
5. Pittsburgh LB James Harrison: He has eight sacks in his past nine starts vs. Cincinnati.
Five best matchups:
1. Seattle coach Pete Carroll vs. San Francisco coach Jim Harbaugh: It doesn't matter where they coach. Los Angeles. Palo Alto. Seattle. San Francisco. You name it. They don't like each other, with Harbaugh complaining about the physical play of Seattle's cornerbacks the last time they met. "I did go back to look at the film to see what Jim was talking about," said Carroll, "and I had trouble seeing why there was a complaint. But the fact that he did [complain] ... he was just trying to get some help from the officials, I think."



What is Week 16's best game?
49ers at Seahawks
Bengals at Steelers
Saints at Cowboys
Giants at Ravens
Total Votes: 45,315
2. Philadelphia coach Andy Reid vs. Eagles fans: It's Reid's final home game in his final season with the Eagles, and it will be curious to see the reception he's given. Reid has been one of the game's best and brightest, but Philadelphia fans aren't happy unless they're miserable ... and they're in their element this season. They've been calling for Reid's firing since last year, and they're going to get their wish after Dec. 30. I just want to see what send-off they have in mind.
3. San Francisco's offensive line vs. Seattle's 12th Man: I'm talking about the raucous Seahawks crowd, one of the loudest in the league and a factor in the team's success at home. Once upon a time, it caused the New York Giants to incur 11 false-start penalties, and, trust me, the 49ers are aware. A year ago, they had 29 false starts. This year they've cut the number to 14. Look for that to grow Sunday.
4. Miami's defense vs. takeaways: The Dolphins just don't get them. Period. In 2010 they set a franchise low with 19. Then they tied that figure a year later. So new coach Joe Philbin this season preached a change in that department, and he has gotten one: The Dolphins are worse than ever, with just 12 in 14 games and only one in their past seven. No wonder the Dolphins are 3-7 when they either lose or tie the turnover differential.
5. Cleveland RT Mitchell Schwartz vs. Denver LB Von Miller: Schwartz is a rookie who will see a lot of Miller, the defending Defensive Rookie of the Year and a candidate for this season's Defensive Player of the Year -- and good luck. "If he's not the best [the Browns faced], he's very, very close," said Schwartz. "He's probably the best pure athlete in terms of speed and change of direction and athleticism.
Five things that may interest only me
1. If the Washington Redskins win the NFC East it would mark the 10th straight season that one NFL division has been won by a team that finished last the previous year.
2. J.J. Watt and Aldon Smith are tied for the league lead with 19½ sacks each, while Von Miller is third at 16. If two of them reach 20 they become the first pair of pass rushers in league history to produce 20 or more sacks each in the same season.
3. If Denver beats Cleveland it would mark the ninth regular season in which Peyton Manning has at least 12 victories -- an NFL record. Tom Brady and Brett Favre are second with six each.
4. Arizona punter Dave Zastudil needs only five more kicks inside the 20 to set a single-season record. Zastudil, who dropped six inside the 20 last weekend alone, is only four short of the league record of 42 shared by Ben Graham, Andy Lee and Steve Weatherford. Zastusdil will have his chances. That happens when you punt for the league's 32nd-ranked offense.
5. After committing 15 turnovers in his first seven games, Dallas' Romo has only four over his past seven. Better yet, his interception rate the past six games is the second lowest in the NFL. The Cowboys are 5-1 in those contests.
Numbers to remember
1: Catches needed for Andre Johnson to reach 800 for his career
5-0: 49ers' record in prime-time games this season
5.1: Ray Rice's rushing average vs. NFC opponents
6: Chris Johnson rushing TDs of 80 or more yards
6: Interceptions by Seattle's defense in its past two games, including two returned for touchdowns
7: Consecutive games where Calvin Johnson has produced at least 100 yards in receptions
8: Dez Bryant TDs in past six Dallas games
12: Consecutive home wins for Baltimore vs. NFC
75.9: Passer rating of quarterbacks vs. San Francisco
152: Consecutive Cam Newton passes without an interception
1,313: Adrian Peterson rushing yards in his past eight games
• Charlotte: Mostly cloudy, high of 55
• Arlington, Texas: Mostly cloudy, high of 71 (retractable roof)
• Green Bay, Wis.: Partly cloudy, high of 25
• Houston: Cloudy, high of 76 (retractable roof)
• Jacksonville, Fla.: Mostly cloudy, high of 62
• Kansas City, Mo.: Partly cloudy, high of 36
• Miami: Partly cloudy, high of 76
• East Rutherford, N.J.: Partly cloudy, high of 40
• Philadelphia: Sunny, high of 43
• Pittsburgh: Mostly sunny, high of 36
• Tampa, Fla.: Mostly cloudy, high of 67
• Denver: Mostly sunny, high of 46
• Glendale, Ariz.: Mostly sunny, high of 65 (retractable roof)
• Baltimore: Sunny, high of 47
• Seattle: Few showers, high of 44

Where we will be
• I'll be in Baltimore to take your orders at Rocco's.
• Mike Freeman will be in Pittsburgh to call plays for Ben Roethlisberger.
• Pete Prisco will be in Jacksonville to lead the Bring Back Jack drive.