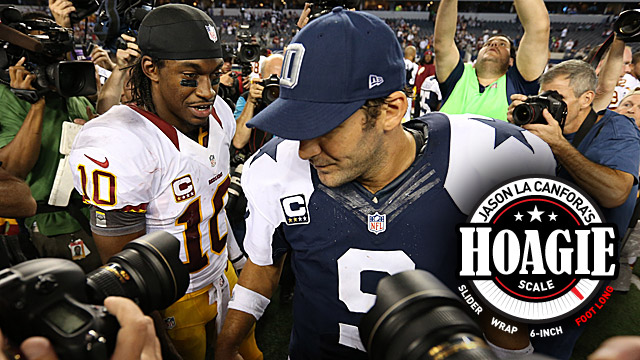 I'm not going to bullcrap you guys. There isn't much drama left in this final week of the season.
I'm going to have to get a little more creative than usual to make some of these matchups seem endearing. I may have to stretch the truth a bit here or there, so please suspend disbelief when need be and let's keep in mind that we won't have a full slate of games again until early September, which seems like an eternity from now.
I suspect we'll see a fair number of teams sitting a fair number of players, with the AFC postseason picture almost perfectly clear and the NFC with two spots still to be determined. There won't be a wild free-for-all with numerous obtuse tiebreakers in play and a host of teams vying for the final spots.
But there is one divisional title still to be played for, and some hotly contested postseason awards -- like rookie of the year and MVP -- still to be determined and no shortage of coaches hoping that one more victory might make this holiday season a little more festive around their households, with the inevitable NFL purge of Black Monday just around the corner.
This is the last chance to establish some momentum for 2013, a last chance to make a statement for a fanbase -- in the case of all those not going to the playoffs -- and a final opportunity for management and ownership teams to evaluate their product before assessing what needs to change and how to get better this offseason. So even in games where the teams have no hope, there still should be sufficient motivation to end this season in the best manner possible.

| | | |
| --- | --- | --- |
| |  at  | |
Dallas at Washington
Sunday, Dec. 30, 8:20 p.m. ET (NBC)
Why To Watch: It's the game of the week, it features two longtime rivals, and they're both alive for the postseason on the final day of the season. The first time they met, points came in bunches and the Redskins picked up a signature Thanksgiving road win that really has propelled them to this improbable comeback from a 3-6 start to the precipice of an NFC East title. Dallas has been an outstanding story, and the class exhibited by the organization in the face of their DUI tragedy has been noticed around the league. Tony Romo comes in off a four-touchdown effort in defeat while Robert Griffin III has the spotlight to try to secure the rookie of the year award. Basically, this is the first game of the 2013 postseason.
What To Watch For: Has Rob Ryan learned anything from his first meeting with RG3? Can Dallas contain him any better and prevent the big plays that doomed the team in the first meeting? I would expect a heavy overload of ends crashing down to try to attack the passer. ... Washington is in real trouble at right tackle, and that could become a key factor in this game with Anthony Spencer in great form and DeMarcus Ware, well, DeMarcus Ware. ... Jim Haslett loves to go Cover-0 and attack with heavy blitzes, but a little patience could go a long way in this one. ... Who the hell are the Redskins going to put on Dez Bryant?
| | | |
| --- | --- | --- |
| |  at  | |
Green Bay at Minnesota
Sunday, Dec. 30, 4:25 p.m. ET (FOX)
Why To Watch: The Vikings have been one of the best stories in the league this season, Adrian Peterson has an outside shot at the single-season rushing title and it's a divisional game with some real playoff meat on the bone. Minnesota wins and they're in the playoffs despite the limited passing offense and the loss of Percy Harvin. Green Bay is still playing for seeding purposes, though you have to wonder a bit if a small part of them doesn't realize that a loss here keeps the hated Bears out of the postseason. Green Bay is getting much healthier on defense.
What To Watch For: Peterson was bottled up by the Texans yet the Vikings found a way to win, and on the road no less. That should boost Christian Ponder's stock some and give him a boost in a game where he is going to need to make some plays. ... Vikings TE Kyle Rudolph will need to be bracketed in the red zone. ... Jared Allen has to like what he's seen from Green Bay's tackle play at times, and he needs to be a difference-maker here. ... Solid early returns last week from the Packers' decision to sit aging center Jeff Saturday. ... You have to like the Vikings' odds if it comes down to the kicking game. Blair Walsh is having an All-Pro season as a rookie and Mason Crosby been very shaky despite his big-game experience.
| | | |
| --- | --- | --- |
| |  at  | |
Houston at Indianapolis
Sunday, Dec. 30, 1 p.m. ET (CBS)
Why To Watch: Normally a team like the Texans, with a bye essentially wrapped up and a No. 1 seed within their grasp, might not have a lot to play for. But after struggling to maintain their dominance from early in the season and looking sluggish against the Vikes last week in another loss, and with the football world giving them the stinkeye and casting aspersions upon their Super Bowl status, well, the Texans need a damn win. They aren't being looked at the way the Patriots and Broncos are by AFC foes and frankly look as if they need a win to jolt their own confidence. The Colts, meantime, have put together wins lately but the performances have been uneasy and the opponents have been largely weak. Getting a win against the AFC champs in the week Chuck Pagano returns to his head coaching position after battling cancer all season just seems like the Colt thing to do during their miracle season.
What To Watch For: Matt Schaub has been under duress more in recent weeks and isn't always handling it with aplomb. He in particular needs a big game to take into what will be his first ever postseason. ... J.J. Watt is still chasing the single-season sack record and gets a weak offensive line here in the pristine conditions of another dome game. ... With Bruce Arians no longer having to carry such heavy game-day responsibilities, it could mean more time to spend in-game with Andrew Luck. ... Indy plays must-watch football in the fourth quarter when within striking distance, and this crowd will be all-in to back their upstart team.

| | | |
| --- | --- | --- |
| |  at  | |
St. Louis at Seattle
Sunday, Dec. 30, 4:25 p.m. ET (FOX)
Why To Watch: Seattle is looking to enter the playoffs on a tear, while the Rams, who won the first meeting between these teams, have a chance to finish above .500, which is truly shocking given the depth to which they had fallen the last five years or so. Seattle wants to complete the season undefeated at home, and Sam Bradford, given the limitations of his offensive line, has to be fearful of this environment. The Seahawks have, at least on paper, a shot at the NFC West should the 49ers slip up, and if this is their last home game of the season, the salute from their crowd will be massive.
What To Watch For: Russell Wilson would get my rookie of the year vote and he may continue to make others see things my way if he keeps up his superior play here. ... Depending how quickly his appeal decision comes down, it could be the first of a four-game suspension for Seattle stud corner Richard Sherman starting with this one. ... Can't help but think St. Louis stud rookie corner Janoris Jenkins might have one more touchdown in him this season. ... Bradford will look at Danny Amendola early and often; he knows the slot receiver is a pending free agent and Bradford badly wants him back. What better way to send that signal?
| | | |
| --- | --- | --- |
| |  at  | |
Baltimore at Cincinnati
Sunday, Dec. 30, 1 p.m. ET (CBS)
Why To Watch: This one looked a lot sexier on paper a few weeks back when it seemed the AFC North division title might be on the line, but at this point the Ravens are pretty much locked into the fourth seed and the Bengals are pretty much locked into the sixth seed. I'll be interested to see how all-out either team really goes here, because from what I gather the Ravens will take their chances getting the Colts at home and then possibly traveling to Houston, rather than having to get the Broncos or Pats in the second round. The Bengals will try to put together consecutive divisional wins, but even they may be doing so with an eye on keeping people fresh for the playoffs.
What To Watch For: Joe Flacco usually struggles mightily on the road and in Cincy in particular, though he comes in off a Week 16 in which he was fantastic. ... I doubt the Ravens activate Ray Lewis for this one, instead saving him for the playoffs. ... Dannell Ellerbe is a difference maker for Baltimore's defense. He opens thing up in coverage and the pass rush when he is on the field, and no surprise that unit looked better than it has in a month with him back out there against the Giants. How does it work when he and Lewis are both active? ... Bengals QB Andy Dalton still seemed limited against the Steelers and made a few bad decisions. Dalton is seeking his first win over the Ravens. ... Cary Williams will be hard pressed to stay with A.J. Green, although he has played very well this season.
| | | |
| --- | --- | --- |
| |  at  | |
Chicago at Detroit
Sunday, Dec. 30, 1 p.m. ET (FOX)
Why To Watch: These two teams really don't like one another, at various times each has thought the other has taken some liberties with its quarterback, and now the Bears find themselves in a must-win situation, needing help from another division foe in Green Bay, while playing in Detroit. The Lions fans not wearing bags on their heads will be rooting on Calvin Johnson to go over 2,000 yards receiving, and this dome will still get loud enough to give Jay Cutler and his woeful offensive line trouble, and the Lions can definitely get after the quarterback. Spoiling Chicago's season would be some small solace to a Lions team that has collapsed in the second half of the season and fallen well short of the expectations set by 2011's campaign.
What To Watch For: Ndamukong Suh is playing out of his mind right now, and the Bears are having all kinds of problems keeping Cutler's head attached to his shoulders. Suh will want to go out with a bang here. ... Matt Forte spent the early part of the week in a walking boot, and even on this fast surface could be quite limited if he does play. ... The Bears live and die on the takeaway, but did their surplus run out last week in Arizona? It's tended to be feast or famine with them. ... Chicago's Cover-2 approach lends itself to big yardage allowed around the middle of the field, where the Lions get it done, but can any red zone target emerge for Detroit outside of Megatron? ... How do Kahlil Bell's legs look early on? With Michael Bush out and Forte possibly as well, the on-again/off-again Bear could find himself in a pivotal role with the season on the line.
| | | |
| --- | --- | --- |
| |  at  | |
Philadelphia at N.Y. Giants
Sunday, Dec. 30, 1 p.m. ET (FOX)
Why To Watch: The defending Super Bowl champs can't go out with a whimper like this, can they? Back to back brutal defeats have them on life support, and you know there is nothing that Eagles coach Andy Reid would love more than to keep them out of the postseason. And considering this is all but certain to be Reid's final game as Eagles coach, even better from his perspective. Eli Manning still doesn't look right, but he can't afford to be outplayed by rookie Nick Foles here. And even with a win, the Giants could still need help to get in. But, with pretty much everything else in the league decided from a playoff perspective, this is about as good as it gets from an intrigue standpoint.
What To Watch For: Look out for the boo birds at the Meadowlands after the Giants have been dominated for two straight weeks. It could get ugly, fast, and the New York needs a fast start after sluggish opening halves recently. ... New York's third-down defense and secondary are looking incredibly vulnerable these days. ... Not sure the Giants defensive line is going to get any healthier, but the pass rush is just not a factor down the stretch. ... LeSean McCoy likely to see a lot of work here after getting his legs back under him last week. ... Jeremy Maclin is developing some nice chemistry with Foles. ... It could be a very big game for Brandon Graham, who is getting after the passer with more confidence by the week, and New York's offensive line is struggling.

| | | |
| --- | --- | --- |
| |  at  | |
Miami at New England
Sunday, Dec. 30, 4:25 p.m. ET (CBS)
Why To Watch: Don't look now, but the Dolphins are flirting with .500, which certainly constitutes success given where they have been lately. And factor in they are doing it with a rookie quarterback and rookie head coach, and it's all the more impressive. The Pats were nearly caught sleeping in Jacksonville, and although they are still playing for playoff seeding, potentially, the stakes are not that high here. Could be the swan song as a Dolphin for impending free agents Reggie Bush and Randy Starks, both stalwarts.
What To Watch For: Do the Pats make an effort to get Rob Gronkowski active and at least somewhat involved, or do they take it through the bye and not bring him back until the postseason? ... Bill Belichick is notorious for playing his starters well beyond the point of reason -- does he do so here against a defense with guys like Cameron Wake and Starks who can really hurt you? ... Doesn't seem like the Dolphins are desperately missing injured left tackle Jake Long, does it? Will be a tricky contract situation with him. Bet they franchise him. ... Wes Welker vs. the Dolphins usually makes for compelling viewing.
| | | |
| --- | --- | --- |
| |  at  | |
Tampa Bay at Atlanta
Sunday, Dec. 30, 1 p.m. ET (FOX)
Why To Watch: The Bucs are in total freefall mode and even against an Atlanta team with nothing to play for, hard to like their chances here. Their 4-2 start is a distant memory and a loss here would drop them to 3-9 within the NFC, which is about where they have been prior to Greg Schiano's arrival. Another loss here and it will be interesting to see if any Tampa players pop off and just how much discord they might take into the postseason, with the rookie head coach not exactly an embraced figure in their locker room.
What To Watch For: Do the Falcons risk any legit starter in this outing with the top seed all wrapped up? Any chance of a Matt Ryan cameo? I wouldn't do it, myself. ... Josh Freeman is turning the ball over like mad again and is ending the season in the same awful manner in which he began it. ... It could be the perfect game for rookie running back Doug Martin to pad his stats against Atlanta's second-string defense.
| | | |
| --- | --- | --- |
| |  at  | |
Carolina at New Orleans
Sunday, Dec. 30, 1 p.m. ET (FOX)
Why To Watch: This should be an offensive display, and I mean that in a good way. Both offenses are clicking, the Panthers have a shot to climb out of the NFC South cellar and make a case to save coach Ron Rivera's job, and Cam Newton has been excellent down the stretch. A 5-1 finish might be enough to keep him around, though that's far from certain with a new general manager on the way in. Drew Brees has one last chance to add to his gaudy numbers for the 2012 season, and with both of these clubs often struggling to make tackles, points should come in bunches.
What To Watch For: Steve Smith excels at finding holes in a secondary, and the Saints provided them like few other teams. ... Newton got the best of the Saints with the read option stuff in the first meeting and will fancy his chances again here. ... Jimmy Graham will be a problem for any of Carolina's linebackers. ... Panthers rookie backer Luke Kuechly has been excellent since being switched inside. ... Saints players will want to send interim head coach Joe Vitt out on a strong note, and have rallied in general since his suspension ended, while talk about Sean Payton's contract situation will dominate their offseason. Wonder if Brees in particular sends any messages in that regard in his postgame remarks.
| | | |
| --- | --- | --- |
| |  at  | |
Cleveland at Pittsburgh
Sunday, Dec. 30, 1 p.m. ET (CBS)
Why To Watch: How do the Steelers, perennial Super Bowl contenders, handle a meaningless Week 17 game a few days after their season essentially ended at the hands of the Bengals, another divisional foe they usually slap around at will? Can they muster something positive at Heinz Field after suffering so many surprising losses there this season? Do the Browns have anything left in what is almost certainly Pat Shurmur's final game as head coach?
What To Watch For: Could the Steelers really be swept by the Browns and fall to 2-4 in the AFC North? ... With Rashard Mendenhall a free agent at season's end, Mike Tomlin might be inclined to give him more carries with him out of the doghouse and the Steelers needing to make some personnel evaluations. ... Mike Wallace has to know this could be his final home game in Pittsburgh, himself a free agent as well. Wonder if Ben Roethlisberger tries to feed him? ... Cleveland ravaged Pittsburgh's offensive line in the first meeting of these teams and battered Charlie Batch. Big Ben will be a different animal for them here, but don't be surprised if they muster ample pressure again.

| | | |
| --- | --- | --- |
| |  at  | |
N.Y. Jets at Buffalo
Sunday, Dec. 30, 1 p.m. ET (CBS)
Why To Watch: So wait a minute, Tim Tebow isn't a saint? Not only is he not thought of as a quarterback by seemingly every NFL team other than Jacksonville, but he also is calculated and can be moody and brooding and tried to beg out of work last week? Really? He isn't the world's greatest teammate and some Jets think he's kind of phony? Get out of here! And the Jets are still pining for Brad Smith, their former Wildcat guy, who is now a Bill. Hmm. Both Rex Ryan and Chan Gailey have to be a little squeamish about their job security coming off humbling defeats again last week, and finishing with another defeat Sunday won't help.
What To Watch For: Hopefully, a ton of C.J. Spiller. Like maybe 35 touches. That would make this game perhaps watchable. ... Mario Williams in full pad-stuffing mode, looking for cheapy sacks. And after the Jets flirting with a baker's dozen allowed a week ago, they seem happy to comply. ... If Braylon Edwards keeps flashing like he is, how long before the Jets give him $8 million guaranteed for 2013? ... Any tears shed for Tony Sparano on the Jets sideline after the game? Maybe a Gatorade shower should the Jets win? OK, how about Tebow pouring out a little Gatorade for his homie in a quiet homage to their train wreck season before he walks through the decrepit bowels of Ralph Wilson Stadium and into the visitor's locker room?
| | | |
| --- | --- | --- |
| |  at  | |
Jacksonville at Tennessee
Sunday, Dec. 30, 1 p.m. ET (CBS)
Why To Watch: Um, because in a few days you won't have Mike Mularkey and Mike Munchak to push around anymore? Because nothing says 2012 Jacksonville Jags like Maurice Jones-Drew in sweat clothes on the sidelines? Because Jake Locker is following in the footsteps of Blaine Gabbert as an over-drafted quarterback and now would-be coach killer? Because the race for the first-overall draft pick keeps you up at night?
What To Watch For: Even Chad Henne's diabolical interception predilection from last week isn't enough for the Jags to want to go back to Gabbert, right? ... Count the number of times Tim Tebow, Jaguar-in-waiting, is mentioned in this broadcast should you be brave enough to watch it for all four quarters.
| | | |
| --- | --- | --- |
| |  at  | |
Arizona at San Francisco
Sunday, Dec. 30, 4:25 p.m. ET (FOX)
Why To Watch: San Francisco seeks to clinch its second straight division title, while the Cardinals can't wait for this season to end. And Aldon Smith, chasing Michael Strahan's single-season sack mark, gets the greatest gift of all, catching this sad-sack offensive line in the final game, and with Brian Hoyer, who just got to Arizona like a week ago, possibly getting his first NFL start. I tend to think Jim Harbaugh might be the kind of guy who lets Smith go after the record even if this game, and the 49ers division title, is no longer in doubt. Another blowout loss might be perilous to Ken Whisenhunt's status as Arizona's head coach.
What To Watch For: Do we get to see some Alex Smith in a mop-up role? Might he dare pull a Tebow and wave the white the flag if called upon? ... Would imagine the 49ers take no chances with Justin Smith still ailing and Vernon Davis coming off a concussion suffered Sunday night. ... Have a feeling Daryl Washington and Calais Campbell come up with a few big plays to punctuate what have been exceptional season that have received not enough fanfare.
| | | |
| --- | --- | --- |
| |  at  | |
Oakland at San Diego
Sunday, Dec. 30, 4:25 p.m. ET (CBS)
Why To Watch: I'm really at a loss here. Most of the state of California will be turning a blind eye to this game, I figure, and as much as these team's fans don't like one another, I wonder how many make it to the stands for this one. Say what you want about Norv Turner, however, coaching his last game for the Chargers here, but he is a quality human being and an offensive guru and he's going to be coveted on the open market as an offensive coordinator. And I bet the Chargers put up 45 points or so to send him off.
What To Watch For: Philip Rivers' arm strength, or lack thereof, is a real problem, seems to me. He just can't hoist the ball downfield the way he used to, for whatever reason. ... With Carson Palmer suffering a rib injury last week, will the Raiders finally give a real look to Terrelle Pryor at quarterback? ... Antonio Gates seems mobile and healthy in recent weeks, actually gaining separation from defenders. ... Would you be mad if Norv threw the ball like 70 times in this game? Literally never called a running play, just lofted it up in the air? Yeah, me neither.
| | | |
| --- | --- | --- |
| |  at  | |
Kansas City at Denver
Sunday, Dec. 30, 4:25 p.m. ET (CBS)
Why To Watch: Peyton Manning is capping what could be an MVP season, and nabbing the comeback player of the year award as well, and after all he has been through with his neck, you take nothing for granted at this stage of his career. ... But with Tamba Hali and Justin Houston staring him down across the line of scrimmage, how much will John Fox submit him to, here, with only seeding to play for? And, remember, a year ago at this time the Chiefs played so hard for Romeo Crennel as their interim coach they beat the Packers and ended up keeping his job for him. Crennel won't be back as head coach in 2013 regardless of this outcome, from what I hear, but I expected a spirited effort from the Chiefs.
What To Watch For: Jamaal Charles coming in off a game in which he averaged about 10 yards per carry, he'd be pretty much all I am watching for in terms of Kansas City's offense. ... The Matt Cassel era is over in KC, with the one-time potential franchise savior still playing second fiddle to Brady Quinn. ... I'm liking this bad-ass Knowshon Moreno 2.0, who initiates contact and runs with passion.