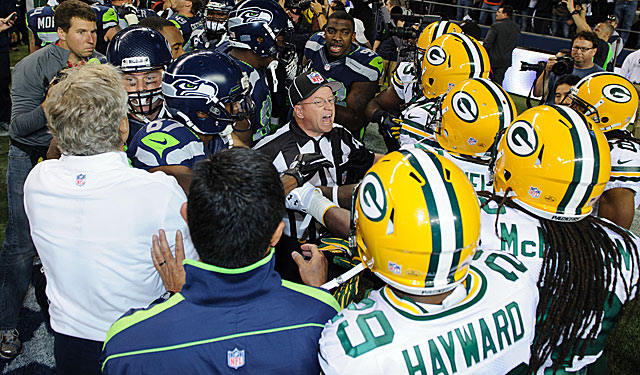 When the NFL decided to lock out its regular officials in a labor dispute, it's hard to imagine either side thinking of the crescendo that would occur to end Week 3 on a Monday night in Seattle.
More on Top 10 stories
Related content
More from Eye on
It was an image that defined one of the league's greatest recent debacles: One replacement referee stood with his arms signaling a touchdown; the other stood signaling that very same pass incomplete. It was the Fail Mary game. A pass from the Seattle Seahawks' Russell Wilson. Time expiring on the clock. An illegal shove in the back. A touchdown catch that wasn't. A game lost that should have been won by the Green Bay Packers and a football nation enraged.
That one horrible call generated more than 1 million tweets, according to Twitter, as fans of the NFL flocked to social media to light the NFL on fire. Green Bay's T.J. Lang tweeted: "[Expletive] it NFL. Fine me and use the money to pay the regular refs." That was retweeted 98,000 times, the largest NFL retweet of the season. Lang was far from alone in his frustration.
Each week to start the season, calls by the replacements -- for the most part lower-level college officials -- were skewered on TV and websites like this one. Eventually, the sides reached an eight-year deal, and the referees got a pay raise and will keep their pension program in place for five years.
The debacle symbolized the NFL's power, its decision-makers believing it could push a substandard product on fans with little or no repercussions. The cost was an image hit that will linger for years.