The Dallas Cowboys can win the NFC East by beating the Washington Redskins on Sunday.
If they do, there are a lot of media members, fans, and big-time bashers who owe Cowboys quarterback Tony Romo a big apology.
Ripping Romo is a blood sport of sorts. But if anybody has paid close attention to the past six weeks, you know the reason the Cowboys even have a chance to make the playoffs is because of Romo.
To put it bluntly: He is playing out of mind.
I've been one of the few pro-Romo media members. I think he's significantly better than most. Romo isn't an elite quarterback, but he's not far behind.
It's just that when he does have a bad game, people pile on. It's part of being the Cowboys quarterback.
Nobody, not even his harshest critics, can complain about the way he's playing now.
Watching Romo on tape you see a comfortable passer who is filled with confidence. His pre-snap reads are spot on. His accuracy is pinpoint. His movement in the pocket is better than it has ever been.
In the last six games, Romo has 14 touchdown passes and three interceptions. He has two games with more than 400 passing yards and three others with more than 300 yards. He is 175 for 267 for 2,082 yards in those six games. That averages to 347 yards passing per game and a 65 percent completion percentage.
Romo has 57 touchdown passes the past two seasons. The only quarterbacks with more are Drew Brees (85), Aaron Rodgers (80), Tom Brady (71), Matt Ryan (60) and Matthew Stafford (58). That's some nice company.
Romo is flourishing despite not having the best group of players up front blocking for him. But even the protection has been better the past couple of weeks, and the Cowboys are doing things to scheme ways to help. One of those ways came on Romo's first touchdown pass to Dez Bryant against the Saints last week, the first of four he threw in the Cowboys 34-31 overtime loss.
On the play, which you can see from the pictures below, the Cowboys have a first-and-10 at the Dallas 42. Romo splits Miles Austin wide left and Bryant wide to the right. Both are in man coverage. The Saints show blitz, but the Cowboys are in a maximum-protection situation. They send only Austin (blue circle) and Bryant (yellow circle) into the route. Everybody else stays in to block. Romo takes the snap and play-fakes to running back DeMarco Murray. When he turns back to make his throw, he takes a look to Austin on the left running an in-route. That holds the single safety. The other safety -- Roman Harper in the red circle -- runs up to the line and gets caught in nowhere land before the snap. That leads to an easy one-one-on matchup with Bryant and corner Patrick Robinson. Without any pressure, Romo makes a deep-ball throw to Bryant, who makes a great play to catch it and run in for the score. It's the type of throw Romo has to make to give the talented Bryant a chance to make a play.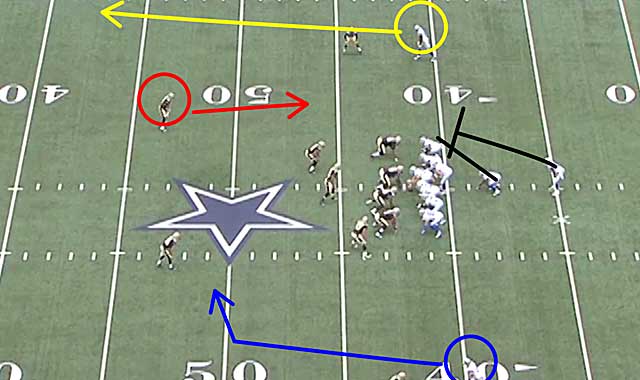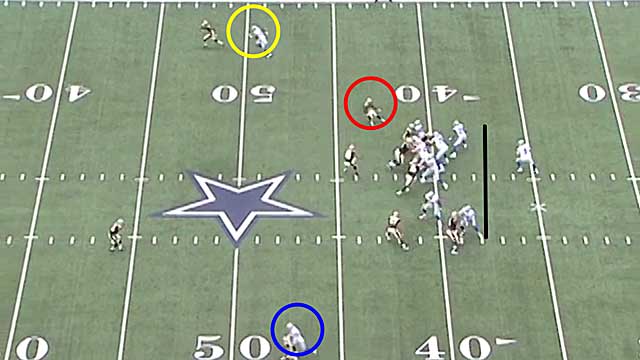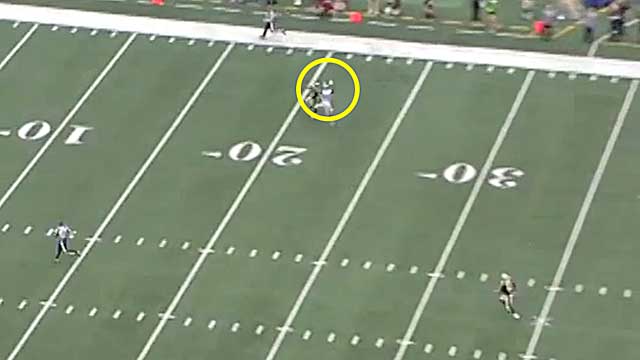 Romo is going so well that even when he makes a misread, he still threw a touchdown pass. Take a look at his 16-yard touchdown pass to Dwayne Harris in the fourth quarter. Harris (red circle) is lined up wide left against Johnny Patrick in off-man coverage. Austin (blue circle) is in the slot inside of tight end Jason Witten (yellow circle). At the snap, Harris runs a stop-fade route to the end zone, Witten clears out the middle and Austin comes underneath into an open area. Austin is so wide open he could almost walk into the end zone if Romo had thrown to him. But instead of making an easy throw -- white line -- Romo throws a dart to Harris -- black line -- and he catches it for a touchdown. The accuracy of that pass is truly impressive, as he throws it outside away from Patrick where only Harris could catch it. Romo's arm compensates for his poor read on the play. When things are going well, that's what happens.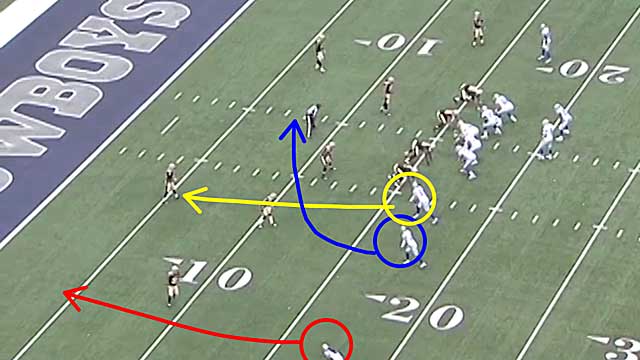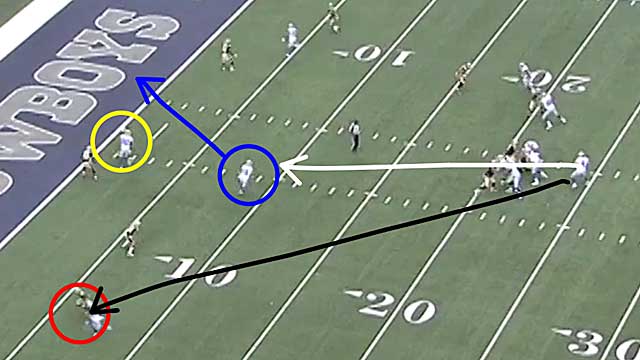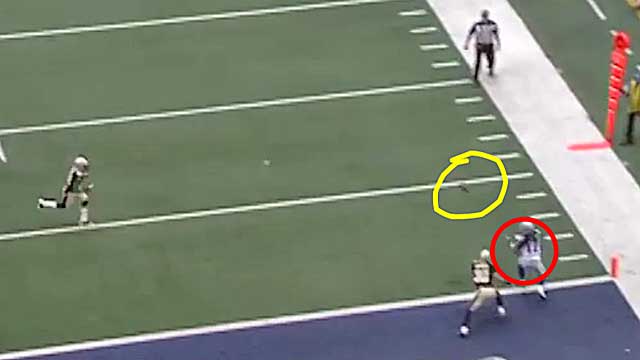 The last throw I want to show came on the Cowboys' game-tying drive in the final seconds. It's not the touchdown pass, but rather a 19-yard throw to Witten. It comes on a second-and-10 play at the New Orleans' 38. Witten (red circle) is lined up in the slot to the left of Romo. He runs across the field in man coverage, settles down, pivots back, and Romo hits him with a dart. What I like about the play is how Romo looks to the left at Austin (yellow circle) before coming back to the middle to hit Witten. You can see in the last picture that Romo's eyes are clearly looking to the left as Witten crosses the field.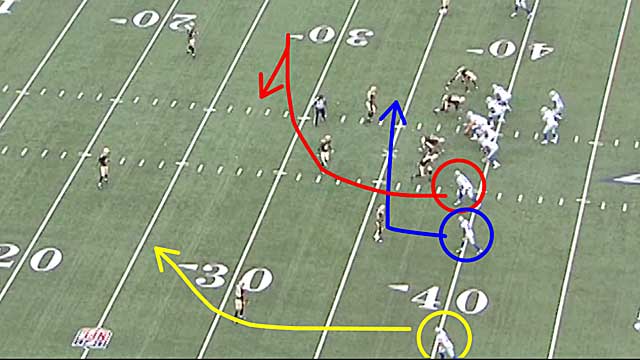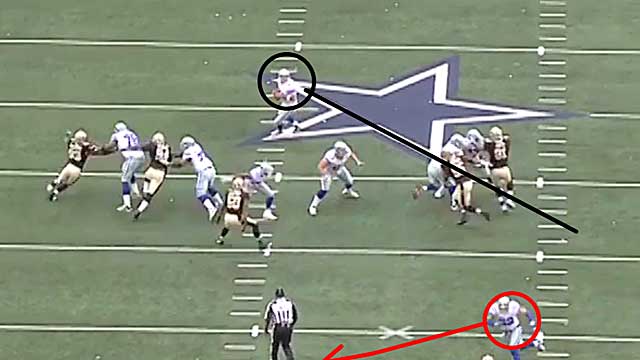 The critics will say Romo didn't get it done in overtime on his only possession, but on a key third-and-5, I thought Bryant did a horrible job of getting across the face of Robinson on a quick slant. Romo threw high as Robinson broke on the ball. That was on Bryant as much as Romo.
So as the Cowboys prepare for the biggest game of the season Sunday against the Redskins, just remember that no matter what happens they wouldn't even be close to being in this position without Romo.
Give the man his due. He's earned it -- no matter how much you want to beat him up.
Film study
1. Vikings running back Adrian Peterson needs 208 yards against the Packers this week to break Eric Dickerson's single-season rushing record. He had 210 against the Packers the last time they played. If the Packers want to limit Peterson, all they need to do is put on the tape from last week's Houston-Minnesota game. The Texans limited Peterson to 86 yards, with 21 coming on one run. The key? Using safeties Danieal Manning and Glover Quin up near the line of scrimmage, just outside the outside linebackers. Both were used near the line during the game, with the other safety back in single-high, but most of the time it is was Quin who was up in the box. And he did a great job of disguising what he was doing before the snap. He would start five yards off the ball, then creep up before the snap and burst around the edge to tackle Peterson before he could get going. It was a great scheme, but it was also good plays by Quin to help keep Peterson contained. Here's a look at some of them.
The first shot shows the Texans with 10 guys within eight yards of the line of scrimmage. Quin is the red X. He moves forward just before the snap to the outside of linebacker Brooks Reed. At the snap, he races off the edge to drop Peterson for a 3-yard loss.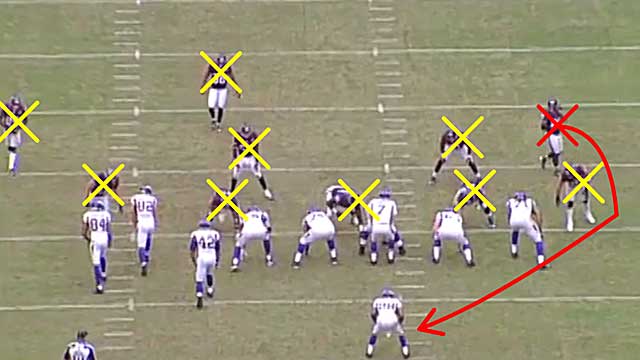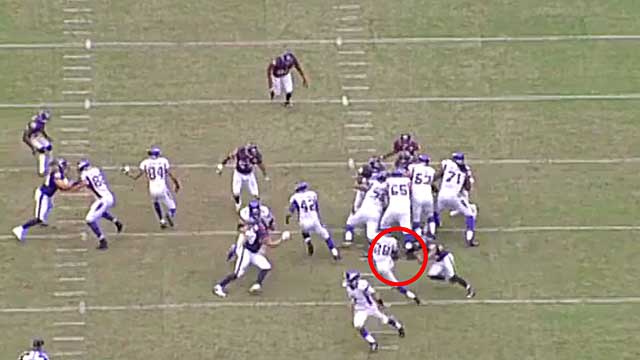 Here's another play from later in the game. This time, Quin is lined up on the right side, outside Whitney Mercilus. Once again, he moves forward before the snap -- walks it up -- and then bursts off the edge to drop Peterson for a loss.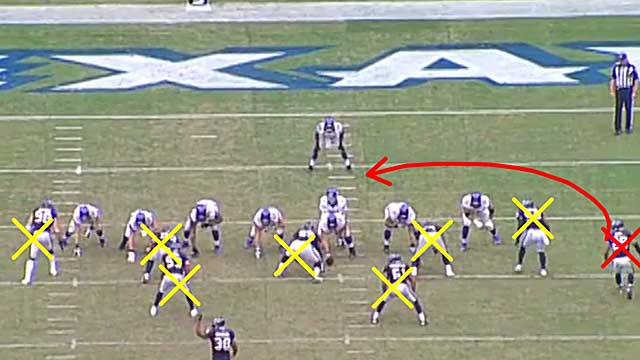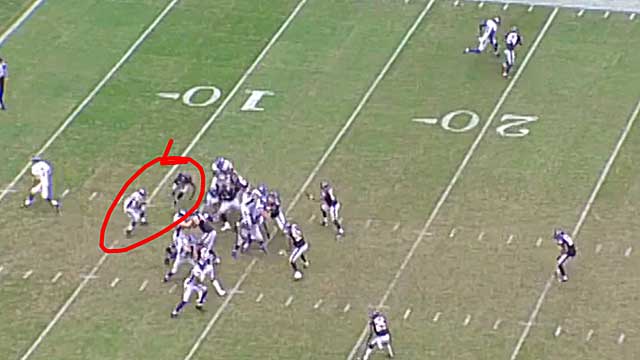 The key to stopping any back is to hit him in the backfield. Peterson is the kind of runner who will have some negative plays, and then can rip off a long run. The Texans never really let him get going in large part because of the scheme and the great play of Quin.
2. While watching the Vikings-Texans tape, I noticed how Texans quarterback Matt Schaub isn't playing at the high level he was earlier in the season. Schaub seemed to be pre-determining where he would go with the football in that game. He passed on some real chances to find open receivers in order to force the football at covered receivers. Schaub wasn't doing that earlier this season. In the past three games, two of them losses, Schuab has one touchdown pass and he's been sacked eight times after getting sacked 15 times in the first 12 games. Schaub was 18 for 32 for 178 yards against the Vikings. That isn't close to being good enough. Here are some of what I call "missed" shots against Minnesota.
This is a third-and-10 play where Schaub takes the shorter throw to a covered Andre Johnson (yellow circle) rather than the chance for a big play to DeVier Posey on the corner route. You can see by the second picture that Johnson is covered and Posey is wide open for an easy throw and a first down.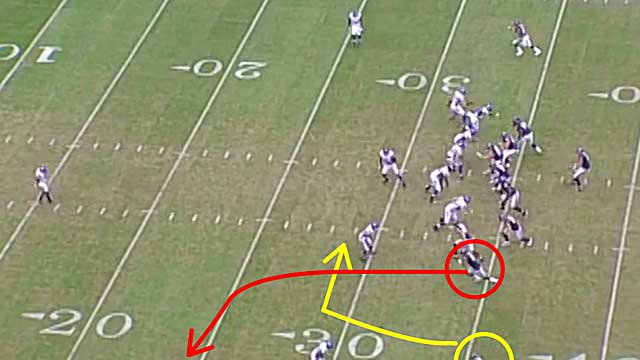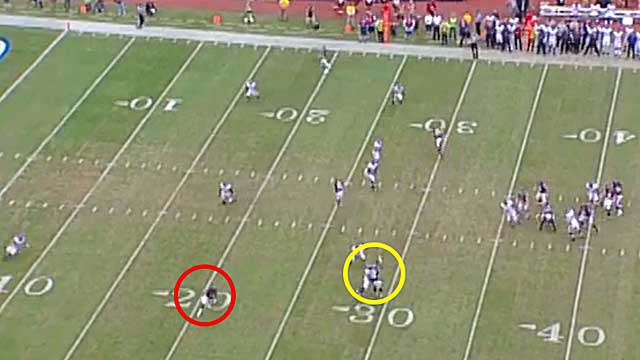 Here's a throw from later in the game. Schaub takes a shot to Kevin Walter (yellow circle) on a deep out, but Walter can't pull in his pass. But, as you can see from the pictures below, a little more patience on the part of Schaub could have netted a huge play to tight end Garrett Graham (red circle) in the middle of the field. Once Graham clears linebacker Chad Greenway, he is wide open with nothing but green field between him and safety Harrison Smith.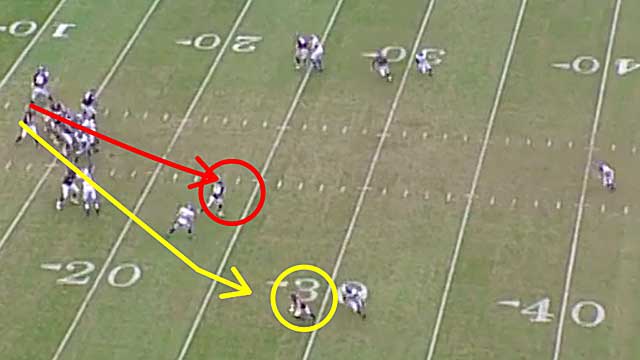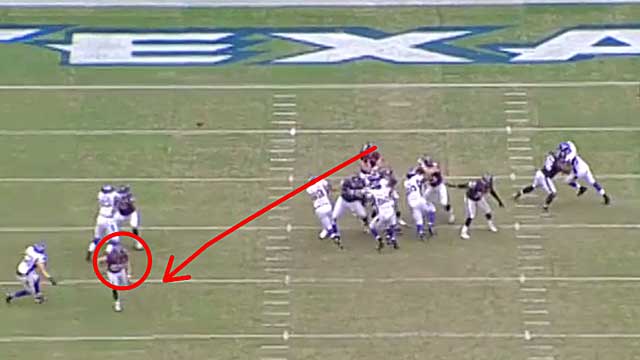 If Schaub doesn't do a better job of reading the field and taking the better options, the Texans will have no chance to make a Super Bowl run -- no matter how well they run the football.
3. The Packers went to Evan Dietrich-Smith at center last week, benching veteran Jeff Saturday. After watching the tape from the Titans-Packers game, it was the right move. Dietrich-Smith, who has started at guard at times the past couple of seasons, did a better job inside than Saturday has done this season. Dietrich-Smith isn't a mauler, but neither is Saturday. Dietrich-Smith did get beat early by Sen'Derrick Marks in the run game on one play, but after that he was pretty solid against the Titans. The Packers had to do something in the middle because Saturday was having big problems all season getting any kind of push.
4. One more thing I noticed about the Green-Bay Tennessee game was that Packers defensive tackle B.J. Raji actually showed up and played really well. Raji flashed in the playoff run after the 2010 season, and looked to be a future star. But in the two years since, he's been just OK. He looked like the Raji from that season last week against the Titans, although he was working against a backup guard. He did handle the double-team better than he has all season. That could be big come playoff time. If Raji and Ryan Pickett can hold up against the run better, the Packers should be much improved on defense. It will also help that Clay Matthews is healthy and Charles Woodson is back.
5. What happened to Giants corner Corey Webster? He had a really good 2011 season, but he's struggled in a big way in 2012. Ravens receivers abused him last week. One of the problems is the Giants have a lack of a pass rush. That's hard to believe considering it was that unit that was the key to the Giants winning their two Super Bowl titles. But without consistent pressure up front, the Giants have been torched on the back end. And Webster has been the worst lately. Even when he's been in position to make plays, he hasn't. He's one of the main Giants players who are having off seasons. That's how a Super Bowl winner goes from rings to maybe watching the playoffs the next year.
6. One of the things I wanted to see from Redskins quarterback Robert Griffin III was how well he would adjust to not being able to run as well or as much because of his banged-up knee. RG3 has feasted on setting up his passing plays with the read-option for much of this season, but without his being a real threat to run last week against the Eagles, I wanted to see how would adjust. He did just fine. If the Redskins allow him, he will be a darn good pocket passer. He spins his head. That's half the battle. One of my favorite throws from that game came on a first-and-10 play from the Washington 47. RG3 faked a handoff to Alfred Morris, then an end-around to Santana Moss. As he set up to throw, he looked first to the deep ball down the left side to Leonard Hankerson. But he was doubled, which led to RG3 coming off of him to hit Pierre Garcon on a cross for 27 yards. It was the kind of play a veteran would make. He didn't force it deep and instead waited patiently to get Garcon into an open area as he crossed the field. RG3 made a perfect throw over the head of linebacker DeMeco Ryans and in front of the safeties.
I also liked when RG3 showed great touch on his 22-yard touchdown pass to Santana Moss. Moss ran a post corner against safety Colt Anderson. When he got even with him, RG3 let it go. The ball dropped easily into Moss's hands in the end zone and Moss got both feet down with a great tap-tap for a score. It was a nice touch pass.
7. The Jaguars are going to have an interesting decision on corner Derek Cox after the season. When Cox is on the field, which he was last week against New England, he is a damn good corner. But he's had injury issues in his four seasons in the league. So the Jaguars have to decide to either franchise him or let him test the market. I think they franchise him, see what he can do, and then offer him a long-term deal during the season. That tag will be about $10 million, but they have the cap room. Watching Cox against New England last week, you saw a smooth, confident cover player. Those are hard to find. He just needs to stay healthy.
8. As the Bengals ready to make a playoff run, one thing that has tailed off the past couple of weeks is the play of the offensive line. For much of the middle part of the season, the young line was playing well. But in the past two weeks, it is a unit that has had some problems, especially with pressure. There was a sequence against the Steelers where they gave up sacks on consecutive plays in the first quarter, although the second one was more of a coverage sack. They seemed to have trouble when the Steelers brought the blitz with some missed assignments and BenJarvus Green-Ellis whiffed on a block on one sack by Lawrence Timmons. The line was a strong point during the Bengals push to the playoffs. It can't go bad now if they are to have a chance to make a playoff push.
Hot tub
1. Lions DT Ndamukong Suh: I've been highly critical of him at times, but he is coming of another big game against Atlanta.
2. Bears DE Julius Peppers: He had three sacks against the Cardinals, who aren't exactly known for pass protection.
3. Ravens QB Joe Flacco: The Ravens needed a big day from him against the Giants and they got it.
4. Chargers DE Kendall Reyes: He spent the day in the Jets backfield with three sacks. He is coming on in a big way.
5. Falcons QB Matt Ryan: When will he get his due for having a good season? He threw four touchdown passes against the Lions.
Cold tub
1. 49ers OLB Aldon Smith: He was a non-factor against Seattle without Justin Smith to help him.
2. Titans QB Jake Locker: That was a major regression at Green Bay. He has to be better than that this week or the Titans go into the offseason wondering about him.
3. Patriots QB Tom Brady: Like his team, he was just off a little bit in Jacksonville.
4. Steelers G David DeCastro: The rookie was worked over by Geno Atkins last week. It was only his second career start.
5. Patriots TE Aaron Hernandez: With Rob Gronkowski out, you would expect more from him. But the Patriots didn't get it against Jacksonville.
Three and outs
Three reasons I hate the Pro Bowl selections each year
1. No right tackles. Hey, they're people too.
2. It's a popularity contest. Ed Reed? Ed Reed?
3. There are monetary bonuses tied to making it. Absurd.
Three prospects from early bowl games who have impressed
1. Kyle Van Noy, OLB, BYU: He had a monster game with two touchdowns, one a pick-six, and the other a fumble recovery, against San Diego State.
2. Boise State CB Jamar Taylor: He plays with a swagger and he excels in man-cover ability.
3. Zach Sudfeld, TE, Nevada: He had two touchdown catches against Arizona, even though he was so sick he had to get an IV the night before. He has good size and can run pretty well.
Three Black Monday firings almost certain to happen
1. Eagles coach Andy Reid: The time has come. Will Andy Reid wind up in San Diego?
2. Chargers coach Norv Turner: It's looking more and more like he is nothing more than an offensive coordinator.
3. Chiefs coach Romeo Crennel: Nice man, tough situation, but hard to imagine he comes back.