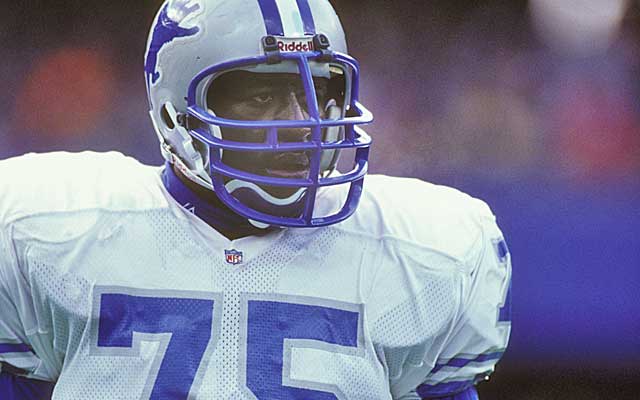 Former Detroit Lions offensive tackle Lomas Brown did a dumb thing secretly 18 years ago, and then he did a dumb thing publicly a few days ago by admitting it: That on Nov. 6, 1994, during a loss to Green Bay, Brown gave the man he was blocking a free shot at quarterback Scott Mitchell.
Doing that in 1994 was stupid. Admitting it in 2012 was stupid.
And Lomas Brown is not stupid.
"I feel stupid," he said.
As well he should, which is what I told him Thursday on the phone. I'm not going to write one thing and tell him another, so I told him in an email, "If you call me, we're going to talk about the Scott Mitchell story. And it won't be nice."
Not five minutes later, Lomas Brown called me.
Before we go farther, let's go back for a minute. Let's go back to this past weekend when I was a guest on ESPN. Another guest: Lomas Brown. It was the first time I'd met the guy, and we hit it off. I suspect that puts me in the majority, because Brown is a humble, gentle giant.
Was he a humble, gentle giant on Nov. 6, 1994, when he gave 6-foot-7, 270-pound Sean Jones a free shot at Scott Mitchell? No, he wasn't. He was a bad teammate, obviously. He was probably a lot more words than that, too, negative words that I don't have the stomach to write about Brown here, to be remembered forever by Google. But I did have the stomach to email him about it; I had his email address because he gave it to me after the show. He walked me off the set, said it was nice to meet me -- the usual stuff you say to people you probably won't see again -- and then he said something else:
"You have an email address?"
Lomas Brown, gentle giant. We'd emailed a bit since Saturday, and in the meantime his comments about that 1994 game exploded. So we emailed again Thursday, me asking him to call me, warning him about the topic -- and about my stance on the topic -- if he was going to call. Me telling Lomas, "I'm not going to write on this if you don't call, but I hope you will."
Him calling, not five minutes later.
Him saying, "I was frustrated. I wasn't thinking. I just wasn't thinking."
Me asking, "You weren't thinking in 1994? Or you weren't thinking a few days ago when you told that story?"
"I wasn't thinking in '94," he said. "I was frustrated -- middle of the game, trying to block Sean Jones, Pro Bowl defensive end. We're getting our ass kicked. I didn't think."
In 1994 people weren't talking about concussions, because we didn't know. In 1994 Lomas Brown didn't know what a free shot by Sean Jones on Scott Mitchell -- even if it was violent enough to knock Mitchell out of the game -- could mean to his quarterback's long-term health.
"No, no, no," Brown said. "If I'd thought about that, I wouldn't have done what I did. I just wasn't thinking. I reacted out of anger. I'm not going to run from it -- I did it, and I'm going to own it."
Brown says he was contacted by the Lions, who weren't happy to hear his story. He says he has been contacted by teammates from 1994, some upset with him, some stunned at what he said, even some who said they understand why, in the heat of the moment, he did what he did during that game.
As of early Thursday evening Brown hadn't spoken with Mitchell, but he said he was about to try. He said he'd gotten Mitchell's number from a former teammate, receiver Herman Moore, and that he was going to call to apologize. Mitchell already has discussed the story, saying, "When you mess with my family, mess with my livelihood, mess with my health, it's unacceptable."
Here's what Brown was hoping to tell Mitchell later Thursday, assuming Mitchell took his call.
"If I get him on the phone," Brown said, "I'm gonna tell him, 'Look, Scott, I said some things that I shouldn't have said.' Tell him, 'That's the way I was feeling during the game. I was real frustrated, and I should have handled things a lot better than I did.' I'm going to apologize to him for what happened."
The irony here -- and I saved it for the end, because it doesn't absolve Lomas Brown -- is that Mitchell, who suffered a season-ending broken wrist that day against Green Bay, apparently wasn't hurt on the play Lomas Brown has talked about.
Brown knows that now, he says, because ESPN went through its archives, found the game, and found the play that ended Mitchell's season -- and it wasn't the play Brown remembered. Which means Brown has hurt his reputation, admitted to doing something indefensible, for nothing. He told a long joke and got the punch line wrong, so now the joke's on him. And it's hard for him, as it should be. This is a sad story, one made sadder by the fact that Brown's shocking admission was, from a historical standpoint, untrue.
But like I said, that doesn't absolve Brown. Mitchell was hurt on another play, a play where Brown was doing his best to protect him. That's what the video shows, ESPN told Brown on Thursday, and the video doesn't lie. But it doesn't matter, because we already know what Brown was thinking that day. We know what he was willing to let happen to his quarterback.
I can't make it right, but I can tell you this: Lomas Brown is one of the nicest men I've ever met. He wasn't nice to Scott Mitchell on Nov. 6, 1994. We all know that. But he's a sweet soul, a gentle giant. Just something to keep in mind about Lomas Brown going forward. Even if there is no going back.