Game of the week
Dallas at Washington, 8:20 p.m. ET |

Preview
The line: Redskins by 3½
The story: It's not so much the Redskins that Dallas must overcome; it's history. The Cowboys are notoriously bad in meaningful games this time of year, and the envelope, please: Since 2000, they're 2-10 in season finales, the worst record in the NFL.
One of those games was last year when the Cowboys could've won the NFC East with a victory over the Giants. Instead, they got torched. Another was in 2008 when they could've qualified for the playoffs with a victory over Philadelphia. Instead, they got torched.
I think you get the idea. Basically, the Cowboys aren't to be trusted in season enders ... especially on the road, where they have one win in their last 11 tries in finales.
One of the reasons, of course, is their quarterback. Where Tony Romo excels in November, he shrinks in December ... and there's your first clue to the Cowboys' collapses. Only this season is different, which is why Dallas fans believe that maybe this finale will be different.
Romo is not making mistakes down the stretch. He is making big plays, with 20 touchdowns and only two interceptions his past two Decembers. And he is living up to his promise that if Dallas is within 10-14 points entering the fourth quarter, the Cowboys can win. Three times this month they came from behind in the final period to win. A fourth time, last week vs. the Saints, they came from behind to force overtime.
They're a different team, and Romo is a different quarterback -- and both are critical to their chances Sunday. Washington not only is rolling; the Redskins have the second-longest winning streak out there, not losing since mid-November and knocking off four straight division rivals in the process.
One of them was Dallas, a 38-31 victim on Thanksgiving Day in a game where Robert Griffin III threw four touchdown passes. The Cowboys had no answer, and I would like to see what Rob Ryan has in store this time around. The second time the Giants and Philadelphia faced RG3 they held up better ... yet he still won.
Griffin has a sore knee he says is fine, and color me skeptical. But this is more than RG3's knee vs. Romo's arm. It's the league's best rushing attack (Washington) vs. one of the NFL's worst (Dallas ranks 31st in the run). It's Romo vs. a team he has shredded for three or more touchdowns the past two times they met. It's DeMarcus Ware vs. a series of injuries that could limit him. And it's the league's 30th-ranked pass defense (Washington) trying to hold fast vs. the fourth-quarter air raid it knows will come.
Mostly, though, it's Dallas vs. its history. If it can't overcome that, nothing else matters.
Peek at the Week XVI
Column

Related links
Pro Football 360
Fantasy Football
NFL coverage on the go
The back story: Dallas is 4-11 the past 20 years when the temperature at kickoff is 40 degrees or colder, which will be the case here. The last time it won? At Washington.
Three games I'd like to see
Texans at Colts, 1 ET (CBS) |

Preview
The line: Texans by 6½
The story: This is another exercise in dealing with history, with Houston trying to win at Indianapolis for the first time in franchise history. You heard me. The Texans are 0-10 there, and they must ... absolutely must ... break through this time around to clinch home-field advantage for the playoffs.
The Texans overcame the Colts two games ago, after a humiliating loss. So they've been in this position before. But this is different because the Texans seemed to have peaked. They have lost two of their past three, including a 23-6 stunner to Minnesota last weekend, and are beginning to look like a one-and-done playoff candidate.
While the odds favor them in this game, history does not. It's not just that Houston hasn't won here; it's that the Colts are 6-1 at home, with five straight wins. So there's a comfort zone for Andrew Luck, and that makes this a more difficult puzzle for Houston to solve.
But there's another element here that few expected, and that's Chuck Pagano. The Colts head coach returns after chemotherapy treatments for leukemia, and it's the first time he walks the sidelines since September. I have no idea what impact that has on his club, but I'll leave it to your imagination.
No longer is it enough for Indianapolis just to beat a familiar opponent; nope, now it's Win One for Chuck. The Colts seem to have something magical going on, and if I were Houston I would be careful. The Texans must get their running game going and crank up Matt Schaub ... or else.
The back story: Luck has seven game-winning drives in the fourth quarter or overtime, tying him for the most by any quarterback since 1970.
Chicago at Detroit, 1 p.m. ET |

Preview
The line: Bears by 3½
The story: Now let's talk about Jay Cutler's history. While it hasn't been all that scintillating this season (he ranks 24th in passing yards) it has been near perfect against the Lions. Cutler is 6-1 vs. Detroit, with 11 touchdowns, one interception and a passer rating of 101.2.
When Cutler has a rating of 100 or better his teams are 26-1, including the playoffs, and at no time does Chicago need a clean game from Cutler more than now. The Bears must win to have a chance for the playoffs.
Of course, that's only part of the equation. They must then have Green Bay knock off Minnesota, and when is the last time you remember Chicago fans crossing over to become Cheeseheads? Welcome to Sunday, with the Bears in if they can beat Detroit and the Packers best the Vikings.
The Bears should beat Detroit because everybody does. Since the Lions started 5-0 last season they're 9-18, including the playoffs. I know they put up all sorts of prodigious numbers. They also lose.
If the Lions have something to play for, it's personal milestones. Calvin Johnson can be the first to reach 2,000 yards receiving. Matthew Stafford can reach 5,000 yards passing for the second straight year. But it's team issues that are relevant here, and the Bears are a desperate team, trying to save a season and maybe saving their head coach's career.
The key here is turnovers. If the Lions continue to make them as they have all season they're toast. Only five clubs have more, and one thing we know about Chicago. It not only creates takeaways; it turns them into touchdowns, too, with eight off interception returns.
That's why I don't think it's so much Cutler as it is the Bears' defense that controls this game. If Chicago can bottle up Johnson and force Stafford into more mistakes, the Bears are halfway home. Then it's up to Green Bay.
The back story: The Bears lead the NFL with 40 takeaways. Since Lovie Smith took over as head coach in 2004 the Bears lead the league in takeaways with 306.
Green Bay at Minnesota, 4:25 p.m. ET |

Preview
The line: Packers by 3½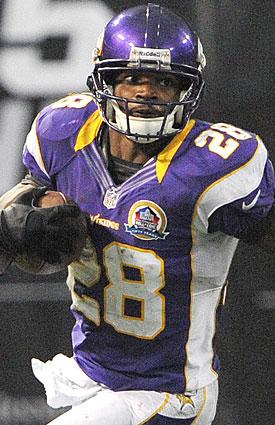 The story:
The Vikings are one victory from the playoffs. They're home. They have
Adrian Peterson
. They have
Jared Allen
. Their quarterback is 6-1 in his past seven starts at the Metrodome.
So why aren't they favored?
Check out the opponent. It's not just Green Bay. It's a Packers team that, with one more victory, clinches a first-round playoff bye. Green Bay has already won the division, so now it's trying to line up the best possible postseason position.
And winning here would guarantee it.
That's why it's hard not to like the Packers. They may be the best team in the NFC. Heck, they may be the best team anywhere. And they have Aaron Rodgers, who has won his last five against the Vikings and has 14 TDs, 3 interceptions and 122.6 rating in his career vs. Minnesota.
Protecting him will be an issue, but it always is -- yet Rodgers still thrives. This time he'll be working with a new center, and we'll see how that goes, but there are few quarterbacks out there who are more successful indoors than this guy -- with Rodgers throwing for 15 touchdowns and one interception in his past five starts in domes.
For Minnesota, of course, the key is getting ahead early and hoping Peterson can run down the clock and the Packers. Peterson is the Vikings' only playmaker on offense, so you have to figure Green Bay makes Christian Ponder try to beat its defense, and good luck. He may be sharp at home, but he hasn't been sharp against the Packers -- losing all three times he has played them, with three touchdowns and five interceptions.
The back story: Fourteen of Ponder's 15 touchdown passes this season have been in the red zone.
Crummy game of the week
Jacksonville at Tennessee, 1 p.m. ET (CBS) |

Preview
The line: Titans by 4½
The story: Titans owner Bud Adams wants to know what's wrong with his team. Well, put him in a room with Jacksonville's Shahid Khan, and they would have something to talk about.
The Jaguars have won twice this season. The Titans are coming off a 55-7 hammering. Disgruntled fans wonder if Mike Munchak is in trouble. More disgruntled fans want to know why Mike Mularkey is not.
The Titans are nine points from setting a club record for most points allowed in a season. The Jags are guaranteed to have their worst record in franchise history. It's the perfect storm, people; the S.S. Minnow vs. the Poseidon, and the question here is not who wins but who shows up.
"Adversity builds character," Munchak said, "and we're going to find out what we're all about."
I think we just did.
The back story: The Titans' Chris Johnson needs 13 yards to reach 1,200 rushing for the fourth time in his career. Johnson has averaged 88 yards rushing per game vs. Jacksonville.
Upset of the week
Philadelphia at New York Giants, 1 p.m. ET |

Preview
The line: Giants by 7½
The story: I'm taking a leap of faith here, and I'll tell you why: Because I think the Eagles somehow pull together to give their head coach the sendoff he deserves. No, they don't belong on the same field as the Giants. The Eagles are a disgrace, a group of overpaid underachievers who did nothing but seal Andy Reid's doom. But they have Michael Vick back in the lineup for one last fling before he, too, joins Reid on the next plane out of town, and that's a start.
OK, so the Giants have something to play for, too -- namely, a slim, slim chance of making the playoffs. But they haven't done jack the past two weeks, having been outscored 67-13 when they had control of the NFC East. Tom Coughlin told players this week that they're playing for respect, and when you hear that it's over.
I just think if the Giants couldn't come close to winning the past two weeks when they had everything in front of them, why should they start now? Yeah, the Eagles stink. But the Giants aren't much better. And this second-half decline looks all too familiar to me.
The back story: In his past four games vs. Philadelphia, Eli Manning has 11 touchdowns, 3 interceptions and a 101.5 passer rating.
Five guys I'd like to be
1. Atlanta QB Matt Ryan: He aims for his 12th straight win at home, where he's 33-4 in his career, and he does it against Tampa Bay. In 20 home games where Ryan has a passer rating of 100 or better the Falcons haven't lost. What's not to like?
2. Chicago DE Julius Peppers: In nine games vs. Detroit he has 11 sacks and five forced fumbles.
3. Carolina QB Cam Newton: In his past six games he has 11 touchdowns and one interception, and he gets to finish against the league's worst defense.
4. Pittsburgh QB Ben Roethlisberger: He's 14-1 in his career against the Browns and 7-0 at home.
5. Minnesota DE Jared Allen: He has 14½ sacks in his past eight games against Green Bay.
Five best matchups:
1. Chicago DT Henry Melton vs. Detroit C Dominic Raiola: Melton this week said he expects the Lions "to be looking for cheap shots and all that mess," and he explained why. "They're dirty," he said. "They've always been a dirty team since I've been here. I don't like them." That includes Raiola, who called Melton "a clown" after the remarks were relayed to him. "You got a defense full of superstars," said Raiola, "and you don't hear from the guys who carry weight in my book."



What is Week 17's best game?
Cowboys at Redskins
Texans at Colts
Bears at Lions
Packers at Vikings
Eagles at Giants
Total Votes: 1,173
2. N.Y. Jets QB Tim Tebow vs. the wildcat: Did he or did he not ask out of wildcat? It doesn't matter. What's apparent is that the Jets acquired Tebow to perk up ticket sales ... nothing more. They didn't intend to play him in the wildcat, the pistol, the wishbone, the shotgun, nothing. Tebow is getting portrayed as the villain here, but all the guy asked was for a chance to play ... and the Jets didn't give it to him. Consider yourself lucky, Tim. You get to leave.
3. Arizona RB Beanie Wells vs. carries: Wells says he's playing for "the 31 other teams that's watching" Sunday, which is another way of saying, "Hasta la vista, Arizona." I don't know if that's exactly the message I would convey on the eve of my last game ... especially if I wanted to see the ball.
4. Chicago S Major Wright vs. Detroit QB Matthew Stafford: According to Wright, the Detroit quarterback "kind of folds" under pressure, and while that sounds like a strong statement the numbers support it. The Lions are 1-7 this season when Stafford takes multiple sacks. "You put a little pressure on him," said Wright, "he doesn't make that perfect throw." But isn't that true of almost everyone?
5. San Francisco LB Aldon Smith vs. Arizona T Nate Potter: Smith has 19½ sacks and is within three of the NFL single-season record. Potter is a rookie ... with a bad ankle ... on an offensive line that pass-protects like matadors. Nobody has given up more sacks this season than Arizona, and now that the Cardinals walk out another quarterback, Brian Hoyer, I can only imagine what happens.
Five things that may interest only me
1. The Denver Broncos have won 10 straight games by at least seven points each.
2. With one more touchdown pass, the Saints' Drew Brees becomes the first quarterback in NFL history to throw 40 touchdown passes in consecutive seasons. Brees led the NFL last season with 46.
3. If Seattle scores 27 points against St. Louis on Sunday the Seahawks become only the fourth team in NFL history -- and only the second since 1950, after the 2007 Patriots -- to score 200 or more points in a month. The Seahawks have outscored their four December opponents 173-47.
4. Through the first 16 weeks, an average of 45.48 points have been scored per contest, the highest since 1965 when the league record of 46.12 was set.
5. The Green Bay Packers have won their past nine season finales, the best current record in the NFL and the longest in franchise history.
Numbers to remember
3: Straight games vs. Tampa Bay where Julio Jones has at least 100 yards receiving or a touchdown
4-0-1: Sam Bradford's record in his past five division starts
6: Straight years where Jared Allen had 10 or more sacks
6.48: C.J. Spiller rushing average, highest in NFL since 1960 through 15 games
7: Adrian Peterson runs of 50 or more yards this season
8: Consecutive Pittsburgh defeats of Cleveland at Heinz Field
10: Career Ed Reed interceptions vs. Cincinnati
12: Straight divisional victories for Green Bay
102: Yards Adrian Peterson needs to reach 2,000 yards rushing
108: Yards Calvin Johnson needs to reach 2,000 yards receiving
305: Yards passing Matthew Stafford needs to eclipse 5,000 for second straight season
• Atlanta: Dome
• Buffalo: Few snow showers, high of 28
• Cincinnati: Mostly sunny, high of 27
• Detroit: Dome
• Indianapolis: Partly cloudy, high of 26 (retractable roof)
• New Orleans: Dome
• East Rutherford, N.J.: Sunny, high of 33
• Pittsburgh: Few snow showers, high of 31
• Nashville, Tenn.: Partly cloudy, high of 40
• Denver: Mostly sunny, high of 39
• Minneapolis: Dome
• San Diego: Partly cloudy, high of 58
• San Francisco: Sunny, high of 54
• Seattle: Partly cloudy, high of 42
• Foxborough, Mass.: Mostly cloudy, high of 29
• Landover, Md.: Sunny, high of 37

Where we will be
• I'll be at FedEx Field for the RG3 coronation.
• Pete Prisco will be in Cincinnati for the chili.
• Mike Freeman will be at MetLife Stadium for the Giants' last call.
• Gregg Doyel will be in Minneapolis for the Adrian Peterson coronation.