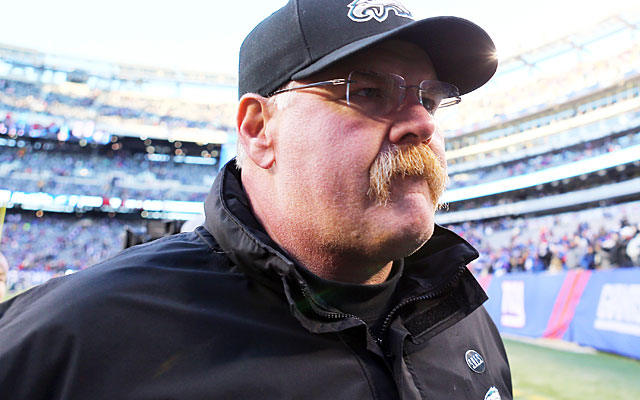 EAST RUTHERFORD, N.J. -- The scene was nice. For what looks like Andy Reid's final game as coach of the Philadelphia Eagles, his wife and kids rode to MetLife Stadium on the team bus, as a show of support.
Nice scene, yes. Splendid show of support, indeed. But the pleasantness of that image quickly dissipated once the game began and the starkness of why Reid's likely firing is needed unfolded in what was an ugly, effortless performance by his team. This was a humiliating and embarrassing end to the Philadelphia career of a man who deserved better.
Though Homey the Clown would have deserved better than that uber-lazy demonstration of quit from Eagles players.
"I love him to death," Michael Vick said of Reid. "I wish I could have done more so it didn't come to this. He can't play the game."
Sunday's 42-7 loss to the Giants perfectly illustrated why Reid is on his way out. Reid hitched his wagon to the frail walking turnover that is Michael Vick. More than anything, that decision led to Reid's demise. Vick was supposed to be a foothold onto something big. Instead he was Reid's formerly fleet-footed albatross who couldn't play the position nearly as well as he once did.
After the game, Reid sounded like a coach who knew he was about to be fired. He's scheduled to meet with Philadelphia ownership Monday. When asked about being fired, Reid said: "Either way, I understand."
There really wasn't much more to say.
There remains a possibility that Reid will not be fired until early next week, and not so long after that Jon Gruden or Oregon's Chip Kelly could be the next coach of the Eagles.
Reid was a big story, and though the Giants won they also made news in an undesirable way. They needed help to make the playoffs and didn't get it, so there will be a new Super Bowl champion.
The entire Vick era in Philly could be summed up on Sunday's first series. Vick dropped back and just as he released the ball was smashed in the chest. As a result, Vick badly underthrew the ball and was intercepted.
Take that scene, multiply by 1,000, toss in a few Vick fumbles after being blindsided, some overthrows, underthrows and balls in the dirt -- sprinkle in some concussions -- and you have the Reid-Vick era in Philadelphia.
There was one more with Vick. In the second quarter, deep in Giants territory, Vick ran a fake where he dipped left, sucking in the entire Giants defense. The right side of the field was wide open. Five years ago, Vick could have run backward and scored. But his broken-down body no longer musters warp speed. When he ran right, the Giants were able to catch him, limiting the damage to a moderate gain. This is who Michael Vick is now.
Reid got hoodwinked by the allure, failing to realize that Vick was half the player he once was.
There were two distinct emotions while watching Reid's possible final game. The first was sympathy. Reid is a historic figure who has been a towering presence in the NFL over the past decade or so. He went to five NFC title games (four straight) and coached in a Super Bowl. Reid is one of this league's greatest winners.
Reid was also a victim of his own huge ego, and in recent months and years we saw maybe the biggest of his problems. He sometimes cannot inspire players. That the Eagles, knowing this was likely Reid's final game, were so unceremoniously gutless and flat is a huge indictment of them and Reid.
Philadelphia's players didn't even try in a moment that meant so much.
Where does Reid go? Despite his protestations to the contrary, a source close to the situation said it remains possible (though remotely so) that if Reid is fired by Philadelphia he could take a year off from coaching.
One of the possibilities for Reid seemed to be San Diego, but I'm told the Chargers are lukewarm. There is concern within that organization about how the Eagles finished and, for the moment, the team wants a younger coach. As one person in that organization described it: "We're looking for the next Mike Tomlin." Well, who isn't?
What team officials increasingly think will happen with Reid is that he will be considered more for openings like Jacksonville or Kansas City and will have to decide if he wants a job where the franchise is at the very bottom.
Reid couldn't rally the players he was coaching. He called for an onside kick on the opening play and he benched the pathetic Nnamdi Asomugha late (Asomugha said after the game he wanted to forget the season; he should).
In the final minutes, Reid's sons joined him on the sideline. Reid told his players after the game there will be better days ahead. That is true. It has to be. It doesn't get much worse than this. There is still no overlooking how quickly the Eagles sunk, finishing 4-12, their worst record since 1998. Reid was hired after that season.
More than a decade later, he put his hopes in Vick, and will likely be gone because of it.