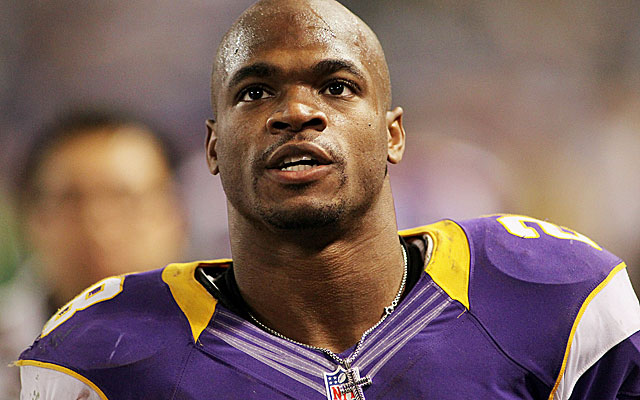 MINNEAPOLIS -- At the end, Adrian Peterson didn't know. There at your house, following the Packers-Vikings game on TV or the Internet, you knew. Up in the press box at Mall of America Field, doing the math myself, I knew. On the field, 9 yards from breaking the NFL single-season rushing record, Adrian Peterson didn't know.
Didn't really care, either.
"I wanted the record," Peterson said. "But more than anything, I wanted to win."
Peterson's final carry, a 26-yard dash through half the Green Bay defense with 15 seconds left, made that win possible. It put the Vikings into easy field-goal range for Blair Walsh, whose 29-yarder as time expired gave the Vikings a 37-34 victory that put them into the playoffs.
Peterson's final carry of the 2012 regular season was almost a fairy tale. With the ball at the Packers 37, needing 35 yards for the record, given one last carry to make it happen, Peterson followed fullback Jerome Felton into the line of scrimmage and through it, and then Peterson was on his own. He cut outside at the 30, stopped and darted back inside at the 25, and started fighting off tacklers at the 15. By then he was surrounded, a bull being brought down by a horde of rodeo clowns, none of them giving him the room he needed to unload one of his devastating stiff-arm thrusts.
Dragged down at the 11, Peterson was 9 yards short of the record. The magnitude of what had just happened -- what had almost happened -- was enormous. The record, the playoffs, surely the MVP trophy for this 2012 season, all of that was within reach if Peterson could have broken this run all the way into the end zone. Best part? He didn't know.
"I never knew," Peterson said. "I didn't want to know."
There were still about 15 seconds left on the clock, enough time for the Vikings to call a timeout to give Peterson one final shot at the record, but coach Leslie Frazier said he didn't think about it.
NFL's 2,000-yard club
Player
Yards
Season
Eric Dickerson
2,105
1984
Adrian Peterson
2,097
2012
Jamal Lewis
2,066
2003
Barry Sanders
2,053
1997
Terrell Davis
2,008
1998
Chris Johnson
2,006
2009
O.J. Simpson
2,003
1973
"Never crossed my mind," Frazier said of calling a timeout right there. "I wanted to get the win."
Walsh was waiting. This would be easy, and it was for a rookie kicker who already had made 34 of 37 field goals this season, a 91.9-percent conversion rate that made this one -- this measly little 29-yarder -- a foregone conclusion. And it was. Walsh's kick was good, and the Vikings were in the playoffs.
And the record was gone.
No overtime meant no record. Peterson still didn't know he hadn't caught Dickerson -- though he had a good idea, since the game wasn't stopped after any of his final carries. No announcement was made. But still, Peterson knew he'd gained a lot of yards. Knew he had to be close. And after that 26-yard run in the final seconds, Vikings safety Jamarca Sanford lifted Peterson into the air and carried him off the field like a conquering hero. Which he was. But as Peterson was told immediately after the game by Fox sideline reporter Pam Oliver, there would be no record.
Not this year, anyway.
"God willing I'll go get it next year," Peterson said. "And not make it close."
Peterson's an interesting mix of humility and bravado, a guy who for weeks has said he wanted Dickerson's 28-year-old record -- but didn't bother to check his progress Sunday as the game went along and his yardage piled up. Afterward he sat at his locker, a big smile on his face, wearing his uniform pants with blood smeared all over his left thigh. His jersey and shoulder pads were off, but he was still wearing his black tank top undershirt, the back of which read in big bold letters, "A.D. All-Day."
On the front of his shirt, in even bigger letters, it said, "THE GOD KIND."
Peterson's silent, smiling reverie was broken up by former Vikings defensive end Carl Eller, a 2004 inductee into the Pro Football Hall of Fame.
"What can I say?" Eller hooted at Peterson. "What can I say, man? Way to go. Incredible."
A few minutes later Eller told me he played against O.J. Simpson, and he played against Jim Brown -- and still he felt Peterson is the greatest running back ever.
"Has to be," Eller said.
That's debatable, just as the 2012 MVP will be debated. Odds are it will go to a quarterback, as it almost always does -- and Peyton Manning is one hell of a candidate -- but Peterson belongs in the conversation. At the top, if I had a vote. Peterson is more than a guy who ran for 2,097 yards. He did it while being the focal point of the opposing defense every week, incredible in its own right but also, point of fact, allowing second-year quarterback Christian Ponder to continue his modest progression without all that monster pressure.
But that's a story for another day. The story Sunday was Peterson's run for the record, the Vikings' run into the postseason, and the way they mangled the plans of their top two rivals. Minnesota's victory knocked the Chicago Bears from the postseason -- and relegated the Packers into a first-round game instead of a bye.
And the Packers will play the most recent team to beat them.
That's right -- Green Bay and Minnesota will do this again Saturday at Lambeau Field. It will be their third meeting in five weeks, and while the teams have split those games, Peterson has run wild. The 199 yards he gained Sunday? That wasn't quite as good as the 210 yards he gained Dec. 2 at Lambeau.
Now the Packers have to face him one more time.
"It's obviously important to take away the focal point there, and we didn't do that today," Packers coach Mike McCarthy said. "I look forward to us having a better performance on defense against Adrian Peterson [Saturday]."
The Packers are a legitimate threat to win their second Super Bowl in three years. More than ever now that once-struggling kicker Mason Crosby -- who hit two field goals Sunday -- seems to have regained his confidence. But the Vikings aren't scared. They've been playing with house money since that loss to the Packers on Dec. 2, setting up four consecutive must-win games. Minnesota won them all. Another one this week? Big deal, they say.
"We didn't get into the playoffs just to get into the playoffs," Vikings linebacker Chad Greenway said. "We're here to get to the next round. I mean, we've been playing one-game seasons, lose and you're out, for a long time. We've been playing playoff football for a month."
And gaining confidence along the way. The scary kind.
"It starts with us," said Vikings defensive end Everson Griffen, who had three sacks Sunday. "At the end of the day, if we play how we play, there's no team that can beat us."