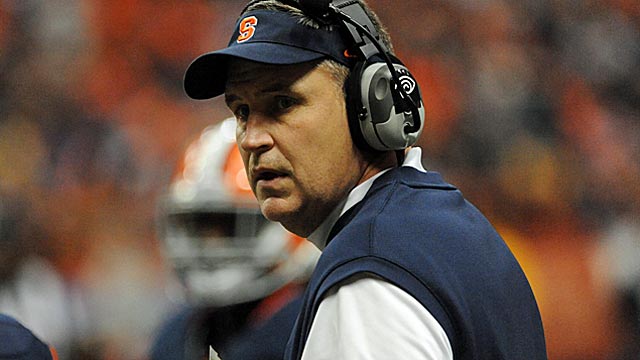 Go back in time, to the year 2006, and a man named Mike Tomlin had an interview with the Pittsburgh Steelers.
We now know Tomlin is one of the best coaches in football, but then, as defensive coordinator for the Minnesota Vikings, he was far less known. Anyone who says he pegged Tomlin as a hot candidate, even a well-known candidate, isn't telling the truth. Tomlin's defenses were very good but not dominant, and Tomlin was so young there were actually two players on the Vikings older than Tomlin. No one saw Tomlin coming.
Then came his interview with the Steelers. Tomlin blew Pittsburgh officials away. They overlooked his relative anonymity and youth, and projected. That's what smart organizations do. A short time after the Steelers hired Tomlin, he won a Super Bowl.
There will be the coaching retreads like Andy Reid and others and the pursuit of a big name like Alabama's Nick Saban, but increasingly what you hear teams are looking for is the next Tomlin. What they mean: The next young (or youngish) coach who isn't in the spotlight or well known but can be hired and lead an organization for the next 10 years.
Easier said than done, sure, but make no mistake: A number of teams will end up hiring the non-famous, the non-experienced, the non-big time -- just as the Steelers did with Tomlin.
This will be the reaction of a lot of fans after they hear about news about some of the hires: wait, who is that again? That's only a slight exaggeration.
One such name is Doug Marrone, the coach at Syracuse, whose name began to emerge in late November. He's a former NFL coordinator respected for doing a highly respectable job at Syracuse and is definitely interested in returning to the pros.
Other names like Mike McCoy, Ray Horton and Keith Anderson will get strong looks and possible jobs. These are not the Reids and Jon Grudens or even a Ken Whisenhunt.
The trick is not every organization is as smart as Pittsburgh and can see beyond the youth or inexperience. It actually takes real talent (and some luck) to do that. There is a fine line between a Tomlin and Lane Kiffin.
And so we wait. Which team will get the next Tomlin and which one will get the next Steve Spurrier?
2. Unbelievably, if Gregg Williams of Bountygate fame is reinstated by the NFL and let go by the Rams -- he's still under contract there -- I'm now hearing some teams are interested in him as a defensive assistant. Which is insane.
3. If as first reported by an Arizona television station that Andy Reid was all but certain to coach the Arizona Cardinals, this would be another situation demonstrating the good intentioned, but still problematic, Rooney Rule. The rule requires teams to interview candidates of color for head coaching and senior football operations positions.
Various reports about Reid being close to a deal don't just materialize on the transporter pad from nowhere (despite strong denial from Cardinals officials a deal is close). There's substance to them. The agent for Reid isn't the sole leak (if he's the leak at all). Someone in the Arizona organization must be telling media members that Reid is likely the next coach.
Thus, the question is when the Cardinals interviewed current defensive coordinator Ray Horton for the position, himself a minority candidate, was that interview a sham? I don't know, but in speaking to several African-American assistants late Tuesday night, they feel it is. They also see what many others do: reports that the job is all but Reid's and they are suspicious Horton was interviewed just to satisfy the rule. This has been a complaint about the rule for years.
The problem is, the rule is needed, and it's a smart rule, but teams can still drive a truck through portions of it. And it seems there's little the NFL can do about that.
4. Another big spot, another Tony Romo choke-fest. There can be no more coddling or excuse-making for Romo. Only a fool would do that now.
5. The belief of some top team NFL executives is that Oregon's Chip Kelly stays in college for one more year. I'm not buying it.
6a. Champ of the week: RG3 for showing Romo how to win a big game.
6b. Chump of the week: Romo. Who else?
6c. Tweet of the week: "I choked." -- What Romo should've tweeted.
7. Look for quarterback Alex Smith to end up in Buffalo. You can almost guarantee it.
8. One of the best quotes about the debacle that was this past Jets season came from wide receiver Chaz Schilens, via beat writer Kristian Dyer. Schilens was asked if the media circus the Jets coveted was detrimental to their year: "Perception is reality, and what other people view of you is maybe different than what you think of yourself. Good or bad [it's] something to learn from."
This past Jets year is a tutorial on how not to run a football team. The Jets coveted circus over substance. The move to bring in Tim Tebow was all about headlines and ticket sales. The Jets forgot this prime rule: wins generate publicity, not the other way around.
9. The next hot coaching candidate will be Stanford's David Shaw. Maybe as soon as next season. He'll be able to write his ticket.
10. A quick aside from the usual tomfoolery of coaching searches and Tebow bashing. On Nov. 23, a man named Don Brocher celebrated his 60th birthday. Most of you will not know that name but he was the New England Patriots' equipment manager for 41 years -- the team's longest tenured employee in that franchise's history. He died this week after battling leukemia.
Brocher started as a ball boy in 1972 and 40 years later, this past August, the leukemia caused Brocher to miss his first game. It ended a streak of Brocher working 834 consecutive Patriots contests, including 37 of 39 playoff games.
People like Brocher are the lifeblood of football. They make the NFL go. They act as fixers, tinkerers, and in some cases therapists to coaches and players. They are the least celebrated publicly and the most trusted privately. Few could pick them out of a lineup but teams wouldn't be able to produce one without them.