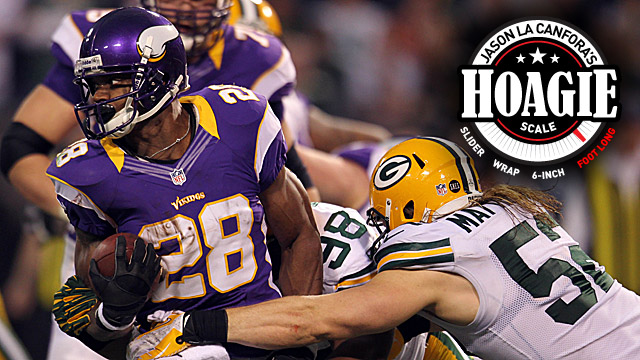 This is shaping up to be a pretty wild playoff run.
Many people don't seem all that sold on the NFC's top seed, given Atlanta's history of playoff failure. For much of the season, the Texans were the AFC's top dogs, only now they are reeling and people are asking probing questions of them, too, with the season on the line.
We have three rookie quarterbacks in the dance, which is far from the norm. In the AFC, the top two seeds are still held down by Peyton Manning and Tom Brady, only now Manning is in Denver. We have a rematch of the wild-card round from a year ago, in Cincinnati at Houston, and a rematch from a week ago, in the Vikings-Packers matchup.
Basically, we have two days of quality football product to savor here, and so I find myself struggling to rate any of these games as anything less than a footlong. So ... well, yeah, they're all footlongs, but I'll put them in some sort of order from best to worst anyway (all the while knowing there are no hairs in any of these sandwiches; no, they're all good enough to feast upon).

| | | |
| --- | --- | --- |
| |  at  | |
Minnesota at Green Bay
Saturday, Jan. 5, 8 p.m. ET (NBC)
Why To Watch: Were you tuning in last week? Did you get to see the festival of football these two teams put on Sunday in Minnesota? Who didn't savor that? Adrian Peterson going for 200 yards again against Green Bay but coming up 9 yards short of the single-season rushing record. Aaron Rodgers trying to answer each methodical Vikings drive with a quick strike of his own. Christian Ponder playing what certainly seemed to me to be his best game as a pro. A winning drive to close out the clock. Did I mention all of Peterson's powerful and eye-catching rumbles with the football tucked in his massive forearms? Yeah, this is as good a division rivalry game as you find in a wild-card round, and given all that transpired a week ago, it should be something else.
What To Watch For: Looks like a week where we get Angry Aaron Rodgers, which can't be a good thing for a Vikings secondary that looked a whole lot more vulnerable once stud corner Antoine Winfield broke his hand last week ... Can Ponder have nearly the same composure and downfield presence on the road this week as he did at home a week ago? ... Would suspect the return of Packers corner Charles Woodson might prompt Green Bay defensive coordinator Dom Capers to be more aggressive in his pressure schemes being able to man-up more on the outside ... Will anyone in Green Bay's front seven step up and contain Peterson? B.J. Raji, maybe? ... Could be Jermichael Finley's last game as a Packer. Have a feeling he shows up big for this one ... Jordy Nelson not 100 percent but keep an eye on the double moves and fakes he sells on fly routes down the sidelines ... Kyle Rudolph must be big in the red zone for the Vikings.
| | | |
| --- | --- | --- |
| |  at  | |
Indianapolis at Baltimore
Sunday, Jan. 6, 1 p.m. ET (CBS)
Why To Watch: Many, many people in Baltimore have not forgotten about the Colts leaving town in the middle of the night in a blinding March snowstorm in a fleet of Mayflower moving vans. (In full disclosure, as a lifelong Baltimoron -- yeah, I can say it, I'm one of 'em -- trust me, the Baltimore Colts will never be forgotten in these parts). And no one will forget that the Indianapolis Colts won their lone Super Bowl in a postseason in which they beat the Ravens in Baltimore despite not scoring a touchdown. And Andrew Luck is no Peyton Manning, at least not yet. So trust me, this will be an emotional game for the denizens of M&T Bank Stadium, and it will undoubtedly be incredibly gripping for the men involved. Colts coach Chuck Pagano, the Ravens' beloved former defensive coordinator, will be in only his second game back from battling cancer for much of the season, and this will be a unique homecoming.
What To Watch For: Ed Reed, in possibly his last game as a Raven, vs. Luck, in his inaugural playoff game. If Reed doesn't bait him a few times and get his hands on a ball or two, I will be shocked. Luck has been very turnover-prone on the road and this is one of the loudest stadiums in the league. Oh, and this might be Ray Lewis' final game as a Raven, in yet another subplot here. Can he play more than just a few snaps in what should be his first game back from what is normally a season-ending torn triceps? ... Can the Colts muster a run game, especially in the one-cut outside zone schemes that have given Baltimore's defense such problems this season? ... Can Ravens corner Cary Williams, who has had a very strong season, handle Reggie Wayne in single coverage? ... Haloti Ngata finally looking healthy for Baltimore recently and I figure Terrell Suggs and Paul Kruger get moved around to exploit some issues with the Colts' offensive line ... Luck has been hit a ton this season -- do his legs wilt at all in the second half of this game? ... What does Dwight Freeney have left in what is likely his final game as a Colt?
| | | |
| --- | --- | --- |
| |  at  | |
Seattle at Washington
Sunday, Jan. 6, 4:30 p.m. ET (FOX)
Why To Watch: In the opinion of many, Robert Griffin III and Russell Wilson are the two best rookies in the NFL this season, and two of the best rookie quarterbacks to ever play in the league. Their production has been just that historic. And now they meet in the first home playoff game in Washington since 1999. The Redskins have won seven consecutive games since a 3-6 start, getting a much better defensive effort in that span, while Seattle was absolutely crushing teams down the stretch and recently posted 50 points in back-to-back weeks. It's the Redskins third consecutive postseason appearance -- dating back to 2005 -- in which they face the Seahawks, and they lost the previous two meetings. Alfred Morris and Marshawn Lynch are two of the best backs in the NFC and Seattle stud pass-rush specialist Chris Clemons began his career as a Redskin but was deemed not good enough and was cut; I'm sure he hasn't forgotten. With Griffin still looking a little gimpy last week in his return from a knee injury, Clemons will be hunting him.
What To Watch For: Does Wilson flinch at all on the road in such a raucous atmosphere? Do the Redskins have enough speed at linebacker to stay with him on the read option plays? ... Redskins receivers are not that physical and the Seahawks have the best pair of press-man corners in the NFL ... Two of the best young left tackles in the NFL -- Russell Okung and Trent Williams -- on display ... Would expect to see a lot of DeAngelo Hall on Sidney Rice. If the Skins corner can be half as good as he was Sunday night on Dez Bryant, the Skins are in good shape ... How sharp will starting corner Brandon Browner be for the Seahawks in his first game back from a four-game suspension? ... If Griffin is as limited in his rushing attempts as he has been the past two weeks -- and he was knocked around a fair amount by the Cowboys last week -- it greatly limits the scope of that offense ... Santana Moss on bubble screens still a viable weapon for Washington ... Seattle will need its secondary receivers to be active and excelling on underneath routes, with Redskins defensive coordinator Jim Haslett expected to bring pressure from all over.
| | | |
| --- | --- | --- |
| |  at  | |
Cincinnati at Houston
Saturday, Jan. 5, 4:30 p.m. ET (NBC)
Why To Watch: Two teams seemingly trending in very different directions -- and suddenly a lot of pressure on the Texans to live up to their early season form. Houston pulled away in the second half against the Bengals in this round a year ago. That was with T.J. Yates at quarterback no less, but Cincinnati has a much more formidable pass rush going right now, and Texans quarterback Matt Schaub is struggling to get into any sort of tempo and sustain a decent level of play. Frankly, he looks rattled, Texans star running back Arian Foster might have hit the wall, and guys like Geno Atkins and Carlos Dunlap probably aren't what the Texans want to see right now. Couple that with the Texans defense losing a good bit of its bite in recent weeks, and this might be the kind of rematch Houston can do without.
What To Watch For: The Texans need a good start to keep the home crowd with them and the buoy the confidence of guys like Schaub. Will also need their defense to sustain an early tone, and J.J. Watt in particular, with Brooks Reed ailing recently and Connor Barwin not having the type of impact season many expected ... A.J. Green vs. Jonathan Joseph, a former Cincinnati star, might be the best individual matchup of the weekend ... Getting the feeling Schaub is going to need some help from Owen Daniels, his trusty tight end, early in the game to get on track ... Bengals coach Marvin Lewis has a knack for doing some pretty bizarre things at critical times of big games. In-game decision making on fourth down could prove critical ... Shayne Graham with the game on the line might not work out so well for the Texans ... Watt was dominant against the Bengals in the playoffs last year, but I think Dalton will have learned from that experience, and the Bengals' protection schemes should be adjusted, too.