We know all the big names on the playoffs teams, the stars like Peyton Manning and Aaron Rodgers and Adrian Peterson and J.J. Watt.
But every team in the playoffs has the little-known player who has to come up big in the postseason for his team to have a real Super Bowl shot.
It might be a fullback leading the runner in the hole. Or maybe a speed receiver coming into his own. Or a running back who just needed a chance.
At the top of After Further Review this week, I thought it might be a good time to look at one unsung player who must come up big for his team in the playoffs. I will use pictures to show what some of the players can do, but not all.
You can bet that each and every one of these players will be key in the next couple of weeks.
Remember their names. You might be hearing them again.
AFC
1. Houston Texans, S Glover Quin
Quin is a former corner who has made a nice transition to safety. His ability to come up in the box in the run game and be a good blitzer and tackler is key for the Texans. He played a huge part in slowing down Adrian Peterson two weeks ago. But he's also capable in coverage. He did get caught in a bad coverage on T.Y. Hilton's 70-yard touchdown catch last week, but asking him to get outside from the middle of the field to make that play was asking too much of him.
Here's a run play from last week's game with the Colts that shows how good Quin is in the box. It's a first-and-goal play from the Houston 4. Quin is in the red circle and at the snap he takes a second to diagnose the play, then makes a hard run into the line where he makes a nice tackle on Vick Ballard.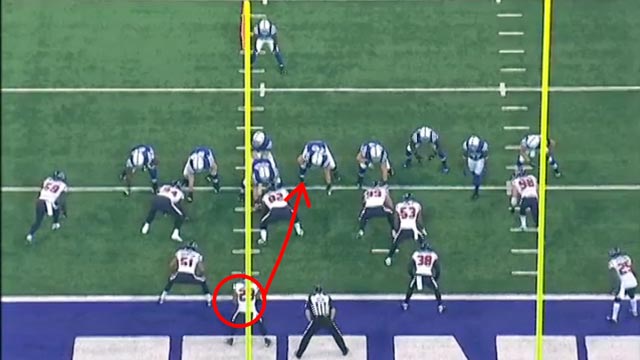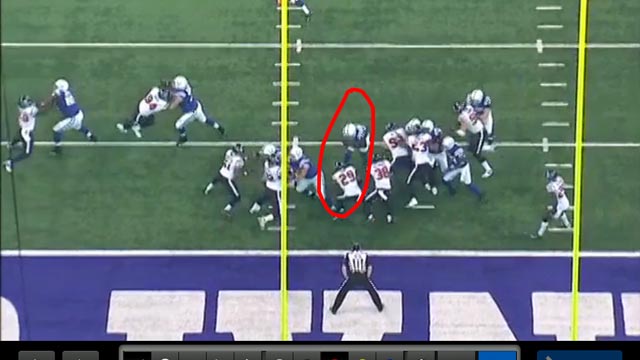 2. Denver Broncos, CB Tony Carter
When Tracy Porter went out with an illness, it forced nickel corner Chris Harris in as the starter and Carter in as the nickel corner. Harris has flourished playing opposite Champ Bailey, but Carter has also done a nice job as the nickel. He isn't big, barely weighing 185 pounds, but he doesn't back down and he has great speed in man coverage. The Broncos have a heck of a threesome when it comes to playing man coverage.
3. New England Patriots, C Ryan Wendell
Wendell took over for veteran Dan Koppen and allowed the Patriots to play Dan Connelly at guard. Wendall started all 16 games, and drew praise from the coaching staff. Wendell has to be smart running the up-tempo offense. He isn't overpowering, but that's not what the Patriots need in their style of offense.
4. Baltimore Ravens, CB Corey Graham
When the Ravens signed Graham, they thought he would be a nickel corner and special teams player. He's turned into a solid starter because of injuries. Graham had a big game at Pittsburgh when the Ravens won there. He has to be able to handle the outside receivers for the Colts.
5. Indianapolis Colts, CB Cassius Vaughn
Because of injuries, he has started 11 games. He is a steady player who had 10 tackles last week against the Texans. He isn't blessed with great coverage skills, but he competes hard to make up for it and he knows how to play the position. He made a really nice tackle in a one-on-situation outside last week against Andre Johnson, holding him to a 4-yard gain. He has proven to be a nice signing for GM Ryan Grigson.
6. Cincinnati Bengals, WR Marvin Jones
A.J. Green is an elite player at the one receiver spot, but Jones, a rookie, has come on in the final month. When Muhammad Sanu went down, Jones got his chance to start after missing time with injuries. He has impressed in his limited time. The Bengals have a tendency to be too Green-centric, which is understandable, but they need to get Jones involved, especially if he is in man coverage. You can't double them all. So he has to win outside to get some shots down the field. He is a future 70-catch player, so the playoffs could be his coming-out party.
Here's a look at a play the Bengals ran last week against the Ravens. It's not a big play, only a 7-yard gain, but it shows how Green can help open things up for the other receivers. Jones is on the left side of the formation (yellow circle) and runs a route across the formation at the snap. Green (blue circle) clears out the area and takes two defenders with him. That allows Andy Dalton to make an easy completion to Jones for the short gain. Dalton has to do more of that. Green is great, but use his ability to draw the double to help open up the other guys.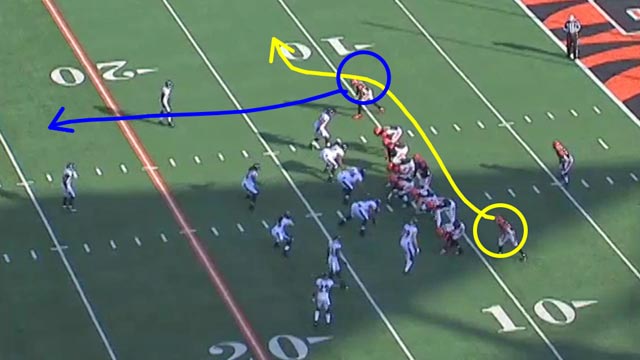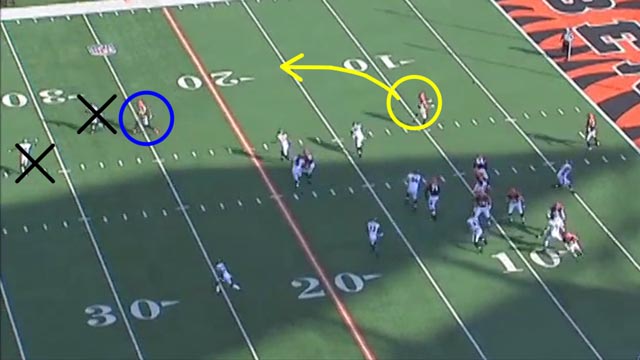 NFC
1. Atlanta Falcons, DE Kroy Biermann
He plays opposite John Abraham. He isn't a speed rusher, but he plays hard and never lets up. He had four sacks on the season and his play was a big reason why the Falcons let Ray Edwards walk in the middle of the season. You love having guys like Biermann on your roster because they make up for their lack of size and speed with relentless play. He's also solid against the run.
2. San Francisco 49ers, TE Delanie Walker
Vernon Davis is the star tight end, but Walker can do so many things. He can catch, block and he's fantastic with the wham blocks to trap up-the-field defensive tackles. He is a tough matchup for linebackers because he can run and he's too physical for some corners and safeties. He is a security blanket of sorts for this offense.
3. Green Bay Packers, RB DuJuan Harris
He rushed for 70 yards on 14 carries last week against the Vikings. The former practice-squad player who was cut by Jacksonville runs with a violent style that should see him get more carries in the postseason. James Starks is still hurt and Ryan Grant doesn't have much pop. So Harris would appear to be the guy.
Here's a look at one of his runs from last week's game against the Vikings. After taking the handoff, Harris (yellow circle) has his choice of running lanes. He could easily go up the middle or just outside the tackle. But he goes wide to the left, which is the right decision. But the best part of the play is the end, the last shot below, when he lowers his pads and explodes into Vikings rookie safety Harrison Smith and runs him over. Harris runs with a violent style and Smith finds that out first hand.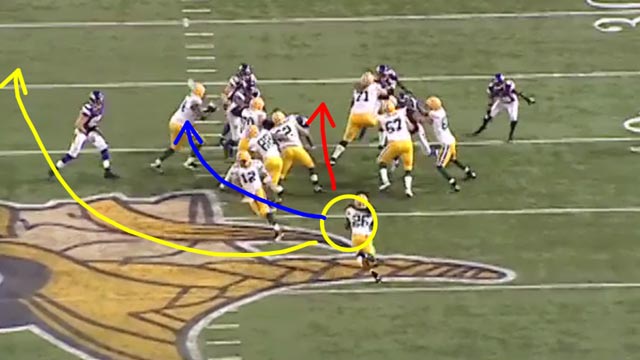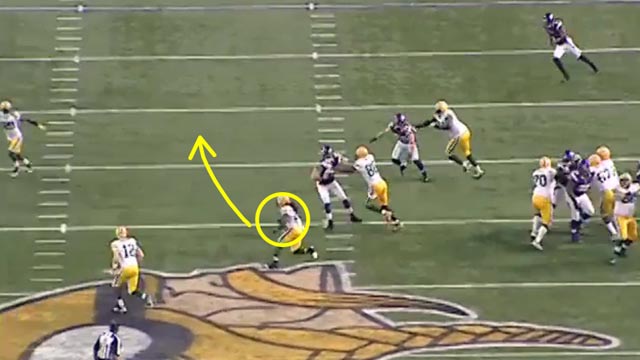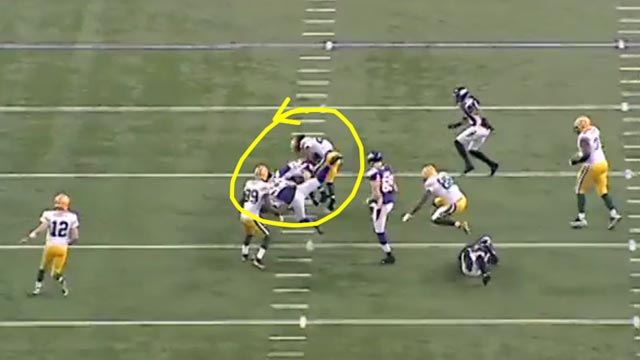 4. Washington Redskins, NT Barry Cofield
He has quietly had an impressive season for the Redskins. He is a load at the point of attack against the run. If the Seahawks or any other team want to run on the Redskins, they have to get Cofield blocked. That isn't easy.
5. Seattle Seahawks, WR Golden Tate
In his first seven games, Tate had 13 catches. He's had 32 since. In the last three, he has eight catches for 196 yards. That's a 24.5 average. Tate can run, and if the Seahawks are going to stretch the field, Tate has to be the guy to do it. Look for him on those deep shots off play-action to Marshawn Lynch.
6. Minnesota Vikings, WR Jarius Wright
Wright, a rookie from Arkansas, can fly. For most of this season, Minnesota lacked a deep threat. They were too limited on offense. But when Wright got his chance -- he sat out the first nine weeks -- the offense had a player who could beat man coverage down the field. His speed will be big for the Vikings this week in Green Bay.
Here's a look at a big play he had against the Packers last week. Wright (yellow circle) lines up wide left against Sam Shields in man coverage. Wright runs a slant and go, and Shields jumps inside on the slant. Even so, he makes a nice recovery and is stride-for-stride with Wright when Christian Ponder starts to make his throw. That's what speed does. As you can see by the last picture, Ponder is making the throw as Wright is coming out of his in-cut. That's the trust he has in his speed. Wright gathers it in for a 65-yard gain.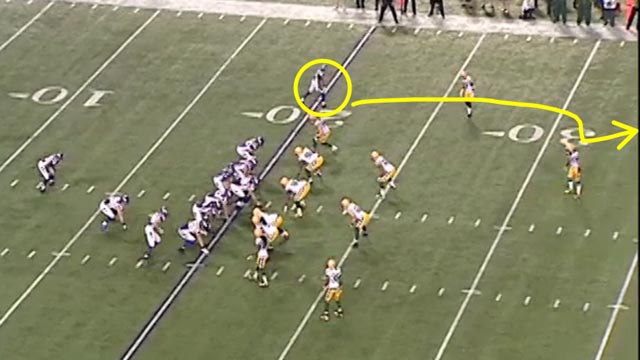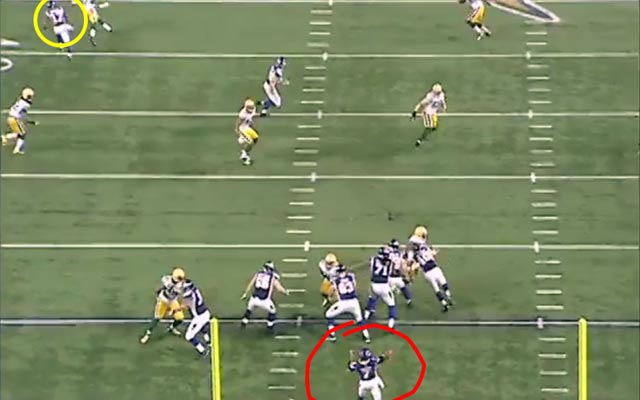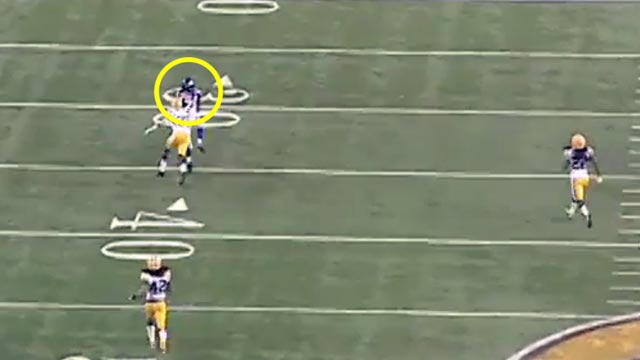 Film study
1. What is wrong with Matt Schaub? He just hasn't looked that good in the past month. Schaub has been bad in the Texans' big games and he wasn't good last Sunday against the Colts in a game that could have locked up a first-round bye. The Texans lost 26-13 and Schaub threw for 275 yards, but he was picked off twice. In his last four games, three of which were losses, Schaub has one touchdown pass and four interceptions. He just looks off the past month. And let's not forget, he will be playing his first playoff game this week against the Bengals. He missed last year's playoff appearance by the Texans with an injured foot. Schaub's first interception last week against the Colts should have been a big play. James Casey was wide open early, but Schaub waited too long to make the throw. It also looked like the ball fluttered, which allowed Vontae Davis, who was clearly beaten on the play, to come over and pick it off. What should have been a 40-yard gain was a big play for the Colts defense, setting up a touchdown for the offense.
2. The anatomy of a big play this week goes to the T.Y. Hilton 70-yard touchdown. On the play, Hilton was lined up in the slot on the left. He had linebacker Bradie James lined up across from him 8 yards off the ball. But James ran to the flat at the snap. That forced Quin to get outside in a hurry in trail coverage. He had no chance against Hilton's speed. Corner Johnathan Joseph took a long time coming off the flat receiver to get into the play and missed the ball on a dive late. Safety Quintin Demps did a poor job of identifying the look and hesitated for a second and couldn't get over in time. Hilton took the dart from Andrew Luck and ran in the end zone for the score. It was a poorly designed defense by the Texans, but it was the great speed of Hilton that made the play possible. Hilton's speed will be big this week against Baltimore, but it's also big in the return game.
3. One of the most impressive things about Redskins running back Alfred Morris is his feet. He has the quick feet you want in a back, but he is also a tough inside runner. Morris is great at planting his feet, cutting back into a crack or a crease, and turning it into positive yardage. He is very instinctive for a rookie runner. On a 10-yard run against the Cowboys last week, the play started to the left. But Morris cut it back to the right. When he did, there was a lane inside the end. As he planted, he cut inside the end and turned it into a nice gain. He does that a lot. His feet make him the back he is for the Redskins offense.
4. The Seahawks have done some good things against the read-option this season. They did a good job against Cam Newton and also limited Colin Kaepernick two weeks ago. The key is their ability to play the run inside. Defensive tackle Brandon Mebane is an impressive player. He can dominate. They can also play man coverage outside with corners Richard Sherman and Brandon Browner. That allows the safeties to concentrate on the inside runs and the runs by the quarterback. I would imagine the Redskins receivers would have a lot of shots at big plays this week against those corners. That's why I think this week's game will be more about Robert Griffin III's arm than the legs of Morris. Seattle safety Earl Thomas will also be big because he has the speed to come up in the run game, but he will also be playing a lot of single-high safety.
5. Vikings quarterback Christian Ponder has struggled for much of the season. But he did some nice things against the Packers last week. He should thank Adrian Peterson. The Packers were so concerned with Peterson that Ponder had chances down the field and made some big plays. He hit Wright on the long pass, but he also hit Jerome Simpson on a nice 21-yard throw that was set up by a play-fake to Peterson. On the play, you could see linebackers A.J. Hawk and Brad Jones take steps up when the fake was made to Peterson. Ponder turned his back to the defense, then fired a shot to Simpson, who beat Tramon Williams in man coverage. The middle of the field was wide open in large part because of Peterson's running ability. Ponder has to be more accurate with his throws off play-action this week like that if the Vikings are to have a chance.
Three and outs
Three players who need to step it up this week
1. Texans OLB Connor Barwin: He has to get pressure off the edge. He's had a bad year.
2. Ravens OLB Terrell Suggs: He's back, but he isn't the same guy yet.
3. Bengals QB Andy Dalton: He just seems to have hit a lull in the last part of the season.
Three units that must come up big
1. Vikings offensive line: They have to get Adrian Peterson going again.
2. Packers offensive line: It's pretty hard to throw it when you are on your back.
3. Redskins defensive line: Seattle has a good front and can be quite disruptive. The Redskins line has over-achieved, but this is a tough test.