Game of the week
Seattle at Washington, 4:30 p.m. ET, Sunday |

Preview
The line: Seahawks by 3½
The story: The Seahawks are a notoriously bad road team. Not only did all their losses occur there this year, they lost their last eight road playoff games. In fact, it's been 29 years since they won a postseason game away from home, and that's so long ago that all but nine players on their roster weren't born then.
So why are they favored?
A couple of reasons: First, there's the knee of the Redskins' Robert Griffin III. It didn't look healthy a week ago, and I can't imagine it will be much better this time around. Second, there are the Seahawks themselves. They're red hot, hammering their last five opponents by a combined score of 193-60, and that includes two games on the road (though one was in Toronto, a neutral site).
The Seahawks beat you with defense, Marshawn Lynch and rookie quarterback Russell Wilson, and oddsmakers are telling you they trust Seattle to check RG3 and Alfred Morris a lot more than they trust Rob Ryan and Dallas. The Cowboys allowed Morris to gash them for 200 yards and three TDs, and that won't happen here. Look for Seattle to stack the box and do what Dallas should've done -- namely, make RG3 try to beat them with his arm.
Normally, he's accurate -- especially on deep balls -- but there's nothing normal about the guy now. That sprained right knee that sidelined him one game doesn't seem 100 percent, with coach Mike Shanahan last weekend admitting that his rookie quarterback was "limited" against Dallas. That's another way of saying he's hurt.
And he is. And if he's not 100 percent the Redskins' chances are compromised. Yes, their defense is better, especially with defensive back Cedric Griffin returning. Yes, Morris is a load. Yes, they have the Seahawks where they want them -- namely, anyplace but Seattle. But if Griffin is handicapped, so are the Redskins, which means their seven-game win streak is in danger of ending here and now.
And that's not me talking. It's the oddsmakers.
The back story: Wilson had a passer rating of 115.2 in December.
Three games we all will see
Cincinnati at Houston, 1:30 p.m., Saturday |

Preview
The line: Texans by 4½
The story: This is a reprise of last year's playoff opener, except with a couple of changes: 1) Matt Schaub is back at quarterback, replacing T.J. Yates, and 2) the Texansare someone nobody trusts. A year ago, there was a feeling that maybe, just maybe, the Texans could ignite and surprise people ... which they did, throwing a scare into Baltimore in the divisional round of the playoffs. Now, there's a feeling they can't beat anyone of consequence, and that's what happens when your offense is a mess and you limp to the finish, dropping three of your last four and get outscored by 45.
Still, they're the pick to win here, though nobody seems confident in these guys now. A lot of that stems from the play of Schaub, who has one touchdown pass and three interceptions in his last four games, and an offense that averaged 12 points per in its last three defeats. A month ago, he and his teammates had a chance to prove they could play with the big boys ... and they failed miserably in New England. Not only were they beaten; they were embarrassed, and they haven't recovered.
They couldn't beat Minnesota at home, and they couldn't beat Indianapolis when they could've locked down home field advantage throughout the playoffs. That should tell you something. It should tell you this is a team looking for the next exit ramp.
The Bengals won't beat Houston with offense, but they could win with their defense. Coordinator Mike Zimmer has his unit playing so well that only two of their last eight opponents scored more than 13 points and nobody scored more than 20. When you're looking for why the Bengals won seven games the second half of the season, start there.
Which brings us to the next item: Momentum. The Bengals have it; the Texans don't. That could mean something, although I remember what happened to the 2009 New Orleans Saints. They won their first 13, then lost their last three, and most of us thought they were D.O.A. for the playoffs. Yeah, sure. They won the Super Bowl.
The Texans won't win the Super Bowl. The question is: Can they survive one round of the playoffs? They're home, Arian Foster is OK and last time anyone saw J.J. Watt he was in a quarterback's grill. But they're a club that seems to have lost its way ... its confidence ... its motivation ... something ... and it's up to Schaub to shake it out of its funk.
Or else.
The back story: The Houston defense this season surrendered 54 pass plays of 20 or more yards.
Minnesota at Green Bay, 8 p.m. ET, Saturday |

Preview
The line: Packers by 7 ½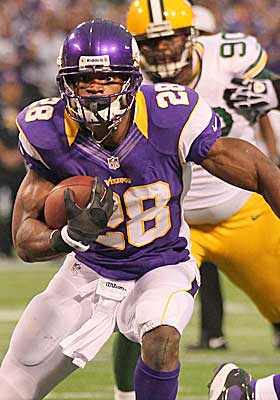 The story:
These two met just last Sunday, and I need to tell you what happened. That's why they're playing again, and good luck to
Minnesota
. I can't imagine anyone conquering
Green Bay
twice in one week, especially when the second game is at Lambeau Field ... in January ... at night ... and with temperatures expected in the low 20s.
But these are the Vikings, and the Vikings have Adrian Peterson, and all I know about "AD" is that he ran through Green Bay for 409 yards this season, including 210 when these two met at Lambeau a month ago. The Packers say they'll load up on Peterson and force Christian Ponder to try to beat them with his arm, but they said that a week ago, and it didn't work out so well -- with Peterson gashing them for 199 yards.
That launched Minnesota to an unexpected victory, and, sorry, I don't see it happening again. Yeah, I know, Green Bay is 2-4 in its last six home playoff games, but quarterback Aaron Rodgers is the league's highest-rated passer in the playoffs and has a history of success against Minnesota, with 24 touchdowns, 4 interceptions and a passer rating of 116.4 in 10 career starts.
Then there's injured Vikings cornerback Antoine Winfield. He's iffy for this one with a broken right hand, though he said a cast will allow him to play. The question is: How effective can he be? Winfield last weekend was replaced by punt returner Marcus Sherels in the nickel package, and it didn't take Rodgers long to exploit him. He completed nine passes over Sherels for 162 yards, including a 73-yarder in the third quarter.
The Vikings won't reveal their plans if Winfield can't start, but that may not be necessary. Reason: Winfield intends to play.
"Absolutely," he said. "I am not coming out of this game. I have the whole offseason to recover. I'll be good."
He better because Rodgers is expected to have a full arsenal of receivers, including Randall Cobb -- who missed last weekend's game with knee and ankle injuries. Cobb has been the Packers' most dangerous receiver in a year where Greg Jennings spent much of the year sidelined. The Vikings need Winfield to play, and they may need more -- like Peterson at cornerback, too.
The back story: Rodgers has passer ratings of 110 or higher in four of his six career playoff starts.
Indianapolis at Baltimore, 1 p.m. ET, Sunday |

Preview
The line: Ravens by 6 ½
The story: Anytime the Colts return to Baltimore it's news. Only there are a couple of sub-plots worth dissecting here. One involves Indianapolis coach Chuck Pagano. Not only is he a former Ravens assistant; he's a guy who missed most of this season while being treated for leukemia.
Pagano's story is well known, but his impact on the Colts is something that is hard to pinpoint. There seems to be a force behind this team that inspired it to unexpected victories and an unlikely playoff berth. Indianapolis beat Houston when it wasn't supposed to, and it beat Green Bay when it wasn't supposed to. So why can't it beat Baltimore?
It can.
The Ravens are going backward, losing four of their last five and two of their last three at home. They have a new offensive coordinator. They have a quarterback under fire. And they have Ray Lewis on the verge of retirement. It's that last ingredient that could serve to motivate a team that wins at least one playoff game a year under John Harbaugh. The Ravens are a tough out at home, but Charlie Batch and the Pittsburgh Steelers solved them here. There's no reason Andrew Luck and the Colts can't.
Except ...
Except the Ravens have that Lewis push going on, and they have an opponent that ranks 29th vs. the run. That means that Ray Rice, not Joe Flacco, could play the leading role in what happens next to Baltimore. The Ravens are favored for a number of reasons, but momentum isn't one of them. Indianapolis has that. The Colts also have inspiration in Pagano. But the Ravens just matched them with Lewis, then topped them with history. Remember: They always win at least one playoff game under Harbaugh.
The back story: The Colts ran an average of 8.9 plays in each of their 60 scoring drives this year, the most in the league. Their 64.4 yards per drive is third and average time per series of 3:52 is fifth.
Five guys I'd like to be
1. Cincinnati CB Adam Jones: He has two career punt returns for touchdowns vs. Houston.
2. Houston QB Matt Schaub: He's 2-0 in his career against the Bengals, with seven touchdowns, one interception and a 135.2 passer rating
3. Baltimore S Ed Reed: He has eight interceptions in his playoff career, including three against the Colts.
4. Green Bay WR Greg Jennings: He has nine TDs in his last seven starts vs. Minnesota, including 8 catches for 120 yards and 2 TDs last weekend.
5. Minnesota DE Jared Allen: He has 15.5 sacks in his last nine games against Green Bay, including five consecutive starts with at least one.
Five best matchups
1. Indianapolis coach Chuck Pagano vs. Baltimore QB Joe Flacco and RB Ray Rice: I guarantee that if there's someone who knows how to solve the Baltimore offense it's Pagano. He served with the Ravens for four seasons, first as secondary coach before taking over as defensive coordinator in 2011. Pagano missed all but four games this season while getting treated for leukemia but returned to the sidelines last weekend and coaches the Colts Sunday. "It will be great," Baltimore coach John Harbaugh said of seeing his friend. "It's a big deal." I'll second that.



What is Wild Card Weekend's best game?
Bengals at Texans
Vikings at Packers
Colts at Ravens
Seahawks at Redskins
Total Votes: 716
2. Green Bay LB Clay Matthews vs. Minnesota RB Adrian Peterson: Peterson ran for 409 yards on the Packers this season, including 210 in Green Bay, but Matthews guarantees he won't hit them for 200 again. Geez, I hope not. This is supposed to be news? I'd like it better if he promised Peterson won't rush for 75 ... or even 100. But 200? If he shreds you for that again you deserve to lose, Clay.
3. Washington QB Robert Griffin III vs. his right knee: RG3 said his knee is no problem and that this week "I felt a lot better than I did last week." I hope so. Because he didn't look the same vs. Dallas, though he somehow managed to run for a touchdown. Griffin wears a brace on the knee and doesn't like it -- which may be one reason coach Mike Shanahan said his quarterback was "limited" last weekend. 4. Baltimore offensive coordinator Jim Caldwell vs. his former team: Caldwell was the Colts' head coach a year ago but was fired after a 2-14 finish. Now he's calling the offensive plays he hopes will beat Indianapolis. "It's ironic to get the opportunity to play against them," he said. "But it's going to be a lot of fun."
5. Seattle and Washington vs. pregame emotions: The last time these two met was 2011 in Seattle when a pregame scuffle broke out, with players having to be separated before the coin toss. Trust me, both sides remember. "They don't like us," Washington cornerback DeAngelo Hall said on Washington's 106.7 The Fan, "and we don't like them."
Five things that may only interest me
1. Wild-card winners have won the Super Bowl eight times, including each of the past two seasons, while at least one Super Bowl participant played in wild-card games six of the past seven years.
2. Andrew Luck, Robert Griffin III and Russell Wilson combined for 31 victories, eight more than the previous single-season total by rookies entering this year (23 in 2011). Starting rookie quarterbacks won 46 games in 2012.
3. Baltimore's Flacco on Sunday becomes the first quarterback to start a playoff game in each of his first five seasons during the Super Bowl era.
4. Indianapolis has the most pass plays of 20 or more yards among teams in the playoffs. The Colts had 65 this year, one more than Denver and three more than Baltimore. Detroit led everyone with 67.
5. For the first time since 2005, all playoff teams won at least 10 games.
Numbers to remember
0: Christian Ponder interceptions in his last three games
1: Interception needed for Ed Reed to tie the NFL record for most in the playoffs
6-0: Houston home record vs. AFC
6-2: Cincinnati on the road
8: Games where RG3 had passer ratings of 100 or better
28: Colts making their first playoff appearances
34-7: Joe Flacco at home, including the playoffs
51: Cincinnati sacks this season, third best in the NFL
120.2: Adrian Peterson's career per-game rushing average vs. Green Bay
122.7: Andre Johnson's average yards receiving in his last three games against Cincinnati, including the playoffs
Weekend weather
Houston (Saturday): Morning showers, high of 52 (retractable roof)
Green Bay (Saturday): Partly cloudy, high of 27
Baltimore (Sunday): Partly cloudy, high of 49
Washington (Sunday): Partly cloudy, high of 48
Where we will be
I'll be in Baltimore to join the Colts' Corral for this weekend's reunion.
Mike Freeman will be in Washington to see if RG3 can solve his physical cliff.
Pete Prisco will be in Houston to lead the "Save Our Texans" campaign.
Gregg Doyel will be in Green Bay to freeze.