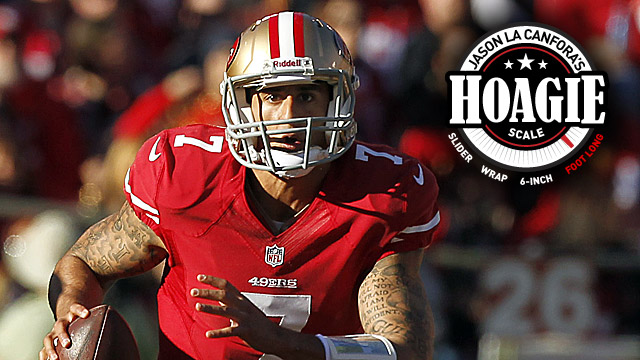 This is the last week for a long, long time we get football on multiple days in the same week.
Let that sink in for a minute, my friends. And then let the weeping begin.
This is the last time we get multiple games in each conference until September. This is it. It still hasn't exactly sunken in for me, personally. I'm kind of in a state of football oblivion, perhaps due to the endless and ever-expanding coaching searches that refuse to relent. So I may not be in my right mind right now, but I am going to take a crack at this anyway.
All of these games have the capacity to be excellent and I have a strong feeling that after the substandard quality of the contests from last week, we are in for a treat this week. We're due for a legitimate upset and history would dictate that a couple of these teams coming off the bye will do so nursing the toxic cocktail of overconfidence and lack of sharpness that has led to the demise of many a season.
So with that in mind, here's how I'd rank the four playoff games this weekend:

| | | |
| --- | --- | --- |
| |  at  | |
Green Bay at San Francisco
Saturday, Jan. 12, 8 p.m. ET (FOX)
Why To Watch: Either of these teams could be tabbed as the NFC's best team and could have been at various points this season. Aaron Rodgers is probably the best player in the NFL regardless of position, and if the 49ers go out meekly in the postseason and Colin Kaepernick slumps along the way, then you know Jim Harbaugh will be hearing about it the entire offseason. There's an awful lot at stake here, folks. Both teams are in Super Bowl or bust mode. It's the best passing offense in the NFL against what may be the game's best defense. It's the 49ers, who play as physical as any club in the NFL on both sides of the ball, against a Green Bay team that can be a little more finesse offensively. Plenty of contrasts in style at play here and plenty of star players on display.
What To Watch For: Can Justin Smith anchor? And if he can't, can Aldon Smith still get behind a tackle? Because it has become very clear than the 49ers defense isn't close to being the unit we expect with Smith out of uniform. His presence might not be enough alone to cause problems, but then again, who knows. It certainly looks like San Francisco lost its mojo on that side of the ball without him ... Green Bay is showing more intent and authority in the run game -- but does that end against this front seven? ... Frank Gore will have to set the tone early for the 49ers on the ground ... Any signs of nerves from Kaepernick? He seems pretty unflappable to me ... Michael Crabtree has become the key to San Francisco's passing game ... Charles Woodson on the blitz remains a force, even with all the time he has missed.
| | | |
| --- | --- | --- |
| |  at  | |
Baltimore at Denver
Saturday, Jan. 12, 4:30 p.m. ET (CBS)
Why To Watch: There is a theory making the rounds in Baltimore that with Ray Lewis set to retire and Ed Reed possibly in his final days as a Raven, that things are shaping up for the Ravens to make a statement. They slayed one dragon last week by defeating the Indianapolis Colts, who once played in Baltimore. And, so the theory goes, they get their shot at a longtime nemesis this week, Peyton Manning, who has owned them through the years. And should the Ravens persevere, they just might get a crack at New England, who beat the Ravens barely in the AFC championship a year ago thanks to a dropped pass in the end zone. Of course the Broncos, fresh off a bye and having not lost since October, have plenty to say about this -- and they destroyed the Ravens in Baltimore just a few weeks ago.
What To Watch For: Which Joe Flacco shows up? Will it be the one who was worse than pedestrian for the first half last week -- and who was downright awful in the first half of the meeting with Devner recently -- or the quarterback who can be striking and cunning with the deep ball when he is on his game? ... Ravens badly need Torrey Smith to be a sideline threat again ... Willis McGahee is getting healthier and is back at practice, but could he make an appearance against his former team here? And can Knowshon Moreno run over a Ravens defense with Lewis this week the way it did without him last month? ... If Cary Williams is a $10-million-a-year corner, as he has told some people he thinks he is, let's see how he holds up against Decker and Thomas here ... Have to wonder if the cold weather and threat of snow might actually benefit the Ravens ... Baltimore's defense was on the field for 87 plays last week and now faces Manning in altitude in a short week. Marinate on that for a minute.
| | | |
| --- | --- | --- |
| |  at  | |
Seattle at Atlanta
Sunday, Jan. 13, 1 p.m. ET (FOX)
Why To Watch: It's time for Matt Ryan to put on his big boy pants in the playoffs and have a big game and put his team on his back and win over the naysayers. We all know this parable, right? No individual figure in this postseason is under more duress and pressure than Ryan. He has never thrown for 200 yards in a playoff game. He has never won. And for all of his regular-season prowess at home, he has been dissected in this dome in the past. It's all about him. Period. Problem is the Seahawks have the kind of corners who can get physical and man up and they seem pretty fearless. But can they challenge guys like Julio Jones and Roddy White the way they do an average group of NFL receivers?
What To Watch For: Seattle rookie pass rusher Bruce Irvin now becomes more than a situational guy with Chris Clemons out for the season with an ACL. Can he get it done on first and second down and be a factor with Clemons no longer drawing attention on the opposite side? ... Michael Turner should have some semblance of a quick step after this week off, right? He'd better because the straight-ahead stuff is likely to be mitigated by big Red Bryant ... Marshawn Lynch can't be allowed to rip off the 20-plus yard chunks he seems to gain so easily ... Do the Falcons have the types of players on the edge who can contain Russell Wilson? ... How quickly do the Atlanta fans turn on the Falcons should they start slowly? ... If Ryan starts to press and the run game is dry, Seattle has guys who can make plays on the ball.
| | | |
| --- | --- | --- |
| |  at  | |
Houston at New England
Sunday, Jan. 13, 4:30 p.m. ET (CBS)
Why To Watch: Many of us saw New England take apart Houston not that long ago and this game has to be better than that one. The Texans were right in the midst of their swoon then and now they have at least won a playoff game, even if it was non-convincing and far from dominating. Questions remain as to Matt Schaub's mental state right now and Houston's passing attack will have much to prove. The Patriots know that anything less than a title isn't good enough after falling in the Super Bowl a year ago. Tom Brady should be plenty shrewd enough to be able to avoid those massive mitts that J.J. Watt uses every week to swat balls all over the place. Then again, you also get the sense that just maybe the Texans are starting to feel like they can cut loose and have nothing to lose.
What To Watch For: Schaub needs to get into a tempo in the first quarter, spread the ball around and if he's going to throw to the sidelines, put the requisite zip on the ball ... No reason for Brady to challenge Jonathan Joseph all that much, with so many other matchups to try to feast on ... Rob Gronkowski will be a factor here and I tend to believe Brandon Lloyd will finally reward the Patriots by stepping up after a middling regular season. Expect him to get vertical a few times ... Chandler Jones may find himself moved around and if he can catch stud tackle Duane Brown leaning a time or two that alone could lead to turnovers given Schaub's recent limitations ... The Patriots have a knack for picking off balls deep in their own territory, but will certainly have their hands full with tight end Owen Daniels in the middle of the field ... Will Arian Foster slow down at all after another monster workload last week? The Texans will go as far as he takes them ... Expect to see a lot of Wes Welker running hot routes underneath areas vacated by Watt ... Bill Belichick's running back by committee approach should serve him well in this one.