Three of the four divisional playoff games are rematches of games played earlier this season.
So I took a hard study of each of the three games to help get an idea of how things might play out this week and to look at some of the things that have changed. The first of those games came in Week 1 when San Francisco beat Green Bay. The second came in Week 14 when New England blew out Houston and then the following week it was Denver blowing out Baltimore.
As they ready to meet again this week, with the stakes much higher, do those games have much of a bearing? Or was the Green Bay-San Francisco game so long ago that it's of no use?
Here's a look at all three games, and then you decide.
Week 1: 49ers 30, Packers 22
The skinny: The 49ers led 16-7 at the half as Alex Smith, then the starting quarterback, was 12 of 17 for 132 yards and a touchdown as he outplayed Aaron Rodgers. The big play in the second half came when NaVorro Bowman picked off Rodgers when the Packers trailed 23-15 early in the fourth. That set up a Frank Gore touchdown run.
Changes since then
49ers: Well, Smith no longer starts. Head coach Jim Harbaugh made the move to Colin Kaepernick as his starter in Week 11. In that first game, Kaepernick had one run, a 17-yard quarterback draw in the first half. There was no use of the "Pistol" formation. Kaepernick will run a lot more "Pistol" this week.
Packers: There are seven players who started that day who won't start Sunday -- three on offense and four on defense. One of the key players who didn't play on defense who will this week is rookie corner Casey Hayward. The Packers started Jarrett Bush at corner and he had a rough go of it. They are better with Hayward.
Stat that stands out: Aside from scrambles by Aaron Rodgers, Green Bay ran nine times for 18 yards.
49ers schematics: They used a lot of their dime look with Perrish Cox playing as a sixth defensive back in a linebacker-type of roll. They played mostly two-high safety, which makes it odd the Packers couldn't run the football. Green Bay did pick on Cox in that game. The 49ers used a variety of blitzes against Rodgers. Here is one that ended in a sack by corner Carlos Rogers. The amazing thing about this play is that Rodgers missed two open receivers. That doesn't happen too often.
As you can see below, Rogers (blue circle) is lined up in off-man coverage against James Jones (red circle). Tight end Jermichael Finley is lined up just outside the left tackle. Both run quick routes to get wide open in the middle of the field. But Rodgers never sees them, leading to the sack by Rogers.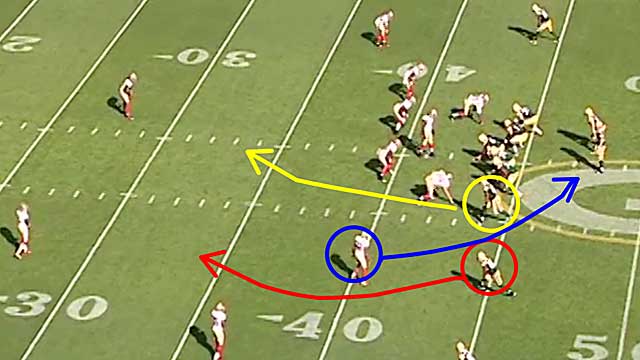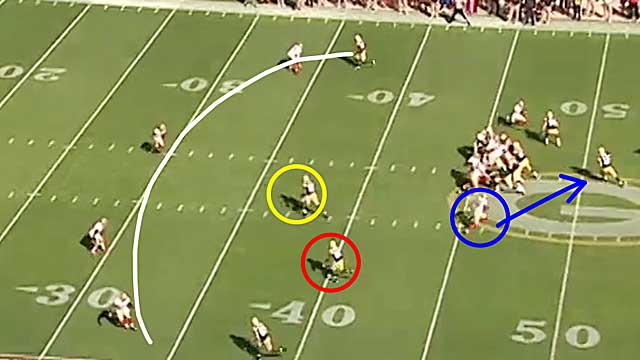 Packers schematics: They spread out the 49ers and threw a lot of quick stuff, which you have to do against that defense. The Packers threw to Finely 11 times and he caught seven passes. That was the most he caught in the regular season. Look for him to be a factor inside against the 49ers this week.
Key battles: Clay Matthews had three sacks and owned 49ers left tackle Joe Staley. He bull-rushed him for a couple of sacks and went around him for another. Staley also got called for a hold.
Here's a look at some of the work Matthews did that day. This is Matthews (yellow circle) lined up outside the left shoulder of Staley. At the snap, Matthews charges inside with a quick power move, one that causes Staley to lose his balance and allows Matthews to get an easy sack.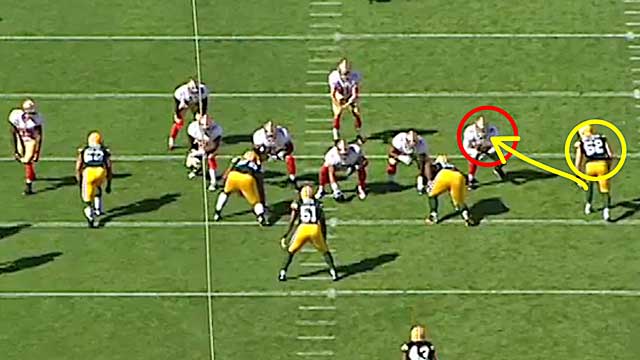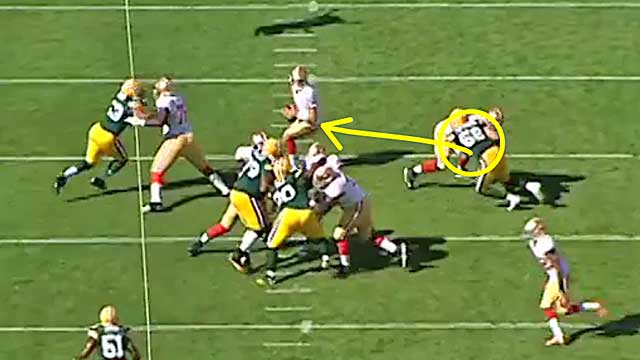 Other stuff: Frank Gore ran for 112 yards and scored on a 23-yard run. That run is a vintage 49ers play. They pull the backside guard, and the fullback comes from across the formation and both get great blocks to spring Gore for the big play. Here's a look at that run.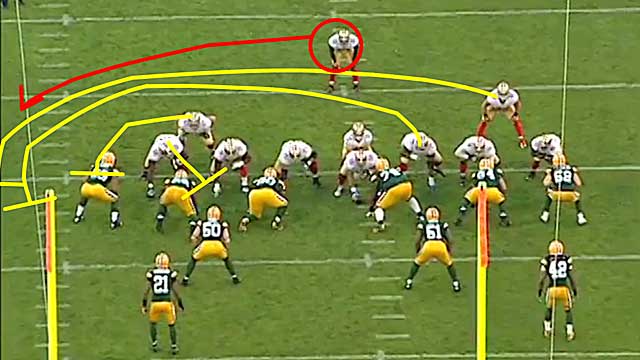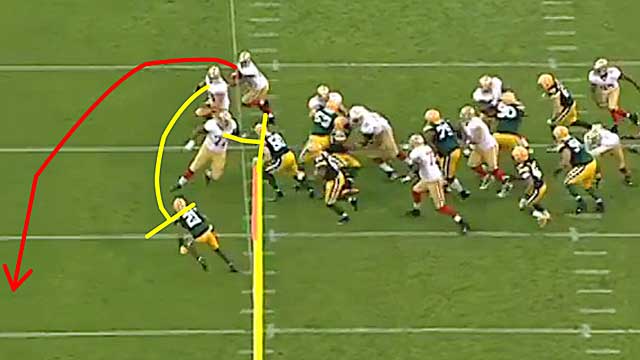 Week 14: Patriots 42, Texans 14
The skinny: The Patriots jumped out to a 21-0 halftime lead and were never threatened. Tom Brady threw four touchdown passes for the Patriots, while Matt Schaub threw no touchdown passes and one interception.
Changes since then
Patriots: They played that night without star tight end Rob Gronkowski, who was out with an elbow injury. Pass rusher Chandler Jones was also batting injury issues and was limited. Those are two key players for the Patriots as they make a Super Bowl push.
Texans: They played without outside rusher Brooks Reed, who missed the game with an injury. They also had inside linebacker Darryl Sharpton active, but he is out for the season now.
Stat that stands out: The Patriots held Arian Foster to 3.1 yards per rush on his 15 carries. That can't happen this time or the Texans will get blown out.
Patriots schematics: Without Gronkowski in the lineup, the Patriots had to do an even better job of scheming guys open, which they are great at all the time. And they did. They used play-action to influence the Texans and also created one-on-one matchups with their receivers that Brady used to his advantage. Here's a look at one of those plays, a 63-yard touchdown pass to Donte Stallworth.
On the play, Stallworth (black circle) is lined up on the right outside of Wes Welker (yellow circle). The Texans have a double on Welker with corner Kareem Jackson and safety Quintin Demps. That leaves Brandon Harris in man coverage on Stallworth. He blows by Harris and Brady throws a perfect ball that Stallworth takes the distance. The Texans are so pre-occupied with Welker on the play, but Brady takes advantage of the man coverage to beat them.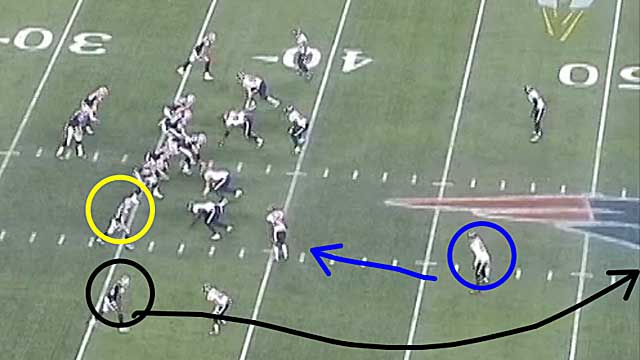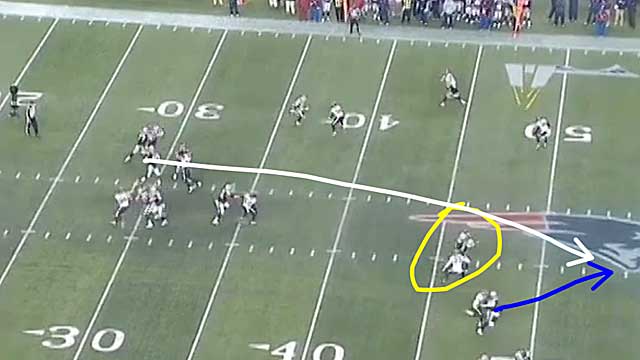 Texans schematics: The Texans love to use their zone-blocking schemes to free up Foster for big runs. He is one of the best cutback runners in the league. But against the Patriots, the offensive line did a bad job of cutting on the backside. They didn't get the Patriots defenders on the ground, which is why the Patriots did such a good job on Foster. The Texans have to be better in their ability to cut down defenders on the backside of the play to create the cutback lanes. That is key to what they need to do.
Key battles:: The Texans had no answer inside for New England's defensive tackles. Both Brandon Deaderick and Vince Wilfork had really good games, which is why the Texans couldn't run the ball. Texans right guard Ben Jones has struggled with power people on his face and he did so against Wilfork. The Texans have rotated him out some for rookie Brandon Brooks, who is bigger and stronger. He might see more time this week.
Other stuff: One of the things that has to happen in this game is Schaub shifting coverage with his eyes. He just has to be better looking off the free safety. Here's a pick by Devin McCourty in the first game. Schaub thinks he has a wide-open Kevin Walter on what should have been a touchdown. But he stared him down, which allows McCourty to move over and make a great play for a pick. You can also see Foster (red circle) wide open in the middle of the field. That could have been a big play as well. If Schaub holds McCourty for a second, it's a touchdown. Those are the little things he has to do better.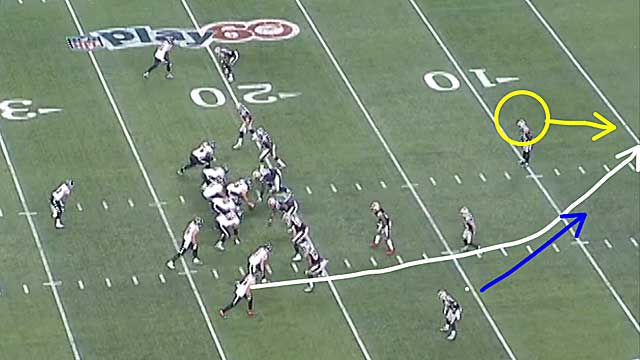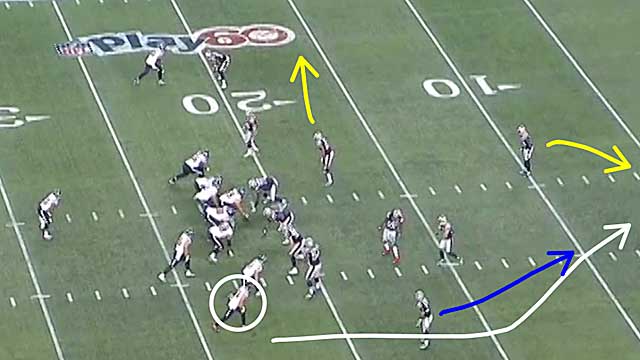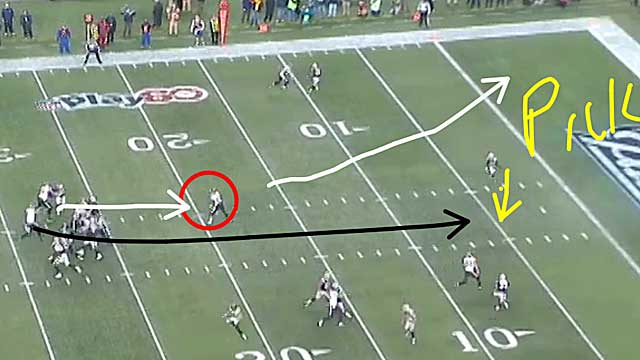 Week 15: Broncos 34, Ravens 17
The skinny: The Broncos led 31-3 after three quarters and shut it down in the fourth. The Ravens had four first downs and two turnovers in the first half. The big play was a 98-yard interception return for a score by Denver corner Chris Harris.
Changes since then
Broncos: The only change on offense is that veteran guard Chris Kuper is expected back starting after missing time with an injury for much of the season. Manny Ramirez, who started that day, struggled.
Ravens: The Ravens shuffled their line last week against the Colts, and it seemed to work. Veteran Bryant McKinnie went in at left tackle and Michael Oher moved to the right side. Rookie right tackle Kelechi Osemele moved in at left guard for Bobby Williams. Right guard Marshal Yanda, safety Bernard Pollard, linebacker Dannell Ellerbe and, of course, Ray Lewis also missed the first game.
Stats that stand out: Ray Rice had 12 carries for 32 yards and had three catches for three yards in the last meeting. He needs more touches than that.
Broncos schematics: The Broncos used a lot of man coverage against the Ravens secondary to shut down the passing game. They have the corners in Champ Bailey, Chris Harris and Tony Carter to do it. The biggest play of the game came when Harris picked off Joe Flacco's pass and took it 98 yards for a score. Here is a look at that play.
On a first-and-goal from the 4, the Ravens go to a spread formation with three receivers and a tight end. They line up Anquan Boldin (yellow circle) in the slot inside of Torrey Smith. When Smith runs to the end zone, Boldin runs a quick out. Harris, in man coverage, makes a great read and an even better jump on the ball. He picks it off and runs untouched down the right sideline. Instead of a 10-7 game or 10-3, it's 17-0 Denver.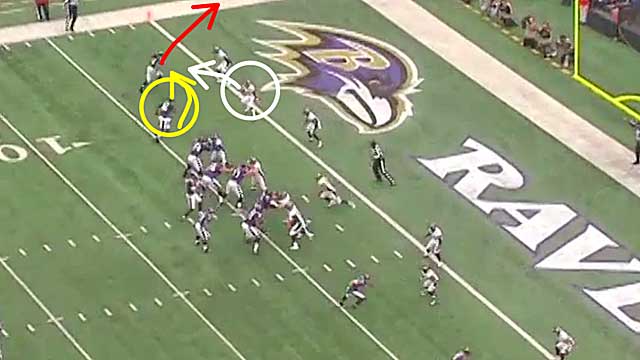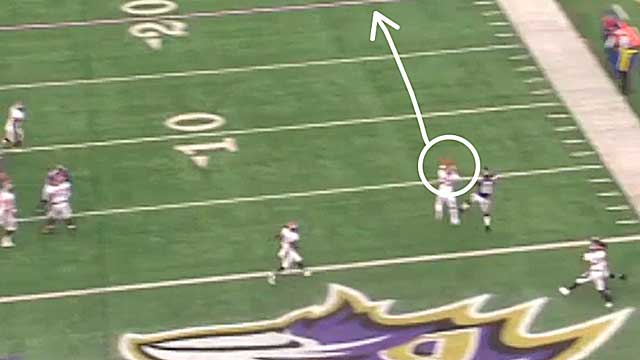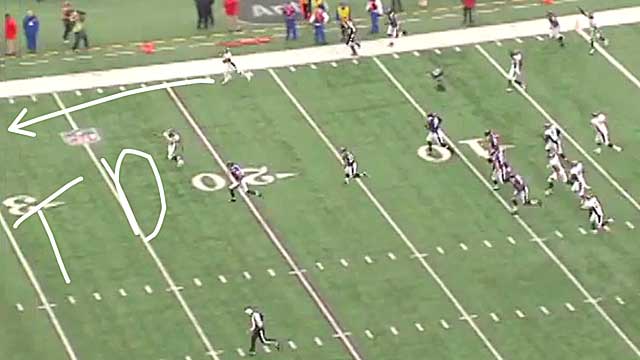 Ravens schematics: The Ravens did a horrible job of giving Osemele help against Von Miller. Miller went around him time and again with his pass rush and helped chase down runs because Osemele had problems. If they are to move the ball better against the Broncos this week, whoever is at right tackle has to do a better job against Miller. Or they need to give him some help.
Key battles: Broncos left tackle Ryan Clady did a heck of a job on Terrell Suggs in that game. Suggs had one tackle. But that was shortly after Suggs returned from a torn Achilles tendon. His speed has improved since then, so he has to be big against Clady if the Ravens are going to slow down Peyton Manning.
Film study
1. The key to the San Francisco 49ers pass rush is the tackle-end stunt executed by Justin Smith and Aldon Smith. It works to free up Aldon Smith to get to the quarterback in large part because Justin Smith holds the guard as Aldon Smith comes through the hole. He never gets called for it, either. When Justin Smith went out in the New England game, Aldon Smith became a much different player. He hasn't had a sack since. Justin Smith is expected back this week against the Packers, but how healthy will he be? One thing is for certain: The tackle-end stunt hasn't been the same since Justin Smith went down.
2. Seahawks corner Richard Sherman is one of the best cover players in the league. But one of the best ways to counter a cover corner is to run at them. Most don't like that. And last week early in the Redskins-Seattle game, the Redskins ran at Sherman with success. On one run, an 18-yarder by Alfred Morris, Sherman was called upon to take on pulling tackle Tyler Polumbus. He ducked. Rather than throwing his body into Polumbus, Sherman took a dive. The result was a big lane and big run for Morris. Look for Atlanta to run at Sherman when it gets the chance.
3. The Seahawks seemed to have trouble with blitzes off their offensive left side last week. It seemed that when Russell Okung blocked down, it left a free runner twice to get a sack. Once it was linebacker Perry Riley and another time it was safety Reed Doughty. Keep an eye on that when they play the Falcons.
4. One of the things the Packers did well last week against Minnesota was to get the ball to running back DaJuan Harris in the passing game. He had five catches for 53 yards. They did it in a couple of different ways, too. One of his catches was on an outside screen. They also used him on delays over the middle. I am a big believer that the San Francisco defense is vulnerable in the short flats. That's where Harris could help open things up down the field with his ability to turn short passes into nice gains.
5. The media slobbered over Ray Lewis last week. They pointed out how he had 13 tackles, how he wasn't just on the field but was a big factor. They were wrong. Watching the tape of his game against the Colts shows a guy who made some tackles, but few impact plays. On one run, he was put on his back by Colts tight end Dwayne Allen. It was a good, old turtle, legs in the air. Lewis got credit for a tackle on a 6-yard run by Vick Ballard when Ballard was going down and Lewis fell on him. He was clearly out of position on the play. Another time he got blocked in the hole, fell on Ballard after a seven-yard gain, and got credit for a tackle. Lewis did make a nice play knifing through the line to drop Ballard for a 1-yard loss, but that was about it in terms of highlights. The flip side is that Ellerbe, the Ravens' other inside linebacker, is playing at a high level. He was all over the field last week, playing with violence and showing off his speed. He has really emerged as a run stuffer at the right time. He is an unrestricted free agent after the season and should command a nice contract.
Three and outs
Three best offseason moves so far
1. Cardinals promoting Steve Keim to general manager. He will fix that mess.
2. Bills hiring Doug Marrone. He might not be a household name, but he can coach.
3. Jets firing Tony Sparano. Nice man. Bad offense.
Three reasons why the read-option will go away soon
1. Robert Griffin III's knee.
2. Coaches will have a summer to figure it out.
3.Robert Griffin III's knee.