Game of the week
Green Bay at San Francisco, Saturday, 8 p.m. ET |

Preview
The line: 49ers by 3½
The story: So Aaron Rodgers plays in the Bay Area for the first time since the 49ers snubbed him in the 2005 NFL Draft, and what are we talking about? Uh-huh, San Francisco's Colin Kaepernick. He's the quarterback making his first playoff start, and the heat is on. Because if he doesn't win here ... if he doesn't at least push the 49ers to the NFC Championship Game ... there's one head coach under fire.
And that's Jim Harbaugh.
He's the guy who changed from Alex Smith to Kaepernick in midseason because ... well, because Smith suffered a concussion. He was 20-6-1 under Harbaugh. He was the league's most accurate passer. He was third in passer rating. Yet Harbaugh was eager to play his draft pick and make him the starter, mostly because he believes he can do more with Kaepernick than he can with Smith.
Kaepernick is 5-2 as a starter and 3-0 at home. He can run. He can throw. And he can make plays Smith cannot. But he can make mistakes, too, and beware, San Francisco. It was mistakes that cost the 49ers a chance to go to last year's Super Bowl. Kaepernick commits them (see St. Louis), and Smith does not.
Peek at the Week
Columns

---

Related links
Pro Football 360
NFL coverage on the go
Granted, Kaepernick makes big plays, too, but the 49ers' identity seems to have changed since he took over. Where once they were about defense and Frank Gore, now they're about defense and Kaepernick -- and that's a risk when the guy has no playoff experience.
Rodgers does, of course, and has won a Super Bowl. If there's a key to this game it's not Kaepernick but the 49ers' pass rush. If it can get to Rodgers -- and a lot of people have -- it can fluster and frazzle him and force him into the mistakes and mediocre play that sabotaged him and the Packers in last year's playoff loss to New York. If it cannot, it's over. Rodgers will shred San Francisco.
I saw it happen with Tom Brady in the second half of the 49ers' defeat of New England last month, and I saw it happen the following week when Russell Wilson and the Seahawks torched these guys. The common thread: In both games, Justin Smith was missing. He was out the second half of the New England game, and he sat out the loss to Seattle. Smith is back, but the question is: How effective can he be?
San Francisco is hoping he can do something, anything, to spring loose Aldon Smith. After 19½ sacks with Justin at his side, he had none without him. Rodgers has no rushing attack and his pass protection isn't all that great. But if he has the time he has receivers galore -- and, sorry, but if this comes down to a game of tennis, give me Rodgers over Kaepernick -- in straight sets.
The back story: Since the start of the 2010 season the Packers are 14-5 on the road. Their winning percentage during that time is second only to New England (12-4).
Three games we will all see
Baltimore at Denver, Saturday, 4:30 p.m. ET (CBS) |

Preview
The line: Broncos by 9½
The story: This is the second time in a month these two have met, with Denver dropping the hammer 34-17 in Baltimore on Dec. 16. That's not exactly encouraging, and neither is this: It was Peyton Manning's ninth straight defeat of the Ravens, a streak that extends all the way back to 2002.
So Manning has Baltimore's number, he's home and his team is on an 11-game winning binge -- including a lopsided defeat of the Ravens. Question: Is there any reason to play this game?
Well, yeah. First, Baltimore has a more complete defense this time around. Safety Bernard Pollard and linebacker Dannell Ellerbee -- two of the team's leading tacklers -- are back. So is linebacker Ray Lewis, and, OK, so he's not the same. He gives the Ravens something in the huddle and on the field it could have used last month -- and that's leadership. Marshal Yanda is back on a revamped offensive line, too, and just in time: Denver's pass rush is relentless and frazzled Joe Flacco last month.
Then there's this: It will be cold, with temperatures expected to be no higher than 20. I don't know how that affects either side, but I know it has Manning wearing a glove. Manning is 9-10 in the playoffs and seven times has bowed out after only one postseason game, so that should give Baltimore hope. So should Flacco's play last weekend, when he set a franchise record for playoff passer rating.
But let's be honest, people. The oddsmakers made this line high for a reason: Denver is a more complete team. In fact, the Broncos are the most complete team out there. Their defense is sound. Their offense is sound. They have a kicker with a strong and accurate leg. And they have Manning. Still, the Ravens kept them close last month until a Flacco interception at the end of the first half clinched the victory, and if you're Baltimore you convince yourself that won't happen again.
And maybe it won't. Flacco hasn't had a turnover his past three games and has gone 92 straight passes without an interception. He must play an error-free game for Baltimore to have a chance. Otherwise we're looking at deja vu all over again.
The back story: Baltimore set a franchise record with 72 plays of 20 or more yards, third best in the NFL. Denver was second (74).
Seattle at Atlanta, Sunday, 1 p.m. ET |

Preview
The line: Falcons by 2½
The story: Nobody is under more pressure this weekend than Matt Ryan and the Atlanta Falcons. Granted, they're the NFC's No. 1 seed and are home, where Ryan seldom loses, but tell me where we've heard this before. Oh, yeah, two years ago when they had the exact same record (13-3), clinched home-field advantage and took on a wild-card entrant in the divisional round.
It was Green Bay, and it was a disaster. Ryan stunk, and so did his teammates. But they were worse a year later when they failed to produce one point of offense against the Giants.
Now they're home again, only this time against the team nobody wants to face -- the white-hot Seattle Seahawks, winners of six straight and eight of their past nine -- and tell me people in Atlanta aren't waiting to exhale. It's not just that the Seahawks are winning; it's that they're burying opponents, winning their past six by a combined score of 217-74.
Seattle's hope on defense is to reduce this to a one-dimensional game, forcing Ryan to win through the air. He has decorated receivers like Julio Jones and Roddy White and Tony Gonzalez, but Seattle has a big, physical and fast secondary that will be difficult to solve. These aren't the Green Bay Packers of 2010; they're better, with Richard Sherman regarded as the next best cornerback to Darrelle Revis.
On offense, the Seahawks operate everything off running back Marshawn Lynch -- having him hammer the middle of the defense while working an effective passing attack off play-action fakes. Lynch has missed two days of practice this week, but should play. Seattle is turning more and more of its offense over to quarterback Russell Wilson, and the results speak for themselves: The guy has become a giant killer, with 16 touchdowns and two interceptions his past eight starts.
Oh, yeah, and four rushing TDs.
The feeling is that Ryan and the Falcons are about to disappoint again, but I would be careful. First, the Seahawks were down 14-0 a week ago and might've lost had they faced a quarterback on two legs. Second, this is their second cross-country trip in a week, and we all know about their troubles on the road. They broke through last week for their first road playoff win since 1983, and that's terrific. Only we're asking them to do it twice in eight days? On the East Coast, no less? And where Ryan and the Falcons are comfortable?
Stay tuned.
The back story: Ryan has 33 games with a passer rating of 100 or better. The Falcons are 32-1 in those contests.
Houston at New England, Sunday 4:30 p.m. ET (CBS) |

Preview
The line: Patriots by 9½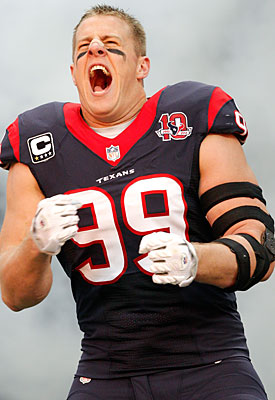 The story:
If there's anything close to a dead-bolt cinch this weekend, you're looking at it. The Texans were here last month and were destroyed. Tom Brady is home where, since moving into Gillette Stadium, the Patriots are 9-2 in the playoffs and 4-1 in the divisional round. Houston's offense can't find the end zone. New England's offense can't stay out of it. Houston is 1-3 against the Patriots and hasn't won in Foxborough.
I think you get the idea. There's no reason to believe Houston pulls the upset, except ...
Except that the New York Jets went through the same thing two years ago. They were blown out at Gillette Stadium, then returned as a 9½-point underdog for the playoffs. They had a solid rushing attack. Their defense was aggressive and could get to the quarterback. And their quarterback was someone nobody trusted.
Sound familiar?
It should. That's the Houston Texans, and I suggest Kubiak and defensive coordinator Wade Phillips study those 2011 videotapes because the Jets attacked New England the way Houston must -- with defense. They mixed coverages. They disguised blitzes. They did what they could to frazzle Brady, and it worked. He was outplayed by Mark Sanchez.
Houston will have linebacker Brooks Reed and a healthy Johnathan Joseph for this game, but the Texans need more. They need a new plan, and I suggest Phillips shake up his defense now. Otherwise, Houston gets torched.
The back story: In two starts at home vs. Houston, Brady has six touchdowns, zero interceptions and a 118.8 passer rating
Five guys I'd like to be
1. Denver QB Peyton Manning: He's 9-2 in his career vs. Baltimore, with nine straight victories -- including one last month.
2. New England TE Aaron Hernandez: In Week 14 vs. Houston he had eight catches and two TDs.
3. Green Bay LB Clay Matthews: In seven career playoff games, he has 6½ sacks, three forced fumbles and three fumble recoveries.
4. San Francisco QB Colin Kaepernick: He's 3-0 at home, with a passer rating of 100 or better in each of his three starts.
5. Seattle QB Russell Wilson: In his past four games, including the playoffs, he has seven TD passes, one interception and a passer rating of 116.9. He also has four touchdowns rushing.
Five best matchups
1. Green Bay PK Mason Crosby vs. San Francisco PK David Akers: These two teams better hope their game doesn't come down to a last-second field goal because neither has a reliable kicker. Crosby is 11 of 21 on field goals of 40 or more yards, and Akers is 9 for 19. At least Akers has an excuse. He's hurt.
2. New England's offensive line vs. Houston DE J.J. Watt and LB Brooks Reed: Watt and Reed have combined for nine sacks in three playoff games -- 4½ each -- and Watt was this close to getting Tom Brady the last time these two met, with Watt hitting him five times.
3. Atlanta's secondary vs. Seattle QB Russell Wilson in the red zone: Wilson was the league's third-rated quarterback in this department, with 18 touchdowns and no interceptions inside the 20. Only Drew Brees and Aaron Rodgers were better.
4. San Francisco QB Colin Kaepernick vs. Green Bay DB Sam Shields: Kaepernick should be wary of all of the Packers' defensive backs -- Shields, Casey Hayward, Charles Woodson, Tramon Williams, you name it -- but Shields has four interceptions in six playoff games, which means I would start by looking for him.



What will be the best game?
Ravens at Broncos
Packers at 49ers
Seahawks at Falcons
Texans at Patriots
Total Votes: 42,784
5. Atlanta vs. pressure: We all know the Falcons are desperate to win a playoff game, but if it's close you have to like their chances. Since 2008 Atlanta is 12-6 in games decided by a field goal or less.
Five things that may only interest me
1. Since the NFL moved to the 12-team format in 1990, No. 1 seeds in the NFC are 18-4 in the divisional round of the playoffs, with all four losses coming in the past five years. No. 1 seeds in the AFC are 13-9.
2. Denver and New England each have 13-3 home records in the playoffs, which ties for best in the NFL.
3. Baltimore's 7-5 road record in the playoffs is the best winning percentage in the NFL, while Green Bay's 10-12 postseason record makes the Packers second.
4. With 100 yards, Houston's Arian Foster would join Terrell Davis (7), John Riggins (6) and Thurman Thomas (4) as the only players in league history to rush for 100 yards in four straight playoff games.
5. With a defeat of Houston, New England's Brady becomes the winningest quarterback in NFL playoff history. He is tied with Joe Montana with 16 wins.
Numbers to remember
0: Tony Gonzalez playoff victories
3: Straight playoff games where Houston has held opponents to 300 or fewer yards in offense
8: Number of first-round byes for San Francisco and New England since 1990, tying them with Pittsburgh for most in the NFL
15: Tramon Williams interceptions since 2010
16: Baltimore turnovers this season, a franchise low
17: Playoff wins for Bill Belichick, tying him with Joe Gibbs for third most in league history. Only Tom Landry (20) and Don Shula (19) have more
29: Career playoff touchdown passes by Peyton Manning
29-2: Green Bay's record when Aaron Rodgers starts and produces a passer rating of 115 or better
30-17: Green Bay's playoff record, best in the NFL
38: Career touchdown passes in the playoffs by Tom Brady
55: Atlanta penalties, a single-season NFL low
82-17: New England's record at Gillette Stadium, including the playoffs
110.8: Knowshon Moreno's average yards from scrimmage in past six starts
• Denver: Partly cloudy, high of 20
• San Francisco: Partly cloudy, high of 52
• Atlanta: Dome
• Foxborough, Mass.: Mostly cloudy, high of 54
Where we will be
• I'll be in Denver to shop my Tim Tebow jersey.
• Gregg Doyel will be in San Francisco to shop his Alex Smith jersey.
• Pete Prisco will be in Atlanta to convince Matt Ryan he can win a playoff game.
• Mike Freeman will be in Foxborough to convince the Houston Texans to go home.