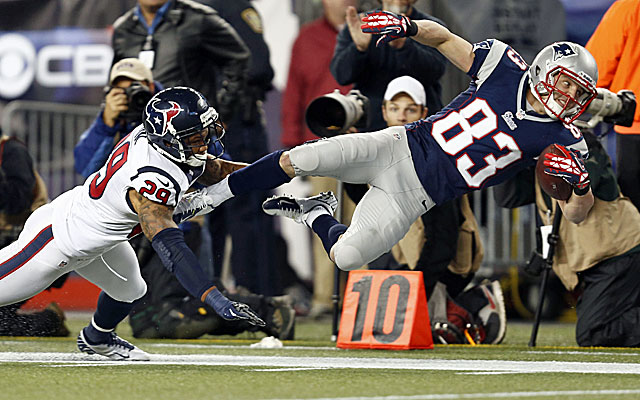 FOXBOROUGH, Mass. -- The beating New England inflicted on the biggest frauds in football, the Houston Texans, was only matched by the one received by wide receiver Wes Welker. You may not read much about this elsewhere. You may not notice after what was a weekend of thrillers, but Welker was, again, brilliant.
Welker set another receiving record. These are words becoming increasingly common. This time, he set the team playoff record for catches in the postseason with 61, doing so in just eight games. Almost every week, he does something spectacular. Every week, seemingly, there's a Welker stat line that goes like this: seven catches for 120 yards and maybe a couple of scores. This week: eight catches for 131 yards.
The amazing thing about Welker this week wasn't just the catches, it was that he was able to get up and walk after making them.
More on Texans-Patriots
Columns

Related links
The story was not that the Patriots again walloped the Texans, this time, 41-28, meaning in two games the Patriots have outscored Houston, 83-42. Other players besides Welker had nice games including running back Shane Vereen and tight end Aaron Hernandez. "A huge growing up moment for him," said Tom Brady of Vereen.
The bigger story was Welker who, quietly, took a massive beating and kept going. He also helped the New England offense recover from the loss of running back Danny Woodhead, who left the game on the opening play with a hand injury, and tight end Rob Gronkowski, who left the game in the first half with an arm injury, and never returned.
One NFL source said Gronkowski may have "severely reinjured" the forearm he broke over a month ago. Since the Patriots release injury information as if doing so would force the Earth from its goldilocks orbit, we may not know anything official for a bit. But the fact Gronkowski didn't return speaks volumes and the source said the re-injury is another fracture to same forearm.
The questions will come: did Gronkowski come back too soon? Belichick wouldn't discuss Gronkowski after the game except to say he didn't know if he was injured. If you believe a control freak (and that's meant in a positive way) like Belichick didn't know about Gronkowski's injury, well, you're a sucker.
In the end, the Patriots didn't need him, with Welker being a big reason why. Again. And, again, the Patriots will lean heavily when they play Baltimore in the title game on Sunday on maybe one of the least appreciated superstars in the NFL.
So here we are again -- another title game, another Patriots appearance. And here we are again with Welker -- another beating, this one particularly severe, another outstanding performance.
Welker and the Patriots are in many ways close cousins. The Patriots are, once again, in the title game. It's almost taken for granted how stable and unbelievably great this franchise is year in and year out. Obviously, Brady and Belichick are the biggest reasons.
Welker has been a steady force as well. Again and again, catch after catch, nasty hit after nasty hit -- Welker has been there. He's always been there.
"When you get called to make a play," he said, "you try to make a play."
"He's a tremendous receiver, great competitor," said Belichick. The Patriots coach added that, again, Welker in the slot gives the New England offense an advantage. You saw it against Houston. The Texans sometimes tried to cover Welker one-on-one and he'd burn any defender doing so. Then Houston tried some zone to contain Welker and that didn't slow him either.
Welker always takes brutal shots but this was a particularly ugly day. In the first half, on one play, Welker was hit nastily just after turning to catch the football. The pass went into his chest and so immediately did a Texans player. You could hear the collision on the television audio.
In the beginning of the second half, on another play, Welker was hit in the back during a tackle with what looked like an elbow. The hit drew a loud chorus of "ooooh" from the Gillette Stadium crowd.
Then, if that wasn't enough, he was absolutely smashed while returning a punt. The hits didn't stop what was a beautiful one-handed grab.
It was clearly Houston's intention to blast Welker as much as possible, each time he touched the football.
It didn't matter. In the first half, Welker had six catches for 120 yards. Tom Brady established Welker, the Texans focused on him, and when they did, it opened it up for others, particularly in the rushing game.
Welker was a topic of discussion before the game. Houston defensive coordinator Wade Phillips was asked by ESPN.com if Texans cornerback Johnathan Joseph, who covered Cincinnati's A.J. Green in Houston's wild-card win over the Bengals, could possibly get Welker duty. Said Phillips: "Ah, Welker's not Green. He's a good player, but he's not that big or a real athletic guy. He's a quick guy that gets open on option routes. (Brandon) Harris actually played him pretty good."
Phillips didn't mean any offense but that notion that he's not athletic has always irked Welker. I'm told Phillips' quote made its way around the New England locker room.
But that is a typical Welker moment. Whether it's because of his smallish height or his ethnicity he has never received great respect in some quarters of the sport.
Another Patriots run, another hard-hitting Welker, another Welker getting hit hard.
Ho hum.