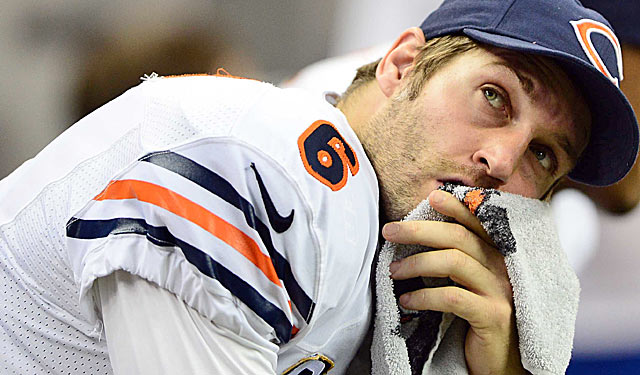 Well, well, well. Let's hear it for the Chicago Bears and thinking outside the box ... or is that outside the borders?
The Bears didn't find their next head coach on the staff of the Denver Broncos or Seattle Seahawks. They didn't go to the University of Oregon or Notre Dame, either. Nope, they found Marc Trestman in the CFL, where he'd been head coach of the Montreal Alouettes the past five years, and hallelujah.
It's been years since anyone went to Canada for anything but Hockey Night in You Know Where or a Rush concert, which is why I give the Bears credit for taking the leap. New GM Phil Emery didn't make the safe pick here; he took a chance, and why not? He needs somebody who can fix quarterback Jay Cutler, and Trestman might just be the guy.
More on Bears' hiring Trestman
Analysis

Stories
Here's why: The CFL basically is an all-passing league. That means the Bears just hired a head coach who is ahead of the curve for a league dominated more and more by quarterbacks.
The Chicago Bears are built around a defense that forces takeaways and Jay Cutler, and the defense did OK last season. Cutler? Not so much. Granted, his offensive line stunk, but so did his attitude, and that's where Trestman comes in. For years he's been telling anyone who would listen that he should be a head coach, and now he has that chance.
But this isn't exactly raising the Titanic. The Bears' job was the most lucrative out there. Not only are you taking over a team that was 10-6 and barely missed the playoffs, but you have high-profile and highly productive players on defense, Devin Hester and solid special teams, Brandon Marshall, Matt Forte and Cutler. The offensive line is another issue and needs to be addressed. But so does the quarterback.
Which is why Trestman is here.
He is smart. He is energetic. He is creative. And he is successful. In his first three years in Canada he went to the Grey Cup each season, twice winning the CFL championship. He was 59-31 there, won a division championship four times and produced a two-time MVP in quarterback Anthony Cavillo.
"The man is well-organized," Montreal GM Jim Popp told me when I contacted him about Trestman in 2009, "and he has a routine he stands by and lives. On the sidelines, he's a very calm person. I've never seen him stress or show a lot of emotion. If something doesn't go well offensively you don't see him react in a negative way. And it carries over to the players. Our sidelines are very calm. I've seen little panic if we're losing, and I've never seen any goofing off if we're winning."
When I asked Popp if he thought someone in the NFL would give Trestman a chance to coach, he was quick to respond.
"I don't even question it," he said. "He's too strong of a man. He reminds me of that 15-year veteran who stayed in the game because he was so smart he knew what to do to be successful. If you put him in a situation where he has people around him to give him a chance for success he's going to have success. There's no doubt in my mind about it."
I first became acquainted with Trestman in 1995 when the San Francisco 49ers hired him to as their offensive coordinator. A relative unknown, he was the upset choice to replace Mike Shanahan, who left to become head coach of the Broncos, and Trestman got the job when he won over then offensive-line coach Bobb McKittrick, who was dazzled by Trestman's grasp of the 49ers' offense.
OK, so he lasted two years, but in his first season there he called plays for the league's top-ranked offense and helped put Jerry Rice in the record books -- with the Hall of Fame wide receiver setting a league record for most yards receiving, a mark that was broken this past season by Calvin Johnson.
Trestman was the quarterbacks coach and offensive coordinator in Arizona in 1998 when Jake Plummer led Cardinals to the playoffs for the first time since the strike-truncated 1982 season. And he was the offensive coordinator in Oakland in 2002 when the Raiders went to the Super Bowl and Rich Gannon was the league MVP.
I think you get the idea. The guy knows how to make quarterbacks look good, which is why the Bears were attracted to him.
But what he wanted was a chance to run a team, and he had to go to Canada to get his wish -- with Popp hiring a guy who two decades before worked with Popp's father, Joe, on the staff of the Cleveland Browns. What the Alouettes did was not all that different from what Chicago is doing now, and I gotta hand it to Phil Emery. This is a gutsy hire, and it's one that will be criticized. But Emery liked what he saw and heard from Trestman, so he followed his convictions.
Just as Montreal did five years before.
All I know is that the Bears did this for all the right reasons. The Bears need someone to straighten out their quarterback. They need someone to retool their offense. So they reached for a coach with a history of success in those departments in the NFL and a guy with a history of success as a head coach in the CFL. Yeah, it's a reach, but that's what they said when Baltimore hired John Harbaugh, a guy primarily known as a special teams coach.
And I think you know how that turned out.
"[Trestman] is well deserving of everything he's gotten," Popp told me in 2009. "A lot of people have a lot of respect for him. But you know what it's going to come down to? Someone has to have the [guts] to give him the chance."
Someone just did.