Last week, Dominique Davis was Russell Wilson.
This week, he's Colin Kaepernick.
In past weeks, he has been Cam Newton and Robert Griffin III.
Davis, the Atlanta Falcons' No. 3 quarterback, is an athletic runner who has helped prepare the Falcons to face the read-option quarterbacks they've faced this season.
The Falcons, who face Kaepernick and the San Francisco 49ers on Sunday in the NFC Championship Game, have already played four games against teams that use the read-option principles that have helped make Kaepernick a national sensation. This week, Davis will be back running the read-option looks, this time as the long, lanky and fast Kaepernick.
More on NFL
Conference championship games
Related links
Video
NFL coverage on the go
"He's fast and helps us get an idea of what to expect," Falcons corner Dunta Robinson said.
The 49ers run their offense different from the others, but the basic principles are the same: Pistol formation, read the outside end and quarterback and running back have a mesh point when the decision is made on whether to hand off on a zone-read or let the quarterback keep it.
"We have to be physical," Falcons linebacker Sean Weatherspoon said. "It's one thing to know what you are doing, but you have to be physical to get to the football and make the plays."
The key to slowing the read-option, Falcons players and coaches say, is playing your assignments. Don't get caught out of position. It takes discipline.
"If you try to do too much, you are in trouble," veteran Falcons linebacker Mike Peterson said. "When we've had trouble, it's been guys trying to do more than what they should be doing."
The Falcons put Redskins quarterback RG3 out of the game when they played during the regular season. It was a hit by Weatherspoon on a run that did it.
"[Hits] add up," safety Thomas DeCoud said. "That's one thing that can slow it down -- hit that quarterback."
The Falcons did a nice job against Seattle's "Pistol" looks. The Seahawks didn't use it nearly as much as San Francisco does, but the Falcons used a front against it that looked a lot like the old Oklahoma 5-2 defense that was the rage in the 1970s. That is far different than how the Packers played the 49ers last week. Green Bay played a much looser defense.
Here's a look at that front. You can see it has the looks of a 5-2 scheme and the ends came up the field with a slow rush to help contain the read-option. They didn't charge, which hurt the pass rush some.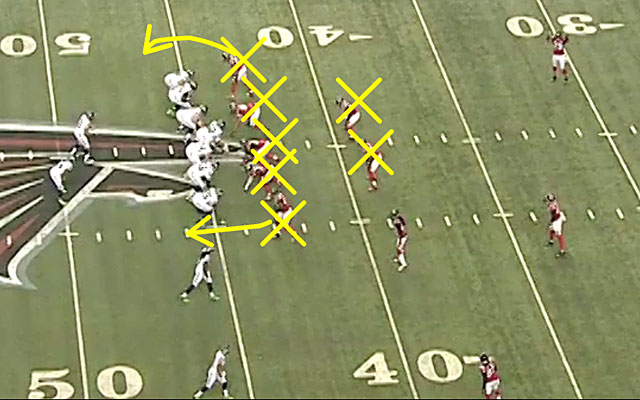 When the Falcons talk about not trying to do too much, one play stands out to show what they mean. It was Newton's 72-yard touchdown run against Atlanta in Week 14. Here's a look.
On the play, the key was Falcons end Kroy Biermann (red circle) doing a hard crash inside at the mesh point of the fake to DeAngelo Williams. He charged hard inside and that left a void outside. When the Panthers trapped safety Decoud with Greg Olsen and Weatherspoon got blocked, it left a huge hole for Newton to run through for the big play.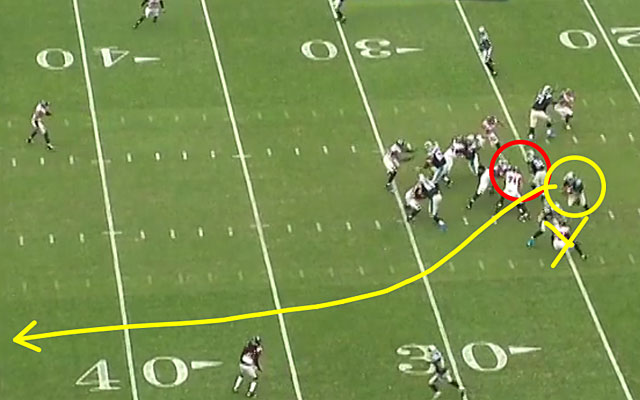 The Falcons have also had big problems with tight ends against read-option teams. In fact, tight ends have killed them in part because of false steps by the linebackers and busts in zone coverage. Seattle's Zach Miller had eight catches for 142 yards and one touchdown last week. In Atlanta's four games against read-option teams, opposing tight ends had 23 catches for 339 yards and three touchdowns. That could mean a big game for Vernon Davis of the 49ers.
Here's a look at Redskins tight end Fred Davis getting wide open off the read-option fake. Both inside linebackers took hard steps to the fake before getting into coverage. That left an easy throw to Davis (blue circle). If the throw by RG3 had been better, it would have been a big pay for the Redskins. But he threw a little behind Davis and it was only a short gain.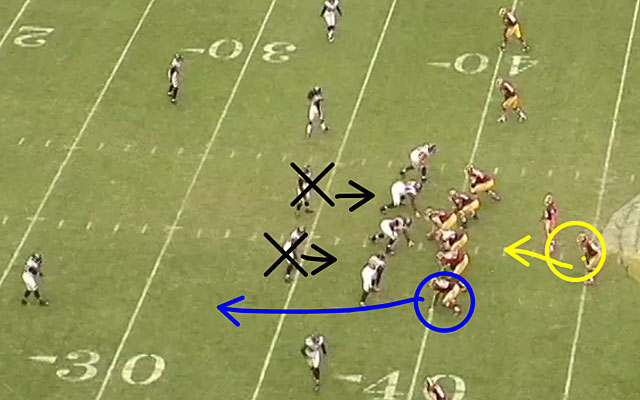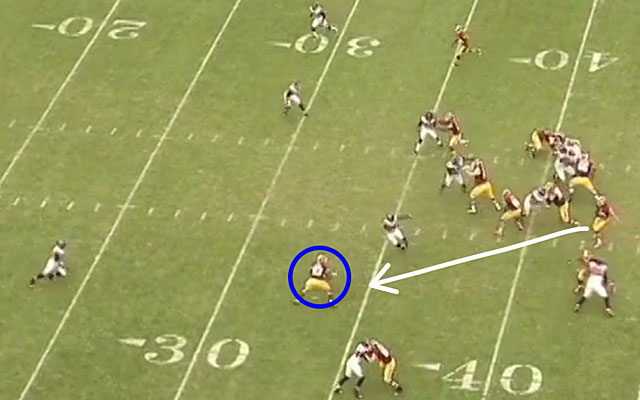 Miller had a field day last week. He spent the day getting wide open. Here's one of his big plays, a 23-yard gain. On the play, Miller (black circle) lined up in the slot left inside of Sidney Rice. After faking a handoff to Marshawn Lynch, Wilson bootlegged to his right, which caused the defensive action to move that way -- to the left of the defense. With the flow going that way, Miller ran a hard inside route and then snapped it off to the outside. There was a void there because Rice ran deep and cleared out Robinson and the linebackers couldn't get depth to make the play.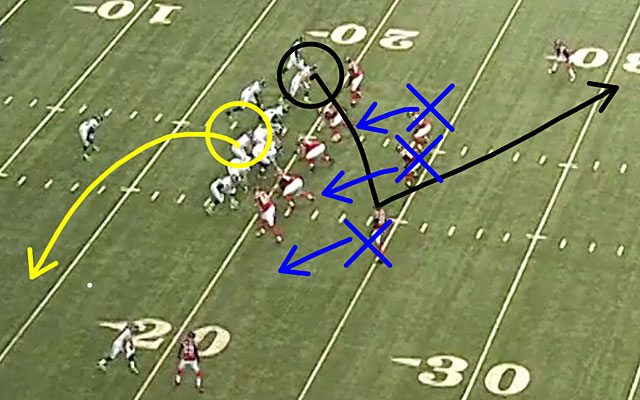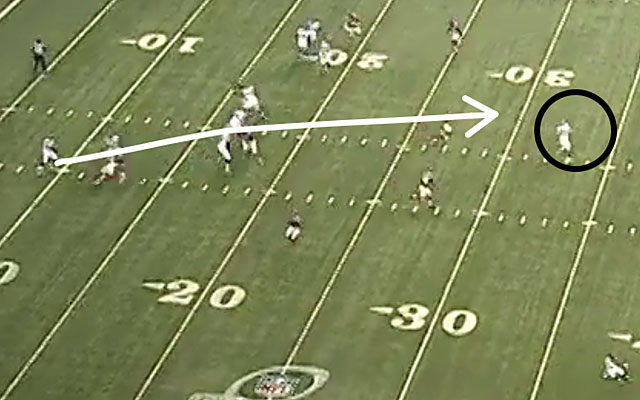 Falcons defensive coordinator Mike Nolan is one of the best in the NFL at doing things to confuse quarterbacks. He did it to Peyton Manning, Eli Manning and Drew Brees in games this season at the Georgia Dome. They were picked off 10 times in those games. You can bet he will have some new looks for Kaepernick to try and slow down the read-option runs, but more importantly the big plays down the field.
A quarterback making his first road playoff start can have some issues. When complicated looks are thrown his way, it can be even tougher. The read-option is the rage after last week.
But if the Falcons can slow it down, they will likely be on their way to the Super Bowl.
Film study (last week's games)
1. When Falcons quarterback Matt Ryan threw an interception to Seahawks safety Earl Thomas in the fourth quarter Sunday, it was not only a bad throw but a case of a quarterback being too greedy. The situation didn't call for it, yet Ryan tried to make a big play into double coverage. The reality is that he had an easy throw underneath to slot receiver Harry Douglas. It was second-and-10. Pick up seven or eight yards and go from there. Those are the kinds of plays Ryan has to avoid this week against San Francisco. Take what is there and go to the next play. Here's a look at the important pick by Thomas.
Douglas (yellow circle) motioned inside of Roddy White (red circle) just before the snap. At the snap, White ran a stutter and go against corner Marcus Trufant in man coverage. Trufant did a great job in coverage, but you can see that Brandon Browner got caught up in the middle and was late getting over to Douglas in the flat. Thomas (blue circle) read Ryan's eyes and was able to come across and make a nice play on the football. Ryan needed to make a quicker throw to Douglas for a short gain to set up a manageable third-down play. The Falcons were leading. They didn't need that kind of shot.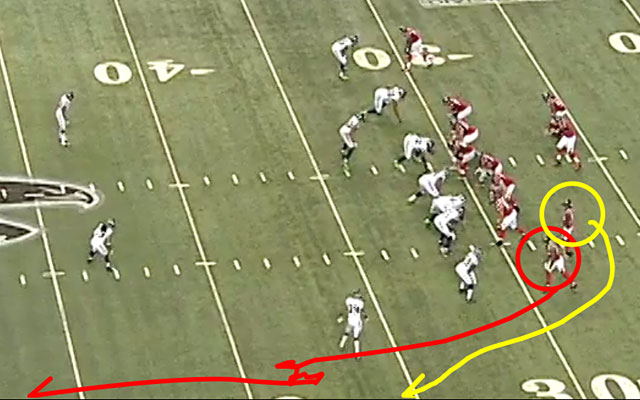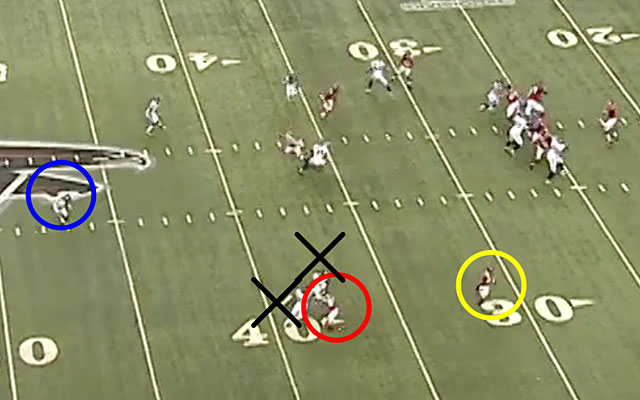 2. How does a 70-yard touchdown pass happen with 31 seconds left and a team trailing by seven? That's exactly what happened in the Denver-Baltimore game last week when Joe Flacco hit Jacoby Jones for the Ravens' game-tying touchdown. So what happened? It's easy to blame safety Rahim Moore, and he deserves his fair share, but there were others at fault after studying the play. The Broncos had three defenders on two receivers on that side of the field, which means the play should never have happened. If Flacco doesn't go that way to Jones, he did have Anquan Boldin open deep on the other side for what would have been a big play. The Broncos got caught playing the defense in a bad way. Here's a look at the play.
The first mistake the Broncos made was rushing just three and dropping eight. That gave Flacco the ability to step up and make the big throw. The Ravens line did a heck of a job in protection. As you can see by the pictures below, the Broncos had three defenders on the two receivers (yellow circles). Jones is the wide yellow circle. He is matched against corner Tony Carter. For some reason, Carter released Jones, even though there was not an underneath receiver, and why would it matter anyway with the Ravens having no timeouts. Moore was pressed by inside receiver Dennis Pitta, which caused him to hesitate for a second. He also opened his hips to the inside and had to pivot to get back outside. That little hesitation prevented him from getting over to make the play on the pass to Jones. You can see Boldin (blue circle) was also open for a potential big play. This was a horrible play by the Denver defense in every way imaginable and it cost them a game and a chance to get to the Super Bowl.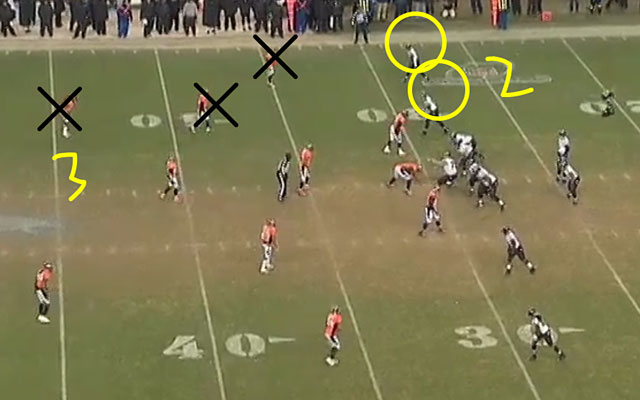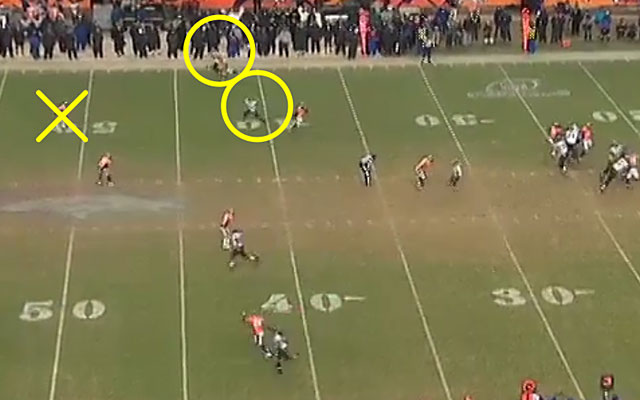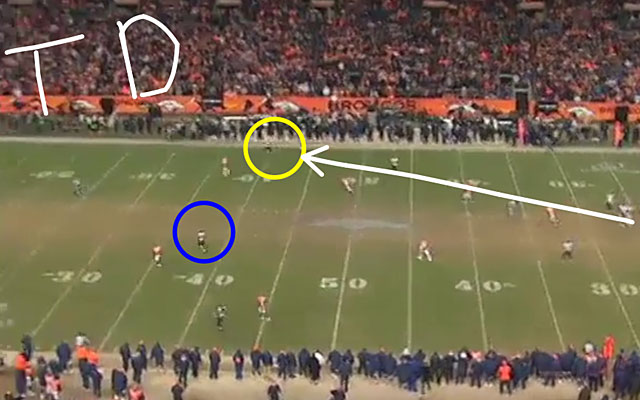 3. One of the most impressive things about the 49ers offense last week was the play of the offensive line. That unit, which is one of the best in the NFL, mauled the Packers up front. Left guard Mike Iupati was back to his powerful ways. And the rest of the line followed suit. Even Joe Staley, who had problems with Clay Matthews in the first meeting, had a solid day at left tackle even though he was hurt. That group up front will be key for the 49ers to get their running game going. But the Atlanta front played well last week against the Seahawks in the run game. The tackles won inside. It will be interesting to see how they do against that big, physical San Francisco line this week.
4. One of the things to keep an eye on this week when the Patriots have the ball is the use of tight end Aaron Hernandez. His versatility can create big problems for the Ravens' inside linebackers. I love when the Patriots line him up in the backfield and then sneak him out into a pattern. They did that last week against the Texans on a first-down play from the Houston 15. Here's a look.
Hernandez (yellow circle) was lined up to the right of Tom Brady. At the snap, Brandon Lloyd (blue circle) ran a go route to clear out the area. Wes Welker (red circle) ran inside and picked linebacker Barrett Ruud, and he could not get out to Hernandez. That made for an easy throw to a wide-open Hernandez, who took it to the 1 for 14 yards. That's called scheming a guy open and the Patriots are fantastic at doing it.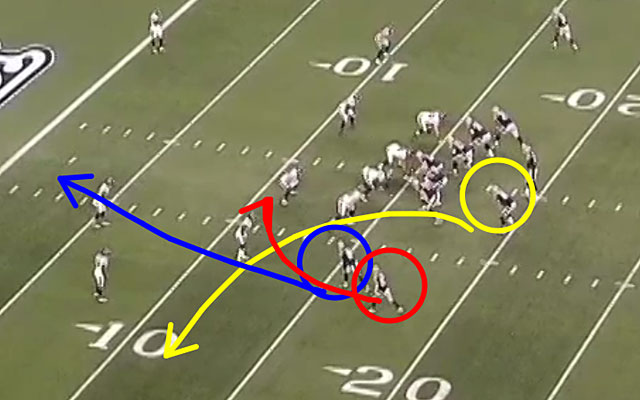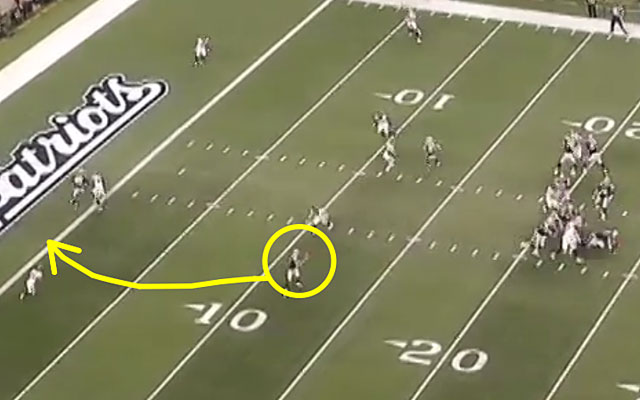 Later in the game, Hernandez lined up in the slot right and Brady saw he was one-on-one with safety Glover Quin. Hernandez ran right over Quin and was wide open for an easy throw that turned into a 40-yard gain. Hernandez will be a tough matchup for the Ravens.
5. The reshuffled Ravens offensive line has played well two weeks in a row. I wasn't sure veteran left tackle Bryant McKinnie would hold up after being inserted into the starting lineup, but he has played well. He's excelling in pass protection and did a nice job on Elvis Dumervil last week. His play has allowed Michael Oher to move back to the right side, where he looks much more comfortable. Rookie Kelechi Osemele, who struggled some at right tackle, looks much more natural at left guard. Here's the question I have about this unit: Why did the coaching staff wait so long? Some say it was because McKinnie was in the doghouse. If that's the reason, the Ravens were wrong to keep him there. The line is a big reason Flacco has had such great success in the playoffs. On his three long touchdown throws last week, he didn't have anybody near him.
Three and outs
Three hires I really like
1. Eagles hiring Chip Kelly: He will be creative and he's smart enough to know he has to protect his quarterback.
2. Jacksonville hiring David Caldwell as GM: He has learned from Bill Polian and Thomas Dimitroff. Both are good teachers.
3. Bears hiring Marc Trestman: My only concern is how he leads the room. But he is an X's and O's wizard.
Three little-known players to watch this week
1. Harry Douglas: I think he will have a lot of chances in the Falcons' three-receiver sets.
2. 49ers defensive tackle Ray McDonald: He gets overshadowed a lot on the 49ers defense, but he is a heck of a player.
3. Patriots DT Brandon Deaderick: Vince Wilfork gets all the attention inside, but Deaderick has had a nice season.