Games of the week
San Francisco at Atlanta, 3 p.m. ET |

Preview
The line: 49ers by 4½
The story: It's rare for a visiting team to be favored by this many points in a conference championship game. Then again, it's rare to have the Atlanta Falcons hosting a championship game ... and maybe that's a good thing for them. Because the story last week was the pressure Matt Ryan and his teammates were under, yet somehow they survived to produce their first playoff victory under coach Mike Smith. So the weight has been lifted, and maybe the Falcons aren't as tight as they were a week ago.
Peek at the Week
Columns

---

---

Related links
Keys to victory
Pro Football 360
NFL coverage on the go
Maybe.
But that second-half collapse was disturbing. I mean, if they couldn't stop Russell Wilson outside the pocket, how do they stop Colin Kaepernick? And if they couldn't cover Zach Miller, how do they cover Vernon Davis? The 49ers torched Green Bay's defense, shredding it for 579 yards, and there's a feeling that Atlanta could suffer a similar fate -- especially if defensive end John Abraham is handicapped by a sore ankle.
The Falcons did a decent job of stopping Marshawn Lynch, but they couldn't figure out the Seahawks' passing game -- and if it weren't for two botched series late in the first half, we might be looking at a Seattle-San Francisco game instead of this one. The Falcons know they slipped the noose then, but let's see them do it here.
Cam Newton is a mobile quarterback, and he should've beaten them once and did beat them a second time. Wilson should've beaten them, too. So how do the Falcons bottle up Kaepernick? The guy has a strong arm, is accurate down the field and has the jets to get around the corner. The Falcons must -- absolutely must -- contain the ends, otherwise they can reserve Monday tee times now.
But not only must they keep Kaepernick within the pocket; they must force the turnovers that he can and will make. In fact, if I were the Falcons, I would call St. Louis coach Jeff Fisher. His Rams didn't lose to San Francisco this season, tying them once before beating them in overtime in December when Kaepernick committed a couple of fatal mistakes.
So Kaepernick is no sure thing. In fact, he's 2-2 on the road and 1-1 in domes. In fact, he has been little more than ordinary indoors, with one touchdown pass, one interception and a passer rating of 86.8.
Then there's this: Atlanta is 8-1 at home this season and Ryan -- who redeemed himself with that last-gasp drive vs. Seattle -- has 22 game-winning drives in fourth quarter or overtime, including the playoffs. All of that would seem to bode well for Atlanta. Except when you look at these two teams a week ago, one looked unbeatable.
And it wasn't the Falcons.
The back story: Three of the past five NFC Championship Games have been decided in overtime, and all five contests were decided by seven points or fewer.
Baltimore at New England, 6:30 p.m. ET (CBS) |

Preview
The line: Patriots by 9½
The story: These two met a year ago on the same field and in the same game, and New England walked away the survivor. The Patriots were outplayed, but they weren't outscored -- with Lee Evans dropping a winning touchdown pass and Billy Cundiff blowing a game-tying field goal as New England advanced to its fifth Super Bowl with Tom Brady.
Well, this just in: That can't happen again.
And maybe that's why Baltimore believes it will win. All I know is the Ravens feel as if they were destined to return to Foxborough, make amends and reach their first Super Bowl since 2000. Maybe it's Ray Lewis' last ride, or maybe it's the inspired play of Joe Flacco, I don't know. But there's no doubt Baltimore comes in as a confident team, determined to do what it could not a year ago.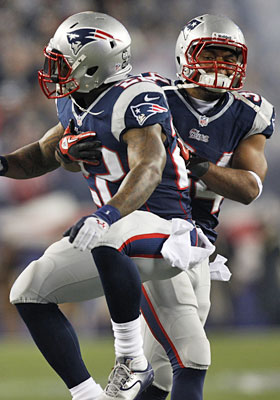 And I think it can.
Look, the Ravens are a tough out for New England, having beaten the Patriots earlier this year and taken them to the mat in last year's AFC Championship Game. They also have a history of success against Brady, with the star quarterback reduced to five touchdowns and seven interceptions in his past five starts vs. Baltimore -- just another reason I don't get that 9½-point spread.
But it's Brady -- at home -- where he doesn't lose conference championship games. It's also Brady in his second tour vs. Baltimore, and only four teams in his career have beaten him twice in the same season. The good news is that two of those clubs -- the 2010 New York Jets and 2011 New York Giants -- did it the past two seasons; the bad news is that neither happened in a conference championship game at Gillette Stadium.
Granted, the Jets surprised him here in the divisional round two years ago, and maybe that's worth a call to Rex Ryan. They did it with defense, with the Jets flummoxing Brady and the Patriots' passing attack by mixing coverages and disguising blitzes. But these Ravens are not about defense -- though Lewis' Victory Tour does seem to be driving them.
Nope, now they are more about Flacco and an offense that has seldom looked better than last weekend when the Ravens shocked Denver. In his past three playoff games, Flacco has outplayed Brady, Andrew Luck and Peyton Manning, and you can look it up. The guy has seven touchdowns and one interception, and now for the third time in his five-year career he's one victory away from the Super Bowl.
Flacco's success is predicated on improved pass protection, with the Ravens shaking up their offensive line after an injury shelved Jah Reid. With Bryant McKinnie in the lineup at left tackle and Kelechi Osemele shifted to left guard, the line seems more stable -- with Flacco sacked just twice in two playoff games. That allowed him to make stars of Anquan Boldin and Torrey Smith, and if I were New England, I would pay particular attention to Smith: He burned the Pats the past two games.
But that's not all. The addition of Osemele inside is important in a game where the Ravens need to move defensive tackle Vince Wilfork to give Ray Rice room to operate between tackles. Rice is the Ravens' top playmaker on offense, and he's also the guy who stunned New England with an 83-yard dash up the middle on Baltimore's first snap in the 2009 playoffs.
This should be close, but it's hard to see Brady losing a game of this magnitude at home -- mostly because it hasn't happened. He won't have tight end Rob Gronkowski and that could cramp the passing attack. But tell that to Houston. Without Gronkowski and running back Danny Woodhead, Brady simply found other targets -- with running back Shane Vereen the surprise. Brady makes everyone around him better, and if you're going to beat him you better bring more than emotion.
And that is the challenge for Baltimore.
The back story: Flacco is 2-3 vs. New England, with nine touchdowns, four interceptions and a passer rating of 95.7.
Five guys I'd like to be
1. Baltimore WR Torrey Smith: He not only has three touchdowns in his past two starts vs. New England; he has averaged 24.4 yards per reception in four playoff games.
2. San Francisco WR Michael Crabtree: In his past four starts, including the playoffs, he has 28 catches for 463 yards (an average of 115.8 per game) and six touchdowns.
3. San Francisco TE Vernon Davis: In three playoff games he has four touchdowns and has averaged 30.5 yards per catch.
4. Atlanta CB Asante Samuel: He has an interception in three of his past four games and holds the NFL record with four interception returns for touchdowns in the playoffs.
5. New England QB Tom Brady: He doesn't lose conference championships at home. He's 3-0 at Gillette Stadium in AFC title games.
Five best matchups
1. Baltimore defensive coordinator Dean Pees vs. New England's Bill Belichick: Pees was the Patriots' defensive coordinator in 2009 when they lost that playoff game to -- who else? -- Baltimore. So he was fired, joined the Ravens and now has a chance to prove Belichick got rid of the wrong guy. "It's not [about] New England," said Pees. "It's [that] we're playing in the AFC Championship Game. This is what we've fought hard [for] and worked hard to get here."
2. San Francisco TE Vernon Davis vs. the Atlanta back seven: Zach Miller had no more than 59 receiving yards in any game this season; then he put up 142 on Atlanta. Davis is more talented, but he doesn't seem to have much going with his quarterback. He has caught only one pass in each of his past five starts. But stay tuned. He might get something going now.
3. Baltimore CB Cary Williams vs. New England QB Tom Brady: The last time these two met, nine of Brady's 13 completions were over Williams, good for 157 yards. No wonder Williams now calls it "probably my worst game as a Raven." Williams promises that "I'll definitely show up next time. It's one of those things that's going to stick with me until I get a chance to redeem myself." Well, here's his opportunity.
4. Atlanta DE John Abraham vs. a left ankle sprain: Abraham played only 15 of 67 snaps last weekend, bowing out for good in the second quarter. That means he wasn't involved in the second half when Seattle erased a 20-point lead, but he promises to be around this weekend -- for the entire game.
5. San Francisco vs. the officials: Most of you know Atlanta is the least penalized team in the league. The Falcons were flagged 55 times this season. But San Francisco? The 49ers had the seventh-most penalties (109) and the fifth-most yards (960).
Five quotes to remember
1. "We're going to win." -- Baltimore wide receiver Anquan Boldin
2. "Of course we're going to win." -- San Francisco tight end Vernon Davis
3. "New England does some suspect stuff on offense. Can't really respect it. Comparable to a cheap shot b4 a fight." -- Baltimore LB Brendon Ayanbadejo on Twitter.
4. "I made selfish comments last night on twitter that reflected poorly on myself, my teammates and the organization. For that I apologize." -- Ayanbedejo on Twitter.
5. "Hire Tonya Harding." -- Baltimore defensive coordinator Dean Pees, when asked how he could make life difficult for Tom Brady.
Five things that may only interest me



Who will be in the Super Bowl?
Ravens and 49ers
Patriots and 49ers
Ravens and Falcons
Patriots and Falcons
Total Votes: 99,720
1. Last weekend was the highest-scoring round in NFL playoff history, excluding an eight-game first round in the strike-truncated 1982 season. There were 276 points, an average of 69 per game.
2. If the Ravens win Sunday, it will mark the 11th time in 16 opportunities that a team that won the AFC Championship Game defeated an opponent it beat that season.
3. Baltimore's Joe Flacco has 11 completions of 20 or more yards in this year's playoffs and is averaging 39.8 yards on his five touchdown passes.
4. Baltimore has allowed one 100-yard rusher (Arian Foster in the 2011 playoffs) in 19 playoff appearances. The Ravens have surrendered an average of 91.2 yards per in 19 postseason games.
5. San Francisco had 81 runs of 10 or more yards this season, second most in the NFL. By contrast, the 49ers' defense allowed only seven touchdowns (rushing and passing) of 10 or more yards, the best in the league.
Numbers to remember
1-5: San Francisco in its past six conference championship games
3 Times New England has scored 40 or more points in its playoff history
5: Joe Flacco postseason road victories
8-5: Baltimore's playoff road record, the best in NFL history (minimum 10 games)
12: Career playoff sacks for Terrell Suggs
14: Offensive plays of 20 or more yards by Baltimore this postseason
14-3: New England's home playoff record
17: Tom Brady playoff victories
20-1-1: San Francisco's record under Jim Harbaugh when it scores at least 20 points
34-6: Matt Ryan's record at home, including the playoffs
• Atlanta: Dome
• Foxborough, Mass.: Partly cloudy and windy with chance of rain, high of 44

Where we will be
• Mike Freeman and I will be in New England to join Boston Mayor Tom Menino in celebrating "Wilcock" and "Gonk."
• Gregg Doyel and Pete Prisco will be in Atlanta to coach Jim Harbaugh through that postgame handshake with Mike Smith.