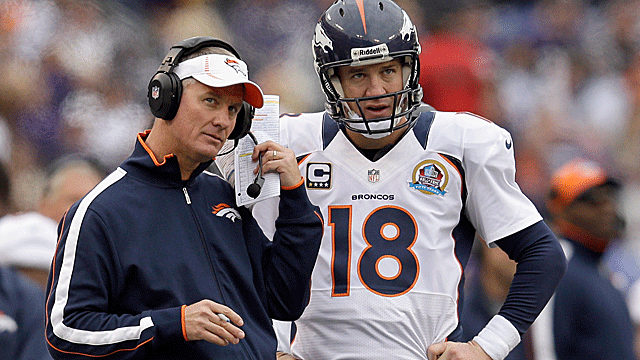 In the aftermath of the final head coaching hire of this wacky 2013 offseason (and I say that realizing it is fully possible that some owner will still fire his coach), there will be the inevitable rush to grade the new class, and sort out the "winners" from the "losers."
The larger reality is, we have no idea which of these guys will come out of nowhere to succeed, a la Mike Tomlin and John Harbaugh, or if there is a Steve Spurrier in the lot or which one of them might be one-and-done. Much like with quarterbacks, it takes a village to raise a head coach, and especially given this year's run of almost entirely first-time NFL head coaches (save for Andy Reid in Kansas City), and almost entirely on the offensive side of the ball with a quarterback in need of repair (save for former defensive coordinator Gus Bradley in Jacksonville), no doubt the expectations and stakes will be high.
More on NFL
Related links
Pro Football 360
NFL coverage on the go
And, the odds and history tells us, many of these guys will in fact fail. It's the nature of this ridiculously-competitive business. But, to me, the ones with the best chance to thrive are the ones who don't take on too much responsibility (the flawed, head coach-as-playcaller-and-QB-guru model), and who avoid cronyism and yes-men to put together an experienced staff that will push and challenge them and fill in some of the blanks of what they don't know and, in the process, help them learn this job on the fly -- the only way you really can.
It's about the totality of the staff, and its makeup, and about focusing on the most important matters at hand and being able to delegate, into proven hands, those things you cannot focus on all the time. So, while the hires in say San Diego and Cleveland were not particularly sexy, I can understand their composition and the importance that was placed on the coordinator position and the entire staff package.
Former Denver offensive coordinator Mike McCoy was one of the hottest candidates on the head coaching circuit, with no shortage of attention and situations to mull. Going to San Diego, a team that has solid talent in many key spots and a quarterback, in Philip Rivers, who was in the Pro Bowl not too long ago, seems like a great fit. McCoy knows the division well already, and was bright enough to realize that leaving esteemed defensive coordinator John Pagano in place made too much sense to ignore, entrusting that half of the team to him, and allowing McCoy to put maximum energy into fixing Rivers.
Of course, having Ken Whisenhunt as his offensive coordinator will only help. Whisenhunt has done great work with quarterbacks like Ben Roethlisberger and Kurt Warner in the past, and reached a Super Bowl with Arizona as its head coach. He's been a part of some great staffs under Bill Cowher and securing Whisenhunt, after his tour of head coaching interviews, was a coup for the Chargers. No one will benefit more from it than McCoy himself (although don't be surprised if Whisenhunt has a head coaching gig a year from now).
In Cleveland, I understand the collective sigh about the Rob Chudzinski hire. He seemed to be a hotter name a year ago as Carolina's offensive coordinator following Cam Newton's rookie season and he had already had a less-than-thrilling run as the Browns' offensive coordinator in the past. It doesn't exactly sizzle.
But, Chudzinski was always going to have the inside track to land fired Chargers coach Norv Turner as his offensive coordinator, and the Browns, I'm told, felt like Turner was by far the best offensive mind and playcaller they could land this offseason (and many would agree). So landing Turner, to take some of the pressure off Chudzinski, is huge, and we already know these two work well together from their time together running San Diego's offense at its peak.
And after the Browns were able land outgoing Arizona defensive coordinator Ray Horton for their defensive coordinator position this afternoon, when you look at the totality of this staff, you can understand why it might work. Horton fits the attack-minded 3-4/4-3 hybrid coordinator the Browns are seeking, and Cleveland already has strong talent on that side of the ball. What they haven't had in forever is a competent quarterback and a dynamic offense and that will be where Chudzinski's energy is directed.
I loved Bears general manager Phil Emery for being willing to go outside the normal hiring bounds and trusting his gut on plucking Marc Trestman from the CFL as his next head coach. But, again, with quarterback Jay Cutler alone enough of a test for Trestman, it would be huge to be able to sprinkle in assistants with significant experience at the highest parts of the game (and they aren't easy to find, and teams generally block them from lateral moves or even coordinator moves). It was wise for Trestman to work as hard as he did to try to retain veteran defensive coordinator Rod Marinelli -- a former head coach in Detroit, himself -- but in the end Marinelli really wanted out, sources said, in which case, Trestman did the right thing at the start of his regime. Finding someone with Marinelli's experience and pedigree was key.
For as big of a splash as the Eagles made finally landing Chip Kelly, and kudos to them for doing so, his staff might be most important of all. Everything about the NFL is foreign to Kelly. He has no ties to the pro game whatsoever and, with everything so new, he'll need people he can rely on and for whom this is mundane. He'll need the personnel to learn not just about the team but about the entire league, and the more experience the better for all parts of his staff.
Surely, on offense, he knows what it takes to implement that system as he only can, and one would suspect some of his Oregon assistants on that side of the ball to come along for the ride. And Kelly knows what he wants from his defense, in terms of approach and tactics, but getting someone who can immediately keep that side of the ball in line, and who has immediate respect within the pro game, could end up being the most crucial decision of all as he builds his roster of coaches.
The Eagles would be wise to make every push for someone like Jacksonville's Mel Tucker (who is on the Bears' radar), who served as an interim head coach with the Jags and has interviewed for head coaching jobs in the past, who should be high on their list as well (Tucker should be one of Trestman's first calls as well). Reaching back to the college game, which Kelly knows so well, might not be so wise, even if Kelly has more personal ties to the guys back there. Long-time coordinator Romeo Crennel might not fit the mold of an all-out attacker on defense, but he knows plenty about the 3-4, players love him, and he's been around the pro game forever.
Ultimately, the overall depth and strength of the staff, the ability to complement one another and bond and foster a culture of winning will usually outweigh the individual genius of any one head coach, and, even then, many of the best head coaches end up being great developers of head coaches as well. For this group of eight first-timers, it all starts now.