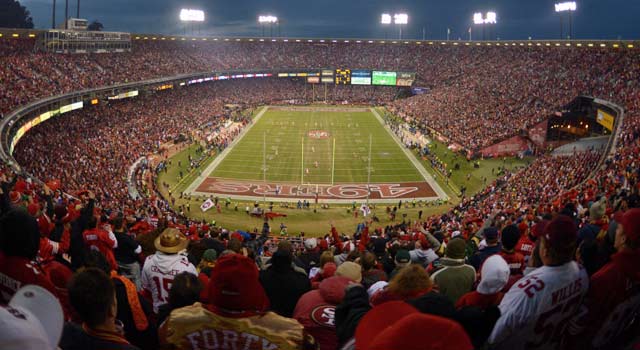 Don't bring that stuff to New Orleans, 49ers fans. Don't bring those guns, those knives, that violence. Not to New Orleans.
Not to the Super Bowl.
This column will be harsh, 49ers fans, but it will be fair. And it will make it clear early, just a few sentences in, before we get some momentum going and some damning facts printed -- before the easily swayed are swayed into thinking most 49ers fans, or even lots of you, are violent, dangerous psychopaths. You're not. Not most of you. Not even lots of you.
But enough of you? Yeah, enough of you are violent, dangerous psychopaths.
Too many of you.
Don't bring that stuff to New Orleans. Not to the Super Bowl. This game is bigger than any fan base, so don't ruin it for the rest of us. And the rest of us, I can tell you, are nervous. We know what happens when the wrong 49ers fans -- not all or even most fans of the 49ers, just the wrong ones -- show up. People get shot. People get stabbed. People get beaten up.
Fan-on-fan violence happens everywhere in the NFL, of course, but it sure seems to happen more with the 49ers than with anyone else. Hell, your own team knows it.
Let's not forget what happened before the NFC Championship Game last year, 49ers fans, when the team -- your team -- took out a full-page ad in the San Francisco Chronicle asking fans, begging fans, to behave during the game against the New York Giants.
Local police joined the effort, announcing they would increase their presence at Candlestick Park by 25 percent because of escalating violence at 49ers games.
This is how scared police were for visiting fans: They were at entrance gates, handing out cards to Giants fans with instructions on how to reach police if they felt threatened. Police also attended the game undercover in Giants gear, hoping to lure the most obnoxious 49ers fans out from under their rock. Better to have one of those cretins attack a cop, who can legally defend himself, than a fan who cannot.
Because police knew: Visiting fans get beaten up in Candlestick restrooms. They get shot in the parking lot. Wear the wrong jersey to Candlestick, and you take your life into your hands -- and again, this isn't just me saying that.
This was the 49ers saying it. This was the San Francisco police.
And this is what happened that day against the New York Giants: All hell broke out.
An estimated 110 people were ejected from Candlestick -- almost double the 57 ejected the previous week, when the 49ers beat the Saints -- and 29 were arrested. One man arrested for suspicion of threatening a police officer had his son with him during the incident.
His son was 2.
The week before, visiting Saints fan Chris Friend -- a 55-year-old attorney from Louisiana -- told the Wall Street Journal that he and his son, 18, were taunted all game. "It was, 'Get the hell out of here,' " Friend told the Journal. "It was like being on an alien planet at Candlestick Park."
And it was worse the following week against the New York Giants, judging from the 29 arrests and the 100 percent increase in ejections. The nonsense wasn't limited to Candlestick, either. Nearly 50 miles south, a 49ers fan sensed trouble after the loss as he watched a handful of New York fans celebrating outside a pizza place in San Jose. The fan, Jerel Salazar, followed the Giants fans, trained his cell phone on them -- and sure enough his macabre curiosity was rewarded when a group of 49ers fans attacked.
"A large group of 49ers fans were on their tail, and yelling at them, screw the Giants, 'F' this and 'F' that," Salazar said. "That's how it started."
That's a 49ers fan, ratting out 49ers fans. Just like it was the 49ers franchise before the game begging its fans to behave.
Now the 49ers are in the Super Bowl. Their fans are coming to New Orleans, to Bourbon Street. What could possibly go wrong? Everything, but at least the 49ers won't be playing the Raiders. A year ago during a preseason game between the Bay Area teams, two fans were shot and one was beaten unconscious in a Candlestick restroom. It was so bad, the 49ers canceled tailgating after kickoff for future games. Because their fans base couldn't behave. Sad, really.
The 49ers vs. Raiders in New Orleans, their fans drinking and posturing for a week at Bourbon Street, sounds damn near apocalyptic. The 49ers vs. anybody, though, is scary enough. This time it'll be the 49ers vs. the Baltimore Ravens.
Be careful, Ravens fans. Wear your colors with pride.
And wear them in large numbers.