Tagliabue's hand in saving Saints aided New Orleans' Katrina rally
It was Aug. 29, 2005, when Hurricane Katrina hit New Orleans the hardest. Fifty-three different levees were breached, 80 percent of the city was flooded and over 1,800 souls would be lost. It was in this mix of horror, heroes and chaos that a Georgetown lawyer and college basketball player would emerge as the man who would save one of New Orleans' most cherished resources: professional football.
The real heroes of the worst natural disaster in American history are the people of New Orleans who rebuilt the city using spit and stubbornness. They performed a construction miracle by rebuilding the Superdome in an impossibly fast time.
But it is not an understatement to say that the man who saved professional football in New Orleans, something that ranks in importance in that city just behind jazz and food, is former commissioner Paul Tagliabue.
It's possible that not only did Tagliabue's efforts keep the Saints in New Orleans, but that without him, the Super Bowl being played here this week might not exist, either.
"What some people forget is what things were like then," Tagliabue said in an interview with CBSSports.com. "There was a deep feeling this was the end of the city as we had known it.
"The leadership of the Saints was talking about leaving before Katrina. Then the storm hit. I wanted to make sure the team wasn't going anywhere."
Tagliabue did so using a mix of political savvy, pure muscle and the power of the NFL. But to truly understand what he accomplished, you have to go back in time. To a wrecked city seemingly on the verge of being abandoned. To a Superdome that was being used as shelter for thousands of storm victims, a morgue to a few, and where it seemed football might never again be played. To a Saints owner who had one foot out of the door en route to Texas. It was a fractured and frightening time and it seemed amid all of the horror the city might lose the Saints as well.
Then came a pivotal moment in the Saints' and NFL's histories. Tagliabue met with Louisiana politicians -- most important, the governor of Louisiana -- not long after the storm. In a brief but powerful talk, Tagliabue professed the NFL would do everything in its power to keep the Saints in New Orleans.
One of Tagliabue's messages at that meeting was, "Our teams are not free agents."
This speech put even more pressure on Benson to stay. Benson already was feeling a great deal of it as fans and others started to blast him for considering moving the team during a time of tragedy. Around the same time, Benson physically confronted a television cameraman when leaving a Saints game, allegedly shoving him, and also argued with a Saints fan.
"Paul had an appreciation for the emotional and cultural role sports can play in the persona of a city," said Stephen Perry, longtime president of the New Orleans Convention and Visitors Bureau. "The renaissance New Orleans has been undergoing since Katrina is because of a new breed of leader in the city and how the city came together. But also that resurgence can be traced to the resurgence of the football team, and it's fair to say that without Paul there might not be a football team."
James Carville, the longtime New Orleans supporter and former advisor to President Bill Clinton, once explained Tagliabue's importance like this: "The city fathers should take down the statue of Robert E. Lee at Lee Circle in New Orleans and put up a statue of Paul Tagliabue."
• • •
"I remember when I first got to New Orleans in March 2006," former Saints linebacker Scott Fujita said. "I got the sense that Commissioner Tagliabue was very well-regarded there. No one can question how deeply connected the Saints are to the New Orleans community, and this was the case even before Katrina [and] before the team became so successful."
Fujita would become ingrained in the New Orleans community when he was with the Saints from 2006 through 2009 and became a highly popular player. He was the first free agent to join the team after the Saints returned to New Orleans after the team's yearlong Katrina-imposed absence.
"Losing the team would have been devastating to a lot of folks down there," Fujita said. "I have no idea how much influence the commissioner actually had in keeping the Saints at home, but even the perception that he played a role carries a lot of weight. Regardless of who made the call, I'm just happy I got to spend four of the best years of my life in that city."
The New Orleans mayor-elect at the time, Mitch Landrieu, said at the time in an interview with the New York Times: " Paul Tagliabue was the glue that put everything together."
It actually shouldn't be a shock Tagliabue handled one of the worst crises in league history so deftly. He had done it following the attacks of Sept. 11, 2001.
One day after the attacks, Tagliabue called dozens of civic leaders across the country to get their views on how the NFL should proceed. One of them was Perry, who has known Tagliabue for two decades. "My cell phone rings and it's Paul," Perry recalled. "I'll never forget it. He was basically on a fact-finding mission to decide what to do."
Two days after the attacks, Tagliabue canceled that week's slate of games. It was a decision lauded by most, but what many don't realize is that there was a significant faction of owners who wanted the games to go on. One owner told CBSSports.com that Tagliabue had to fight off a large swath of owners who wanted to play that weekend even as the towers were still smoldering.
In the end, Tagliabue worked with a coalition of people, including the late union head, Gene Upshaw, and key player leaders, who combined to fight off any notion of continuing the games that weekend. Tagliabue's post-Katrina work in New Orleans wouldn't be the last time Tagliabue intervened in something Saints related. His status as a folk hero in New Orleans would become cemented when he would toss out all of the player punishments implemented by Roger Goodell in the Saints bounty case.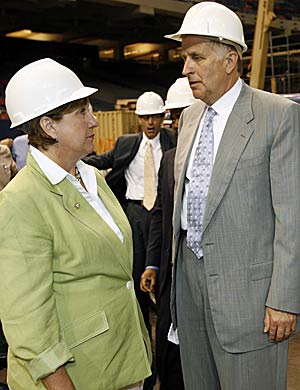 What is perhaps most amazing about Tagliabue is how his private persona differs from the public one. As commissioner, in front of the media, Tagliabue could be stoic, even standoffish. Privately, he could be witty and charming. It was in these smaller groups -- be it pols, players or press -- where Tagliabue functioned well and his ability to convince people in that setting would greatly aid him in New Orleans.
It would be idiotic to compare disasters, but New Orleans offered a unique challenge that in some ways was more problematic than the terror attacks of Sept. 11. Quite simply, in New Orleans, the city had been practically destroyed. Also, after the terror attacks, the NFL was seen as a unifying force.
In New Orleans, as the waters subsided, the face of the NFL in that city had become Benson.
Benson had an uneasy relationship with the city before the storm because of his cheap ways. That relationship would become strained when, despite Benson's public denials, it was clear he was at best considering an escape out of New Orleans after the storm and, at worst, actively planning one. A number of media outlets, including the San Antonio Express-News, reported Benson was attempting to void the team's lease with New Orleans by declaring the Superdome was unusable and a hazard. Various local and state leaders across Texas were having various talks with Benson about moving. Cowboys owner Jerry Jones supported a Saints move to Texas.
"The leadership of the Saints was talking about the team leaving before the storm," Tagliabue said.
This put the NFL in an untenable position. The league was being seen as abandoning one of its cities at its biggest time of need.
Tagliabue also felt the league could aid in rebuilding the public image of the city. He wasn't alone. Quarterback Drew Brees would visit New Orleans months after the disaster. He was deciding between Miami and the Saints, and along with his wife was getting a tour from coach Sean Payton. The Saints coach was telling Brees that New Orleans was rebuilding when Payton turned the car down a wrong street. Brees saw a house that had shifted from its foundation, another with a car in its living room, and a boat on the front lawn of a third. Rather than running to the Dolphins, he decided to sign with the Saints, feeling his presence could help the city rebuild.
Kathleen Blanco, the governor at the time, and another hero in the Saints story, had known Tagliabue before the storm and clicked with him. Blanco liked that Tagliabue knew about the culture of New Orleans, from how the politics worked there, to having a large collection of Cajun music.
"That was a very, very difficult time," Blanco said in an interview. "As governor, I was trying to look into the future while dealing with a crisis."
The crisis was the dome, which had become uninhabitable and Benson was using that fact to try and break his Saints lease with the state. "In the immediacy after the storm," Blanco said, "we began to realize that Benson was seriously looking to move to San Antonio."
So Blanco began a race against time to get the dome operational, a race she would win with the help of others, too, she said, because of Tagliabue's influence. In one phone call, Tagliabue made her a promise. "If you get the building ready to go," he told her, "I will make sure the Saints don't leave." That was all Blanco needed to hear and she proceeded to push rebuilding the dome, which was done in record time. She remembers driving around the city on the day the Saints returned to the Superdome. "By keeping the Saints, it showed we could do something after getting knocked down," she said.
"Paul Tagliabue," she added, "is my hero."
There was one other thing. Tagliabue had become a champion of the small market. During his commissionership, Tagliabue pushed for expansion to places like Jacksonville, insisted Cleveland get another team after the Browns moved to Baltimore, and considered New Orleans a part of that narrative. Whether this belief proves successful or not in the future, whether it's naïve or not, Tagliabue believed smaller markets like New Orleans -- ranked behind cities like Tulsa and Wichita in terms of population -- brought stadiums and football to unique corners of the country.
So after a series of meetings and proposals and counter-proposals and counter meetings, came the gathering at the home of then-Governor Blanco between city, state and NFL officials on Oct. 30 in Baton Rouge before the Saints played Miami.
Tagliabue jotted two pages of handwritten notes. In one section of his notes: "Our teams are not free agents." At the end of his notes, and how he ended his talk, were these words: "A friend in need is a friend in deed."
At the time, current commissioner Roger Goodell was an executive in the league office and sent an e-mail to Tagliabue and others summarizing parts of Tagliabue's speech, and the NFL's main message to the people at the meeting (and them to the NFL).
"The state [of Louisiana] expressed that many of the Saints' recent positions were not helpful in reaching arrangements in the short or long-term," read the first portion of the e-mail.
This was about government officials stating their displeasure over Benson speaking with San Antonio about a possible move there.
"We warned in return that the tactic of vilifying the owner is shortsighted and will ultimately not lead them to their objective," the e-mail continued.
This was vital. The league knew that it likely needed Benson to keep the Saints in New Orleans but if Benson was being treated like a cartoon villain that couldn't happen. It was agreed by all that Benson would no longer be targeted in such a way.
"The state recognized the enormous challenges ahead," the e-mail concluded, "but believed an opportunity was important to meet the challenges, even if they fail."
Tagliabue's speech had calmed both sides. Not long after it, Benson would agree to keep the Saints in New Orleans by extending his opt-out clause until two years later, or January 2007. Two years after that, another lease agreement was reached that keeps the Saints in New Orleans until 2025.
• • •
The city, as it was before Katrina, and as it is once again, is beautiful. Around the Superdome, traffic moves along. People move along. Businesses are open. It has been this way for some time.
The city is back, has been back, and will do what seemed unthinkable in the days after Katrina: play host to this Super Bowl.
It is interesting to ponder: What would this area, this city, look like without the Saints?
"No one knows," Perry says, "but I just can't imagine this city without them."
Doug Williams, the hero of Super Bowl XXII, is a Louisiana native born in Zachary, attended Grambling University, and coaches there now. He says losing the Saints wouldn't have just hurt the city of New Orleans. It would have been a blow to the entire state.
"The best way to describe what it would have been like had they left," says Williams, "is a kick to the gut."
Outside of cities ripped apart by war, there may never be a better story of recovery after disaster than New Orleans. Years after Katrina, New Orleans has become one of the premier locales for digital media, and the film industry has basically set up camp there. It's not unusual to see stars like Denzel Washington or Scarlett Johansson grocery shopping between shooting scenes.
In the past 28 months, New Orleans again has become one of the nation's top tourist destinations. There are 54 percent more full-service restaurants open today than before Katrina. Two new hospitals are being built only several hundred yards from the Superdome.
The Saints aren't the sole reason this recovery occurred -- the people of New Orleans are -- but the team and the stadium are like anchors around which so much has been built and rebuilt.
Perry went to dinner with Tagliabue in New Orleans at John Besh's restaurant, August, before the Saints played Arizona in a January 2010 playoff game. It was almost five years after Katrina and four years after Tagliabue had retired as commissioner. They talked about the bad times and the good times but mostly, the man who saved football in New Orleans, simply wanted to take it all in.
"Paul just wanted to be there, in New Orleans, around the Saints," Perry says. "I think he truly enjoyed the fact the Saints and the city were doing well. He was happy because the Saints never left us."