New Orleans' grudge against Goodell evident, but not overt
NEW ORLEANS -- When Scott Fujita played football in New Orleans, he lived upstairs from a restaurant and bar called Lucy's. He would sit outside, talking to fans, drinking a cold Pacifico beer.
Fujita became a fan favorite during his Saints years because he was friendly and smart. He got to know the city and its fans well -- and they got to know him. He is one of the perfect people to ask how Roger Goodell, the NFL's commissioner, will be treated during Super Bowl week in this city.
"Roger obviously won't be greeted with flowers at the airport or with warm [and] fuzzy hugs [and] handshakes," said Fujita, who played with the Saints from 2006-09. "And I'm sure if he's spotted around town he'll have some obscenities thrown his way.
"But I imagine he's used to all that by now. Overall, though, I don't see many people going out of their way to heckle him. During the week of the Super Bowl, the focus will primarily be on the game and what a great host city New Orleans is. Not on Roger Goodell."
And when you ask people around this town you hear exactly that.
"F--- Roger Goodell," said one man at a downtown bar, who identified himself as a Saints fan when asked what he thought of the commissioner.
Well, most people.
Fujita was one of the Saints players Goodell named in the now infamous Bountygate case. From the first day his name became public, Fujita said he was innocent, and this was later proven true when Paul Tagliabue, the former commissioner, said Fujita never participated in the bounties.
Because of that case and because of his popularity before it, Fujita has a good feel for how both Saints fans, and the city overall, will react to Goodell.
To say that Saints fans are angry at Goodell is an understatement. He is -- and for some time will be -- a hated man by some of the population here. This week the NFL reinstated Saints coach Sean Payton, one of the city's favorite sons, and that may quell some of the anger, but not much.
The fact the Saints aren't playing in the Super Bowl also helped Goodell. Imagine a scenario where Goodell had to award the Vince Lombardi Trophy to the Saints' interim coach. The Saints players on the same stage with Goodell. Saints fans in the stands booing Goodell. Maybe Payton sitting somewhere in the stands. It would have been a nightmare.
One NFL source explained that there was an unlikely but possible scenario that if the Saints had made the Super Bowl and won it, Goodell might not have awarded the trophy, out of concern for his safety.
The source also explained that Goodell will have extra security measures taken while he's in New Orleans. The source would not give specifics. An NFL spokesman declined comment.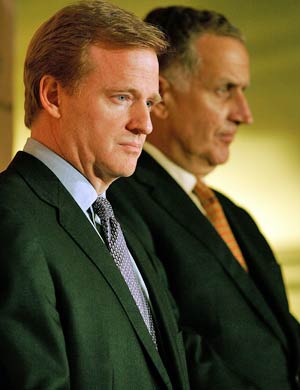 Saints fans will be angry, but will the city overall be angry? Probably not. Why? Because as Fujita said, it will be too busy planning and experiencing the
Super Bowl
.
"The only thing on the mind of the city as a whole," said Stephen Perry, the longtime president of the New Orleans Convention and Visitors Bureau, "is putting on a good Super Bowl."
Kathleen Blanco, the former governor of Louisiana who dealt extensively with Goodell post-hurricane Katrina, said: "Right now, a lot of people are upset with Roger. They don't like what happened with the Saints.
"But Roger over the years has been good to the Saints. Overall, [with the bounty punishments] he was trying to keep the integrity of the NFL intact."
At some of the city's sports bars, there were no visible anti-Goodell signs. Patrons interviewed didn't want to give their names but generally said that while they hate Goodell, they weren't planning, or hadn't heard of, any sort of special anti-Goodell protests during the week.
But that doesn't mean segments of the city and its population aren't expressing anger. During the Krewe du Vieux, one of the Mardi Gras parades that happened a few weeks ago, one float contained a giant portrait of Goodell's head being eaten by a vagina. So, there's that.
At some places across the city, there are "Do Not Serve This Man" signs with Goodell's face appearing on the sign. But they are not numerous. That could change as the game gets closer. There have been some profane anti-Goodell T-shirts and other things that have popped up across Twitter and other social media, yet nothing unexpected, or excessively vulgar. That could change as the game gets closer, too.
The irony of the Goodell critics is that they do forget something important: Goodell played a role in helping the Saints stay in New Orleans after Hurricane Katrina. He was key in pushing for the Superdome to reopen faster than anyone imagined. Tagliabue was the general and Goodell was the NFL's sergeant doing things on the ground level that helped both the Saints and the city.
"Roger helped in so many ways during those dark times," said Tagliabue in an interview.
Goodell attended Denver's divisional playoff game several weeks ago and told reporters then he wasn't concerned about his safety at the Super Bowl.
"The fans [of New Orleans] are loyal to their team," Goodell said. "That's what we expect. They're great fans. No, I'm not troubled by that at all."
" It's time to move on," Jeff Duncan of the New Orleans Times-Picayune wrote. "You don't have to forgive but you do have to forget -- for at least a week. Bury the hatchet ... and the hatred."
In the same paper last week, mayor Mitch Landrieu said, "I know everybody in the city is belly-aching about the last year, but here's the thing: Roger Goodell has always been a friend to the City of New Orleans."
Whether or not the people of New Orleans will realize that remains to be seen.