NEW ORLEANS -- First of all, don't believe the photos. See the one below with this story, showing both brothers smiling? Ravens coach John Harbaugh in his charcoal suit and tie, grinning nice and wide. 49ers coach Jim Harbaugh in his khakis and black pullover and 49ers cap, also smiling. Smiling big, like this was fun.
It wasn't. Not for him, anyway. John Harbaugh was smiling the whole time, very much enjoying himself, but Jim? The younger brother? He barely smiled. He barely acknowledged his brother sitting next to him, staring ahead instead.
Nothing wrong with that. Jim's not a cold monster, so that's not my point. Nor is this a suggestion that the Ravens coach is more relaxed than the 49ers coach, therefore the Ravens will be the more relaxed team on Sunday -- and will win the Super Bowl. I'm not that smart to make such a connection. Not that stupid, either.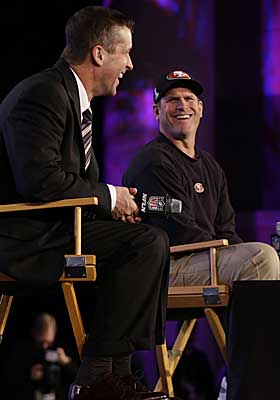 John and Jim Harbaugh. (AP)
This news conference wasn't instructive as far as the Super Bowl goes. But it was instructive as far as the Harbaughs go, both of whom showed their hand immediately. They were asked for opening statements and John Harbaugh went first, doing as he's done all week, using words like "welcome" and "thanks for coming." John continued for nearly 200 words, mentioning their parents and grandfather -- "Grandpa Joe, 97 years old and going strong" -- and thanking the Saints for their facility and the 49ers for sharing it.
Then it was Jim's turn.
"I concur," he said.
Questions?
Well, yes. The first question was for Jim. Someone wanted insight into a childhood -- his and John's childhood -- that produced this anomaly of two head coaches in the NFL, both reaching the Super Bowl, both getting there at the same time. How did this happen? What childhood memories can you share, Jim?
"My memories," Jim said, "are of this season right now."
He went on to say more, but he had said enough. Don't ask Jim Harbaugh about sentimental stuff because he's not here for that. He's here for the game Sunday. This is just another half-hour to kill.
More than 200 words later, Jim was done (not) answering the question. John's turn: "I concur," he said.
Point, older brother.
Don't get huffy, 49ers fans. I'm a big fan of Jim Harbaugh, his coaching and even his charisma. He doesn't show it to the media often because he doesn't have to, but it's there. There have been signs all week, but his track record is all I need. He goes to struggling San Diego, wins big. Goes to struggling Stanford, wins big. Goes to struggling San Francisco, wins big. You don't do that, not three times in a row at three different levels, with X-and-O expertise alone. You do it with leadership and charisma, luring players and making them believe. Jim Harbaugh is probably the best coach at any level of football, as his older brother said Friday.
"There's no better coach," John said of his brother, "than this guy right here."
Jim, interested for the first time all news conference, cut in.
"Well, Jack Harbaugh," Jim said of their father.
"True," said John.
And then Jim was off and running, talking about his father. He seemed engaged in the news conference just a few times, going off his closely followed script of football clichés when talking about his father, his mother -- "she competes like a maniac," he said -- or his son, Jay, a coaching intern on John's staff in Baltimore. ("I've heard he's done a great job," Jim said, "and that means the world.")
Jim may even have been close to tears when he talked about his mom, Jackie, and how "she took us to games and played catch with us, shot baskets with us, and just believed in us."
The guard came down for Jim just those few times. John's guard was down when this news conference started and it stayed down the rest of the way. I'm not sure he's any more comfortable in his skin than Jim -- matter of fact, I'd bet he's not -- but I'm positive John is more polished than Jim. And that would make sense.
Jim Harbaugh was the stud athlete of the family, playing against the older kids -- John's friends -- because he was too good for the kids in his grade, then going on to Michigan, then to the NFL. He played quarterback. Of course.
John Harbaugh was Jim's older brother. He went to Miami (Ohio), played defensive back, and not all that well. Then he climbed the coaching ladder, earning everything he got from hard work and hustle. John Harbaugh spent 24 years as an assistant, most of them at small football schools like Western Michigan, Morehead State, Cincinnati and Indiana, before getting a head-coaching job.
Jim Harbaugh was an assistant for two years. In the NFL. Before becoming a head coach.
John has the polish, the patience, Jim has never had to develop. Big brother took control of this news conference, answering most questions first because somebody had to, and that somebody wasn't going to be Jim. And as John talked, Jim stared straight ahead. One notable exception happened when John talked about how "fiercely loyal" he and his brother are. By the time John said Friday's killer line -- "We always have been" -- he was looking at Jim, and Jim was looking at John.
Soon it would be over, but not without one little dig from brother to brother -- from John to Jim, of course -- that started when Jim was asked about the brothers' philosophical commonalities.
Said Jim: "Philosophical commonalities? I would be hard-pressed to spell 'philosophical' right now."
Said John: "I know he can't spell 'commonalities.'"
Laughter. This news conference was fun, at least for most of us. Jack and Jackie Harbaugh had a great old time, not two parents worried about one of their son's pending defeat, but two parents proud and happy that both boys are doing so well. Grandpa Joe, 97 years old and going strong, was beaming in his half-Ravens, half-49ers cap. John smiled the whole time. Jim? Eh. Not so much. Don't believe the photos.
The news conference ended with a family photo, John playing traffic cop and lining everyone up -- closer, closer -- followed by a few individual photos. John hugging Mom. John hugging Dad.
Who did Jim hug? Nobody.
Jim was gone.