The NFL is a passing league. We know that. Quarterbacks are getting tougher and tougher to stop, which puts even more of a premium on cover players in the secondary, especially at corner.
It's rare that quality, top-level corners hit the open market in free agency. That's why it's smart to mine the market for the values, players who have the ability to become good cover players -- and for a decent price.
The player that stands out in that category this year is Arizona Cardinals cornerback Greg Toler? Who, you say?
Toler was a fourth-round pick in 2009, coming in as a raw player who took a long, winding road to get to the league. He played semi-pro football before playing college football at tiny Division II St. Paul's in Lawrenceville, Va. He came into the NFL raw but talented. In 2009, he played little, and in 2010 he won a starting job and impressed the coaches. The front office thought he had a chance to be a good one.
Then came a torn ACL in the 2011 preseason. He missed that entire season and slowly worked back into the lineup last season. When he played -- starting two games in 2012 -- he impressed. At 6-feet, 190 pounds, he is a capable man-cover player who is also a willing tackler.
That's the one thing that surprised me on tape: His willingness to tackle. He throws his body around, but he's also more than capable of staying with good receivers. He can play press-man, off-man and he seems comfortable playing zone.
For a team looking for a 28-year-old corner who would seem to have his best football in front of him, Toler would make a ton of sense.
Toler highlights my list of lesser-known free agents who will make some NFL teams happy if they can get them signed. All are aged 25-28 -- my target range -- and most are not household names.
But they are the kind of building blocks teams need to get to the next level.
Before a look at the list, though, here's a film look at some of the plays that caught my eye when I studied Toler.
The first is a running play against Miami. The Dolphins call an inside run to Reggie Bush. But when the play is clogged up inside, he tries to bounce it to the outside. Toler makes a great play to come up and drop Bush for a 4-yard loss. As you can see by the pictures below, Dolphins receiver Brian Hartline tries to block Toler (yellow circle) on the play, but Toler jumps inside of him and comes up and makes a physical tackle to drop Bush for the loss.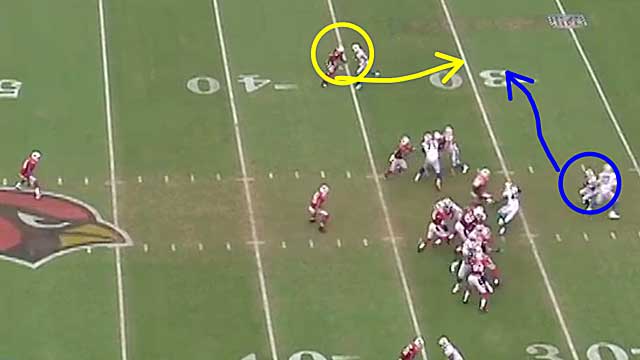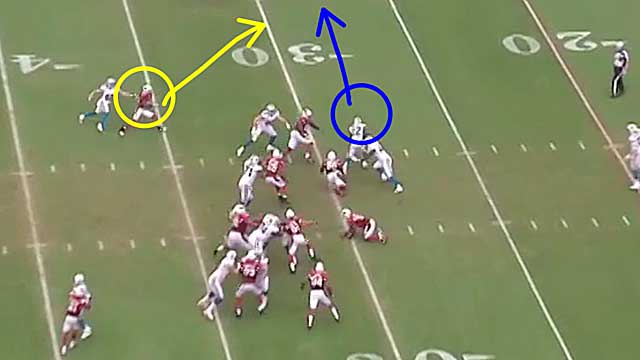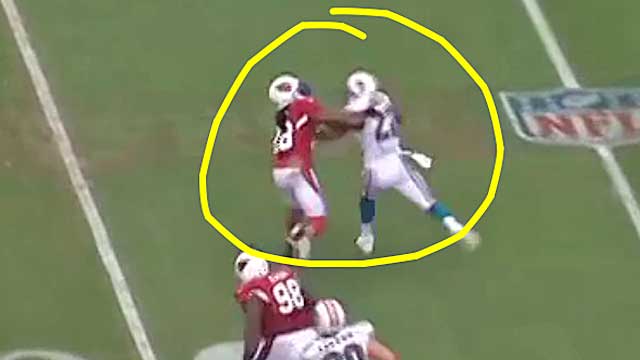 Here's a look at an interception he got against the Dolphins. Toler (yellow circle) is in off-man coverage against Hartline. At the snap, he backpedals, but reads the eyes of quarterback Ryan Tannehill. He closes fast on the football and makes a diving interception. That's a big-time play. Hartline had a huge game that day, but Toler didn't give up much of that yardage.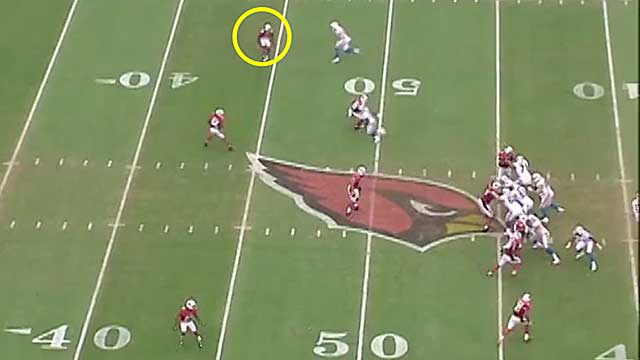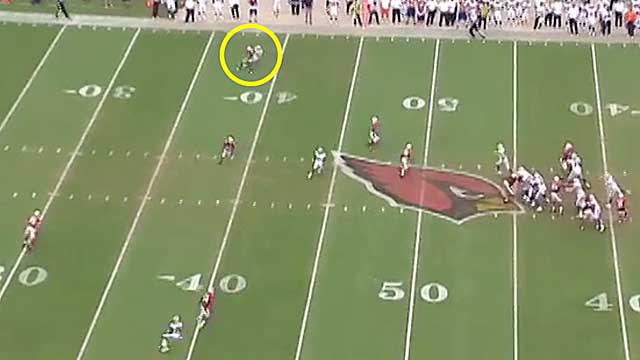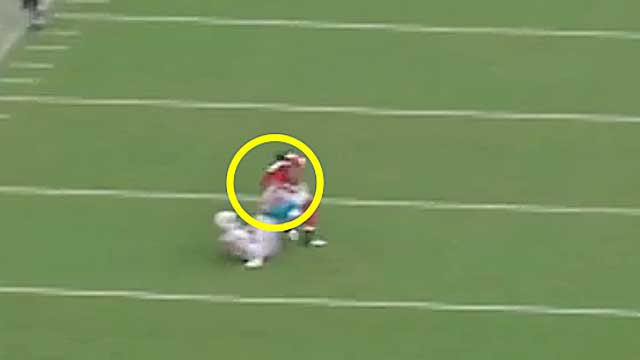 Toler did get beat for a 51-yard touchdown pass from Sam Bradford to Chris Givens the next week in one of his starts against the Rams. That was bad technique as he got caught looking into the backfield and Givens ran by him. He hurt his hamstring on the play as well and missed the next four weeks. His inexperience showed up on that play.
His next game came against the Falcons, and one of the plays that stands out is on a quick-screen to Julio Jones. Here's a look. Toler lines up wide in man-press coverage on Jones. Matt Ryan stands up and fires a shot to Jones, and fullback Jason Snelling tries to get out and block Toler. But Toler sheds him, jumps inside, and makes a nice tackle on Jones to keep him short of the first down.
Here's a look with Toler in the yellow circle and Jones in the blue.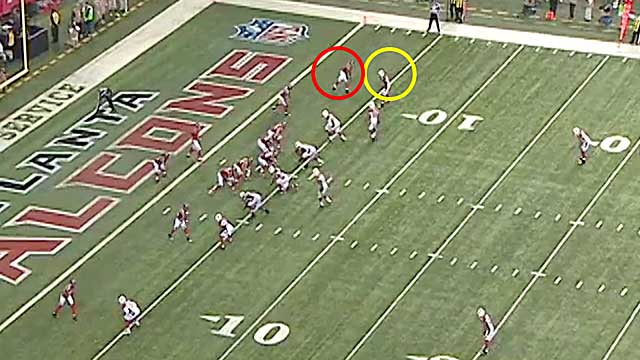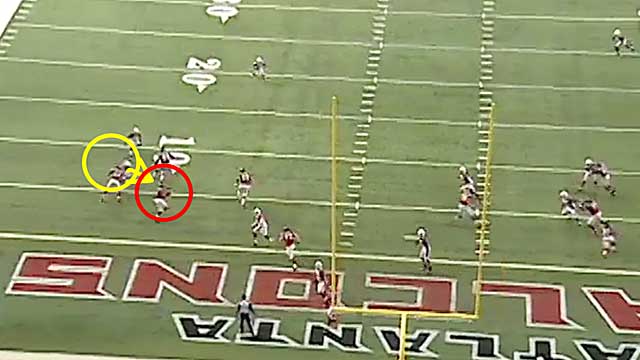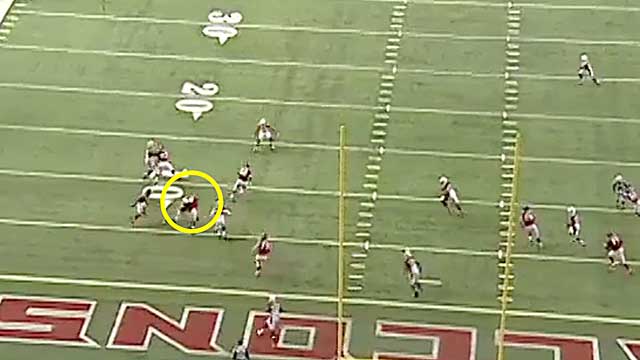 The last play I want to show is Toler's 102-yard interception return for a score against the Lions in Week 15. Lined up in man coverage against Kris Durham, Toler (yellow circle) makes an instinctive play when Matthew Stafford tries to throw to a covered Tony Scheffler. He picks off the overthrown pass, and races untouched down the right sideline for the score.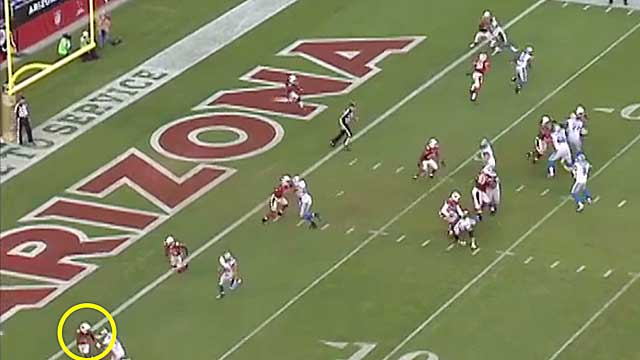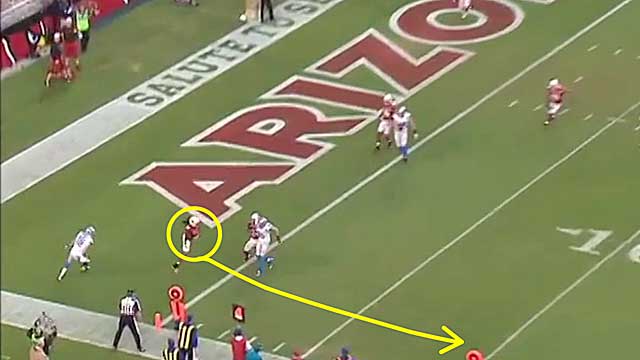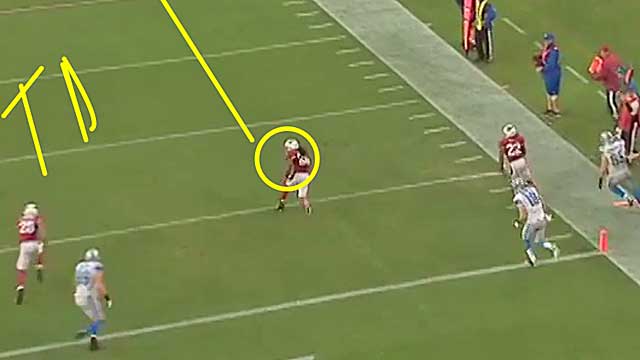 As you can see, Toler has a ton of talent. He is physical. He is fast. And he can cover. With a little polish, he has a real chance to be a quality corner in the league -- one worth a solid deal in free agency, but not necessarily the huge dollars.
Here are nine other lesser-known players to watch:
Desmond Bryant, DT, Raiders: He didn't get the attention that Richard Seymour and Tommy Kelly got on the Raiders line, but this 25-year-old is coming off a nice season. He had four sacks and the tape showed a lot of him collapsing the pocket. He is going to get a nice deal from a team looking for a young power player.
Tony Carter, CB, Broncos: Carter was one of the surprise players for the Broncos in 2012. He was a long shot to make the team, and ended up being the team's nickel back most of the season. He is a smallish corner, but he knows how to play man coverage. If a team is looking for a nickel corner, he would make a lot of sense. He's only 26 years old.
Victor Butler, OLB, Cowboys: Playing behind DeMarcus Ware and Anthony Spencer, Butler had just two starts in his four seasons with the Cowboys. But he had 11 sacks in those four seasons, including three in 2012. At the age of 25, he is the right age for a 3-4 team looking for a young pass rusher.
Sammie Lee Hill, DT, Lions: At 6-4, 329 pounds, the 26-year-old has impressed a lot of personnel people in his first four seasons. He was caught playing at a deep position with the Lions -- with Ndamukong Suh, Nick Fairley and Corey Williams -- but he always seemed to be making plays when he was on the field. It's his time to start somewhere.
Pat Sims, DT, Bengals: At 27 and 6-2, 335 pounds, Sims is a power player. He played in only eight games last year, so he might come as a bargain. He has been a nice rotation player in his five years with the Bengals, and could be ready to step up and start somewhere.
Sen'Derrick Marks, DT, Titans: He started 14 games for the Titans last season and had 41 tackles and 1½ sacks. He is a smaller defensive tackle who has good quickness. At 25 years old, with 23 starts the past two seasons, he is worth a look.
Chad Rinehart, G, Bills: He did a nice job in 2011 when injuries forced him into the lineup, but he missed most of 2012 with an ankle injury, starting just two games. He might be worth a look for the right price. Bills guard Andy Levitre is one of the top free agents, but he will cost a lot.
Chris Ivory, RB, Saints: I am not in favor of paying running backs, so that's not what I am saying here. But Ivory has the ability to be a solid runner in a 1-2 combination for some team. If the price is right, he is worth a look. At 25, he has a career average of 5.1 yards per carry. That is telling. Just remember, though, you can find a lot of backs in the draft.
James Casey, TE-FB, Texans: I loved him coming out of Rice, and he has been what I expected, a duel threat who can block and catch. He can play fullback or tight end and if not for Owen Daniels, he would probably be even better in the pass game. Somebody will be happy they signed this guy. He's the Swiss Army Knife of the Texans.