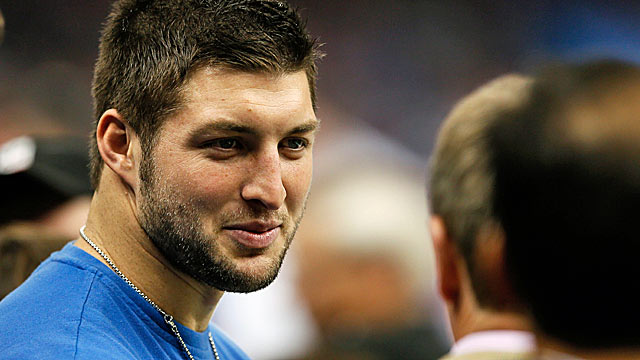 Tim Tebow is about to make the biggest mistake of his life.
Tebow has agreed to speak at a hateful Baptist preacher's church, an evangelical cretin named Robert Jeffress who does the work of the Lord sort of like Westboro Baptist in Topeka, Kan., does the work of the Lord.
Not at all.
Jeffress isn't as bad as Westboro. He doesn't send his flock to funerals of U.S. soldiers and have his sheep yell awful things like, "God hates fags." But he comes close. Too close. He believes, he has said, "It's a fact that [AIDS is] a gay disease so there's a reasonable reason to exclude gays from the military."
More on Tim Tebow
Related links
Jeffress is a bad guy. He says Jews and homosexuals are going to hell. He says the Catholic church is a satanic cult. He says Islam "is a religion that promotes pedophilia -- sex with children."
Mormons? They're going to hell, too, but Jeffress was willing to overlook that and promote Mitt Romney over Barack Obama in the 2012 presidential election because Obama, Jeffress said, "is paving the way for the future reign of the Antichrist."
"I am not saying that President Obama is the Antichrist, I am not saying that at all," Jeffress said in November. "One reason I know he's not the Antichrist is the Antichrist is going to have much higher poll numbers when he comes."
Tim Tebow supports this man.
More than supports him, Tebow is going to throw his weight -- and it is considerable; we're talking about Tim Tebow for God's sake -- behind this preacher by speaking at his church in Dallas in April.
And that is a mistake he'll never overcome.
Hell, I'm not sure he can overcome what he's already done -- simply agreeing to speak at Jeffress' church. Tebow could change his mind today, announce that he's not speaking there in April or any other time, and it wouldn't be enough for some people.
You even THOUGHT about speaking there? You support Jeffress? You agree with him?
Here's the truth about Tebow and what he does to us: He divides us, yes, but there is wiggle room here. Lots of wiggle room. There are zealots on both sides of the Tebow chasm -- those who support him unconditionally, many of whom probably agree with the "theology" of Robert Jeffress; and those who will never be anything but annoyed by Tebow's faith, his popularity, his phenomenon -- but there are many more people, I suspect, like me:
A vote to be swayed.
And I've swayed both ways, as I'm sure have many of you. Tebow's religious views are not mine, but lots of us don't care about that. We're sports fans, and Tebow is a sports story, and he's one of the most fascinating sports stories in recent history. A truly great college player. A truly puzzling NFL player. Maybe, now, a truly finished player.
Whatever the case, his ups and downs have been fun to watch. And so for the last 18 months or so -- since that remarkable, unexplainable run he had with Denver in 2011 -- I've counted myself as a Tim Tebow fan. Many folks have recognized that, giving me a hard time in emails and on Twitter about my affection for Tebow. That was fine. I wasn't ashamed to like Tim Tebow.
I'm ashamed to like Tim Tebow now.
More specifically, I don't like Tim Tebow now. I can't. Liking him means liking someone who wouldn't just agree with, but would support, Robert Jeffress.
And I despise Robert Jeffress.
And there are people like me, I promise you. Thousands, maybe millions of us who have enjoyed Tim Tebow as a sports spectacle, but who won't enjoy this. Who can't enjoy this. I suspect there are Christians -- many of you -- who are as disappointed as I am that Tebow would align himself with something as monstrous as Robert Jeffress. Please read that sentence again, because this column isn't an attack of Christianity.
I don't consider Robert Jeffress' theology to be Christianity, a religion built on love. Jeffress speaks hate. Robert Jeffress wouldn't have saved Mary Magdalene. He would have stoned her.
Tim Tebow will speak at this man's church.
Be gone, Tim Tebow. I'm done with you.