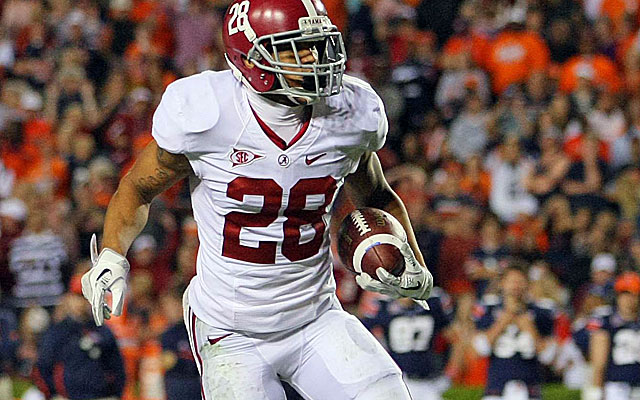 INDIANAPOLIS -- We know Alabama cornerback Dee Milliner will undergo surgery next month to repair a torn labrum, and we know it's expected that it will take two months for him to recover. What we don't know is what, if anything, it does to his draft position and, frankly, neither does Milliner.
"I don't think it will (hurt it)," he said Sunday. "I hope it doesn't. You get hurt, and I know I'll have surgery, and I know I'll be back making plays. That's why I wanted to come to the combine and do this, just to show I can still move around and do stuff with my arm."
Milliner is the highest-rated cornerback in the draft, and a guy who has size (he's 6-feet-1), great instincts, smarts and toughness -- with Milliner saying he plans to work out Sunday despite the shoulder injury.
But he's also a coveted draft prospect who will undergo surgery, so I consulted two scouts to gauge their opinion on how or if it affects his board position.
"How could it not?" said one. "I mean, the guy missed tackles late in the season, and maybe it was because of the shoulder. But I want to see him run because I don't think he'll be that fast. I know Nick (Saban, Alabama head coach) loves him, but you want to know more."
Milliner is not concerned, and he probably shouldn't be. He's going to be a first-round draft choice, and he might be a high first-rounder. When one reporter asked how he'd respond to critics who question his athleticism, he smiled and told him to stick around until Tuesday.
"Watch the NFL Combine," he said. "That's another reason I wanted to come to the combine and participate in the drills. That's why I didn't want to sit out. Anytime somebody doubts you, it's like they get into it with you. I like to go out there and prove people wrong."
2. LSU defensive back Tyrann Mathieu, aka "The Honey Badger," made a triumphant noon appearance in front of the media to recount his past troubles, convince listeners that he's over them and plead for another chance. But that doesn't overcome an obvious problem: The guy not only has been out of football for a year and has considerable baggage, he's 5-feet-9 in a game where big defensive backs are coveted. "He's a better football player than he is an athlete," said NFL Network analyst Mike Mayock. "He's short, and he's probably at a speed deficit -- which is not a good combination. But he's a helluva football player."
3. I will say this: Mathieu said all the right things, including why he should be trusted. "Because I've been through it," he acknowledged. "I know what it's like not to have football, not to be the center of attention and I know what it's like to be humiliated. To go back down that road? Not a chance in the world. Not a chance in my lifetime, at least."
4. Oh, and just in case you're wondering, you can retire the "Honey Badger" nickname ... for now. "I have (retired it)," Mathieu said, "but a lot of people haven't. But that's OK. I'm Tyrann now. If 'the Honey Badger' sticks, it sticks. Right now I'm focused on being Tyrann Mathieu."
5. The weekend's unsung hero was former Dallas executive Gil Brandt, now with NFL.com. He's the guy charged with bringing Notre Dame linebacker Manti Te'o to Saturday's news conference. Te'o had four MRIs scheduled when Brandt pried him away from physicians for an afternoon Q&A with an army of reporters. "It wasn't easy," Brandt said. "I about had to get down on my hands and knees." Well, it worked.
6. There were at least five safeties who Sunday declared themselves the best at their positions, with Georgia's Baccari Rambo trying to end the conversation by saying, "I've been doing this for numerous years. I've been playing since way before those guys' times. They were still in high school when I was playing. I consider myself one of the greatest players." That's great ... except Rambo's not in the conversation. The University of Texas' Kenny Vaccaro is. In fact, he's considered the best out there, and he knows it. "I think I bring the most to the table," he said. So do scouts.
7. Minnesota found Notre Dame safety Harrison Smith at the bottom of the first round of last year's draft. Irish safety Zeke Motta might be this year's Smith, though he won't be a first-round pick. Where he does go, of course, depends on his workout this week. "I want to prove that I can run fast and play the ball in the air," he said. "For some reason, people don't think I have good hands. I don't know why that is."
8. Just a hunch, but the New York Jets look long and hard at USC safety T.J. McDonald. First of all, both their starting safeties become unrestricted free agents. Second, McDonald's dad, Tim, just became the one of the team's assistants, and if the name sounds familiar it should. He was one of the best safeties in the business when he played with San Francisco in the 1990s. Tim coached his son in high school, and "he's been preparing me for this for a long time," his son said. "I have a responsibility to him, to myself and to my family to go for it all."
9. Florida safety Matt Elam is the brother of Abram Elam, safety for the Kansas City Chiefs, but it's safety Ed Reed -- not his brother -- Matt said he emulates. "I love to strike a player," he said. "That's what helps make me stand out the most."
10. By his own admission, South Carolina safety D.J. Swearinger is a big-time hitter known for violent collisions, but he might have to modify that behavior in the NFL -- with coaches here the first to warn him. "They just tell me at the next level it's going to (cost you) big bucks," he said. 11. No surprise, the early leader for that Adidas shoe deal is Texas wide receiver Marquise Goodwin who ran a 4.27 40. Goodwin is a former track star who ran a 10.24 100 and was the runner-up in the NCAA indoor long jump. "Goodwin has world-class speed," said teammate Kenny Vaccaro. So we noticed. Of course, he can't collect on the Adidas deal until we hear from the defensive backs.
12. If Mississippi State's Johnthan Banks is as good as his word, someone has themselves a damned good cornerback. First of all, at 6-2, 185, he has the size for the position. More important, he has the confidence to take on anyone. "I think I can play against anybody," he said. "I can own anybody. I think I can cover 'Megatron.'" File that quote away for if and when he faces Detroit.
13. There's a feeling that the gap between the two top tackles, Luke Joeckel and Eric Fisher, is narrowing, though Joeckel is still the lead dog. "I already thought the gap was closed," said Mayock. "I thought Eric Fisher closed the gap at the Senior Bowl. I don't see a whole lot of difference between Joeckel and Fisher."
14. I wouldn't get concerned about those slow times of Alabama guard Chance Warmack. So you can time the guy with an hourglass. As one scout said, the guy has a quick and decisive initial punch off the ball. Plus, another coach told me one of his best linemen ever ran a 5.4 40. Warmack is a mauler at the point of attack and will suit some offensive lines perfectly.
15. People here tell me Philadelphia reportedly likes quarterbacks Geno Smith of West Virginia and Mike Glennon of N.C. State, though neither is worthy of the fourth overall pick. They also told me what you already know: Namely, that Nick Foles probably doesn't have a future with the Eagles.
16. I wouldn't pay too much attention to those Foles-to-Kansas City trade rumors. Granted, the Chiefs are checking all their options at quarterback, but insiders contend that Foles is not on the front burner.
17. Because this draft doesn't have an elite group and because its talent seems more widely and evenly dispersed, my guess is that there will be fewer trades than there were a year ago. "If you're a playoff team, you're laughing," said Mayock. "There's so much depth to this thing that if you're drafting 20-to-30 it's not a whole lot different than the fifth or sixth pick."
18. Make Michigan's Denard Robinson one of the most intriguing choices in this draft. Robinson was a quarterback who is getting looks at wide receiver, and so far, so good. He ran well Sunday and held up OK catching passes, despite a lingering elbow injury. "That's what you have to figure out," said Mayock. "How natural of a catcher is he? Because I think what you want him to be is a slot receiver and a return guy, and if you believe in his ability to catch a football and his work ethic to go out and run routes, then that will drive his value."
19. Kansas State quarterback Collin Klein said he won't stop playing the position until every door is closed, but he better move fast. People tell me clubs here were looking at him as a tight end.
20. The consensus seems to be that West Virginia's Geno Smith is the top quarterback in this draft, though Mayock said he wouldn't push him higher than the 20th overall spot. "Everything I saw on tape I saw (Sunday)," he said. "He's a natural thrower. He doesn't force the ball. I'm happy he did this (worked out) because it shows he's not afraid. Cam Newton did it and didn't throw the ball well, and he was still the first pick in the draft. To me, it's more important what you see on tape. I want to bang on the table because I want to like Geno Smith, but there are just too many inconsistencies on tape for me to say that Kansas City or anybody that high should take him."
Five guys who helped themselves
1. Tyler Eifert, TE, Notre Dame. His 4.6-and-4.62-second 40 times and 35-1.2-inch vertical leap put him solidly in front of Stanford's Zach Ertz and may make him a lock-down first-round draft pick.
2. Oklahoma tackle Lane Johnson. His 40-yard dash time was faster than Anquan Boldin's. His vertical leap was the same as A.J. Green's. And his long jump was the same as Stevan Ridley's. And we're talking about someone who is 6-feet-6 and 303 pounds. "This is a guy where the sky's the limit," said Mayock.
3. Ryan Swope, WR, Texas A&M. Nobody expected him to run a 4.34-second 40, which tied him with Tavon Austin for second best at the position. While Swope had some drops Sunday, he's a reliable receiver who had 11 catches vs. Alabama.
4. Chris Gragg, TE, Arkansas. He missed all but five games last season because of injuries, so he needed to produce a decent workout ... and he did, running the fast 40 (4.5) among tight ends and producing the best vertical leap
5. Johnathan Franklin, RB, UCLA."There are things," said one scout, "about this guy that you see on tape that you wanted to see live. Like, cutting and slashing and catching the ball." Well, scouts did. Franklin was impressive, running through every drill well, and did nothing but improve his value.
Just asking but ...
•  Who's the second-best quarterback in this draft?
•  Who gambles on Jarvis Jones?
•  Will Dallas admit it must take an offensive lineman early?
•  Do the Ravens get a deal done with Joe Flacco in the next week?
•  How many quarterbacks go in the first round?
Five quotes to remember
1. "I'm going to be relentless to the ball at all times." -- USC safety T.J. McDonald.
2. "My best friend right now is honesty." -- LSU cornerback Tyrann Mathieu.
3. "The SEC is the best conference in America. It's next to the NFL." -- South Carolina safety D.J. Swearinger.
4. "I think there are some SEC schools that can compete with some of the NFL teams." -- Mississippi State cornerback Johnthan Banks.
5. "I'm just going to keep the legacy going." -- Washington cornerback Desmond Trufant, the third Trufant brother headed to the pros.