Now that Tom Brady has helped clear up cap room for the New England Patriots with his contract extension, the prevailing thinking is he did so with the idea that the team would bring back receiver Wes Welker, an unrestricted free agent.
That begs this question: Should they?
Or better yet: At what price?
Welker turns 32 in May. He has also torn up a knee in his six seasons in New England. So the key is how to structure a contract for one of the game's most productive receivers, a player who fits what the Patriots do in their passing game, yet still be reasonable.
Welker with Brady is special.
Welker with another quarterback might not be.
More on NFL
Columns

---

Related links
NFL coverage on the go
Even so, Welker and his agent can't accept a lower deal just to stay in New England. This is his time to cash in if some team is willing to pay -- but are there any out there?
To get an idea as to whether Welker is worth a five-year, long-term deal for $10 million a year or so, I took a close study of him in action in 2012.
What I saw was what I expected, a crafty, smart, tough, superb route runner who always seems to know how to beat man coverage in the short areas and who is smart enough to settle down in the open areas in the zone.
It's almost as if Brady and Welker are always -- OK, almost always -- on the same wavelength. They anticipate better than most passing combinations in the league. That helps get Welker open.
Yes, he's damn good at running routes against man coverage with his ability to make a defender think he's going one way and then snap it off the other way the thing that separates him from most slot receivers.
But I think a lot of Welker's ability to get open inside is the scheme, and the pre-snap reads Brady makes. He anticipates Welker coming open all the time based on formations and the defense.
Welker has 676 catches the past six seasons, including 118 last year. But his highest per-catch average in those six seasons was 12.9 in 2011. It went down last season to 11.7.
Another amazing Welker stat: He has just 37 touchdown catches in those six seasons. That's a bet you can win if you threw it out there. I expected more.
I love Welker's versatility. He can line up wide, in the slot, in the backfield, left, right wherever. And he usually gets favorable matchups when they do move him around.
Here's a look at how the Patriots get him into favorable situations. This play is in a game against Denver. Welker (yellow circle) lines up in the slot to the right of Brady, the weak side of the formation. With three Patriots to the left, the Broncos have four defenders to that side with three against two on the other. Welker matches up in man coverage with linebacker Von Miller (red circle).
At the snap, Welker runs hard inside against Miller, winning right off the line. You can see in the third picture that Miller is trying to hold on for dear life. Brady throws an easy pass to Welker, who runs up the field, forces a missed tackle by Miller (a rarity) and turns it into a 15-yard gain. This is a case of the Patriots putting Welker in a good matchup, which they do a lot. You can see that it isn't a special route or play, but rather the scheme and Brady that make the play work.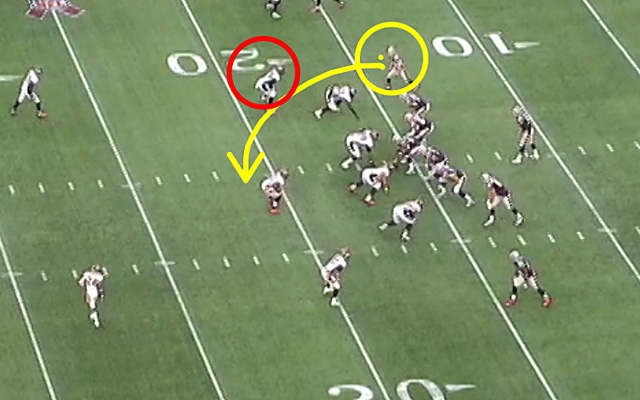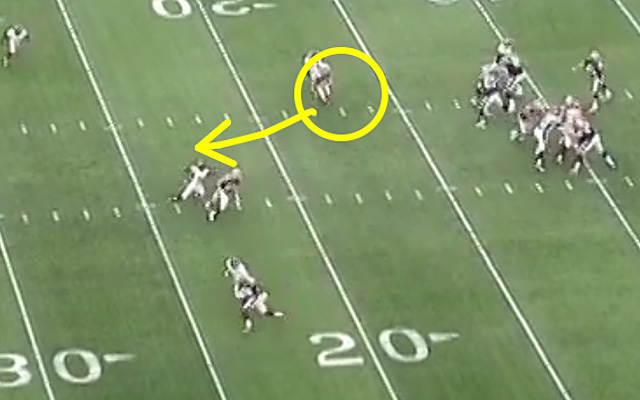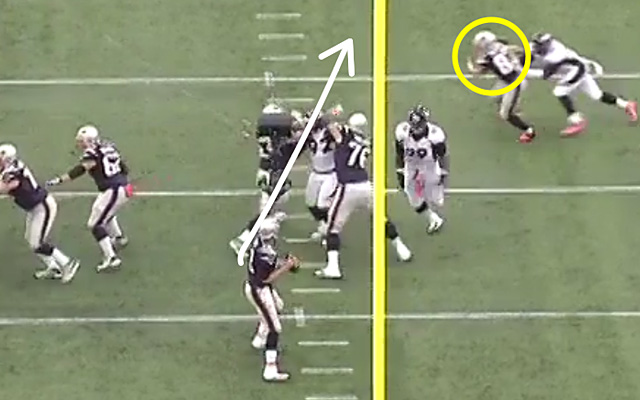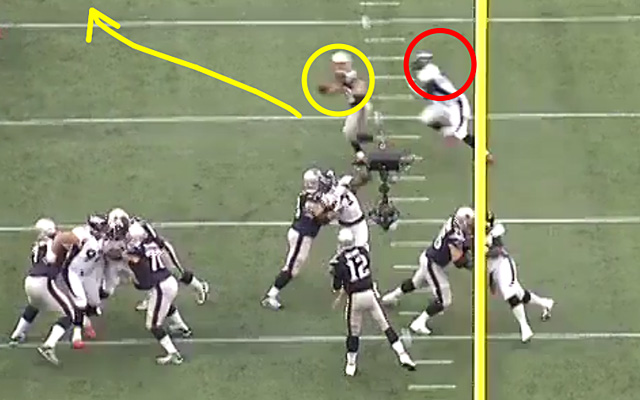 Here's a look at another anticipation play by Welker and Brady. The Broncos line up corner Chris Harris (blue circle) in off-man against Welker (yellow circle). At the snap, Harris comes on a blitz. Welker and Brady both read that immediately, and Welker snaps off a quick out that gives safety Mike Adams no chance to get over and make a play. It's a simple route and throw for 9 yards, created by the brains of the receiver and quarterback, rather than the physical skill of the receiver. That's what Welker brings to the Patriots offense.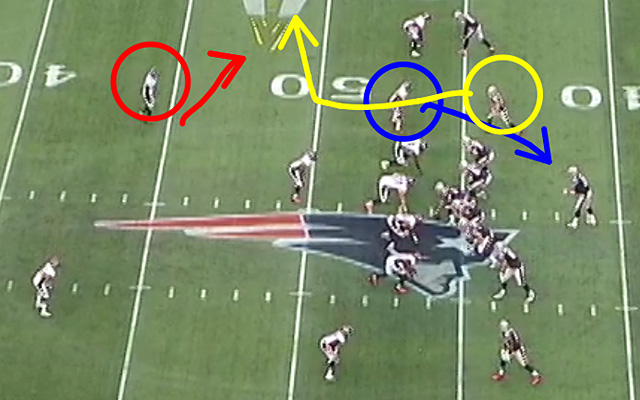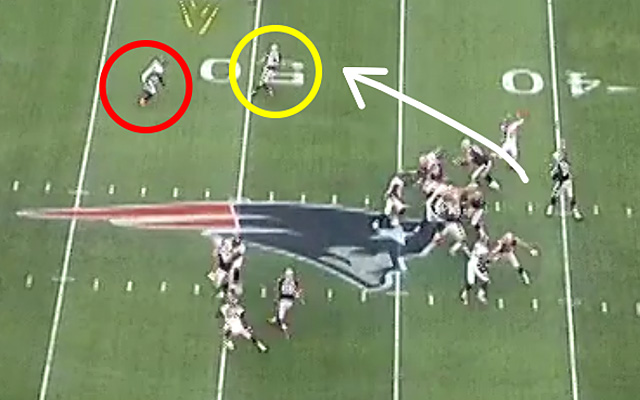 The one thing that did concern me while watching Welker was his inability to get deep against good man corners. When the 49ers put Carlos Rogers on him in December, Welker couldn't beat him deep, even when he took some shots. Welker still had a solid game, but on one of those deep routes Rogers picked off Brady for a big play.
Here's a look at that play. Rogers (red circle) lines up in press-man against Welker (yellow circle). It lookes like he has safety help over the top, but Dashon Goldson (blue circle) moves to his right at the snap. That leaves a big-play chance for Welker against Rogers. One problem: Welker doesn't win. Brady throws the ball anyway and Rogers picks it off and takes it back 53 yards to the New England 5. I saw more of this type of thing in several other games I studied. But that's not who Welker is as a receiver.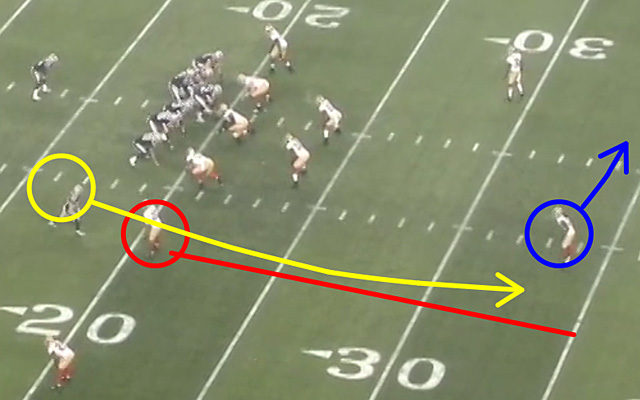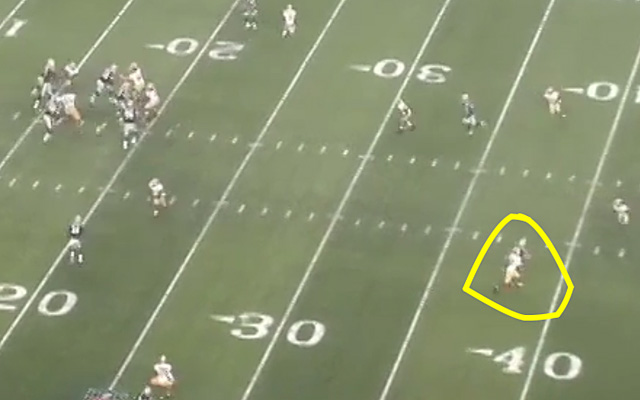 Summation: Welker is great at beating man coverage with his "hop" step route running. I say "hop" step because when he gets going, he seems to take a hop, trying to get the defender off-balance. When the defender moves one way, Welker is great at snapping the route back off the other way. He is also smart, as is Brady. So they work together.
But closing in on 32, Welker might not be worth that five-year deal. For the next three years, I think he can be the same guy -- or close to it. But it has to be with Brady. I just wonder what he would be like in another offense, where anticipation and creating favorable matchups aren't as pronounced. The Patriots play their offense inside/out because they don't have a deep passing threat. That's why Welker, Rob Gronkowski and Aaron Hernandez are so important to the passing game. But the Patriots are a slow team and Welker isn't a burner. Sometimes I wonder what a younger, faster player could do in that same spot catching passes from Brady. I don't think we'll find out. My gut is that Welker returns for a deal that is favorable to both the team and him. After all, Tom Brady wants him back.