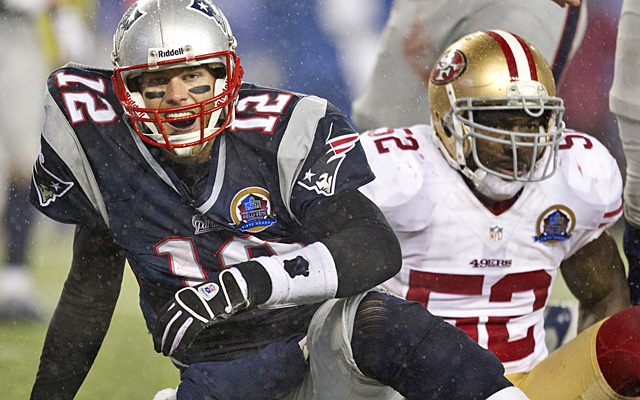 Sometimes, the rich just get richer.
Even within a construct like that in the NFL -- where the combination of draft order, revenue sharing, scheduling procedures and the structure of the salary cap work as a form of economic socialism -- some teams rise above and have themselves again poised to make noise in the offseason.
More to the point: Sometimes the smart get smarter. And the good get better. They do so despite picking at the tail end of each round. Despite having rosters loaded with expensive stars during a time in which that cap has stayed shockingly flat. Despite winning division titles and thus facing better competition in the ensuing regular season.
As it stands, the team that came a few plays from winning the Super Bowl, the San Francisco 49ers, and a team that came a half of football away from reaching the Super Bowl, the New England Patriots, stand in position as already elite franchises that enjoy a sudden luxury of excess in terms of draft picks and/or cap space.
The two biggest transactions of the past week highlight as much. Tom Brady, now an $11.4 million-a-year quarterback at a time when Joe Flacco will get close to $20 million a year, saved New England $15 million in cap space over two years through his restructured contract, making the Patriots primed to do damage in free agency. And with the jettisoning of backup QB Alex Smith -- who was clearly not in San Francisco's short- or long-term plans -- the 49ers opened up $10 million in cap space, and also picked up two high draft picks that could be powerful trading chips should they opt to pursue a star like Darrelle Revis or Percy Harvin.
More on NFL
Columns

---

Related links
NFL coverage on the go
Over the weekend during the combine in Indianapolis, after I learned that the 49ers had an agreement to deal Smith, I polled a few general managers as to his value. The highest I heard was one second-round pick, while several thought a fourth-round pick that could possibly rise as high as a second made sense.
Some talent evaluators said that they still didn't believe in Smith and looked at him as a limited quarterback; though some of those limitations do translate into a big part of Chiefs coach Andy Reid's short-to-intermediate passing game.
No one seemed to believe the 49ers could pull off a deal that would return, at most, two second-round picks, and at least two picks within the top rounds of the 2013 and 2014 drafts (Kansas City's pick this April is at 34, barely out of the first round for goodness sake). Especially with teams knowing Smith had a looming roster bonus, and with the teams pursuing him at a relative minimum, hats off to 49ers general manager Trent Baalke here.
The 49ers, including compensatory picks, now project to have 15 picks in a seven-round draft. That's levitation, homes ... or certainly sets them up to levitate. We've seen Patriots coach Bill Belichick stockpile picks for years, then masterfully use them as pawns on draft weekend to move up and down for specific players -- or to bolster reserves for the future, as need be. The 49ers can do just the same, and, given the injury situation with Revis, the timing could be perfect, with him rounding into form come late April and the 49ers having an arsenal of picks with which to lure the talent-starved and cap-strung Jets.
Belichick, for once, isn't loaded with draft selections. He did retain his team's picks in the first, second and third rounds, which obviously hold the most value. For a team in Super-Bowl-or-bust mode, you know Belichick will be willing to be aggressive. Some have reported New England is ready to shop backup quarterback Ryan Mallett; league sources who have been in contact with the Patriots say they would be surprised if Mallett is dealt given how young and cheap he is, and that the ransom it would take to pry him away likely won't be coming.
Thus, a team aiming only for a title realizes the import of insurance behind Brady.
In the immediate future, the Patriots can use the Brady cap savings to retain slot receiver Wes Welker and tackle Sebastian Vollmer. And several rival GMs expect New England to make a strong foray into free agency for a tall, speedy outside receiver.
Pittsburgh's Mike Wallace has been suggested as a likely target by some in the know, and, even though New England went after a deep threat last year in Brandon Lloyd, that didn't work out so well. Lloyd came cheaply enough and Wallace, though coming off a shaky year, has blazing speed and is just entering his prime.
New England, again, with a historically great quarterback counting about half as much against the cap as he should over the next five years, is also positioned to begin extending some of its emerging young talent on defense -- Devin McCourty, Brandon Spikes and Rob Ninkovich, to name a few. Let's just say, for example, the Patriots get Welker and Vollmer signed to multiyear deals, grab Wallace and package a few picks to move up and get one of the stud pass rushers in this draft, a year after nabbing Chandler Jones. Tell me that doesn't cause the rest of the AFC to shiver just a bit, given the talent base that already exists?
The 49ers want to bolster their situation at corner, and it just so happens to be at a time when the Jets feel like they must explore every possibility to get value for Revis, who before his ACL injury was pretty much a consensus as one of the 10 best players in football, regardless of position. And while the Vikings are still weighing their options with Harvin, tell me he isn't the kind of jack-of-all-trades that could make San Francisco's offense as fearsome as any. Imagine Harvin and Colin Kaepernick in the same backfield.
Maybe in the end none of it gets done, but after the Smith trade there is plenty of potential for San Francisco to be as creative and aggressive as the front office wants, with relatively few drawbacks. They're already a Super Bowl-caliber outfit as presently constituted. Ditto for the Patriots.
While I know the caveats of playing fantasy football in March and April, and I generally champion the virtues of being judicious with spending money in free agency in a sport where there are far more failures than great successes in that avenue, for teams with expectations as those in New England and San Francisco I say, fire away. If it takes trading a high pick and rewarding a player like Revis or Harvin with a fat new contract, well, go for it.
Neither team has been shy, whether it be benching Smith for Kaepernick late in the season, or Belichick rolling the dice on guys like Albert Haynesworth and Chad Ochocinco (now Johnson) two years ago. You don't sustain success in this league without being bold and ignoring detractors and avoiding the gridlock of groupthink that so often paralyzes others in the copycat NFL.
And suddenly, these two franchises are even more loaded than before to prey on the also-rans and wannabes, and feast on those less bright. In the NFL, pray for the meek, for they shall succumb to the Belichicks and Baalkes and Newsomes and Colberts and Thompsons and Schneiders. It's survival of the smartest and strongest out there, and the 49ers and Patriots just received the equivalent of draft and salary-cap HGH.