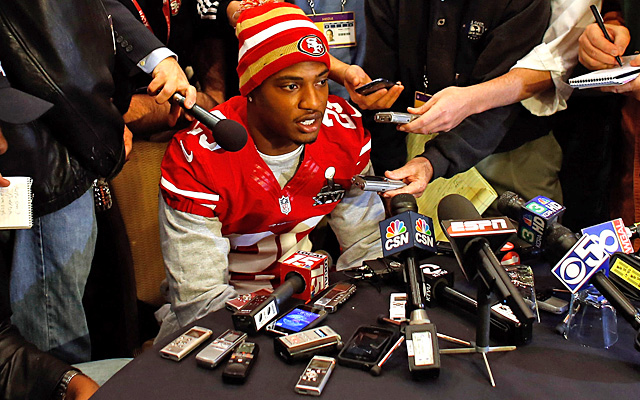 Come out, come out -- whoever you are.
Seriously, Mr. Closeted Gay NFL player. Please come out. We're ready for you, most of us. Your league is ready for you, most of it. As for everyone else? The bigots and homophobes like Chris Culliver once was, and like a handful of front-office executives apparently still are? Lots of them will come around once they get to know you, because that's how this works: Ignorant people are scared people, terrified of the unknown or misunderstood. So make yourself known. Make yourself understood. The bigots are there, but they're not the majority. Not in society, and not even in the NFL. That's what I believe.
Society is moving toward acceptance. Women are on the Supreme Court. An African-American is President. Gay people are members of Congress and the U.S. Senate, and a gay man is running the Golden State Warriors. An NFL locker room may not be a typical slice of society, but it's not another planet. It's not another era. It's here, and it's now -- and here and now, we're ready for you.
Society is moving forward. Not fast enough, no, but it's moving in the right direction -- and when you come out, whoever you are, it will accelerate the process. Hell, it might just end the process. When the NFL, the country's most popular pastime, has its first openly gay player -- and then its second, then third, then too many to count -- this issue dies. And it dies a happy death.
More on NFL
Related links
NFL coverage on the go
And the NFL is ready. Don't be fooled by the noise from Super Bowl week, when 49ers defensive back Chris Culliver said there was no room in his locker room for a gay player. Don't be fooled by the noise this week from the NFL Combine, where at least one team executive asked draft prospect Nick Kasa of Colorado if he likes girls and other teams reportedly asked Notre Dame's Manti Te'o if he's gay. General managers may be concerned that their league isn't ready, but general managers tend to be older white guys in their 50s and 60s. They run the NFL, but they don't represent the NFL.
Players are the NFL, and they're ready. Ravens linebacker Brendon Ayanbadejo, one of many enlightened young men in the NFL, happily predicts the league will have an openly gay player within a year or two. And when it happens, Ayanbadejo said, "We're going to be there to support that player and make sure he has a support group around him."
It's men like Ayanbadejo and Chris Kluwe and NFLPA president Domonique Foxworth -- who wrote powerfully this week for the Huffington Post about his own journey from ignorant quasi-homophobia to a place of understanding and acceptance -- who set the tone for the NFL.
Chris Culliver and those executives at the combine? They're outliers, as ignorant men so often are. I heard what they said, and I heard the death rattle of the NFL's homophobia, coughed up by some of its last remaining Neanderthals and rejected by almost everyone else.
Some of the best young players in the league, guys like Robert Griffin III, Connor Barwin, Trent Richardson and LaMichael James, are on record as saying they would be at ease with an openly gay teammate. James told OutSports.com, "I don't really care. As long as they help us win on Saturday and Sunday, what they do ... is their business."
We've reached the tipping point, and the surest way for the NFL to lose its last vestiges of homophobia is for a closeted gay player to come out if he's ready. Neanderthals may still be in the vicinity, but in any walk of life there will be the ignorant, the scared: You better look like me or dress like me or at least mate like me, or I won't understand you. And therefore I won't tolerate you.
They're on the run, though. Every time they open their mouth, the world crashes down on them. Don't listen to Culliver's words -- listen to the reaction, the overwhelming condemnation. The league recoiled at his words.
Chris Culliver recoiled, too. He has changed. That's another thing I believe. His reaction to our outrage was impressive and, to my ears, sincere. He quickly put out an apologetic statement but didn't leave it at that. He met the media for a half hour the next day, fielding pointed questions about his bigoted words and apologizing time and again. He said he will volunteer in the Bay Area with at-risk homosexual youth, and I believe him there, too. When the world came crashing down on Chris Culliver, he reacted with humility and even curiosity, wanting to know why people were so hurt. He found out. And he decided he was wrong.
That's what lots of people, some of the last Neanderthals in the NFL, will do when they find out who you are. Oh, you're gay? You? But we like you. We've always liked you. And we're going to like you going forward, too.
That's how this will go, I'm sure of it. So come out, come out, whoever you are. Because you could be anyone. And you are everywhere.
You'll be safe, because the good guys are winning. Come out, and the good guys will have won.