OWINGS MILLS, Md. -- The Ravens' front office was starting to count down the hours until the deadline to franchise quarterback Joe Flacco, with nerves setting in. Some of Flacco's teammates were reaching out to the media to see if their star passer was getting close on a new contract. And Flacco himself was doing what he does every Friday back in his New Jersey hometown.
Flacco's agent was about to agree to terms on a six-year, $120.6 million deal that would make the quarterback the highest-paid player in NFL history while players, coaches, fans and even some in the media were analyzing the minute-by-minute progress between agent Joe Linta and the Ravens. Meanwhile, Flacco, along with his wife and baby and his parents and grandparents, were chilling, eating pizza, enjoying a family tradition of rotating pizza Fridays and pretty much oblivious to it all.
That's Joe Flacco, folks.
He is what he is, or, "I'm going to be who I am," as he put it (can't help thinking about a Popeye reference here). He isn't going to change, newfound riches or not, and he wasn't going to retreat from his sense of what he was worth in this contract talks: $20 million a year. So while the Flacco clan munched on pizza, word began to leak that a deal was imminent; soon enough the texts came rolling in, and Flacco's family began to see various reports on TV that a deal was done, one that will pay him $29 million guaranteed and a record $62 million over the first three years of the deal.
"That's when it all starting breaking on TV," Flacco said. "And we're just sitting there."
Flacco, 28, was typically low-key, as he recalled the events at his press conference announcing the signing at the Ravens' facility Monday. He was savoring the moment in his ubiquitous manner, but not much in terms of outward celebration. Flacco's uncle looked at him at one point and asked how it felt to be the highest-paid football player ever. "I just kind of smiled," Flacco said.
Now, don't get me wrong, Flacco did allow that he went to get his car washed after the drive down from his home in New Jersey to the suburbs of Baltimore, usually less than a two hour drive. So this press conference day wasn't just another Monday. Then, after 30 minutes of questions from the media it was back to Jersey for a family celebration dinner, where invariably friends and loved ones would think back on his journey --leaving the University of Pittsburgh for tiny Delaware, then getting drafted in the first round, then enduring undue fan and media criticism only to become the reigning Super Bowl MVP. And tonight they'll be trying to wrap their heads around this latest monumental leap in their collective journey.
"Man, can you believe where we are?" Flacco could imagine the conversation going.
For the second time in sixth months Flacco and Linta had gambled on themselves, and both times they pulled out pocket aces. It started back in August, when they opted to play out the remaining year on Flacco's rookie deal, rather accept a five-year extension from the Ravens that would have paid Flacco about $16 million per year over those five new years, and including the $6.7 million left for 2013, would have averaged $14.8 million overall (right at the quarterback franchise tag he may have played under this season absent a long-term deal).
"I thought I was worth more," Flacco said Monday, without a hint of bravado, "and I didn't really see any circumstance where I wouldn't end up getting paid more ... I had confidence in myself and I had confidence in the guys around me."
Flacco also knew that he belonged in Baltimore, which has become like a second home, close to his Jersey home. That wasn't going to change.
"I always had a feeling we were going to get something done here, no matter what," he said.
Yet this weekend, the pressure started to mount, and Flacco and Linta did not blink. As a result they are getting roughly $24 million more than was on the table back in August, and about $18 million more guaranteed. Not too shabby, especially for a quarterback who never has been to a Pro Bowl and could live like a king on his rookie contract, as the spoils of life and fancy things don't mean much to him.
The looming franchise tag deadline spurred things to a conclusion. Ravens had until 4 p.m. Monday to apply the tag, which would have meant carrying Flacco at $15 million against their cap and handicapping their ability to retain their own talent, and/or add any from outside, when free agency begins next week (Flacco now ends up costing just $7 million against the cap in his new deal, sources said).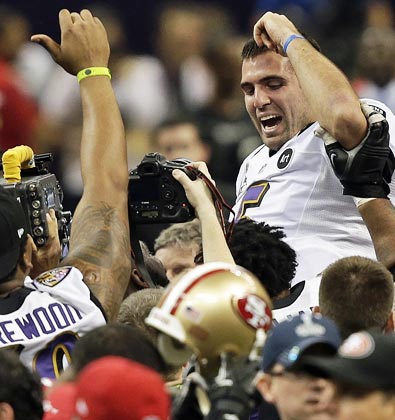 The Ravens were putting on the press, league sources said, trying to secure a meeting back in Baltimore, pushing for more negotiations. Flacco, however, had made it clear to Linta that $20 million was what he believed was fair, and Linta had prior commitments to a client's wedding in Houston, and couldn't get to Baltimore until Monday. Period.
Linta would not comment on the specifics of the negotiation, but clearly the Ravens met Flacco's demands. When I exchanged texts with Flacco Friday evening, after confirming that a deal was in essence in place, he still had not talked to Linta, who was scurrying through airports to make connecting flights. And ain't no way any agent is agreeing to a deal of this magnitude over the phone without speaking to his client in real time unless said client was getting pretty much exactly what he wanted. Linta and Flacco played a little phone tag, and at one point the agent left the player a voice mail saying they were getting close, but the reality is by the time they spoke about the specifics of the deal, word was out.
So while message boards and websites and television stations were going bonkers, chronicling the Flacco contract, Linta was heading to a wedding and the quarterback was eating pizza (unconfirmed reports that Flacco went for sausage and pepperoni Friday night). Flacco, who never has missed a snap, allowed during the press conference that he did end up thinking about the contract more as the franchise deadline approached -- "There was a point where I told [Linta], 'Alright, I'm getting a little anxious here, let's try to get this wrapped up,' " -- but he wasn't exactly sweating the details and didn't know all of the specifics even after he signed it on Sunday.
"It's not really about the money," Flacco said. "It's about the respect."
For Flacco, $20 million a year represents being acknowledged as one of the best in the game, and after doing nothing but win, and win big (historically big in terms of postseason victories), he believes that's what he is. And clearly, the Ravens agreed. Linta sensed early on that the compensation for Flacco reflected a larger sense of seeing how the organization valued him. Thus the player and agent were in lockstep when they walked away from the table in August, and Linta knew his client wouldn't be much different now, even with the threat of injury from playing on the franchise tag a possible deterrent. Working with a player this confident and headstrong is much easier than the alternative, Linta said.
"It's a lot easier," said Linta, who has a strong football background and a keen eye for talent that has allowed him to continually find undervalued potential gems like Flacco. "In August, we got together and looked at the market and got a feel for where Joe fell in, and we were on the same page then, and that hasn't really changed. It's a lot tougher to work with a guy who doesn't have that resolve, or doesn't have a realistic assessment of his value."
Nothing has come easy for Flacco, even in this crowning season, and he has remained a divisive figure of sorts in the cacophony of the blogosphere and talk radio, which has always boggled my mind. He's been a model citizen, an overachiever, a driven and dedicated kid who has placed football first and managed to block out the negative and nonsense often swirling around him.
He may not be the best sound byte in the league, and he isn't that fiery on-field leader or vocal leader that a quarterback seemingly should be. So what? Like I noted, he isn't gonna change, and if that means continuing to pile up playoff wins -- and road playoff wins at that -- then the Ravens never will complain (Flacco is just entering his prime and already has many playoff wins as Peyton Manning).
And now, at least for a few weeks, he stands as the highest-paid ever. Soon enough Green Bay quarterback Aaron Rodgers will break, if not outright shatter that mark (is $25 million a year and $70 million guaranteed out of line for Rodgers?), and that's perfectly fine with Flacco. He never thought he'd be mentioned in these terms anyway, and he can't help it if $20 million had become the new barometer for quarterback greatness, recently set by Peyton Manning and Drew Brees.
In reality, this is also a three-year, $62 million deal. In 2016, Flacco is set to count $29 million against the cap, with an $18 million base salary. Even with projected cap growth, that's a huge number. Thus the Ravens will enter the terrain teams like the Steelers and Giants know all too well, restructuring a quarterback deal. It's a good problem to have.
The Ravens could convert $16 million of that base salary to a bonus, pay it to Flacco in February of 2016, and trim that cap number back to a more tenable $19 million (and if they add a year on to the deal they could lower it by another few million based on salary cap prorations). So it won't be all that long until Linta is on the phone with the Ravens again, and given recent history, I wouldn't bet against Flacco at this point.
I'm guessing by that time, however, another $62 million richer, that Pizza Night might be always at Flacco's house, and he will always be picking up the check.