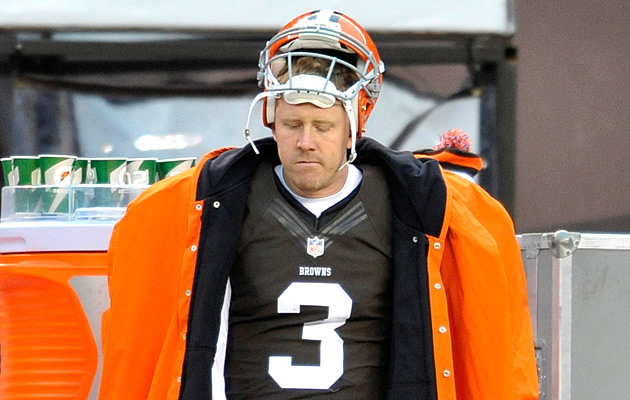 Team overview: Where to start? Some might say it began when the Browns lost out in the Robert Griffin III sweepstakes and had to settle for Brandon Weeden. Others trace the futility much further back. Since returning to Cleveland in 1999 as an expansion franchise, the Browns have finished above .500 exactly twice and made the playoffs once. So there's a long and distinguished history of underachievement.
As for the 2012 season, it starts with the quarterback. In this case, the 29-year-old rookie Weeden, who has been serviceable. This is fine if you're looking for a backup; less so if you're talking about a first-round pick and the supposed franchise quarterback.
Pat Shurmur won nine games in his two seasons as coach. When new owner Jimmy Haslam took over last August, the writing was on the wall for Shurmer, who was eventually fired after the season. Rob Chudzinski, who had worked as an assistant in Cleveland on two previous occasions, returned to the organization after serving as the Panthers' offensive coordinator. The team also hired two of the best coordinators in the league -- Norv Turner to revamp a predictable offense, and Ray Horton, who came from Arizona by way of Pittsburgh, where he learned how to put together a game plan under Dick LeBeau.
The team also appears set to move on from Pro Bowl kicker Phil Dawson, who at 38 may be on the downside of a great NFL career.
[Related: CBSSports.com's Top 100 free agents]
What the depth chart tells you: The Browns are long on youth and athleticism and short on experience and, ultimately, winning. This group started the season 0-5 before ending things on a three-game losing streak. The upside: They managed to go 5-3 in the intervening two months. It's not much but it's something. And the building blocks are in place to build on that in 2013.
Yes, drafting Weeden was a gamble, but Cleveland hit the jackpot with running back Trent Richardson, taken third overall. He's a dynamic player whose biggest issue was not getting the ball enough.
The offensive line did a good job of protecting Weeden (the unit ranked 12th in adjusted sack rate, according to Football Outsiders), and that's due in part to left tackle Joe Thomas' continued dominance, as well as the emergence of rookie right tackle Mitchell Schwartz. 
On defense, there's an underrated line featuring Jabaal Sheard and Ahtyba Rubin, middle linebacker D'Qwell Jackson, and one of the NFL's best young cornerbacks, Joe Haden.
As for Weeden, it appears his job is safe for now. There was speculation that the new regime might want to go in a different direction, even though the Browns used a first-round pick on the 29-year-old quarterback last spring. But Turner has said that he likes what he's seen on tape, and the reality is that there's not much else out there -- either in free agency or the draft. Alex Smith is with the Chiefs, and this year's college crop is average by 2012 standards.
Third-year wide receiver Greg Little battled inconsistency last season, but the team has been impressed with his maturation. For Josh Gordon,  concerns about work ethic have come up, though it appears coaches got through to him late in 2012. Meanwhile, Josh Cribbs, who has been with the Browns for seven seasons, is an unrestricted free agent and could be elsewhere in 2013.
Ideal free-agent and draft strategy: If we had a time machine, we'd implore the Browns to give up their two 2012 first-round picks to move up and take Robert Griffin III. And if your argument is, "But they wouldn't have been able to get Richardson!" we'd quickly remind you that this team won five games and still isn't settled on a quarterback. And then we'd add this, which we always trot out anytime the conversation turns to the importance of running backs: The previous 10 Super Bowl winners didn't have a high-priced, top-five back on the roster. What they did have, however, was a franchise quarterback. Teams can survive without one but not the other.
It's not all bad news, though; the Browns have some $50 million in salary-cap space, and there has been speculation Haslam won't be afraid to use it. One name that keeps coming up: Ravens free-agent linebacker Paul Kruger, who had nine sacks in 2012 and could be looking for a payday in the range of $8-million-$9 million a season.
The Browns have the sixth-overall pick in April's draft, and with a deep pool of defensive players, the organization could look to bolster that side of the ball. NFLDraftScout.com's Rob Rang and Dane Brugler have Cleveland taking BYU defensive end Ziggy Ansah and LSU linebacker Barkevious Mingo, respectively.
What will happen in 2013: Conventional wisdom says things will look a lot like the previous 14 seasons. The biggest key will be if a new coach and a new front office will be able to turn things around where others failed. That starts with determining if Weeden is the future. 
-- By Ryan Wilson

Click on the dropdown above to find previews for all 32 teams as we head into free agency.