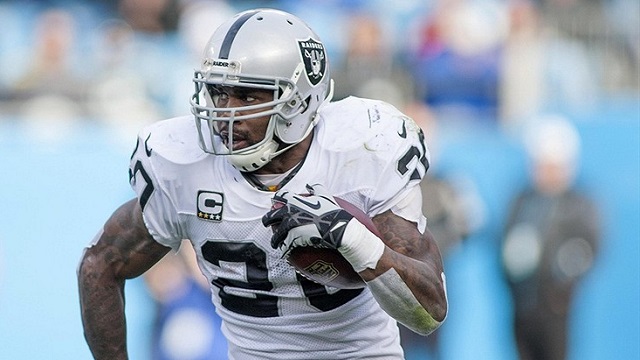 1. Team overview: The Raiders play in a division where only one team had a winning record last season, so that means there's room for someone to move up. One problem: The Raiders probably aren't that someone. Since losing to Tampa Bay in Super Bowl XXXVII, Oakland not only hasn't had a winning season; the Raiders are a combined 49-111 and finished last or tied for last in the AFC West five times. But it's not just that they stink; they've become irrelevant, and the hires of GM Reggie McKenzie and coach Dennis Allen were supposed to change all that. Only one year later, we're looking at a 4-12 mess, and disgruntled fans want to know: What's changed? Good question. The Raiders can talk about a "commitment to excellence," but it's time they demonstrated it. Acquiring Carson Palmer was supposed to solidify the quarterback position but he hasn't done much since arriving. In fact, he's 8-16, with 35 touchdowns and 30 interceptions. But Palmer has company, with virtually no one excelling on an offense that last year ranked 18th in yards and 26th in scoring. Unfortunately for Oakland, virtually no one on defense excelled, either, with the Raiders producing just 19 takeaways. Only six teams were worse.
[Related: CBSSports.com's Top 100 free agents]
Biggest concern: Finding a No. 1 wide receiver. Darrius Heyward-Bey isn't that guy. Neither is Denarius Moore. Do Palmer a favor and find him a dependable receiver.
2. What we know about this depth chart: There isn't much to like here, but there is running back Darren McFadden. If he can ever figure out how to make it through a season unharmed, maybe, just maybe, the Raiders have a chance to move forward. McFadden is the centerpiece of an offense that has trouble scoring, but the Raiders will try to make changes there by moving away from zone-blocking schemes and going more to a downhill approach -- both of which should suit McFadden. While Palmer threw for a lot of yards, he didn't throw for many wins ... and he made just enough mistakes to sabotage him and his teammates. Of course, Palmer doesn't have a top wide receiver, and his offensive line wasn't very good, so he has built-in excuses. But at 33, Palmer's best years might be behind him, which means that maybe, just maybe, the Raiders should start looking for a quality backup. First, however, they can look for protection for Palmer. Only two players on the offensive line -- left tackle Jared Veldheer and center Stefan Wisniewski -- are guys I'd trust. With guard wide open, look for Tony Bergstrom to get a crack at one of the two positions. The defense has a raft of needs at virtually every spot but safety, so figure on the Raiders spending heavily here in the draft ... and maybe free agency. They might be in the market for a punter, too, with Shane Lechler coming off a subpar year and becoming a free agent. If he leaves, look for Marquette King to get first shot at his job.
Areas of biggest need: Wide receiver, cornerback, linebacker, pass rusher, defensive tackle, offensive line.
3. Free-agency strategy: The Raiders weren't major players in free agency a year ago, and I wouldn't expect them to be this time around, either. That doesn't mean they don't have holes to fill. We already pointed out they have more than most teams. They'll lose defensive tackle Richard Seymour, for instance, and could cut Tommy Kelly to gain cap relief. That means there's a gap in the middle of their defensive line someone must fill. Their cornerbacks were so atrocious last season that Michael Huff had to move from safety, and while he wasn't bad at cornerback he's still a safety. If the Raiders do anything, look for them to try to find an edge pass rusher -- basically because they don't have one. They either find him here or in the draft, or both. I'd look to a Cary Williams or Marcus Trufant as a free agent, or maybe make a play for Green Bay restricted free agent Sam Shields. The Raiders don't have a lot of money to spend, which is why they'll be careful where they go here.
Guys I would target: Shaun Smith, Cary Williams, Leodis McKelvin, Marcus Trufant.
4. What should happen: Patience, that's what. The Raiders have so many needs it'll take time for this club to get things straightened out. They have a credible quarterback in Palmer, but someone forgot to get him credible wide receivers. So do it. Play to your strengths, and McFadden is Oakland's strength. Junking the zone-blocking schemes is a smart move. Allen knows defense, so he must make this unit into something closer to what he had in Denver -- finding high-effort, all-out guys like defensive end Lamarr Houston. Time is not on his side. Coaches typically have three years to prove themselves, and he's one down in that department. If you're in the same division as Peyton Manning you better have either a decent pass rush or solid cornerbacks or both. Oakland has neither, and Allen should start there.
-- By Clark Judge

Click on the dropdown above to find previews for all 32 teams as we head into free agency.