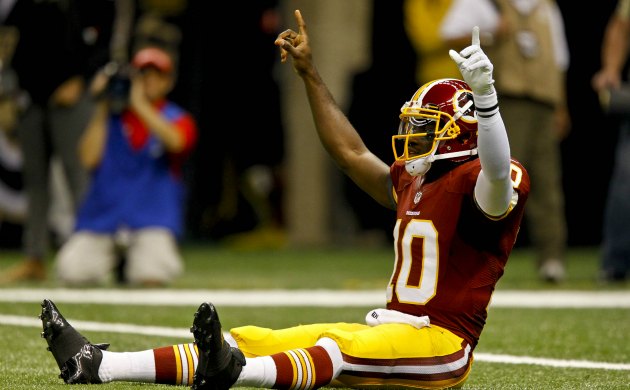 Team overview: The season-ending image of Robert Griffin III being helped off the field late in the playoff loss to Seattle was maddening (and much of that anger landed directly in the lap of coach Mike Shanahan -- and deservedly so). Not just because Washington's season was about to end, but because the rookie quarterback who had helped turn around the franchise in his first season had been hurt badly yet again. But Griffin's goal is to be ready to play by Week 1 in 2013, and even if he's off by a couple weeks, it's clear Washington last year found its franchise quarterback and a pretty darn good running back in rookie Alfred Morris. Which, of course, is excellent for the Redskins.
But the Redskins fielded one of the worst defenses in the league, and in 2013, they'll have to figure out a way to successfully rush the opposing quarterback (missing defensive end Adam Carriker and linebacker Brian Orakpo for most of 2012 certainly didn't help).
After starting the season 3-6, the Redskins rebounded to win the final seven games of the regular season, including beating the Cowboys in Week 17 in what amounted to an NFC East title game. Aside from Griffin's knee problem, 2013 went very well for Washington.   
[Related: CBSSports.com's Top 100 free agents]
What the depth chart tells you: First of all, know this: Washington's quarterback situation for 2013 (Griffin, Kirk Cousins) is SO much better than the 2011 duo of Rex Grossman and John Beck. I mean, it's laughably better. I mean, it's a comedy team of Eddie Murphy, Louis CK and Richard Pryor hilariously better. Even with Griffin missing time with a concussion, Cousins emerged from the bench and beat the Browns in his only start of the season. Combine that with a solid slate of runners (Morris and Griffin, though Roy Helu and Evan Royster also should be contributors), and you've got the makings of a strong offense.
But the Redskins need to improve their receiving corps. Pierre Garcon was impressive, but nobody on the team (not Josh Morgan, not Brandon Banks, not Santana Moss) broke the 50-catch mark this season. Part of that might be due to Griffin's success as a runner, but that will need to be tweaked next season. The Redskins also need to find a tight end. Fred Davis and Chris Cooley are unrestricted free agents (and Davis, coming off a season-ending Achilles injury is No. 40 on our top-100 list), while Logan Paulsen is restricted.
Defensively, the Redskins shouldn't lose any impact defensive players to free agency, unless you count safety Madieu Williams (and I don't). According to Football Outsiders, the Redskins defensive line was decidedly average against the run, and rushing the passer, they ranked in the bottom quarter of the league. Assuming Carriker and Orakpo are healthy, those rankings should improve in 2013. Though he's only a backup linebacker, the Redskins would like to re-sign Lorenzo Alexander, but that's also because he was a Pro Bowl special teams player in 2012. Assuming linebacker London Fletcher returns, he's good for another 130-plus tackles, even if he'll turn 38 next May.
But Washington needs to improve the secondary. DeAngelo Hall recorded four interceptions, but he struggled this season (Pro Football Focus calls him the second-most overvalued player on the team behind left tackle Trent Williams). The rest of the secondary isn't much better -- and safety Brandon Meriweather is coming off an ACL tear, so he's a question mark as well.
Ideal free agent and draft strategy: The good news for Washington is that the Redskins are solid or better in most areas of play, and they won't need to remake whole parts of their team this offseason. The bad news is that their offseason moves will be limited. Washington, because of the trade that brought it the Griffin pick, won't have a first-round draft pick, and the NFL owners took away $36 million over two years from the team's salary cap for overspending in 2010. Either way, the Redskins could do with a quality right tackle and a tight end on offense, but the biggest issue that should be addressed as soon as possible is finding secondary help for the defense.
What will happen: The Redskins are going to have a tough time making an impact on free agency, simply because of their cap problems (reportedly, the team still is trying to determine if it should fight the league in court over this matter). But the Redskins highest priority has to be the secondary -- at cornerback and safety. They can't afford free agents like Sean Smith or Aqib Tailb, so they'll have to make the right choices in the draft room. Find those guys -- perhaps Oregon's Jordan Poyer or Southeastern Louisiana's Robert Alford at cornerback, and LSU's Eric Reid or Fresno State's Phillip Thomas at safety -- and maybe Washington can make a deeper run in the postseason in 2013.

-- By Josh Katzowitz
Click on the dropdown above to find previews for all 32 teams as we head into free agency.