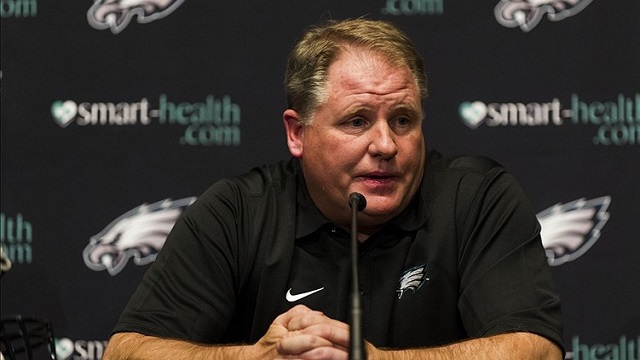 A year ago I envisioned Philadelphia as the can't-miss team in the NFC East. Only one problem: They missed. So something had to be changed, and something was. Meet Chip Kelly, Andy Reid's successor and the Eagles' first new head coach in 15 years. Kelly's college resume is impressive, but it's not USC or Stanford he must overcome now. It's RG3 and Eli Manning, and good luck.
[Related: CBSSports.com's Top 100 free agents]
1. Team overview: Seldom has less been done with more than with last year's Philadelphia Eagles. They had the talent to go to the top of the NFC East but, instead, plummeted to the bottom, losing games, coaches and Andy Reid along the way. Kelly succeeds Reid, bringing with him a face-paced, wide-open offense that carried the University of Oregon to a zillion victories and demands stamina, speed and depth from anyone involved. Kelly's challenge is twofold: 1) find a quarterback to run his offense, and 2) satisfy passionate Eagles' followers who tired of Reid and were eager to move on. Michael Vick is the logical candidate to quarterback this team, but he's an injury waiting to happen -- with only one complete season in 10 years on the job. But that's not all. He's a turnover waiting to happen, too, and that's more of a concern. The Eagles will be more intriguing on offense, but the question is: How successful will they be? And how do they avoid the giveaways that characterized their last two seasons when they committed 75 in 32 games? If Vick is your quarterback, I don't know the answer.
Biggest concern: Quarterback. Who's going to run Kelly's offense? Vick's the logical candidate now, but let's revisit this subject after the draft.
2. What we know about this depth chart: There are plenty of needs beyond quarterback, and I'd start with an offensive line that last year was decimated by injuries and, frankly, stunk. Left tackle Jason Peters is expected back, but I don't know how effective he'll be -- not after an Achilles' setback. Kelly's scheme is frenzied, running guys from play to play. it's the Paul Westhead approach to football, and I'm not sure how his zone-blocking ideas mesh with what Philadelphia has up front. The club is set at the skill positions but could use more productivity out of the sometimes explosive DeSean Jackson -- especially after the big deal he signed a year ago. Once upon a time defense was the backbone of this team, but not anymore. The secondary is a mess, with changes needed almost everywhere, and the club could use someone other than Fletcher Cox and Cedric Thornton at defensive tackle. The Eagles were 15th in overall defense, which is OK, but tied for 29th in points allowed (27.8 per), which is not. Plus, they produced an NFL-worst 13 takeaways, including only eight interceptions -- with four in the season opener. Somebody cue the Beatles' "Help."
Biggest areas of need: Quarterback, cornerback, safety, offensive tackle, outside linebacker.
3. Free-agent strategy: The Eagles haven't had a quality safety since Brian Dawkins left four years ago, and while this draft is loaded at the position I might start there when looking for veteran help. There is quality up and down the line, with someone young like a Chris Clemons of Miami or William Moore of Atlanta available. Of course, so is San Francisco's Dashon Goldson, but reports have him seeking $8 million a year. Plus, he turns 29 in May. They could look for cornerback help here, too, with guys like Shaun Smith, Cary Williams or Greg Toler expected to hit the market. That position isn't as deep in the draft, and after the years Nnamdi Asomugha and Dominique Rodgers-Cromartie had anything new is an improvement. Reports have linked San Francisco's Ricky Jean-Francois to the Eagles, and I can see them going for help anywhere on the defensive line. In fact, they should go for anything ... period ... on defense. The unit was a mess, with one coordinator worse than the guy he replaced. Philadelphia needs to get back to an aggressive, attacking scheme that forced turnovers, and look for the club to make additions with that in mind.
Guys I would target: Sean Smith, William Moore, Greg Toler, Glover Quin.
4. What should happen: What should happen is that Kelly starts clearing out overpaid underachievers left over from 2012, and it looks as if he's on that track. The Eagles should have been better, much better, than they were a year ago, but mistakes, injuries and downright lackadaisical play sank the club. Injuries can't be prevented, but mistakes can. Which is why I'm intrigued by what Kelly does with his quarterback. Vick is a guy constantly getting hurt, and, when he's not, he's someone who can't hold on to the football. Over the past two seasons (23 games) he has 31 turnovers and a 10-13 record. Plus, he turns 33 in June and hasn't won a playoff game since the 2004 season. And that's the guy you want running your club? I don't think so. Kelly must start over here, and I would say the renovation begins with his quarterback. My guess is that the Eagles' next starter is not on the roster.
-- By Clark Judge
Click on the dropdown above to find previews for all 32 teams as we head into free agency.