With Dwayne Bowe staying with the Kansas City Chiefs, it leaves Pittsburgh's Mike Wallace and Green Bay's Greg Jennings as the top two free-agent receivers on the market.
In studying those two, I couldn't imagine two more different receivers.
If you want polished routes, smart play against zone coverage and the ability to adjust to the football, the 29-year-old Jennings is your man.
The 26-year-old Wallace is speed player capable of taking it 65 yards anytime he touches the football.
Jennings is the reliable car.
Wallace is the drag racer.
Jennings is the guy who shows up every week to do his job.
Wallace flashes and then disappears.
But here's why I prefer Wallace: He can open up those jets and stretch a defense. Jennings can't.
To be fair, Jennings was bothered most of last season by hamstring and groin injuries that kept him out of eight games and limited him to five starts. But he had only five 20-plus catches and one of 40-plus.
Wallace, who was limited by a bad offensive system, one that didn't cater to his deep speed, had nine catches of 20-plus yards and four of 40-plus yards. In the past three seasons, Wallace has 21 catches of 40-plus yards and Jennings has 11. That's significant if you are paying top dollar to a receiver.
There are inconsistencies from Wallace. He seems to drift during games, which Jennings does not. He also drops the ball too much, which seems to be a focus thing for him.
Jennings, on the other hand, is as disciplined a receiver as you will find, his craftiness the key to his ability to put up numbers.
It looks to me at times that Jennings had a tough time separating from man coverage last season, something that had not a problem for most of his time in Green Bay.
Here's a look at two plays that illustrate that. The first came in the opener against San Francisco. You can see Jennings blanketed down the field by corner Carlos Rogers, who did a nice job on him in that game. The second play came in the regular-season finale against the Vikings. Jennings, lined up in the slot right, is in man coverage with Vikings nickel corner Marcus Sherels. Jennings (yellow circle) ran a corner route and Sherels stayed with him step-for-step. That's the kind of play that Jennings used to win with regularity. And it's not like Sherels is a top-level corner either.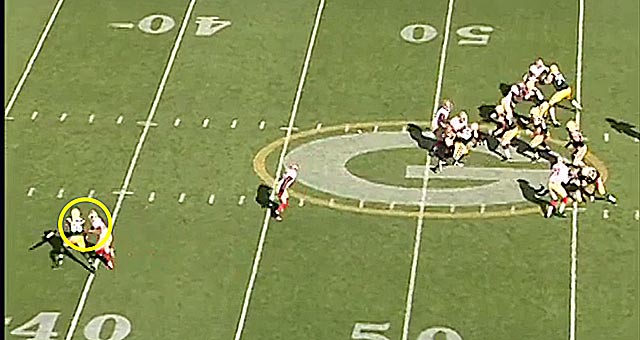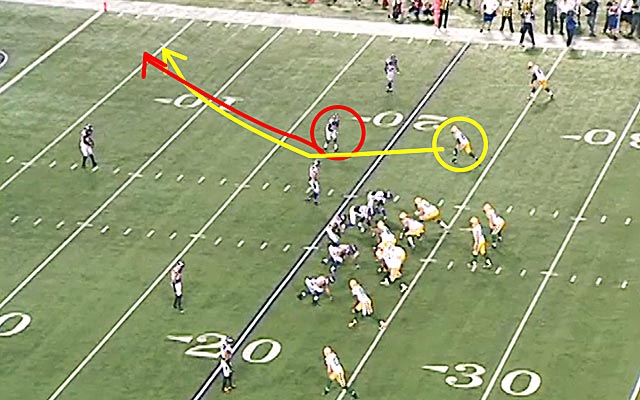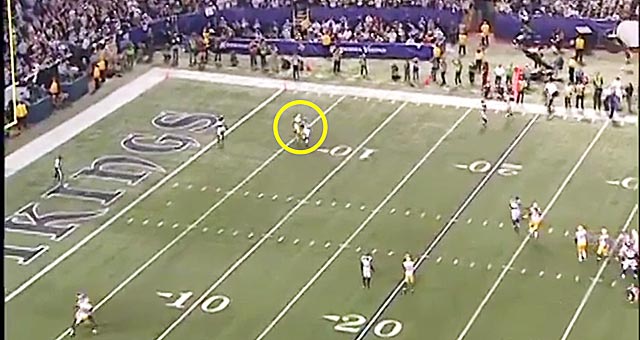 By contrast, here are two pictures that show off the deep speed of Wallace, even if the plays weren't made. The first came in the opener against Denver. Wallace (yellow circle) was lined up wide left against Tracy Porter in man coverage. He beat him off the line and had a step on him, but Ben Roethlisberger was late with the throw and Porter made a great play to knock it away. It should have been six.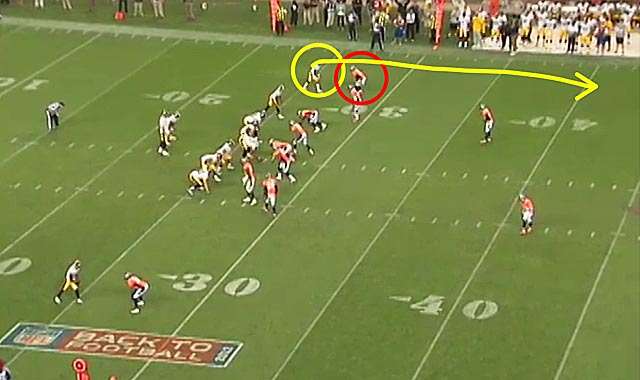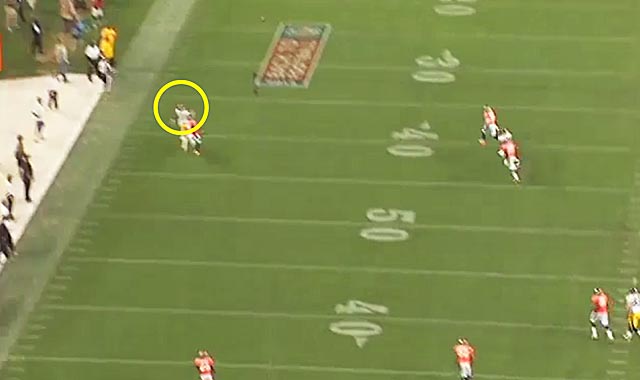 Here's a play against the Giants where Wallace has a step on the corner (yellow circle), but Roethlisberger decided to throw short to fullback Will Johnson (red circle). That's another play that should have been a touchdown to Wallace.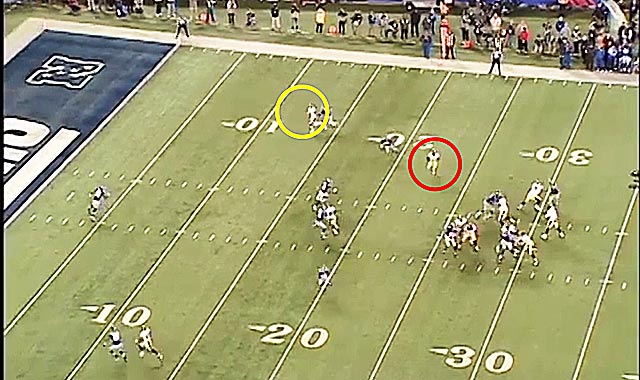 Jennings' biggest play of the season was a 45-yard catch-and-run against the Vikings. The pictures below show why he's so effective and how the play was made. The Vikings blitzed Sherels, which Jennings and Aaron Rodgers both read. Jennings sat down in the area in front of the safety and caught a quick throw from Rodgers. He then turned it into a big play with his ability to run after the catch, making a sharp cut to get to the right sideline and get the big play. That's what makes him so good, his ability to read the defense and make quick decisions and quick moves after the catch.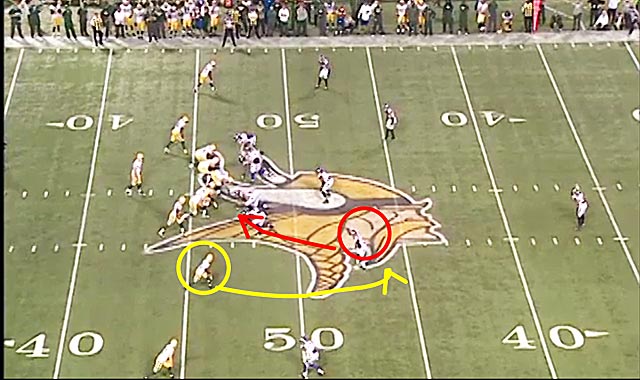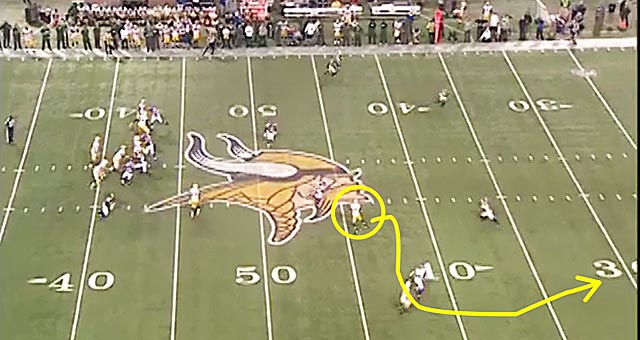 The thinking is that Wallace can't do that, that he is a pure speed guy. But in studying his games, there were plays that say he can do it when he's focused. The best of those plays came against the Giants when he took a slant and turned it into a 51-yard catch-and-run for a touchdown.
Here's a look. That's Wallace (yellow circle) lined up wide right in man coverage. He ran a hard inside slant across the face of the corner and safety Stevie Brown took a bad angle and had no chance against the Wallace speed. Wallace then ran through the defense, even those defenders with angles, and got to the left sideline where he galloped in for the score. That's what speed can do to a defense, even on crossing routes.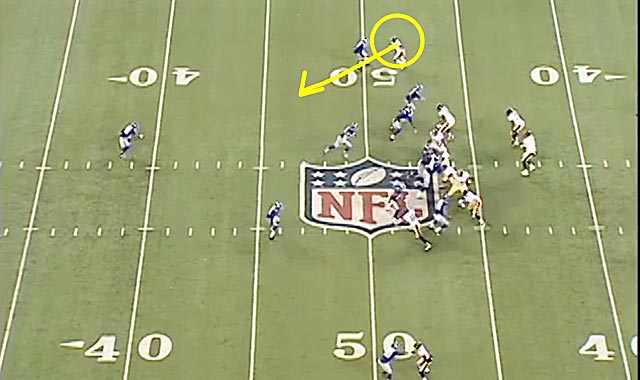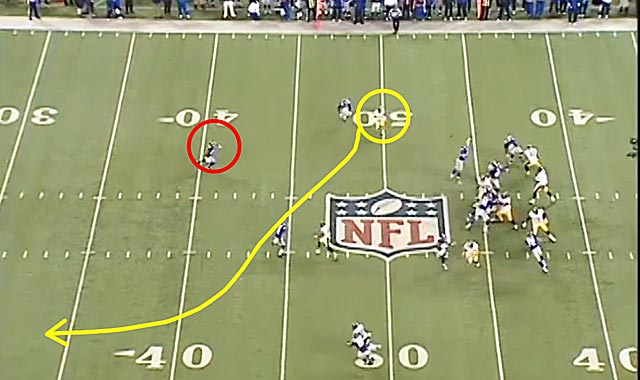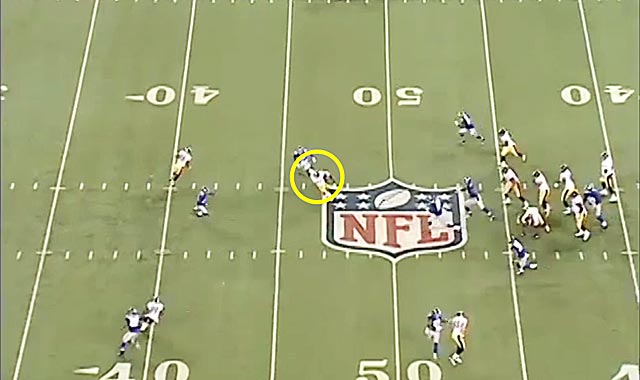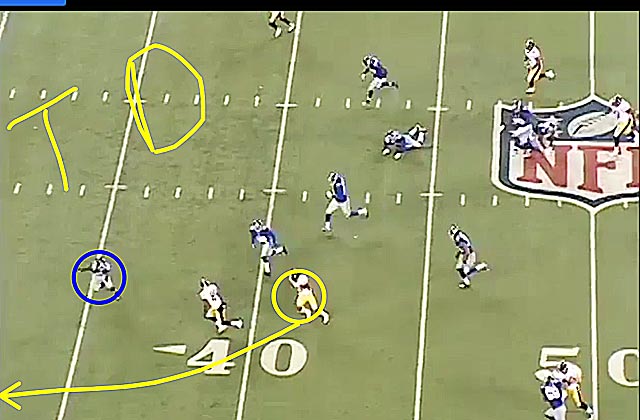 Wallace did have drops at some key moments and concentration seemed to wane at times. Jennings does little of that, which might make him more attractive to a team looking for a 65-catch guy who will show up and work when he's healthy. Some scouts see Wallace as a gamble, a speed guy who didn't give his all last season after a contract holdout. These are two different players for sure, even if they play the same position.
Summary: What do you want? Speed or polish? I always side with the speed guys. Wallace, to me, is younger and faster. That means something. Yes, he's inconsistent, but that's where the coaches should come into play. I know a lot of teams get scared off by guys like Wallace, preferring safer, more reliable receivers. But that speed kills. It backs off defenses. It forces doubles. I'm not sure Jennings is worth a double anymore. At least not from the player we saw last season. For my money, it's Wallace -- and it's not close.