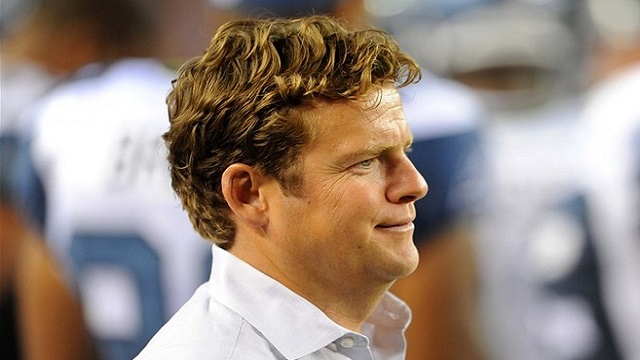 Team overview: Pete Carroll and the Seahawks made plenty of gambles last season and they seemingly all paid off in jackpot form. The gambling started in the 2012 draft when Seattle  raised some eyebrows around the league by taking Bruce Irvin with the 14th overall pick. All Irvin did in 2012 was tally 8.5 sacks, which led all NFL rookies. 
The gambling continued on opening day when Carroll decided to start a rookie third-round draft pick at quarterback. Russell Wilson made Carroll look like a genius by leading the Seahawks to their first winning season since 2007 and their first road playoff win in over 30 years. Wilson's 26 touchdown passes tied Peyton Manning's rookie record and the Seahawks 11 wins in 2012 were the third most in franchise history. 
Wilson and Irvin weren't the only rooke stars for the Seahawks last season. Of Seattle's 10 2012 draft picks, five started at least one game. The bottom line here: the Seahawks are young, the Seahawks are talented and the 49ers should expect a dogfight for the NFC West title in 2013.
From a coaching standpoint, the biggest question mark for Seattle is going to revolve around the departure of defensive coordinator Gus Bradley, who left in January to become the head coach of the Jaguars. Dan Quinn -- who coached the Seahawks defensive line from 2009-10 -- will replace Bradley and it will be Quinn's job to make sure the Seahawks don't fall far from the No. 4 overall defensive ranking the team earned in 2012.  
[Related: CBSSports.com's Top 100 free agents]
What the depth chart tells you: If you have a copy of the Seahawks 2012 depth chart, you may want to hold on to it, it's going to look pretty similar in 2013. Seattle returns all 11 starters on offense and nine of 11 starters on defense.
Offensively, the Seahawks need to focus on two things this offseason: finding a true weapon at wideout for Russell Wilson and making an upgrade at right tackle. Doug Baldwin, Golden Tate and Sidney Rice are serviceable receivers, but the Seahawks currently lack a true home run threat. Of those three, Tate definitely has the best chance of turning into Wilson's "go-to" receiver.
At right tackle, the Seahawks will have to decide if they want to move forward with Breno Giacomini. Giacomini was flagged 12 times in 2012, a number topped by only three other players in the league. 
Defensively, the Seahawks need to beef up the pass rush. The Seattle defense was the worst in the NFL on third-and-longs (10 or more yards), allowing opponents to convert a league-high 33.8 percent. With Branch possibly leaving and Chris Clemons coming back from an ACL tear, it will be imperative for the Seahawks to add a pass-rushing defensive lineman.  
The other big question mark is backup quarterback Matt Flynn. The Seahawks reportedly have no plans to release him, but seem open to trading him. A logical trading partner could be the New York Jets. Flynn has never had a butt-fumble in his career, which the Seahawks might be able to use as a selling point.
Also, new Jets general manager John Izdik spent the past six seasons with the Seahawks and was in Seattle when the team signed Flynn. So there's some familiarity on that end. 
Ideal free agent and draft strategy: The Seahawks are sitting pretty as far as the salary cap goes, with a reported $16.95 million in space. Although Carroll's philosophy has been to build young and build from within, Seattle could make a run at a high-priced defensive linemen like Dwight Freeney, Osi Umenyiora or Chris Canty if Carroll thinks that will help bring a Super Bowl title to Seattle.
The same could be said for wide receiver, but don't look for the Seahawks to go overboard in free agency. As for the draft, the Seahawks have 10 picks, so if they see someone they really like in the top 20, they have the ammo to trade up.  
What will happen: By all accounts, two of the deepest positions in this year's draft are defensive linemen and wide receiver, two positions of need for the Seahawks. Seattle will most likely fill one of those two positions with its first pick in the draft.
If the Seahawks go the receiver route, don't be surprised to see West Virginia's Tavon Austin, Tennessee's Justin Hunter or Cal's Keenan Allen in a Seattle uniform next season. With 10 picks in the draft, don't look for the Seahawks to make a huge splash in free agency.  
-- By John Breech
Click on the dropdown above to find previews for all 32 teams as we head into free agency.