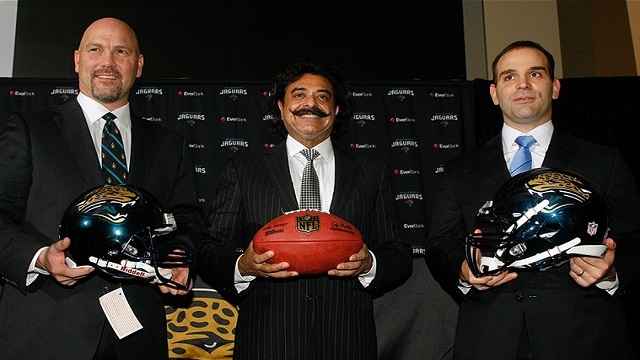 1. Team overview: This club isn't very good and hasn't been for a long time. The Jaguars haven't had a winning season the last five years, going 27-53 over that stretch, and went through four head coaches and two GMs in the past two. Not good. Now, it's up to former Seattle defensive coordinator Gus Bradley to raise the Titanic, and good luck. He inherits the 29th-ranked offense, the 30th-ranked defense and a team that bottomed out with its worst record in franchise history. The Jaguars are short of good, young players and may have to make a change at quarterback, where Gabbert has done little to prove he can lock down the position. Bradley, the NFL's only new head coach with a defensive resume, may try to rebuild this team from the inside out -- relying on the draft to deliver the competent players who are missing. The question, of course, is: Will that include a quarterback? Gabbert has done next to nothing in two years here, and it's sink-or-swim time. Either he makes it now or punches his ticket out of town. Having a healthy Maurice Jones-Drew back is a plus, but don't kid yourself. He can't carry this team. Nobody can.
[Related: CBSSports.com's Top 100 free agents]
Biggest concern: Quarterback. Either Gabbert makes it or he doesn't ... and the odds are against him.
2. What we know about this depth chart: Well, first of all, it's deficient in a lot of areas. Second, there should be changes galore, especially with a new head coach. Remember when Seattle made 280 roster moves in Pete Carroll's first season? Think more. Third, the quarterback is a project who looks good occasionally, not so good usually and has this season to prove he belongs. And last, the defense that once was a hallmark of this franchise is in for a makeover. Bradley will start playing a 4-3, basically because the personnel is suited to that scheme, but look for the Jags to transition more and more to a hybrid unit that plays a 3-4 on third downs. As the roster changes, so will the defense, and Bradley hopes to find players in the draft that Seattle did under Carroll as it went from also-ran to a Super Bowl contender. He must get more production from his defensive line, with the Jags probably using their first draft pick on that position, and must find more than one cornerback. Neither Derek Cox nor Rashean Mathis is expected back, and Aaron Ross has been a disappointment since leaving the Giants.
Biggest areas of concern: Quarterback, cornerback, right tackle, wide receiver, linebacker.
3. Free-agency strategy: The Jags are considerably under the cap, which means they could be active in free agency. But I don't expect they will be. That's opinion-based more on what Caldwell's history was when he was with Indianapolis in 1998 and Atlanta in 2008. Both teams were train wrecks, and both built through the draft -- not by spending big money on high-profile free agents. The Jags have a raft of unrestricted free agents, and I wouldn't expect them to fight to keep any except if it were someone like, say, a Brad Meester for a one-year deal. Nope, this is a team in need of major surgery, not Band-Aids, and Caldwell will look to the draft for recovery. I expect Jacksonville to sit out the first wave of free agency and maybe the second, too. Then, if the Jags find a Jason Jones out there -- someone who played under Bradley in Seattle and can't find his market-value -- maybe they move to add him through a cap-friendly deal. Bottom line: Jacksonville won't look to free agency for a major fix.
Guys I would target: It doesn't look as if the Jags plan to swing into the free-agent frenzy -- sitting out the rush until the smoke clears. Given that scenario, I'd look for a Darius Butler, or a Cary Williams, Marcus Trufant or Leodis McKelvin. I'd pay attention to what happens to defensive linemen Desmond Bryant, Jason Jones and Alan Branch, too, with Jones and Branch playing for Bradley in Seattle.
4. What should happen: What should happen is that someone, anyone, must make a determination quickly on Gabbert. Everything begins with the quarterback, and if you don't believe it's the most important position out there you weren't paying attention to the Baltimore Ravens. Until or unless Jacksonville solidifies the position, the Jags go nowhere. Look, Seattle wasn't half bad until Russell Wilson arrived. OK, actually, they were. Under Pete Carroll they were 15-17 before hitting it big last year. Quarterbacks make the difference, and, yes, having Jones-Drew in the backfield is a plus -- heck, he ran for 1,606 yards the last time he was healthy -- but he goes nowhere if there's no threat of a competent passing attack. The Jags could use more targets for Gabbert and need a right tackle to solidify the offensive line, but both can be found in the draft. Defensive coaches like Bradley typically make defense high draft priorities, but the Jags need to put a structure in place to maximize Gabbert's abilities. Otherwise, the guy fails. I don't know if he can succeed at this level. My hunch is he can't. But Jacksonville believed in him when it made him the 10th pick of the 2011 draft. The Jags owe it to Gabbert ... and themselves ... to find out what he can do now, which means they must surround him with competent people.
-- By Clark Judge

Click on the dropdown above to find previews for all 32 teams as we head into free agency.