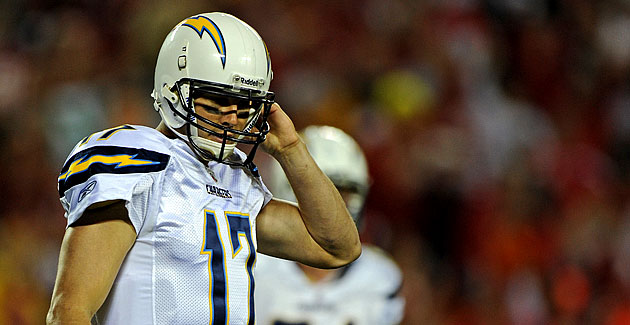 Team overview: In a move that probably should have been made two years ago, the Chargers fired Norv Turner and general manager A.J. Smith after another disappointing playoff-less season in 2012. Now, San Diego gets to start over with former Broncos offensive coordinator Mike McCoy as the head coach and general manager Tom Telesco, and their mission will be to try to turn around a franchise that hasn't been to the postseason since 2009. Unlike most of the Turner teams, the 2012 version started off well, winning three of its first four games. But quarterback Philip Rivers had a strange season, and San Diego lost five of six late in the year to seal the fate of Turner and Smith.
As is his custom, running back Ryan Mathews had injury problems and an underwhelming season, and only one receiver (Malcom Floyd) had more than 37 catches. With the exception of safety Eric Weddle, there were no superstars on defense (though outside linebacker Melvin Ingram, the team's first-round pick from 2011, could become one), but the Chargers actually finished in the top-10. There is talent on this squad -- albeit, not great talent -- and San Diego should still be in the running for a postseason spot in 2013.
[Related: CBSSports.com's Top 100 free agents]
What the depth chart tells you: Since taking Mathews with the 12th overall pick in 2010, he's had a hard time staying healthy, and you have to wonder if he's too fragile to be an every-down back in the league. It's not time for San Diego to think about replacing Rivers, but the team also needs to give him some weapons. Gates (49 catches in 15 games) wasn't the same eight-time Pro Bowler he's always been. Gates will be 33 years old before next season, and though he says he's feeling fine, San Diego needs to find a receiving threat that could help make life easier for Floyd. You know what else would help the Chargers? Having a offensive line that wasn't the worst pass-blocking unit in the league (according to Football Outsiders measurements).
It will be interesting to see what kind of effect former Cardinals head coach Ken Whisenhunt, hired as the offensive coordinator in a move that CBSSports.com's Clark Judge called " a coup" for San Diego, will have on this unit. After all, Whisenhunt, while he struggled in his final few years in Arizona with a bad set of quarterbacks, had some excellent seasons as Pittsburgh's offensive coordinator. Rivers is the quarterback that could bolster again Whisenhunt's reputation. And vice versa.
Defensively, the Chargers front-seven is young but talented. Defensive ends Corey Liugit (the team's first-round pick from 2011) and Kendall Reyes (the second-round pick from 2012) had strong seasons, and linebacker Donald Butler (the third-round pick from 2010) continues to impress. San Diego, though, needs to improve its secondary. Weddle is entrenched at the strong safety spot, but cornerback Marcus Gilchrist (the second-round pick in 2011) wasn't great last season. It also appears for now that Shareece Wright (the third-round pick in 2011) will have the chance to start on the other side -- this assumes that free agents Antoine Cason and Quentin Jammer don't return -- so that could mean even more youth for new defensive coordinator John Pagano.
Ideal free agent and draft strategy: First and foremost, the team has to give Rivers some help -- on the offensive line and at the skill positions. Left tackle Jared Gaither probably needs to be replaced, but releasing him won't give the team much relief on the salary cap front (he'd have $6 million in dead money). Really, the only stable lineman is right guard Louis Vasquez -- who, by the way, is also a free agent. Plus, somebody will have to push Mathews, because San Diego can't continue to get so little production from the running game. The Chargers could wait until the middle rounds of the draft to select somebody who will give him some competition, or they could go after a veteran back like Felix Jones, Shonn Greene or Michael Turner.
What will happen: the Chargers will re-sign Vasquez, because he's too important to let get away, and from there, San Diego could draft a player like Oklahoma tackle Lane Johnson to replace Gaither -- these mock drafts think that's exactly what the Chargers will do. Then, you'd have a little more stability on the line, and if moving Johnnie Troutman to left guard works out, Rivers would get plenty of more protection. Then, give him another running back and a receiver -- he'd be expensive, but but Green Bay's Greg Jennings would be an interesting addition -- and suddenly, the Chargers offense gets scarier. And their chances of making the playoffs increase exponentially.
-- By Josh Katzowitz


Click on the dropdown above to find previews for all 32 teams as we head into free agency.