They are two aging safeties, two players almost certainly bound for Canton, two names fans recognize instantly as cure-alls for their ailing secondary as we head to free agency.
Charles Woodson and Ed Reed are names you know, one-time greats who are available on the open market for any team to sign with hopes of slowing down this aerial assault that has taken over the NFL.
So who's better? And is either worth a multi-year deal?
After a close film study breaking both players down from their 2012 seasons, here's what I have to say when comparing the two: Woodson makes more plays, seems more active, seems to run harder to the football, and flat-out is the better player.
If I had to sign one, it would be Woodson, who turns 37 in October. He always seems to be around the action, even if he doesn't get there as much as he once did. Reed, who turns 35 in September, can go entire quarters without sniffing a play.
In fairness to Reed, he did play in the deep middle a lot -- sometimes even 20 yards off the ball -- but even when he came up in support, he didn't do so with the urgency and violence you would expect from other safeties.
At times in 2012, Ed Reed looked bored doing the little things. There were plays where he appeared to slow down thinking the tackle would be made, only to be forced to kick it in a high gear -- not what it used to be by the way -- to try and make a play on a runner who popped into the open.
I owe Ray Lewis an apology: Ed Reed is the king of standing over piles. Not Ray.
I understand Reed's strength is to play centerfield, and to scare the daylights out of quarterbacks with his ability to read their eyes and make big plays. But sometimes it isn't always about big plays; it's about the ability to do the little things that makes a player worth the money.
Not every play is going to be an interception going the other way, a highlight play that gets your name out there.
Woodson, on the other hand, is more apt to stay around the football. The Packers did use him more near the line of scrimmage, but even when he was back he was reacting at a much swifter pace than Reed.
Don't even ask about tackling. Reed spent some of the season diving at the ground. Woodson was a force in the run game, willing to throw his body around and willing to set the edge when that needed to be done.
There were several times I watched Woodson take on one or two blockers, shed them, and make the play.
Reed seemed to be protecting himself. In fact, it's rare when you find a play where he just explodes into a runner or receiver and takes them to the ground. I will say this: He was a little better later in the season and on into the playoffs. But it's not like the old days.
The range isn't what it used to be. He can still recognize from the deep middle, but the burst to get there isn't the same.
Woodson, who was once a premier corner, doesn't have the same cover skills he used to have either. But at times, he can get the job done in man coverage -- and especially against tight ends. He had a nice game against Owen Daniels of the Texans when the Packers blew Houston out. He also had some nice plays against Reggie Wayne of the Colts, even if Wayne put up big numbers that day against the Packers secondary.
Here's a look at Woodson making a special play against the Rams. It's third-and-7 for the Rams and Woodson is in the yellow circle below in zone coverage. The Rams try to run a screen pass to Daryl Richardson, but Woodson reads the play, reacts with quickness, knifes through the block of the guard, and keeps Richardson to a 5-yard gain to force the Rams to punt.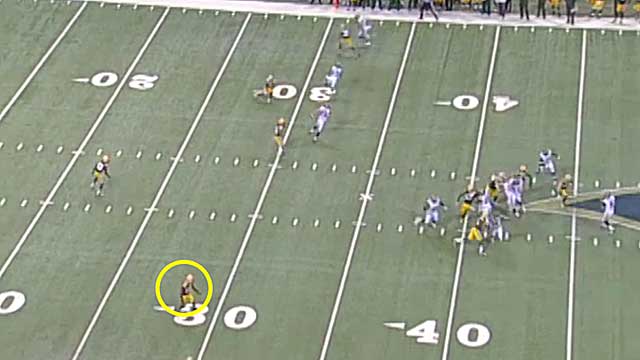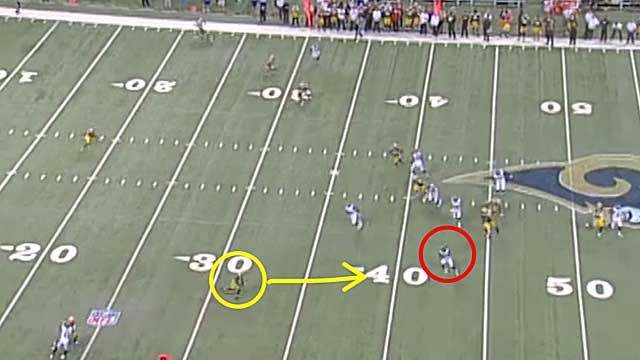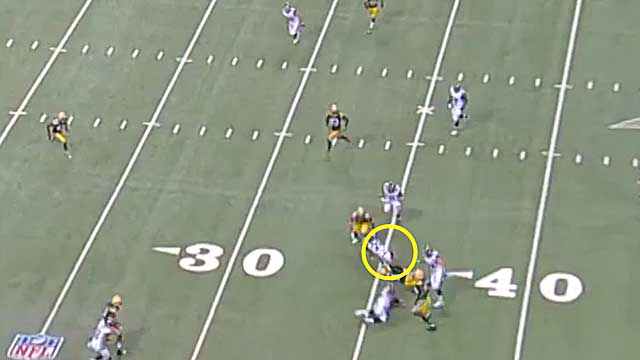 Here's a look at Woodson in the run game against the Colts. He (yellow circle) is playing the left safety in a two-deep alignment. At the snap, the Colts try to run Vick Ballard to the right side. Woodson reads the play right away and is able to get to the outside to come up and drop Ballard for no gain. It's great read-and-react play by Woodson.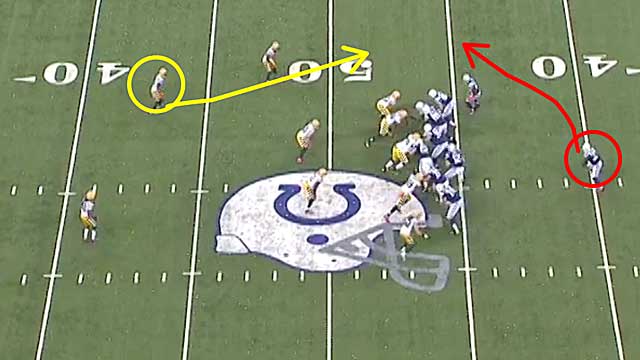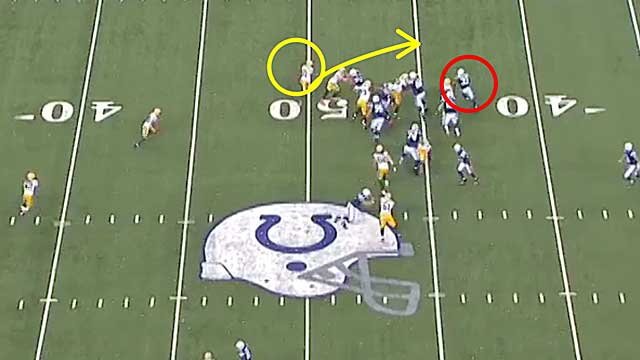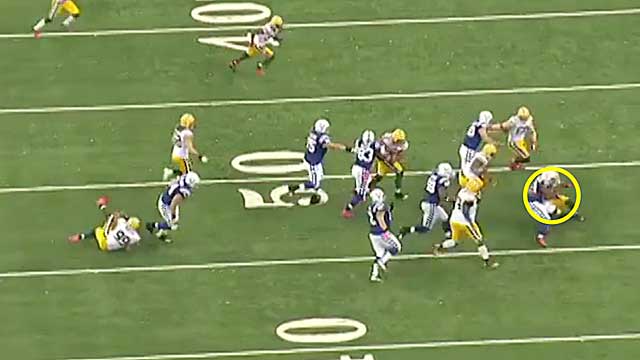 By contrast, there are way too many plays where you see Reed on his stomach after a whiff on a tackle try. It happens way too often for a guy who is supposed to be as good as he is as a player.
Here's a third-down play against the Browns in Cleveland that shows what I mean. Reed (yellow circle) lines up deep on the right in the two-deep zone. The Browns run a crossing route to tight end Ben Watson, and he is open underneath to gather in the pass. It's up to Reed to come up and make the play to stop him short of a first down. But he misses the tackle, winds up on the ground, and the Browns get a first down.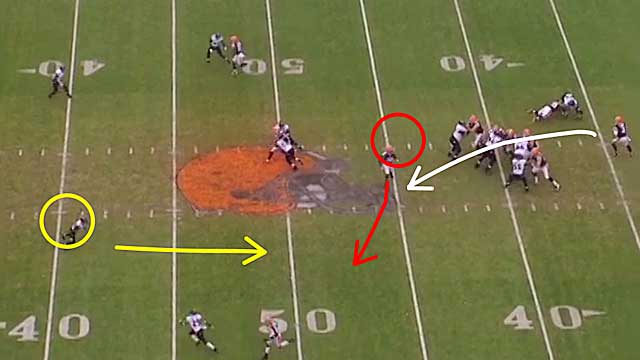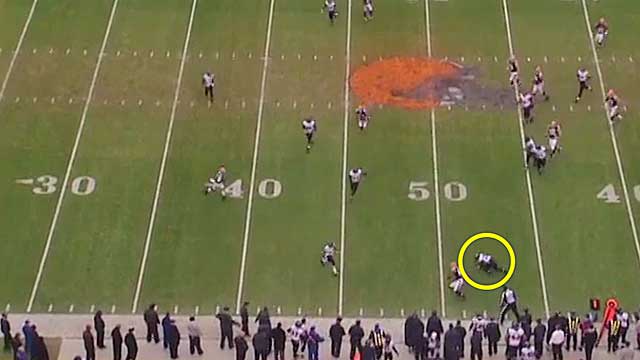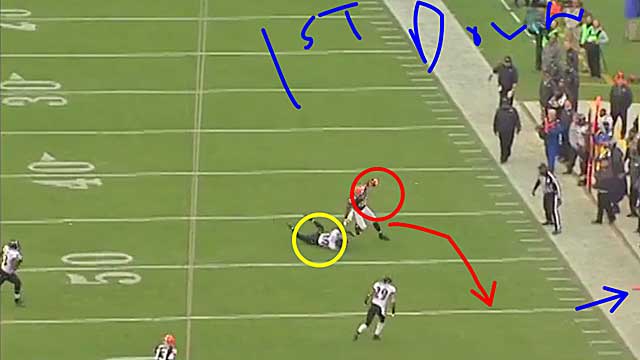 Reed missed badly on a tackle against the Chiefs, a play I showed earlier this year that enabled Jamaal Charles to have a big run. What I didn't notice back then about that play was how Reed seems to jog toward the runner at first, thinking there's no way Charles could get through the hole. When he does get through, Reed has to race over to try and make a play and winds up sliding by as Charles adds on to his big run.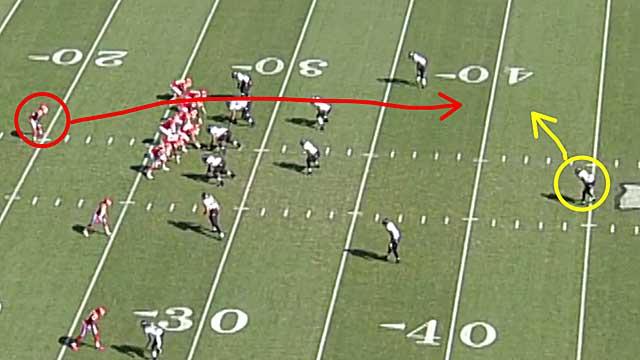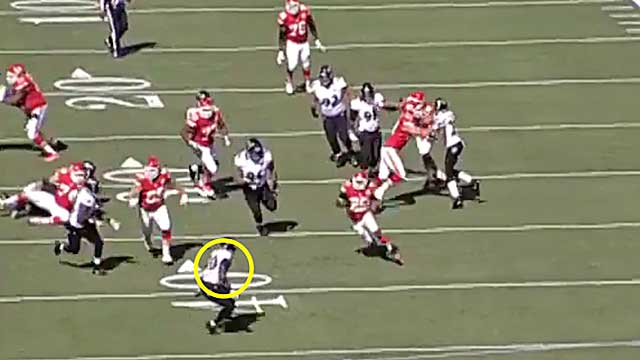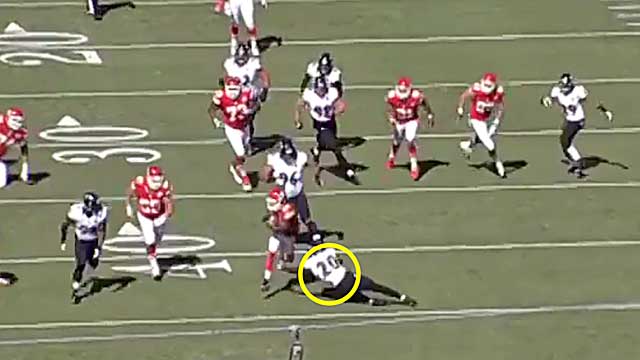 Reed is considered a much better cover player, but I see him gamble a lot, get caught out of position a lot, and he sometimes gets away with it because of some bad quarterback play. Here's a play against Cleveland where he actually almost picks off the pass. Reed is in the yellow circle. But as you can see, if Brandon Weeden makes the right decision he could throw over the top of Reed for what could have been a touchdown. It looks like a great play for Reed, but it's bad one that he gets away with.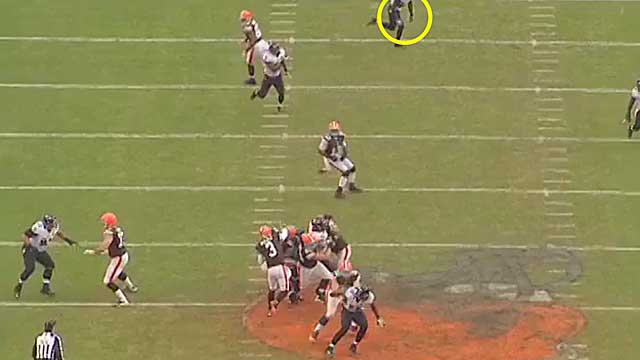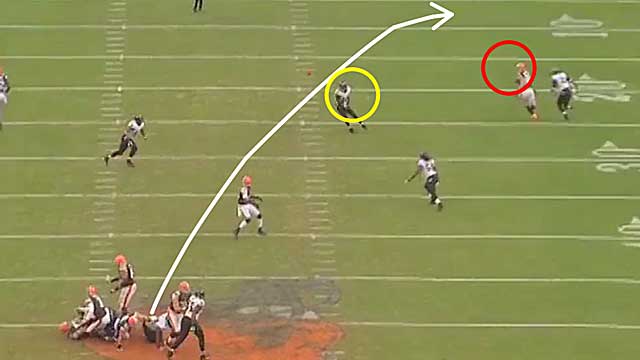 By contrast, here's a negative play for Woodson that is a positive in terms of coverage. Woodson (yellow circle) is lined up in man coverage in the slot against Wayne (red). Wayne runs a go route and Woodson stays with him step-for-step. Wayne makes a great catch for a 30-yard gain, and Woodson is called for interference (questionable), but it shows he could still run with a quality receiver at times.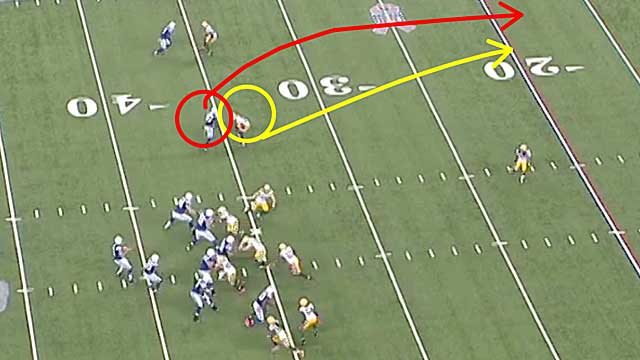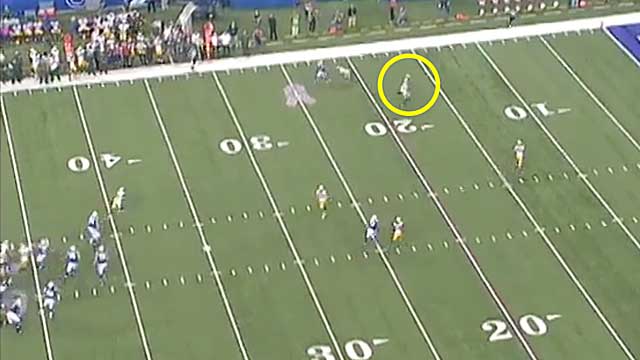 Summation: Neither Woodson nor Reed is a top-level player in the secondary like they once used to be. But at least Woodson finds a way to get involved in the action. He throws his body around much more than Reed does. That matters. Neither is great in coverage anymore, but Woodson is physical and fast enough to handle the abundance of pass-catching tight ends that are now showing up on every roster in the NFL. I am not sure Reed can do that. He's still smart. He still can pick off an errant pass into center field -- see Super Bowl -- but the missed tackles, the nonchalant way he seems to attack from center field is not something I would want on my team. He is more name than game, while Woodson still has some game left.