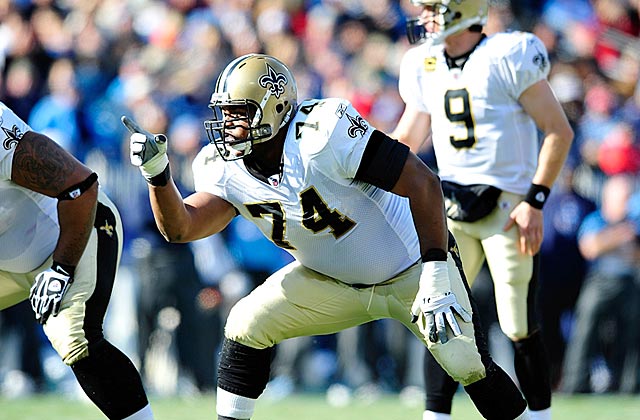 They didn't suffer setbacks like Baltimore, and they didn't make a splash like Miami, but the Chicago Bears started their roster makeover with a couple of strong moves. Not only did they find another target for Jay Cutler (tight end Martellus Bennett), but they might have found something Cutler has been missing for far too long -- and, no, I don't mean a personality. I'm talking about a left tackle. Locking down Jermon Bushrod was critical to new coach Marc Trestman's plan for turning the Bears into a prolific passing offense, mostly because he's not J'Marcus Webb. Webb allowed far too many sacks, and the Bears had to get better there before Cutler made strides. Well, they just did. Bushrod was the best pure left tackle on their board, and, at 28, he can finish his five-year contract. Now, if the Bears can find someone at right tackle and push Gabe Carimi inside, they're in business.
2. Now, more than ever, Baltimore's Ozzie Newsome must demonstrate why he's the best GM in the business. He knew he was going to lose free agent Paul Kruger. He knew he couldn't keep Anquan Boldin at his 2013 salary. But he couldn't have known he would lose his top free-agent priority -- linebacker Dannell Ellerbe -- to Miami. Without Ellerbe, the Ravens are now without the starting inside linebackers from their Super Bowl roster. Behind them is three-year starter Jameel McClain, but he suffered a spinal-cord contusion last year that puts his future in doubt. The Ravens already are down four starters from their Super Bowl team and could lose tackle Bryant McKinnie, cornerback Cary Williams and safety Ed Reed. McKinnie and Williams are expected to walk, which means Reed is now their priority ... and he will turn 35 in September.
3. Signing free-agent defensive tackle Chris Canty is a start for Baltimore. The Ravens had to get better in the middle. But that includes linebacker.
4. Sure signs that the economy is recovering: Ellerbe and Kruger pulled down a reported $76 million for 20 combined starts.
5. A guy I trust told me the loss of Boldin "really bothered the Ravens," and it should. The guy was tough, reliable and great in the locker room. Plus, the biggest play in the Ravens' Super Bowl victory was his catch on that third-and-1 on Baltimore's game-clinching scoring drive -- a catch few others make. "Don't think for one minute," the GM said, "that when you're the world champions, it's a lot easier to make a move like that. You just have to move on and try to replace what you have." One question: How do you replace a Boldin? That's Newsome's next task.
6. Boldin called the trade "shocking," but I'm not sure why. He wouldn't take a pay cut. The Ravens needed cap room. Connect the dots, Anquan. The Ravens were going to cut Boldin. Instead, they gained a sixth-round pick, and while that seems cheap, it's better than nothing.
7. Include me among those who question the Mike Wallace addition, and I'll tell you why: 1) I saw him drop too many passes the past year-and-a-half; 2) the Dolphins overpaid for the guy; and 3) tell me the number of players Pittsburgh lets walk who go on to bigger and better things. "I understand it," an AFC general manager said, "because you want someone who strikes fear in the heart of the secondary, and this guy has speed. But I wouldn't make the deal based on what I've seen. He makes me nervous." I'll second that.
8. My guess is that former Jets assistant Bob Sutton clinched the Mike DeVito deal for Kansas City. Sutton was the Jets' linebackers coach last season. Now he's the defensive coordinator for Andy Reid, and one of the Chiefs' first moves was to snatch DeVito away from New York and Rex Ryan. DeVito is a strong run defender who can play in a 3-4 or 4-3, and the Jets wanted to keep him. Only they didn't.
9. Speaking of the Jets, their defense is in for a serious makeover. As of now, it has four defensive starters under contract -- with its top player, cornerback Darrelle Revis, available to the highest bidder.
10. I like the Giants' addition of cornerback Aaron Ross ... if this were 2011.
11. Three reasons why Kruger makes sense in Cleveland: 1) The Browns are going to a 3-4; 2) they had a ton of cap room and 3) they don't have to face him twice a year anymore. But they paid a lot of money for someone with one year of productivity. "He's a very good player and very good in the locker room," one scout said, "but that's too rich for me."
12. My guess is that the Jared Cook signing was the Rams' way of reminding Seattle and San Francisco that they plan to be a factor in the NFC West. Trust me, St. Louis isn't that far away, and its 4-1-1 record within the division -- with no losses to the 49ers -- is the proof.
13. A strong move that won't get a lot of attention was Denver's addition of guard Louis Vasquez. First of all, he's young. He's only 25, which means he's an ascending player. Second, he's a terrific run blocker who is solid and experienced. Third, he was San Diego's best offensive lineman. And, fourth, the Broncos just got better at the expense of a division opponent.
14. Now I know what one personnel director meant when he said the Chargers must immediately address all five offensive-line positions. At this juncture, center Nick Hardwick is probably the best there, and he has ... what? ... maybe one year left in him. I don't care whom you have targeted for the Chargers with the 11th pick of the draft. Just make it an offensive lineman.
15. In case you're wondering, the 2004 (Ed Reed), 2005 (Brian Urlacher), 2008 (James Harrison) and 2009 (Charles Woodson) Defensive Players of the Year are all available to the highest bidders.
16. With the departure of tight end Delanie Walker, the biggest loss for San Francisco is not in the passing game. The guy caught only 21 passes. Nope, it's in the run game where he was a solid blocker for an offense that gained 5.1 yards per try.
17. Question: With Walker out of the picture, does that make Stanford's Zach Ertz a possibility at the 31st pick?
18. When the Raiders made Darrius Heyward-Bey the first wide receiver in the 2009 draft, critics howled and said then-owner Al Davis made a bad move. Well, I'm sorry, but he did, and the Raiders just conceded it. In gambling on Heyward-Bey, the Raiders passed on Michael Crabtree (10), Jeremy Maclin (19), Percy Harvin (22) and Hakeem Nicks (29). I would mention Kenny Britt at 30, too, except I won't. The guy's a load.
19. Just a hunch, but Kansas City's Andy Reid isn't interested in free agent Nnamdi Asomugha.
20. It was almost three weeks ago that Minnesota GM Rick Spielman stood in front of a group of reporters and announced, "We have no intention of trading Percy Harvin." In fact, he said it twice. So what changed besides the calendar?
21. "We have a great shot to go to the Super Bowl," Atlanta tight end Tony Gonzalez tweeted. Not if your defense can't cover tight ends, you don't.
22. Really curious where running back Steven Jackson lands. I would be careful because of his age (he turns 30 before this season) and the number of carries and hits he absorbed over his career. "He's good," one GM said, "and I love him. But he's a collision runner, and you could have him for eight games, or you could have him for 16." If I sign him, I do it for no more than two years and look for a back in the draft. You know Jackson is going to get hurt. The only question is when. So you're going to need at least one decent backup. Green Bay's interest in him makes sense because the Packers are close to the top and because they know the value of a running game. They witnessed it firsthand when San Francisco ran over them in the playoffs.
23. The under-the-radar move I like most was Philadelphia's addition of tight end James Casey. The guy can run, catch and block and he can play fullback, H-back or tight end. In short, he's a perfect addition to Chip Kelly's high-powered offense and a significant loss for Houston.
24. I want to know what happens to Buffalo if quarterback Geno Smith is gone when the Bills draft eighth. Let's just say it happens. So does that make Syracuse's Ryan Nassib a more likely possibility? I'm not talking at the eighth spot. I just mean somewhere. Buffalo passed on Andy Dalton at the 34th spot in the 2011 draft, and it has been paying the price since.
25. Yeah, Reggie Bush to Detroit makes too much sense not to happen.
Five biggest winners
1. Seattle WR Percy Harvin -- He doesn't have Christian Ponder throwing to him, and instead of a one-year deal at $2.775 million, he'll see $14.5 million by the end of December.
2. Miami QB Ryan Tannehill -- First, Brian Hartline re-signs. Now, the Dolphins add deep threat Mike Wallace. It's a passing league, and Tannehill doesn't have a chance to succeed unless he has weapons. Well, he has some now.
3. Atlanta QB Matt Ryan. With the return of Tony Gonzalez, Ryan just added 93 completions and eight touchdowns he didn't count on. Nice. Gonzalez is more than a security blanket for Ryan; he's a team leader the Falcons desperately didn't want to lose.
4. Minnesota QB Christian Ponder. He doesn't have to suffer Percy Harvin critiques anymore, and he doesn't have to play behind a new right tackle. The Vikings retained Phil Loadholt after Chicago showed interest, and score one for continuity. Loadholt has been a starter for four years, missing only one game along the way.
5. Kansas City coach Andy Reid. He found his starting quarterback in Alex Smith. Now he has a backup in Chase Daniel. And a solid tight end in Anthony Fasano. And a plugger in Mike DeVito. There was talent in Kansas City when Reid landed. There's more today and hope that maybe, just maybe, the Chiefs can be a division factor in 2013. It took Reid two years to turn Philadelphia around, but the 1999 Eagles didn't have as much talent as these Chiefs.
Five biggest losers
1. Baltimore defensive coordinator Dean Pees. He lost his starting inside linebackers from Super Bowl XLVII. He lost promising young linebacker Paul Kruger. He's going to lose cornerback Cary Williams, and he could lose safety Ed Reed. Yeah, I know, he gained defensive tackle Chris Canty, but so what? He could lose five key players from his starting defense.
2. Mike Pope. He's the New York Giants' tight ends coach, and some consider him the best in the business at his job. Well, good, because he'll have to be. Without Martellus Bennett, the Giants have next to nothing beyond blocking tight end Bear Pascoe.
3. Buffalo. It wasn't the loss of quarterback Ryan Fitzpatrick that stung. Nope, it was the departure of offensive guard Andy Levitre, one of the top free agents in this year's market and a reason why the Bills were so successful running the ball. Anytime I brought up the guy's name, people would always tell me "he's good, he's young and he's tough." That's a nice combination for a Tennessee team that just lost Steve Hutchinson.
4. The two pranksters who set up Buffalo GM Buddy Nix and Tampa Bay GM Mark Domenik. Yeah, it made for a good laugh, but there's a law against recording someone without his permission, guys, and you're about to suffer the consequences.
5. Arizona. San Francisco gains Boldin. The Seahawks add Harvin. St. Louis picks up Cook. And Arizona? It's waiting on Reggie Bush, but it looks as if he's ticketed for Detroit. I feel for Bruce Arians. The gap between Arizona and the rest of the field keeps getting wider.
Just asking but ...
•  What happens if Percy Harvin complains about Russell Wilson?
•  Does Jason Hanson keep kicking until he's 50?
•  Where does Ryan Fitzpatrick land next?
•  Does Brian Urlacher return to the Bears?
•  Is there anyone Philadelphia didn't sign?