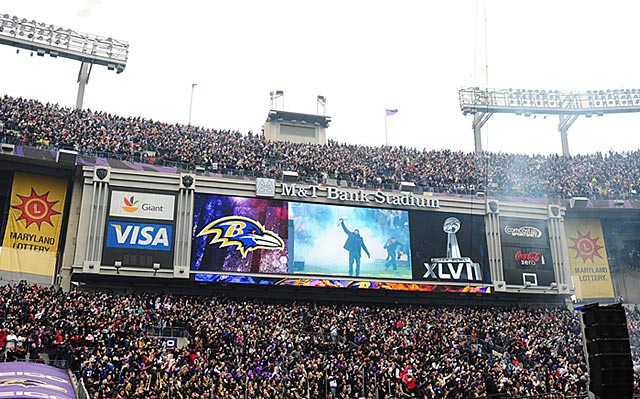 PHOENIX -- The NFL is in a fix with the Baltimore Ravens' season opener, and it knows it. Because of a conflict with the Baltimore Orioles for Sept. 5, it might have to move the defending Super Bowl champions' season opener on the road, and check their away schedule, people.
The most logical location is Denver, with Pittsburgh the runner-up.
That's not enticing to anyone, except maybe the Baltimore Orioles. They will play host to Chicago that night at Camden Yards, which is next door to the Ravens' M&T Bank Stadium. The Orioles will return from a road night game in Cleveland, while the White Sox will be coming in off a road night game in New York.
More on free agency
Columns

---

Related links
More NFL coverage
OK, so big deal. Move the Ravens up a day, just like the league did with the New York Giants last season.
Uh, sorry, that's a no-can-do because Sept. 4 is Rosh Hashanah. So the league and Ravens are focused on Thursday, with the NFL working with Major League Baseball to have the Orioles move their game to an earlier time -- maybe 3:05 p.m. -- and the Ravens pushing back theirs to a later one, with 9 p.m. mentioned as a possibility.
But that takes us to another problem: Orioles owner Peter Angelos. He would have to sign off on the move, and there are two things you should know about the guy: 1) He takes his time making decisions, and 2) he's stubborn.
"I know Peter Angelos," said a source here, "and he'll dig in like a tick's head in a dog. So there's no use in appealing to public opinion, because it won't work."
That doesn't mean the NFL won't try, and commissioner Roger Goodell took the first step Monday when he made a public appeal, saying that having the Ravens open on the road wouldn't be fair to their followers.
"We think that's wrong for the Ravens' fans," Goodell said. "We do not want that to happen."
Tell that to Angelos. He has the leverage here, and so does Major League Baseball. Neither has to budge. But the NFL does, and it's trying. The problem is that to make something happen, it needs the cooperation of a sport it replaced as America's Pastime. It needs the cooperation of Angelos, too, and the Ravens telephoned his office more than once to reach an accommodation but are still awaiting his return call.
That should tell you something: Hit the road, guys.
The NFL has an estimated two weeks to find a solution here, mostly because it will affect the rest of the league schedule. Of course, that's not Angelos' problem; it's the league's, and that can't be lost here.
One source told me Major League Baseball is willing to take the hit on this one, though it's Angelos who is unmoved. If he doesn't budge, the Ravens blow a great opportunity to celebrate their victory at home, with the club declaring a day of festivities. When the Ravens returned home following their Super Bowl victory and faced an estimated 80,000 fans at M&T Bank Stadium, owner Steve Bisciotti said, "I don't know how many more times we can do this before Baltimore loses that chip on its shoulder."
He might have to wait to find out.
2. I understand New England owner Robert Kraft's anger and disappointment at losing wide receiver Wes Welker. He's the guy who said he wanted to make Welker "a Patriot for life." It's a free country, and the guy has got a right to vent. But Welker has a right, too, and that includes accepting what Kraft implied was less money than what the Patriots offered. Frankly, I don't care what the Patriots offered. Welker was going where he wanted, and if New England didn't meet his demands -- whatever those demands were -- the Patriots can fault themselves, not Welker, for his departure.
3. Indianapolis owner Jim Irsay is happy with the addition of free-agent tackle Gosder Cherilus, mostly because he's not Winston Justice. That's not a knock on Justice, but Irsay made it clear Cherilus was added because of what Justice and Bradley Sowell, who replaced him that afternoon, couldn't do in the playoff game vs. Baltimore -- namely, pass block Paul Kruger. "We felt if we had a right tackle in the Baltimore playoff game, it would have been a lot closer of a situation than it was," Irsay said. "We just felt that the tackles were key. Andrew [Luck] took too many hits. [Cherilus] is a nasty, physical sort of guy who plays with anger and intensity, and that's what we're looking for. We think with [Anthony] Castonzo and him, we have two tackles we can win the Super Bowl with."
4. Hall of Fame running back Jim Brown passed when asked to comment on the NFL's proposed rule change regarding running backs lowering their helmets. He said he didn't know enough about the proposal. So one reporter asked what would have happened to him if he couldn't have lowered his head -- clearly, a question from someone who never saw Brown play. "I didn't use my head," he said. "I used my forearm ... and the palm of my hand ... and my shoulders ... and my shoulder pads. I wasn't putting my head into too much of anything. I don't think that's a good idea. At least it doesn't sound like a good idea to me."
5. Hall of Fame tackle Ron Mix has an idea to reduce concussions: To prevent anyone from playing it until their 15 years of age. "It's just too dangerous, and the injuries to the brain that occur when someone is young are worse than when they occur later on in life because they impact the growing period."
6. There's a reason Mix takes a hard stand on the issue of head trauma: because he thinks he was a victim when he played at USC and, later, in the pros. "The general public thinks a brain injury can only take place if there's a diagnosed concussion," he said, "but it's the thousands of undiagnosed concussions [that are the problem]. Every time a player gets hit hard enough to be momentarily stunned, that's considered a low-grade concussion, and we have thousands of them during our careers." He pointed out that when the Amen clinics in Newport Beach, Calif., studied concussions among football players, they discovered the highest degree of brain damage was to offensive linemen. Mix is not surprised. "We hit on every play, and not just once -- but boom! Boom! Boom! -- sometimes three times on every play," he said. "I was a great student in high school and got a very high score on my entrance exam when I went to USC on a football scholarship. And at 'SC in those days, they taught us to use our heads as battering rams. It was supposed to be our first point of contact. Unlike the rules now, there was no limit on the amount of contact and the amount of hours spent on the practice field, so we'd be on the field two-and-a-half, three hours, constant full speed and contact. When I took the entrance exam, I was in the highest one percent. But I knew when I left 'SC, I was no longer a one percenter. I absolutely knew it. I remember distinctly thinking, 'Man, you don't think quick enough anymore; your cognitive skills just aren't any good.' "
7. When Randy Moss anointed himself the "greatest receiver to ever do it" at the Super Bowl, he forgot there were at least two guys ahead of him. One, of course, is Jerry Rice, and Moss did mention him. But the other is former San Diego star Lance Alworth, and Mix knows all about him. He played with the guy. "He was the greatest of all time," Mix said. "He never dropped a pass, he played at a time when they were all over him, he was an outstanding blocker, he had great leaping ability, great speed and he caught the ball over the middle. He was the whole package. He did things that wide receivers today do not always do. We held special regard for Lance Alworth, and this is the best example I can give you: We're flying home from playing the New York Jets, and we hit this big storm. The plane started falling 500 feet and was shaking, and I actually thought we were going to crash. I thought I was going to die. But then I relaxed. I remembered Lance was on board, and I thought 'God's not going to kill Lance.' I was 25 years old, but I was thinking like a 12-year-old. But that's the high regard we had for him."
8. That the NFL continues to push to move the draft from April to May and free agency from March to April can mean only one thing: Sooner or later, it's going to happen. First, though, it must gain the approval of the NFL Players Association, and stay tuned.
9. I know one agent who believes the league wants to move the draft back because the move will save owners money. Think about it. You have the draft in May, which means somebody other than the NFL pays for players to stay in shape until then. Plus, there's less time after the draft to put guys in camp, another cost-saving device. Bottom line: Costs normally incurred by the NFL would be borne by others.
10. South Florida and San Francisco are in play for Super Bowl L, and the expectation is this: If South Florida gains tax-break subsidies to help subsidize $400 million in stadium renovations, it wins the game, with San Francisco picking up Super Bowl LI. If it can't, the game goes to the Bay Area.
11. There are two guys who shouldn't be happy that Ryan Fitzpatrick joined Tennessee: Jake Locker and Marvin Lewis. Locker is the incumbent at quarterback there, but all bets are off now that Fitzpatrick's in town. "That he's going there," said one NFL source, "tells me he thinks he can battle for the starting job." It should tell Locker, too. Cincinnati's Lewis seemed to be a lock for Fitzpatrick, but it was only as the backup to Andy Dalton. Fitzpatrick played with Cincinnati before, and the Bengals' coaches loved the guy. They wanted him back but lost because they couldn't give him the opportunity he will have in Tennessee.
12. The tuck rule is all but doomed, with St. Louis coach Jeff Fisher declaring a fix all but certain here because "it makes sense. We all think it's a fumble. So let's make it a fumble." Nevertheless, don't look for a parade in Oakland. As far as Raiders fans are concerned, this comes 12 years too late.
13. I've said it before, and I'll say it again: I like what St. Louis is doing. The Rams' addition of tackle Jake Long is the latest strong move by a club that is quietly is narrowing the gap with San Francisco and Seattle in the NFC West. Protecting quarterback Sam Bradford is a priority, and the Rams can move Saffold to right tackle now that they have Long. Yeah, I know he's not happy. Tough. Move him there. He has only one year left on his contract anyway.
14. Goodell says he has ideas on how to make the Pro Bowl more attractive, and so do I: get rid of it. Pay players to go to Hawaii, put them up at a hotel, and finish the week with an awards show, a la the Espys.
15. I don't care what running backs say about the proposed rules change preventing them from lowering their helmets to strike opponents with the crowns of their helmets. It's probably going to pass, and here's why: "We want to make a serious attempt to bring the shoulder back in the game," Fisher said. It won't be enforced in the tackle box, and it will be called only more than three yards downfield. But it's just not the running back who's affected; tacklers can't lower their helmets to launch a strike, either. "We're looking for obvious examples of players delivering blows," NFL vice president of officiating Dean Blandino said. The play is not subject to review or replay, but players are subject to fines -- and expect more when this passes.