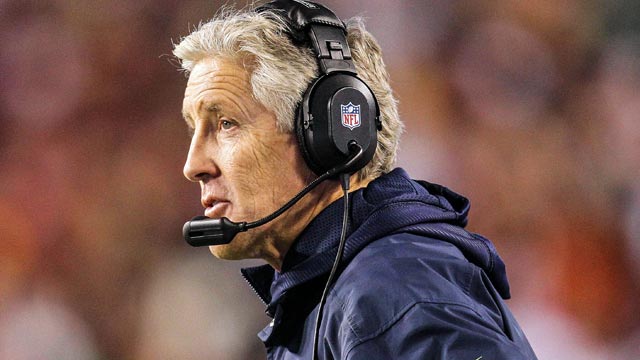 PHOENIX -- Seattle hasn't won the NFC West the past two years. San Francisco has. So the Seahawks are doing what they must -- namely, loading up to close the gap and push the 49ers.
At least, that's how it looks from here. But Seahawks' coach Pete Carroll insists he's not in a game of one-upsmanship with the 49ers' Jim Harbaugh and isn't trying to identify areas that keep him behind San Francisco.
"It has nothing to do with Jim," he said. "I've heard that a little bit. But if you watch the way John (Schneider, team GM) and I operate, we've gone for it at every single turn. We had some cap room to do some things, so we've just fit things together that also were part of the long-range plan.
More on NFL
Columns

---

Related content
"The last thing I would want to convey is that we were trying to take our big shot right now. That's not it. We were trying to do it last year. We're going to try to do it this year. We don't know any other way."
The Seahawks needed a threat at wide receiver so they added Percy Harvin. They needed more outside pass rushers to complement Bruce Irvin and Chris Clemons, so they added free-agents Cliff Avril and Michael Bennett. Those moves seem aimed at climbing over San Francisco -- a team that struggled vs. the pass in the playoffs -- and Atlanta, which bounced the Seahawks from the playoffs. Remember, Seattle might have won then if Clemons was healthy. But he wasn't, and without him, they had no pass rush to cramp Matt Ryan.
Well, now they do, and I'd suggest that was a direct result of their last loss. Carroll, however, would not.
"The last thing we're going to do is evaluate how we are based on everybody else," he said. "That's one of the worst mistakes you can make. We're just trying to get better and work really hard on what we can control. And that other aspect of it -- who won the league last year -- I couldn't care less. That doesn't have anything to do with it.
"At USC, we never pointed at national champions; we never pointed at the best team that was out there or the best team in our league. That was the last thing we wanted to focus on. We focused on what we're all about and what we're doing. I know that doesn't make sense to you, but that's OK. It has to make sense to us."
It did a year ago, and by the playoffs Seattle was one of the hottest and best teams in the business. So it fell to Atlanta. It overcame a 20-point deficit to go ahead with 31 seconds left, losing on a last-second field goal.
But that was then. Now, people feel Carroll's moves have made Seattle and San Francisco the teams to beat ... not just in the NFC, but the NFL ... and maybe they're right. All I know is that after the last two weeks Seattle is stronger than ever and ready to challenge the 49ers in the NFC West.
"We're not trying to match," Carroll reiterated.
"However you want to call it, there's a boldness about what we're doing. John and I believe in our instincts and believe in our backgrounds. We trust each other. We trust our sense of what direction to go in. And we know you're not going to do everything exactly right. But you've got to take your shots.
"And that's what we've done. It's really simple for us: If the central theme of your program is competing; you either are or you're not."
2. Carroll has no concerns about Harvin, his character or that "competitive fire" that forced his exit in Minnesota. "That's classic of great, great competitors," he said. "It's classic that they sometimes push the limits. They're like that because that's who they are. I have no problem with guys being highly competitive. There's an understanding that we have to come together, and we've already talked to Percy."
3. Only one team voted to keep the Tuck Rule and it wasn't New England. It was Pittsburgh. "We didn't think it was necessary to make that change," said Steelers' president Art Rooney III.
4. The two teams that abstained were New England and Washington. The Patriots you'd expect. But Washington? Their GM is Bruce Allen, who happened to be the general manager of the Oakland Raiders when Tom Brady fumbled in the 2001 playoff game. Maybe it was Allen's way of paying tribute to former boss Al Davis, who made it a practice to abstain on votes.
5. Best idea I've heard in awhile: The NFL having participating players choose their Pro Bowl teams. Imagine, they can hold a pre-Pro Bowl draft, put it on the NFL Network and make a gazillion bucks. Trust me, fans would love it.
6. If allowing coaches to wrongly challenge a play that was going to be reviewed anyway is called the Jim Schwartz rule, then call the rule penalizing players from driving with the crowns on their helmets the Trent Richardson rule. There was no more compelling evidence than a videotape the league rolled back and forth of Richardson hitting Philadelphia's Kurt Coleman so hard that Coleman's helmet flew off.
7. The Erie County (N.Y.) district attorney's office is pursuing that case where a couple of pranksters hooked up Buffalo GM Buddy Nix and Tampa Bay's Mark Dominik, then taped their telephone conversation without their consent. The tape of the discussion appeared on Deadspin.com, and sources here said the D.A.'s office could take action against the website, as well as the suspects.
8. There's a feeling that Minnesota might have more of a problem with the new rule because star back Adrian Peterson is one guy who drives through tackles with his head. "I don't think it's just Adrian," said Minnesota coach Leslie Frazier. "I think it's the running backs in general. I'm wondering how it's going to affect the style of running backs. It's such an instinctual position. So much of what they do is not pre-planned. They're just reacting to things they see or anticipate. So now to say I've got to think about where my head is ... I just wonder how it will affect every running back, not just our running back."
9. Somewhere, Walter Payton is wondering why the NFL is not using its head, if you know what I mean.
10. Don't tell me Hall of Fame running back Jim Brown didn't have something to do with the new helmet rule because he did. What he said the other day about not having to use his head made an impression. "Jim Brown never lowered his head," said Pittsburgh president Art Rooney III. "It can be done."
11. I don't know if the league links the expansion of the playoffs to a reduction in preseason games, but you can only hope. The NFL is going to expand the playoffs, with 2014 a likely target. Fans will like that. But they'll like it more if their preseason package is reduced by one week.
12. I like the idea of not allowing head coaches to be hired until after the Super Bowl, basically to level the playing field for all assistants. But the NFL doesn't ... at least for now. "We didn't see how that really was going to work," said Goodell. "We think the smarter approach here is to have the Rooney Rule in place." Goodell admitted he was "disappointed" with this year's results -- with no minorities among the 15 coaches and GM hired -- but said the league would try to improve how the Rooney Rule is implemented.
13. Chicago's Marc Trestman insists he's no pioneer, even though he's the first CFL coach in years to make the jump to the NFL. In essence, Trestman could do for CFL coaches what John Harbaugh should've done for special teams coordinators -- namely, get them taken seriously as head-coaching candidates -- provided, of course, he's successful. "But I don't feel that way," he said. "I went to Montreal to be a head coach and to learn to be a head coach. When I was there all I thought about doing was doing the best I could. And that's all I'm thinking about here. I'm here to be the best head coach I can be. I don't feel those peripheral things that create a story. I just don't. I'm just hopeful that whatever we're doing here gives other guys hope."
14. When Trestman called plays in Oakland in 2002, he threw so much that quarterback Rich Gannon was the league MVP, the Raiders led the league in passing and three guys with 81 or more catches each. So now the question: What does that mean for someone like Chicago running back Matt Forte? Once, he was the focus of the offense. But what happens now? "Look at Charlie Garner's productivity (in 2002)," said Trestman. "Did we create an environment for that back to play the whole season and have productivity? I'm talking about the overall productivity running and catching in space." Garner ran for 962 yards and averaged 5.2 per carry, but he had 91 catches and scored 11 times. "I don't know what it's going to mean for Matt," said Trestman, "but he's a complete player who can do it all."
15. No surprise that Carroll thinks USC quarterback Matt Barkley will make it in the pros. He recruited him at USC. "He's going to be a helluva quarterback," Carroll said, "He's going to be a starter. It depends on what team he goes to ... but if they have an opportunity for him he's going to start."